Monday Superlatives
Rodney McGruder, journeyman, is the punching bag of the week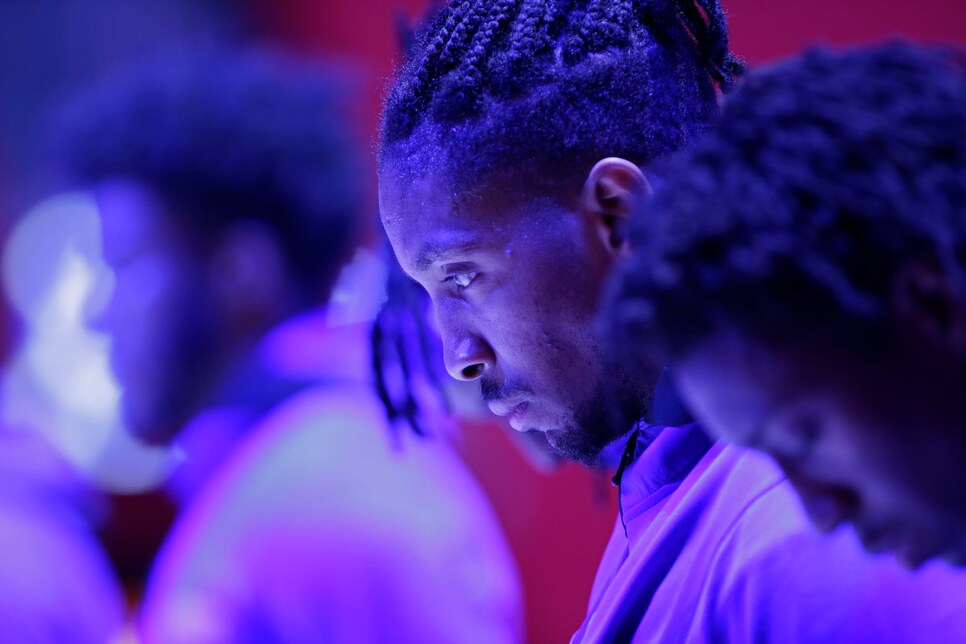 Klay Thompson, enduring his second straight season on the sidelines due to a nasty leg injury, was doing guest commentary for the NBC Bay Area feed of the Pistons-Warriors game when Detroit's Rodney McGruder began yelling at several Warriors players as they left the floor after the game. The nature of the dispute wasn't clear—it stemmed from some dispute involving Wayne Ellington earlier in the game—but Thompson absolutely let McGruder have the full arsenal, to the point that even the announcer had to call him off. Watch:
In case you couldn't hear it well, that was "this dude might be out the league soon, he's probably mad about it," and then, later, "he's over here trying to start something like he's a good player or something, it's like, bro, get out of here."
Thompson went on to say that not being able to defend his teammates was "killing him"—another sad effect of the injury. The real coup de grace, though, came in the post-game interviews, when Draymond Green dropped another bomb...be warned that the clip below is absolutely rife with bad language:
That is a legendary rant with a great memorable burn: "ain't nobody scared of no damn Rodney McGruder."
To be totally honest, before this I had only heard of McGruder peripherally, but now he's etched in my mind forever as the role player who got napalmed by two of the NBA's best players. I can't help but feel bad for him, but also, maybe it's wise to watch your tongue around the best players in the league when you're...well, Rodney McGruder.
The Belichick Hater of the Week: Tom Brady??
At the headlong pace of Super Bowl media week, this is practically old news, but I keep thinking about Tom Brady's comments on his head coach Bruce Arians:
"He's a great leader, he's a great person, he's a great friend, he's very loyal," Brady said. "He's just got a great way about communicating effectively with everybody around here, and everybody has a great affection for him for the person he is. There's nobody who would ever say anything bad about him. Everyone wants to win for him."
Now, on the surface this just looks like a quarterback praising his current coach, and as far as that goes, it's true. But I think the key word here is "loyal," and it's the word that indicates how Brady is taking a subtle shot at Belichick. Their relationship had been strained in New England for a number of years, and it all stemmed from the fact that they wouldn't reward him with a long contract that took him to his mid-40s. As Brady's father once put, Belichick would ship him out the minute he found a good QB for "a dollar less." Loyalty isn't a word in Belichick's vocabulary, unless it's loyalty to winning at all costs, and Brady felt (rightly, you'd have to say) that he deserved a lot more than the one-year deals he was getting.
All of which must make this year so sweet for him, reaching the Super Bowl while the Patriots flounder. That's one reason he praised Arians' loyalty; the contrast stands out to him, and he'll probably always be upset at what Belichick couldn't give him. If revenge is a dish best served cold, these remarks—and the Super Bowl appearance itself—are a hunk of deep-frozen ice.
The Fully Redeemed Sports Human of the Millennium: Andy Reid
Yesterday, I read this ESPN piece called, in part, "why everyone loves Chiefs coach Andy Reid," and I couldn't help thinking what I would have thought reading that sentence ten years ago. Reid was always a solid coach, but he was also a roundly mocked one during his tenure with the Eagles, when some pundits, especially Bill Simmons, considered him a poor game manager. His teams were routinely very good, and made one Super Bowl (they lost by three to the Patriots), but he never won it all and there was a lingering sense that he was one of those guys historically destined to be a perpetual bridesmaid. Now that he's resurrected the Chiefs won his Super Bowl, and on the verge of possibly winning another, it's starting to become abundantly clear just how skilled this man is. That, and he's sixth all-time in wins among NFL head coaches.
On top of that, he's a bit of an anomaly in terms of personality. He doesn't get visibly mad very often, he doesn't throw his players under the bus publicly, and he manages to earn the love and respect of his team without sacrificing the hard edge that makes football teams great. Looking at it now, it feels like it should always have been obvious, but you can't overstate the extent to which he was considered soft or even a choker with the Eagles. Maybe the word "redeemed" is too much, since he was always at least good, but it's remarkable how his legacy has changed with the Chiefs, and how he's gone from a questionable pressure performer to one of the NFL's great winners.