korn ferry tour
With his first victory in 113 KFT starts, Roberto Diaz proves he does really care about Ws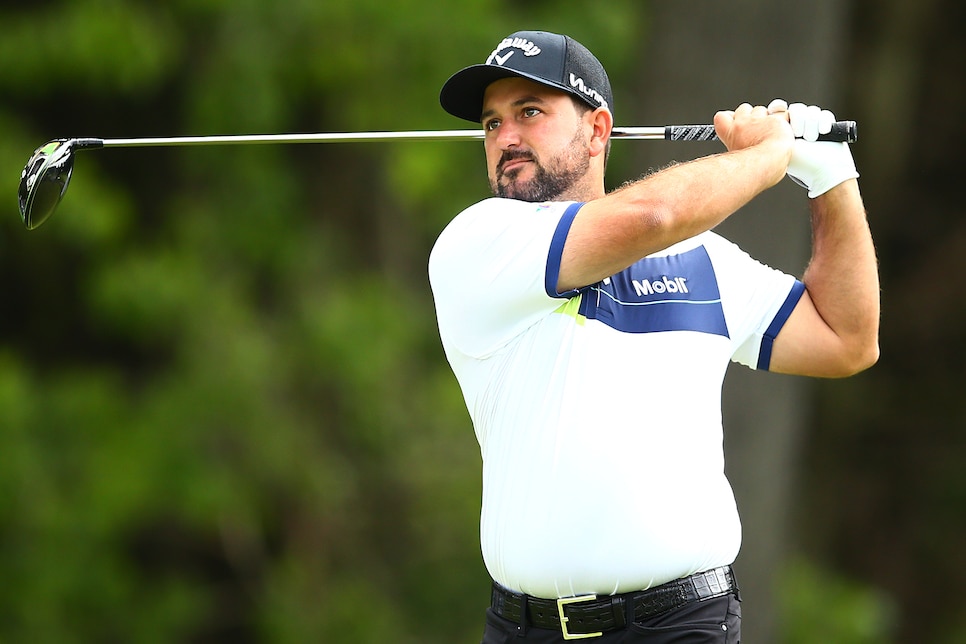 Roberto Diaz, shown playing in the 2019 RBC Canadian Open, notched his first career Korn Ferry Tour win in the 2021 Chitimacha Louisiana Open.
Vaughn Ridley
When it was over on Sunday, when he'd won his first Korn Ferry Tour title in his 113th starts, Roberto Diaz did care. He exalted, he cried, and admitted there was only thing he wanted: to win.
A day after Diaz claimed to have given up trying for victories after so many years of frustration, the 34-year-old from Mexico shot a three-under-par 68 that included an eagle and won the Chitimacha Louisiana Open in Broussard, La., by one shot over Peter Uihlien.
Before the win, Diaz said, "If I don't win, I don't care." Afterward, he was nearly overcome with emotion at Le Triomphe Golf & Country Club.
"Oh, man, where do I start; it's been a long road for me," said Diaz, who finished with a total of 18 under. "All I could think about on the course is just sustain the moment—it sounds so cliché … you have to stay in the moment. This win means a lot for me, for my family, for my team, for different reasons, not only for the sentimental part of it. But like I told you, the monkey on my back is off. I feel a lot of relief, I feel a lot of weight off me. There's only one thing that I wanted: it was to win. When my kid came along, I kind of put that off my mind, and now I have two things off my mind now."
Diaz and his wife had their first child, a boy, in December. Then in February, Diaz caddied for his good friend and San Antonio neighbor Abraham Ancer in the WGC-Workday Championship at The Concession in Florida. Diaz said he came away inspired by Ancer's apparent joy for the game—something Diaz hadn't been able to capture because he said he always put too much pressure on himself. This was his first start since that experience with Ancer.
The two men spoke via FaceTime immediately after Diaz walked off the 18th green.
"Abe just told me congrats, good playing," said Diaz. "He knows how hard it's been for me. It was great. He knows how hard I work, how tough it's been for me. He's there with me every day at practice, at the gym, at home, playing, struggling, he's a great friend. It means a lot to me that he was there with me. Dale [Vallely], his caddie, he FaceTimed with me last night for an hour. It's nice for me to do this for them."
Diaz had posted three runner-up finishes on the Korn Ferry in his career. This win puts him at No. 9 in the Korn Ferry standings and in a strong position to earn his PGA Tour card for next season, marking his return to the big circuit after he last earned status for the 2018 campaign.