European Tour
Scotland's Robert MacIntyre isn't just playing for himself these days, but an entire country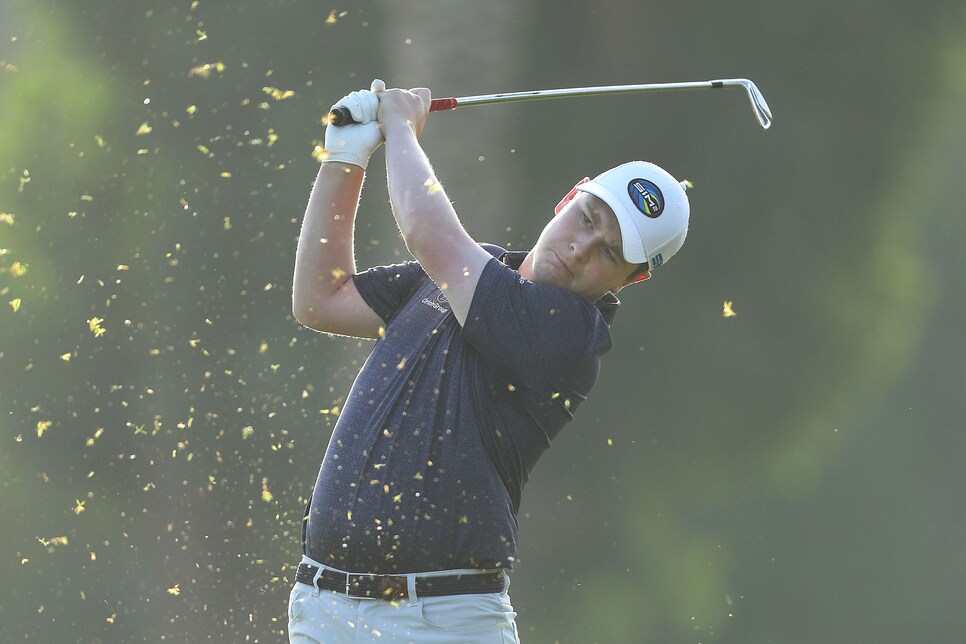 Rounds of 67-68 have Robert MacIntyre in contention mid-way through the Omega Dubai Desert Classic.
Warren Little
In the almost century-long history of the Ryder Cup, 22 Scottish golfers have played in the competition. And just six times has the Old World gone without at least one Scot on its roster. But four of those absences have taken place since the turn of the century, with only three Scots—Colin Montgomerie, Paul Lawrie and Stephen Gallacher—suiting up in the last nine editions of the biennial contest. It looks as though, however, a fourth might just be on the way.
On the eve of the Omega Dubai Desert Classic in which Robert MacIntyre has started 67-68, nine under par, the man who will captain Europe at Whistling Straits later this year, Padraig Harrington, was asked about the 24-year-old Scot. A renowned talker even when the subject matter is less than enthralling, Harrington was effusive in his praise of the left-handed lad he played alongside in Abu Dhabi a week earlier.
"Bob is definitely a good enough player to make the Ryder Cup team," said Harrington, a veteran of six matches. "He's one of the future stars of the European Tour. It could be his time in the next eight, nine months, there's no doubt about it. From a statistical point of view and from a personality point of view, he's kind of a hearty fella, which you want. He's a tough customer. He's a fighter. He gets it done which is very important when it comes to match play. We've already looked at the stats and he's very balanced, so he would work well in different formats, foursomes or four-balls."
Still, for all that, Harrington isn't quite ready to burn of his three captain's picks on MacIntyre, who would be only the second left-hander (Peter Dawson in 1977, the first) to tee-up against the Americans.
"As a rookie, Bob needs to play himself into the team," he emphasized. "Or at least get close. I won't be picking a rookie from, say, 16th or 17th place [in the qualifying)]. But if he's there or thereabouts, he's a player you would be very happy to have on the team based on the way he plays golf and also on his personality. In talking to him, he likes that. I won't say he has a chip on his shoulder, but he certainly fights like he has a little bit of a point to prove."
Knowing all of the above, it was surely no coincidence that, following Harrington's close-up view of MacIntyre in Abu Dhabi, vice captain Robert Karlsson played the opening two rounds in Dubai alongside the Scot. Even this early, the 2019 European Tour Rookie of the Year is under serious consideration.
"I'm try not to think about it," said Macintyre after his opening 67. "Robert was really good today. I met him in the hotel lift yesterday and he said, 'Oh, we're keeping an eye on you.' But at the end of the day he and Padraig are playing partners. They are selecting a team, fair enough, but I have to make sure if I'm on that team, there are no picks happening. I'm just focused on my golf and attacking pins and holing putts."
All of which he has been doing rather well. Late last year MacIntyre won his first European Tour event, the Cyprus Showdown, just one of a string of fine performances that have seen the former Walker Cup player rise to 52nd in the World Ranking. No surprise then that, over the course of his first 36 holes on the Majlis course at the Emirates Club, 10 birdies have dotted Macintyre's cards. Only once has he dropped a shot.
"Today wasn't as pretty as yesterday's round, if I'm being honest," he said after competing his bogey-free second round. "It wasn't as solid. But that's the way golf is. You can't have a 72-hole tournament where you hit it absolutely perfectly. Today I felt I was out of rhythm early on. Which was true of the whole group. We couldn't get any momentum going, which was difficult. You've got to be in the fairways out there. If you miss the fairways and you're in that second cut of rough, it's a lottery. Sometimes you can advance it 180 yards; sometimes you can only move it 100."
Going forward, MacIntyre will not lack incentive beyond his bid to win a second European Tour event. Victory would carry him into the world top 50 and all of the upcoming majors and World Golf Championships. Should that come to pass, the Ryder Cup beckons.