These Guys Are Good
Robert Garrigus quietly pulled off a PGA Tour feat that's going to be really tough to top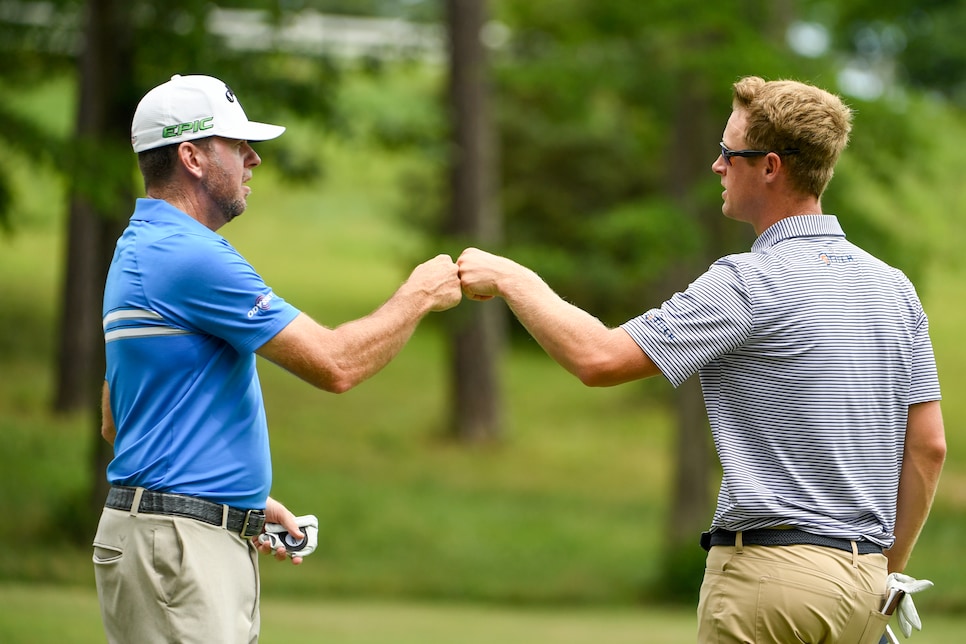 Between Collin Morikawa and Seamus Power both winning PGA Tour events on Sunday, there was a lot going on in the (wide) world of golf. It's no wonder so few people noticed Robert Garrigus did something that's never been topped before. In fact, there's a good chance Garrigus himself doesn't realize it.
Playing in the Barbasol Championship, the 43-year-old eagled the par-5 fifth hole at Keene Trace Golf Club during the final round. That in itself wasn't particularly rare on the very gettable 549-yard hole. But it completed a week in which Garrigus made that hole more gettable than any hole in PGA Tour history.
With that final eagle, Garrigus was eight under on the hole for the tournament. That means he averaged making an eagle on the hole each round. Pretty crazy.
Even crazier? He didn't eagle it each round, instead making up for "only" birdieing the hole on Thursday by making an albatross on Friday.
Ryan French, AKA Monday Q Info on Twitter, first pointed out this rare feat. The PGA Tour later confirmed no one has ever shot better than eight under on one hole for a tournament since detailed stats began being kept in 1983. It couldn't say if it had been done before that.
We're doubting anyone has, though, because that's amazing. Unfortunately for Garrigus, though, he didn't dominate the rest of the golf course. Despite being eight under on one hole, he only finished the tournament at 13 under and in a tie for 31st place.
But at least he walked away with a decent check. And (at least a piece of) a PGA Tour record. Not that anyone really noticed.