The Loop
Rickie Fowler's win proves golf is in good hands
Rickie Fowler wasn't the only winner on Sunday at Quail Hollow. The other was the future of golf. For a game many feared would be in serious trouble in the post-Tiger Woods era -- we might have arrived there already -- it sure has made an inspiring comeback during the last 11 months.
June 2011:__ Rory McIlroy, 22, conquers the field in the U.S. Open at Congressional.
August 2011: Keegan Bradley, 25, captures the PGA, the first major he ever played.
May 2012:__ Rickey Fowler, 23, seizes his long-awaited inaugural tour victory.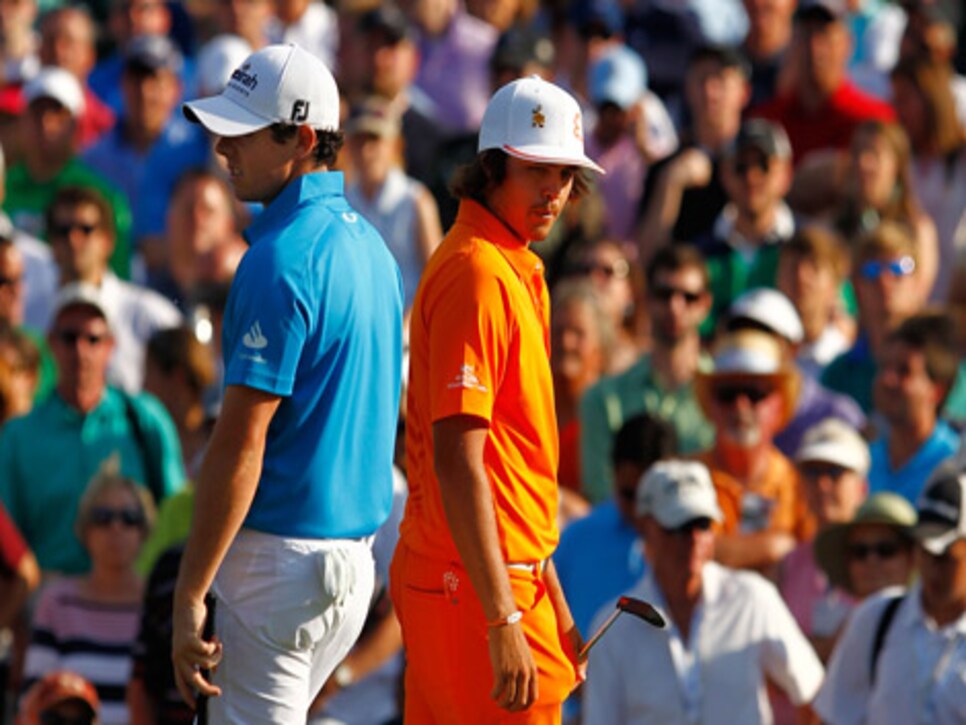 The Sunday duel between McIlroy and Fowler at Quail Hollow likely won't be the last one. Photo by Getty Images.
Hey, aren't we forgetting somebody? Hint: He plays left-handed, hits the ball a mile, and knows how to hook a wedge from the pine straw at Augusta National.
And it was not just the fact that Fowler finally broke through. It was how he broke through, by knocking a wedge to within four feet on the first playoff hole, the very challenging 18th. It was also who Fowler outdueled in sudden death -- McIlroy, along with D.A. Points. McIlroy knocked a three-wood past Fowler, who hit driver, but could not match his opponent with a similarly dazzling approach.
The immediate assumption by many is that we will see Fowler vs. McIlroy in countless duels to come over the years. Maybe. Maybe not. We once made the same assumption about Woods and Phil Mickelson. Yet except for Doral and the event at TPC Boston a few years back, the two most dominant players of their generation have not battled each other down the stretch of a marquee tournament. Just once, wouldn't it be wonderful theater to watch Tiger against Phil all square, in the final twosome, reaching Amen Corner on Sunday afternoon? Just once. And hurry; we are running out of time.
Like Tiger and Phil, McIlroy and Fowler both have another thing going for them besides their undeniable talent. It is called charisma, and you don't go to a swing coach or psychologist for it. They each have tons of it. Win or lose, they are must-see TV. So what if they may never generate Tiger-like ratings? It is quite possible no one will ever generate Tiger-like ratings again...except Tiger, of course.
Another positive is that Fowler and McIlroy genuinely like each other. Seeing them exchange a few words on the final green during the playoff was a strange sight, to say the least. Can you imagine, for example, Tiger and Phil conducting a little chat in a similar situation? Some fans, of course, might prefer a little animosity between a sport's top rivals. Nonsense. Just look at Rafael Nadal vs. Roger Federer. They, too, get along extremely well, and it doesn't seem to have lessened the intensity of their historic rivalry one iota.
Either way, whether McIlroy vs. Fowler provides the head-to-head drama we greatly yearn for, the two will be major forces in the game for a long time. We might even witness Round Two as soon as this coming week at The Players Championship.