The Loop
Rickie Fowler: "I definitely don't want to be remembered as a one-time winner"
LA QUINTA, Calif. - When it comes to building a brand, fan-friendly Rickie Fowler is among the best on the PGA Tour. His long hair, bold use of color in his clothing and willingness to endlessly sign autographs has made him an inspiration for junior golfers, who are hard to miss in tour galleries as they display their loyalty by wearing the same bright colors and Fowler's trademark flat-brim Puma hats.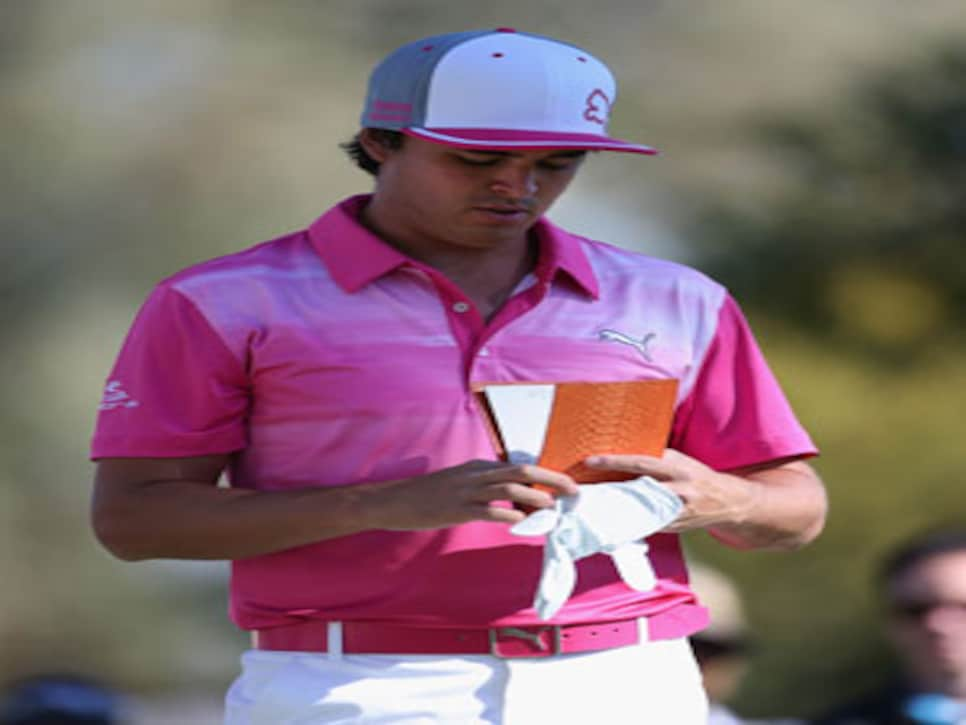 All Fowler needs now is to win more.
The 25-year-old matinee idol who grew up in Murrieta, less than an hour from here, before attending Oklahoma State, returned to the desert to begin 2014 at the Humana Challenge. And he comes home with a new attitude that's as strident as his fashion choices.
"I have one tour win, but I definitely don't want to be remembered as a one-time winner," Fowler said after an opening 68 Thursday at La Quinta CC, one of the three courses upon which the Humana is played.
"So we'll see what we can do here," Fowler said after a four-under-par round that was outside the top-30 and, in this birdie-fest, pretty much amounts to an even-par effort. "We got a few good starts here on the West Coast, and we would like to get one [win] close to home."
As part of his renewed commitment to be more than just another pretty face, Fowler has started working with swing coach Butch Harmon on what Rickie says are "no major changes, just taking what I have and cleaning it up, making it consistent and more repeatable."
Fowler says the essence of the effort is to get started in the right takeaway position and to shorten his backswing a bit. "My tendency," he says, "is to get a little long and the club gets stuck behind me."
While winning more than $10 million since turning pro in 2009 and banking millions more in endorsement and appearance money (he was No. 35 on the 2014 Golf Digest 50 all-encompassing money list), Fowler has had just that one victory (the 2012 Wells Fargo Championship) and 23 top-10 finishes in 107 PGA Tour starts.
When he talks about goals, Fowler mentions contending in the majors, where his best finish is T-5 in the 2011 British Open, and returning to the Ryder Cup, where he played in 2010.
As perhaps a sign of his new relationship with Harmon, Fowler, who now lives in Jupiter, Fla., is staying at the exclusive Madison Club this week. That's where another notable Harmon client -- Phil Mickelson -- stayed when he played the Humana last year.
At a very tender age, but as a relative veteran on tour, Fowler seems determined to hit the reset button on his career and, as Harmon says, "be known more for his golf than his clothes."
That will give all those kids in his gallery something to cheer about.