Sales & Deals
The best deals at Rhoback's Longest Day of the Year Sale
*All products featured on Golf Digest are independently selected by our editors. However, when you buy something through our retail links, we may earn an affiliate commission.*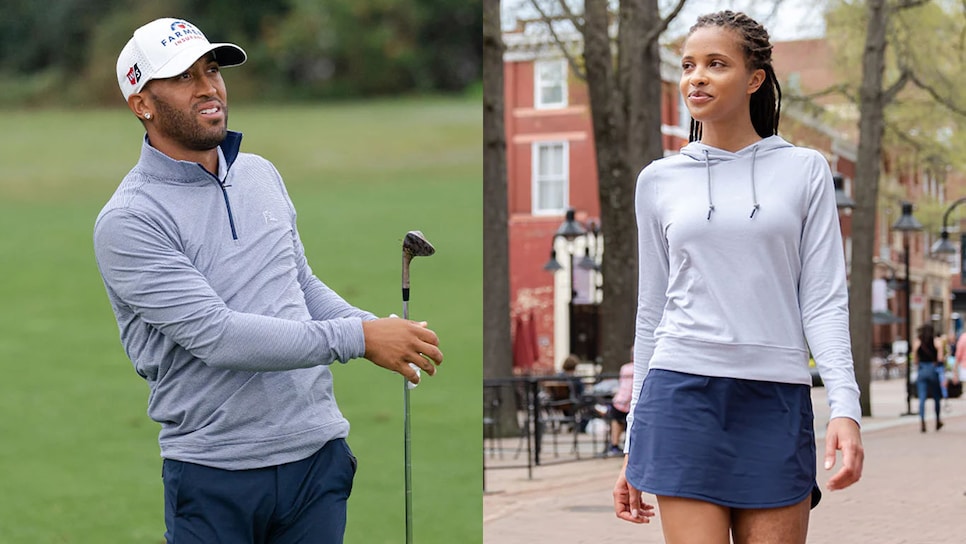 The summer solstice is upon us and to commemorate the longest day of the year (June 21), Rhoback is having a 20 percent off site-wide sale on golf shirts, shorts, activewear and more, now through midnight tomorrow.

Rhoback has become known for releasing timely pieces around major golf moments, holidays, and charitable events. They are clothes that look good while wicking away sweat and standing strong in the test of wear and tear. Launched in 2016 as a quality activewear brand for dynamic guys who like to wear bright, stylish clothes, Rhoback has since added women's apparel to its resume that is not to be missed. Take advantage of the sale (and extra daylight) to stock up on stylish golf essentials and staple pieces, while supplies last.
RELATED: The best summer-golf essentials for every round
Men's Golf Shirts
Staying dry and comfortable on the golf course during the summer months is essential. All Rhoback men's performance polos are breathable and quick-drying. With a four-way stretch and comfortable athletic fit, you can count on this performance polo to not get in the way of your backswing. Rhoback mens's golf shirts are designed to transition seamlessly from one activity to the next, whether it be golf, tennis, or just going casual. Wear them tucked or untucked — these printed, striped, solid, and destination-themed polos are just what you need to keep you stylish all summer long. An added bonus of these polos is the excellent sun protection of UPF 40-50+.
Women's Collection
Since its launch in 2016, Rhoback has grown increasingly popular amongst men's golf staples. This April, the brand dropped a series of activewear products including dresses, skorts, and jogger sets—as an addition to the classic polos and quarter zips previously available in women's sizes. The new activewear is great for that young woman who is just learning the game and wants something comfortable, chic, and able to be worn on multiple occasions.
Men's Hoodies
Leaning on similar comfort and performance-focused technologies as the popular polo collection, Rhoback's hoodies are a classic mid-layer staple to have for early morning and late evening tee times. From working out, to traveling, to those chill nights at home — it's important to have that perfect, do-it-all hoodie. Made with a poly nylon fabric and a touch of spandex for that perfect stretch material, these hoodies check every box for summer golf and beyond.
Men's Quarter-Zips
Seeing a quarter zip on a golf course is as omnipresent as seeing grass. And we get it — having a quintessential layering piece is important when the elements can often be unpredictable out on the links. Hoodies are great for casual wear, but if you're looking for something more elevated, having a go-to Q-zip is crucial. Rhoback's layering pieces are great because they have all the same performance technology as the brand's golf shirts—four-way stretch fabric, a distraction-less-yet-roomy fit, sun protection and moisture-wicking properties. The self-collar on both styles is designed to maintain its shape all day, adding to the upscale look and feel of these pieces.
Men's Shorts and Joggers
Being active and outdoorsy is a huge part of the Rhoback brand, and shorts and joggers are the fashion equivalent to that person is who always on the go, searching for their next adventure. Joggers on the golf course have become another ubiquitous trend that doesn't seem to be going anywhere any time soon. Tapered pants are more refined than sweat or track pants—joggers give your look an effortlessly cool finish, while still complying to most golf course dress codes. 
The Everyday Short is a staple piece, with select sizes still available for purchase. These easy, breezy nylon shorts come in a 7.5-inch inseam and are expertly on-trend. Don't be intimidated by the slightly shorter inseam, it's a flattering length that won't feel too short.