News
What Tiger Woods Can Learn From Retief Goosen's Bad Back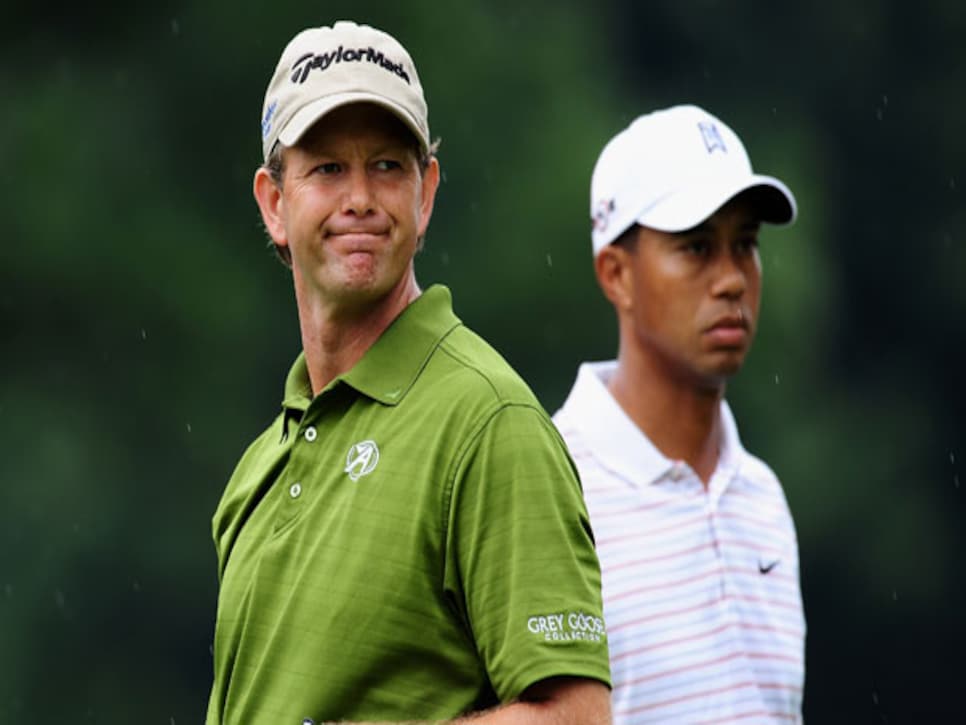 Two years ago, Retief Goosen was on the verge of giving up the game because of a bad back. What started with spasms was eventually a bone-on-bone, career-threatening injury.
"I tried everything," the two-time U.S. Open champion told me last week in the locker room at Bay Hill. "I was prepared to do anything to get rid of the pain. I couldn't sleep at night anymore. I'd wake up every time I turned over. I couldn't hit certain shots. I had constant physio [treatment] to keep you loose for about eight holes, and then it would spasm again."
On a week when eight-time Arnold Palmer Invitational champion Tiger Woods pulled out with back spasms, those words and Goosen's comeback from back surgery took on greater meaning.
Goosen had a completely degenerated disk. A London doctor convinced him that by replacing it Goosen's career could continue. It took the South African two months before agreeing to the surgery. He found himself with his wife, debating the surgery until he was rolled in for the operation. The deciding factor: His back was so bad he couldn't play anymore, so there was nothing to lose.
"It starts off with a bulging disk and eventually it leaks and in my case, starts chewing away at the bone around the area," Goosen said.
The surgery took place in August 2012 at The Princess Margaret Hospital with Dr. David Harrison performing an M6-L with a titanium replacement. Nine months later, Goosen withdrew from the Players with a stress fracture on the L-3 facet joint. His best finish since returning in September 2013 was a T-8 at this year's Sony Open in Hawaii. He shot 64 in the third round of the Valspar Championship but followed up with a 79.
While he thinks his clubface is in a better position than when he won the 2001 and 2004 U.S. Opens, Goosen isn't nearly the player he once was. Once a member of the Big Five with Woods, Vijay Singh, Ernie Els and Phil Mickelson, he was top 10 in the world for over 250 weeks. At 45, he ranked 309th before a T-31 finish at the API.
"My nerves aren't as good as they were 10 years ago," he said. "That's the thing that sort of goes when you haven't played well in a while. Your nerves go and your sense of self-confidence goes. It's hard to get down and bust [a shot]. You start steering it and not trusting the clubs. The biggest thing for me is hitting the extra club because you don't hit it as far. It's hard sometimes to trust yourself that you're actually hitting the ball that short."
As for Woods, the usual secrecy accompanies his injury. There was a report after pulling out of Bay Hill that he had a bulging disk. That didn't surprise Goosen, who made the point that Woods is going to have to dramatically alter his exercise program. The days of heavy weight lifting are definitely gone.
"I knew when his back spasms came up it was definitely structural," Goosen said. "Your back doesn't spasm unless it's trying to protect something. There's nothing you can do with bulging disks to take that away."
Before exiting to hit balls on the range next to his son, Goosen stated not only what he faced, but what Woods could be facing if it's more than a facet joint issue.
"It's a difficult road back," he said.