News
Report: Stephen Curry in talks to host a PGA Tour event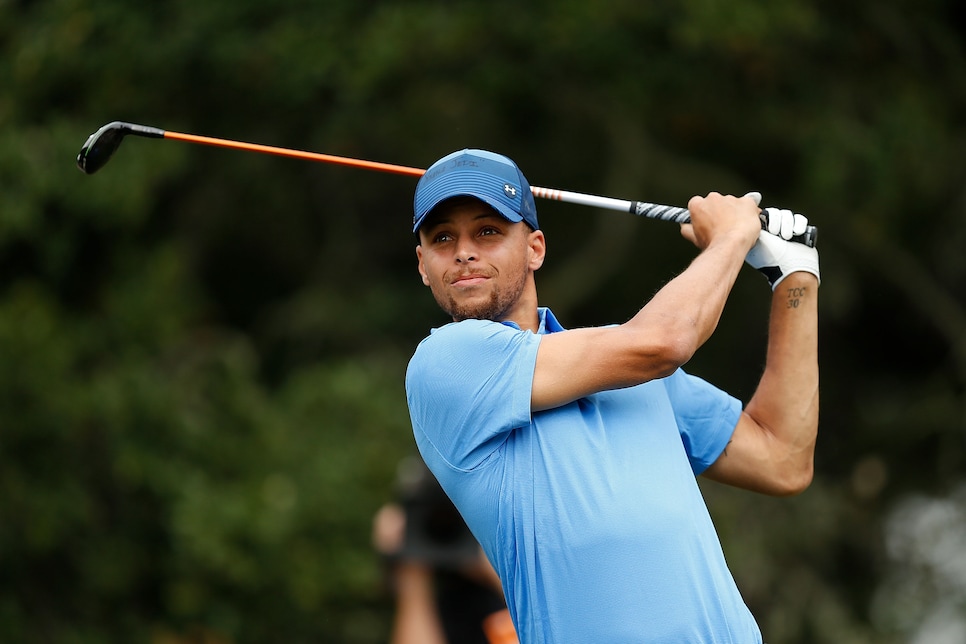 Even with a potential fourth straight NBA Finals berth on the line, golf is always in the back of Stephen Curry's mind.
According to a report from ESPN's Darren Rovell, the Golden State Warriors star point guard is working towards hosting a PGA Tour event. Curry's representatives at Octagon are looking to finalize a deal with the tour that would allow the agency to work with the Tour to sell marketing and sponsorship deals for a tournament that will be played in the fall of 2019. It's unclear what event that would be, but it's fair to assume it could be the Safeway Open, which is played in Napa, California, the first week of October prior to the tour's Asian swing.
Rovell also spoke to PGA Tour spokeswoman Laura Neal, who acknowledged the talks with Curry's team.
"There's no doubt Stephen Curry brings a young, new, diverse audience to the PGA Tour through his passion for this great game and support for the community," said Neal. "We're excited about the prospect of partnering with an iconic athlete of his caliber in the future."
Curry, whose Warriors are currently tied at one game apiece with the Houston Rockets in the Western Conference Finals, has kept the potential deal quiet because he wants to focus on basketball, per Rovell's report. The Warriors will welcome in the Rockets to Oracle Arena for game three on Sunday as they look to take a 2-1 series lead.
The two-time NBA MVP, a scratch golfer, famously put his game under the microscope last August in the Web.com Tour's Ellie Mae Classic, impressing golf fans with a pair of 74s that he later posted in the USGA handicap system. But it doesn't appear like Curry will give this PGA Tour event a try, something fellow high-profile athlete Tony Romo did unsuccessfully this season at the Corales Puntacana Resort & Club Championship.
As noted by Rovell, Curry wouldn't be the first celebrity to host a PGA Tour event. Justin Timberlake was the most recent, hosting the Shriners Hospitals for Children Open from 2008 to 2012. However, Curry would be by far the most high-profile athlete to do so, with a resume that already features two NBA titles and five appearances in the NBA All-Star game.