Laser focus
Defending Heritage champ Jordan Spieth is so focused he didn't let a cannon blast affect his shot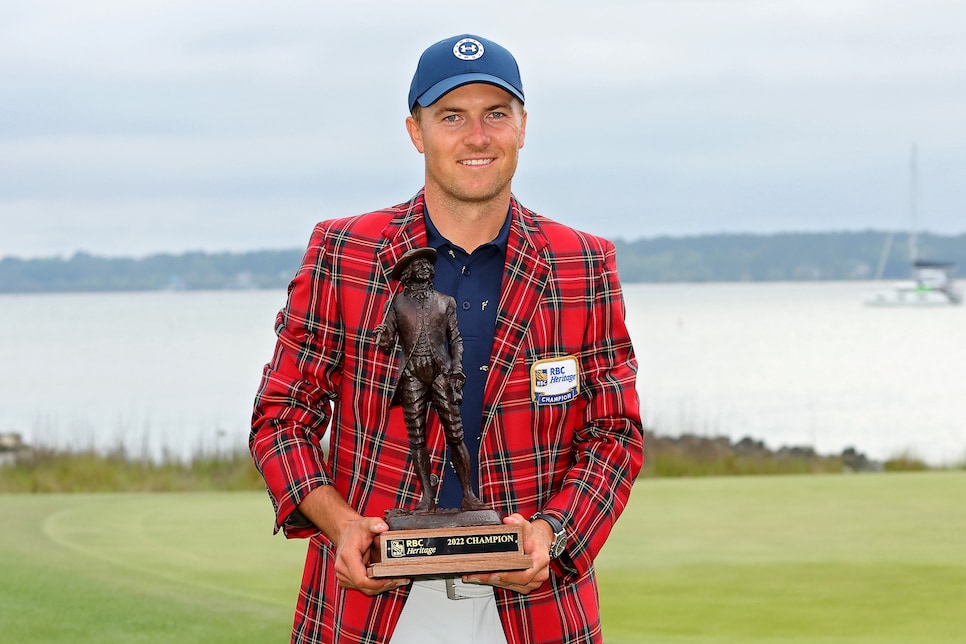 Jordan Spieth poses with the trophy after winning the 2022 RBC Heritage.
Kevin C. Cox
HILTON HEAD ISLAND — By now, it's common knowledge Jordan Spieth invests his entire life into every shot he hits. The three-time major winner was even willing to risk said life at last year's AT&T Pebble Beach Pro-Am when he hit a 7-iron from the edge of a cliff on the eighth hole.
On Tuesday at the $20 million RBC Heritage at Hilton Head's famed Harbour Town Golf Links, Spieth found a new shot to immerse himself in—the defending champion's ceremonial first tee shot.
Every year at Harbour Town the defending champion hits a golf ball with a hickory-shafted club while wearing the winner's plaid jacket. As they strike the ball, a group of men dressed in Revolutionary War-era uniforms fire a cannon ball into the Calibogue Sound.
The tradition would startle most golfers. Not Spieth, though.
"I think I just was so in the zone, I didn't even hear it," Spieth said, having remained perfectly balanced during the blast. He did have some help, although earplugs hardly seem like effective protection. "They helped a lot.'
"The guys running the cannon were saying, give me the nod and I'll try to wait until you strike it, so I was just hoping it didn't go off early," he said. "It might have scared me pretty hard if it did."
Spieth even strategized the shot beforehand.
"I had a jacket on, and I hadn't made a swing today, so I figured I'm not going for distance, I just don't want to get hurt," Spieth said.
Last year in the RBC, Spieth hit a 56-foot shot from a greenside bunker to seven inches and beat Patrick Cantlay with the tap-in par putt on the first hole of a playoff.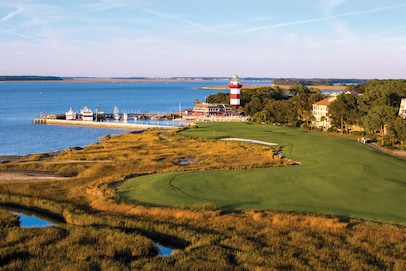 Public
Hilton Head Island, SC
In the late 1960s, Jack Nicklaus landed the design contract for Harbour Town, then turned it over to his new partner, Pete Dye, who was determined to distinguish his work from that of rival Robert Trent Jones. Soon after Harbour Town opened in late November 1969 (with a victory by Arnold Palmer in the Heritage Classic), the course debuted on America's 100 Greatest as one of the Top 10. It was a total departure for golf at the time. No mounds, no elevated tees, no elevated greens—just low-profile and abrupt change. Tiny greens hung atop railroad ties directly over water hazards. Trees blocked direct shots. Harbour Town gave Pete Dye national attention and put Jack Nicklaus, who made more than 100 inspection trips in collaborating with Dye, in the design business. Pete's wife, Alice, also contributed, instructing workers on the size and shape of the unique 13th green, a sinister one edged by cypress planks.
View Course
This year, Spieth is trying to avoid fatigue, having played a marathon stretch of golf recently, both at the Masters and the nine weeks leading up to it. Going back to early February at Pebble Beach, Spieth has played eight of the last 10 PGA Tour events. This edition of the RBC Heritage now is a designated event, meaning Spieth will be up against seven of the top 10 on the Official World Golf Ranking, including the No.1 and last week's Masters champion Jon Rahm.
"I'm trying to balance continuing the stretch of golf I've been on; I've been playing really nice golf over the last six, eight weeks, and then resting," Spieth said, referencing the four top-six results he's registered in that span.
At last week's Masters, weather interruptions saw Spieth play 27 holes on Sunday. It apparently didn't bother him, since he shot 66 in the final round to vault to a tie for fourth.
"It's nothing new, but I don't normally have 27 holes on Sunday of Augusta right before [this week]," he said. "That's a hard walk. It's not a hard walk this week, but it requires a lot of focus. It's just a course where you have to pick it apart tee-to-green based on where the hole location is and really think your way around."
Fortunately, Spieth has plenty of focus.