PGA Tour
Patrick Cantlay strikes back at criticism of slow play in Masters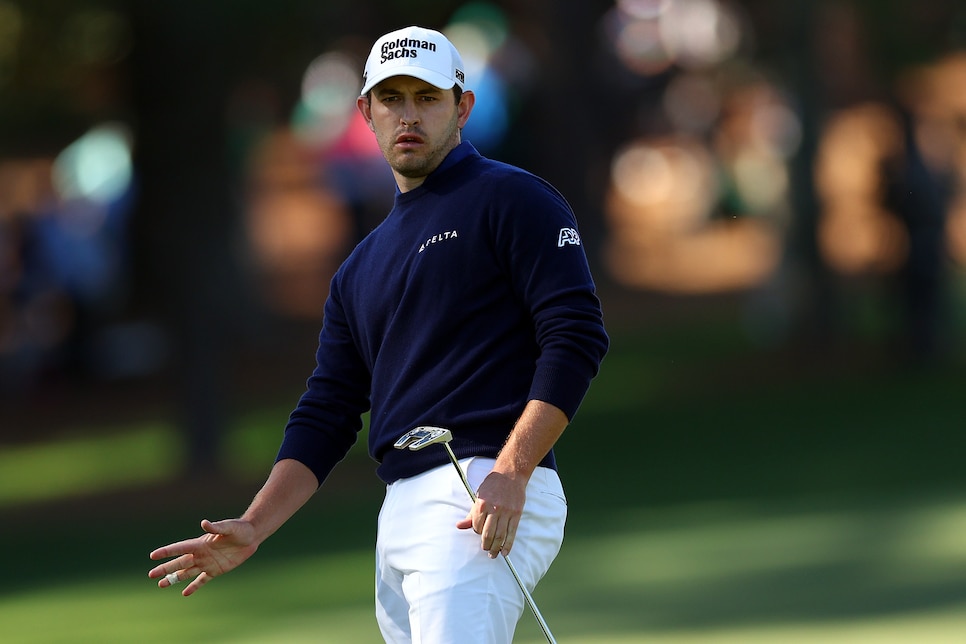 Patrick Cantlay reacts to a putt at No. 10 in the final round of the Masters.
Andrew Redington
HILTON HEAD ISLAND — A little context, please. That was the message from Patrick Cantlay when asked Tuesday about accusations of his slow play at the Masters.
Social media was ablaze Sunday with criticism of Cantlay's pace of play at Augusta National when he was paired in the second-to-last group with Viktor Hovland. Some even pointed to a moment—when Hovland hit his greenside pitch shot at the par-5 13th while Cantlay was still back in the fairway—as a sign that even Hovland had grown frustrated.
Hovland, who was in contention and finished T-7, and Cantlay (T-14) took about four hours and 50 minutes to play their final round at Augusta, while the final pairing of eventual Masters winner Jon Rahm and 54-hole leader Brooks Koepka needed about one minute less—4:49.
Afterwards, when asked about the general pace of play of all 54 players on Sunday, four-time major winner Koepka singled out Cantlay's group. "The group in front of us was brutally slow," said Koepka, who finished tied second. "Jon went to the bathroom like seven times during the round, and we were still waiting."
But Cantlay insisted the final pairing wasn't the only group waiting during Sunday at Augusta. Cantlay was playing behind Hideki Matsuyama and Russell Henley, who were behind amateur Sam Bennett and Collin Morikawa. Both Matsuyama and Bennett are, let's say, deliberate golfers.
On top of that, there was a considerable backup on the par-5 second tee Saturday. Due to the inclement weather, Augusta National instituted a two-tee start for the final round, and the 10th tee starters also were waiting for long periods on the second tee when they had played 10 holes.
"We finished the first hole, and the group in front of us was on the second tee when we walked up to the second tee, and we waited all day on pretty much every shot," Cantlay said at the RBC Heritage at Harbour Town Golf Links. "We waited in 15 fairway, we waited in 18 fairway. I imagine it was slow for everyone."
A handful of tournaments this year on the PGA Tour have not been able to finish the second round on Friday, including at the two limited-field invitationals—the Genesis Invitational at Riviera and the Arnold Palmer Invitational at Bay Hill.
But Cantlay, a former member of the Players Advisory Council, hit back at suggestions that slow play had become a concerning issue on the PGA Tour.
"One thing that's interesting sitting on the PAC is you get all the numbers and the data, and rounds have taken about the same length of time for the last 10 or 20 years that they currently take," Cantlay said. "When you play a golf course like Augusta National, where all the hole locations are on lots of slope and the greens are really fast, it's just going to take longer and longer to hole out.
"I think that may have been what attributed to some of the slow play on Sunday [at the Masters], and then also, when the wind is gusting and the wind is blowing maybe inconsistently, that's when guys will take a long time, too. I that's just the nature of playing professional golf, where every shot matters so much."