PGA Tour
With big names battling, the RBC Heritage has the final-round leaderboard it hoped for as a designated event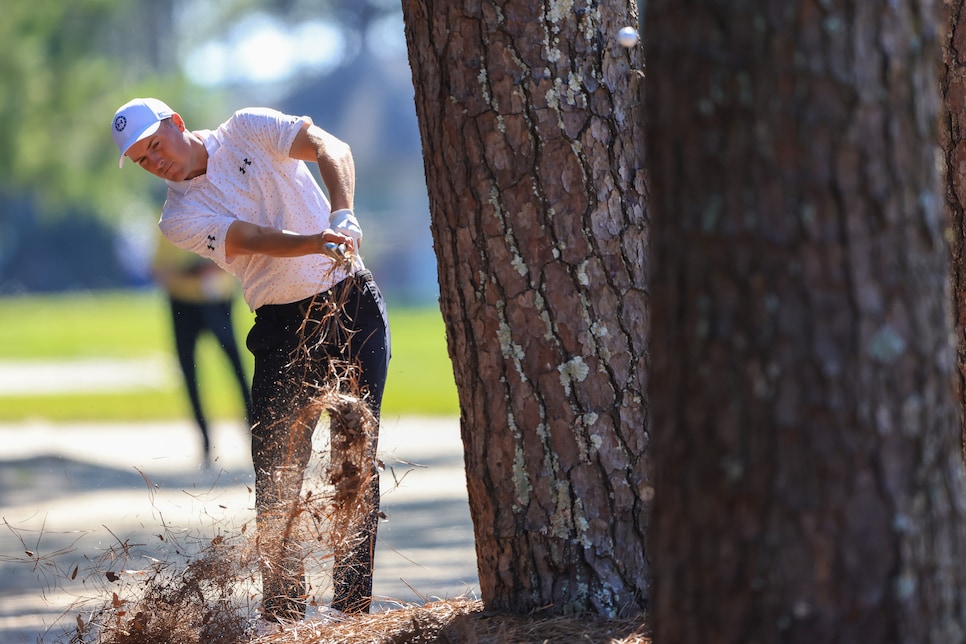 Jordan Spieth plays a second shot on the 15th hole during the third round of the RBC Heritage.
Sam Greenwood
HILTON HEAD ISLAND — There was plenty of conjecture before this week's RBC Heritage. Giving the event held the week after the Masters a $20 million designated status was not the most popular move. There were withdrawals, too. Four-time major winner Rory McIlroy pulled out after missing the cut at Augusta National. Former World No. 1 Jason Day also skipped Harbour Town Golf Links.
Yet the 54-year-old tournament, after three rounds, is almost exactly how the PGA Tour wants it—big names in contention and promising to go lights out in search of victory.
"This [tournament] is high on my list as one I've always wanted to win," Fitzpatrick, 28, said of the tournament which awards a plaid jacket to its champion. "Coming here as a kid to the tournament, I loved it. This place to means a lot to me. Aside from Augusta, it's my favorite golf course. This is the best position I've been in in this tournament and I'm excited to give that a go tomorrow."
Fitzpatrick, an eight-time DP World Tour winner and two-time Ryder Cupper, is searching for his first non-major PGA Tour victory in 122 starts. Only problem is there is a stack of superstars chasing who have won plenty of PGA Tour titles before.
The defending Heritage champion, Jordan Spieth, came to Hilton Head Island fresh off a Sunday 66 at Augusta National, where he tied fourth. The three-time major winner has rolled that form into Harbour Town, with a third-round 66 bring him to 12 under and just two shots off the lead. Tommy Fleetwood, Scottie Scheffler (11 under), Rickie Fowler, Matt Kuchar and Xander Schauffele (10 under) would also figure to have a chance at catching Fitzpatrick.
Spieth will join Fitzpatrick and Cantlay in the final group, with officials sending the field out in threesomes because of weather concerns. Cantlay, who lost to Spieth in a playoff at Harbour Town last year, said a one-shot deficit wouldn't require anything dramatic. His approach is more of a traffic light system, where green lights can only be seen from the fairway.
"Stay patient," Cantlay said. "If you're playing in position, you can be aggressive to certain hole locations, but if you get out of position you really need to take your medicine."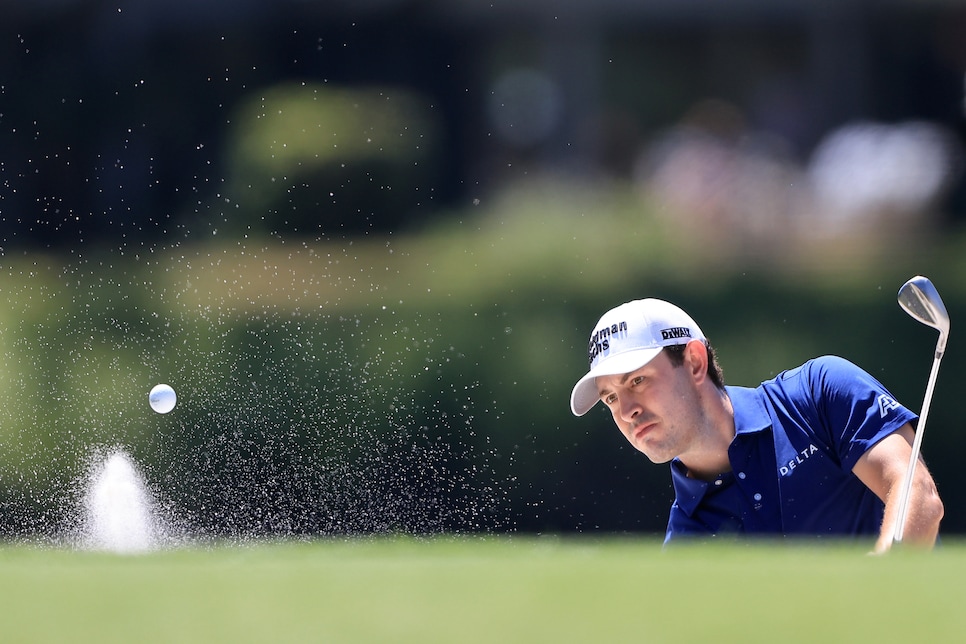 Patrick Cantlay plays a shot from a bunker on the fifth hole during the third round of the RBC Heritage.
Sam Greenwood
Cantlay has finished in the top seven on the leaderboard four of his five starts at the Heritage. That's no surprise given Harbour Town has plenty of narrow corridors and tree-lined doglegs. While Cantlay isn't the longest driver on the PGA Tour, he is among the most accurate—second in strokes gained/off-the-tee this season.
"I've had a good track record around this golf course and had a number of chances, so should be nothing new tomorrow," he said.
Asked if he feels the event owes him a victory, Cantlay joked, "I hope so."
Spieth's approach couldn't be more different.
Perhaps the PGA Tour's best entertainer, he promises fireworks, providing the forecasted Sunday morning rain softens the course. For golf fans, that's usually must-watch TV.
"If it gets rain, then you've got to keep the gas pedal on," Spieth said. "If you look at the leaderboard, you go down the list of names, try and tell me one of them isn't going to shoot four or five under.
"It's going to be about trying to win the golf tournament, not play protective. This course can make you try to maybe try chip shots or be tentative with how tight it is, but you just have to play freely tomorrow and look to make birdies."
Spieth has teed up as the defending champion 11 times from his 13 PGA Tour titles. He never has successful defended, but he wants to.
"Absolutely," Spieth said. "Anytime you have a chance on a Sunday you've accomplished your goal for the week. Then it just becomes go out there and get it done and try to separate yourself. You going to have nervous and pressure-packed shots. That's where the fun is.
"That's why I got into this gig. The ball is in your hands, and I've had plenty of times where it's worked out, I've had plenty of times where it doesn't, but each time I never regretted being in that situation."
The way the leaderboard looks Saturday night, it's unlikely the PGA Tour has any regrets, either.