News
RBC Heritage 2020 expert picks: Which favorite is the best bet at Harbour Town?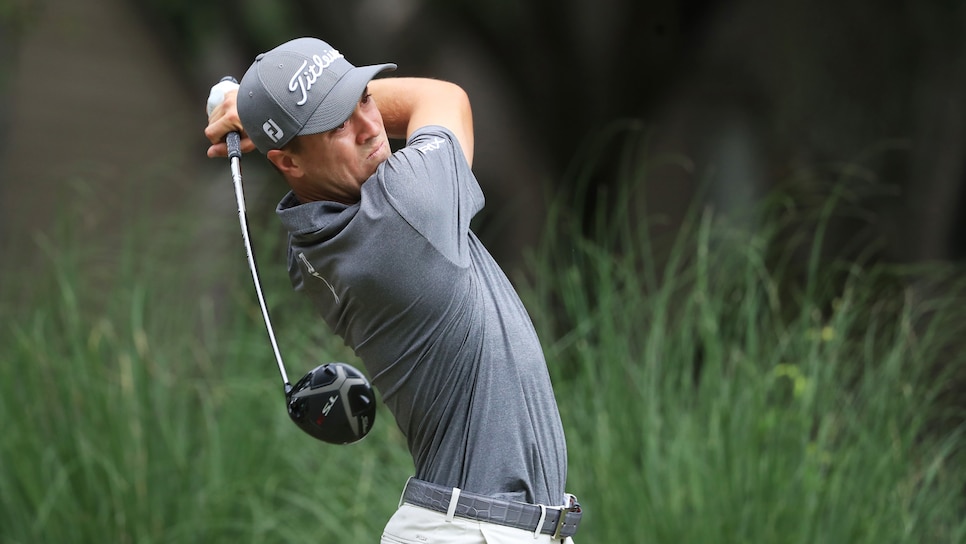 Few times in life does something with high expectations actually exceed those expectations. That was the case with the PGA Tour's return last week. It was a major-like leaderboard, which matched our anticipation going into it.
Now you're telling us we have this for the next three months? That's almost too good to be true. (Hopefully it's not!) And if you're new to golf gambling, as many of you might've been hooked by the dramatic Sunday finish, you've come to the right place! Our expert panel below is the best in the industry, a collection of data scientists, golf handicappers from leading industry websites, and we even have a caddie giving his picks anonymously from the grounds of the tour event every week.
If you followed our experts for last week's Charles Schwab Challenge, you may very well have earned some nice coin. No, we didn't pick a winner (and we may or may not have "faded" a certain someone who almost won), but we did clean up in top-10 bets. Our caddie had Jordan Spieth at +450, Pat Mayo had J.T. Poston at a juicy +1400 and our own Stephen Hennessey had Collin Morikawa at +400. Matchup-wise, our experts went 4-2-1 across the board. Not bad after a 91-day layoff, if we do say so ourselves.
And speaking of not so bad: To quantify just how good our expert panel has done this season, we are up a collective 216.26 units, meaning that if you followed each of our bets with $10 every week, you'd be up $2,160 already on the season. We'd like to keep it going this week at Harbour Town, and perhaps this time we can pick another outright winner. The field once again is deep, with all five players at the top of the Official World Golf Ranking set to tee it up. We'll also see first-round Players Championship leader Hideki Matsuyama for the first time post-quarantine, as well as Bay Hill winner Tyrrell Hatton.

Read on to see who we like this week at the RBC Heritage.
2020 RBC Heritage 2020 Picks To Win (Odds from BetMGM)
Anonymous Caddie Picker of the week: Sungjae Im (30-1) — Sungjae is arguably the most consistent player in the world: look at his stats. He gained in every category, and undoubtedly knocked some competitive rust off, as someone who loves to play every week. What I look at for Harbour Town is that Sungjae was in the top-30 in strokes gained/off-the-tee and on his approaches last week, like seemingly every week. You have to be a precise player to win at Harbor Town, and he is.
Pat Mayo, DraftKings/Fantasy National analyst: Justin Thomas (14-1) — Thomas gained seven strokes overall en route to a T-10 finish. Oddly enough, he lost 1.6 strokes/off-the-tee, the first time in 13 starts where he's lost strokes off the tee, so we'll consider that a data point that should come back to his normal. (In fact, it was the first time since the 2018 BMW Championship where JT lost more than a stroke to the field off the tee). Bermuda putting surfaces are better for JT historically, and he has won at courses where precision off the tee is essential (Honda Classic; Sony Open). Similar odds as last week at a better setup for his game, and I'm willing to invest in a win for JT.
Brandon Gdula, FanDuel/numberFire managing editor: Jon Rahm (16-1) — This week, we should probably focus on the top of the field quite a bit after the leaderboard we saw last week. I'm starting my betting card a little higher up the list than normal. Rahm is coming off a missed cut that dropped his price a good bit, but he was strong tee to green last week (13th, via FantasyNational.com). He just was ice cold with his putter, losing 4.2 strokes. He's headed to a course where he has no experience, yet his win odds in my simulations rival McIlroy's at a much better price. There's a big four for me this week with McIlroy, DeChambeau, Thomas and Rahm, so I'm just going with Rahm at the best odds at the top.
Rick Gehman, data scientist and DFS on Demand founder: Webb Simpson (25-1) — Bookmakers have overreacted to Simpson's missed cut last week, dropping him all the way down to 30-1 in some spots for Harbour Town, which should be one of the more natural fits for him. His MC at Colonial was highlighted by losing 3.27 on approach in Round 1. As a top-10 ball-striker on tour, it's highly unlikely that repeats itself, so take advantage of the line.
Dr. Lou Riccio, Columbia University: Justin Thomas (14-1) — Thomas was right there on the weekend at Colonial but went quiet on Sunday. If he gets in the mix again in Hilton Head, I like him to close this time around.
Stephen Hennessey, Golf Digest dep. managing editor: Jon Rahm (16-1) — I do think this tournament tends to mostly give us more longshot winners (C.T. Pan, Satoshi Kodaira and Wesley Bryan are your previous three), but those were with much weaker fields. I still think the top half of this board as a definite advantage over everyone else. That leads me to the big Spaniard. Rahm's struggles last week were mostly due to his putter, losing more than four strokes to the field on the greens. As any expert will tell you, putting is a week-to-week thing. He gained strokes on his approaches and off-the-tee, which is what I care about. Among the favorites, this is the most attractive price point to me. Rahm is an aggressive player, which might make you scared to back him here, but I actually think it gives him an advantage. He'll be a little bolder than others on some of these tight doglegs. And as well as he's controlling his golf ball, that could translate to an advantage on the field.
Christopher Powers, Golf Digest assistant editor: Patrick Reed (28-1) — Last Sunday, Patrick Reed made 14 consecutive pars in the final round at Colonial. He then made three straight birdies and almost a fourth to reach 14-under. Just imagine for a second if he had birdied the easy opening par 5 and the 18th hole. He'd have been in a playoff after essentially being a ghost all week. If, if, if. I'm going to bank on him carrying that into Harbour Town, where he's actually been terrible (71st, 48th, MC in three starts). That could be attributed to some poor play off the tee, which is a much bigger factor at the Pete Dye design than you might think. But he had a decent driving week at Colonial and another great week on and around the greens, as he often does. If he can just be serviceable off the tee there's no reason he can't contend.
Lee Alldrick, FanShare Sports: Bryson DeChambeau (14-1) — DeChambeau had no right to perform as well as he did last week on a course that absolutely doesn't suit his game. He almost won. This just goes to show how well he is playing at the minute. And in fact, this course will suit his game far better. He ranks fifth in the field for strokes gained/overall on similar courses and sixth in strokes gained/tee to green in 2020.
Results from this season: We have correctly predicted nine of the first 22 winners to start the season. DraftKings expert Pat Mayo has nailed two of the previous three tour winners, with Tyrrell Hatton (55-1) at Bay Hill and Sungjae Im's Honda win at 28-1. FanDuel's Brandon Gdula nearly predicted his fifth outright victory, narrowly missing a win with Xander Schauffele. He's up 114 units this season on his outright bets (the equivalent of being up $1,140 on $10 bets), followed closely by FanShare Sports' Lee Alldrick, who has three winning predictions this season. Golf Digest's betting panel continues to be the hottest golf betting panel in the industry, as collectively, counting outright winners, top-10 bets and matchups won and lost, we are up 216.26 units (the equivalent of being up $2,160 if you wagered $10 on all of our bets).
Sleepers/Dark Horses That Could Win the 2020 RBC Heritage (odds from BetMGM)
Caddie: Brian Harman (90-1) — Brian had a solid start back from the break with a T-23 last week. The short lefty drives it well and scrambles about as well as anyone out on tour. His lack of distance won't be a deterrent around here, this course plays into his strengths.
Mayo: Russell Henley (125-1) — Like Thomas, Henley has also won at Honda and Sony in the past, and just always plays better on short Bermuda courses. Henley was just beginning to heat up before the pause in play. After missing five cuts in a row, he rebounded with a T-17 and a T-8 in his final two appearances, last seen gaining over 10 strokes on approach at PGA National. It's worth a shot at this large number.
Gdula: Viktor Hovland (70-1) — "Sleepers" this week are hard to justify because the field is loaded, and we just saw what a leaderboard with a field this good looked like last week. Hovland, at least, showed good data across the board at the Charles Schwab and was 17th in greens in regulation gained despite sitting 73rd in fairways gained, which is abnormal for him. He's usually more accurate than that. I think a top-five bet along with Hovland outright is a smart play because it's likely going to be a favorite-fest at the top of the leaderboard once again on Sunday.
Gehman: Viktor Hovland (70-1) — I'm with Brandon here. Harbour Town requires the unique combination of driving accuracy to leave yourself in the proper "forced layup" positions, but also an advantage to clubhead speed since most players in the field will be hitting approaches from the same area. Hovland is that combination—highly accurate off the tee and still "long enough." His rounds last week got increasingly better (70-68-68-66) as he prepares to be in contention this week.
Riccio: Keith Mitchell (300-1) — This is a crazy number for a player who thrives on Bermuda greens. If he keeps up his strong off the tee play (he's gained strokes off-the-tee in seven of his past nine starts), sharpens his approach game and holes a few putts, this is a great value bet. People forget he tied for fifth at Bay Hill just before quarantine, and he gained 6.3 strokes putting that week.
Hennessey, Golf Digest: Abraham Ancer (66-1) — I was tempted to go Tyrrell Hatton, who I'll also be betting, but let's go with a true longshot. Ancer is a precision player who is hungry for his first tour win. I think this number should be more in the 50-1 range, so I love the value. His ball-striking was elite last week: He gained nearly seven strokes on the field off-the-tee and nearly five strokes on approaches. He can use those stats to plod around Harbour Town and be in contention Sunday.
Powers, Golf Digest: Jason Day (70-1) — Never in a million years did I think anyone would refer to Jason Day as a "dark horse." But at 70-1 (I actually bet him 90-1), that's exactly what he is. He was awful in every area last week, and also missed the cut in his last start at Riviera, and also shot 76 in the first round of the Players. But he did finish fourth at Pebble, where the greens are tiny just like they are at Harbour Town. Does a good week in February in California have anything to do with this week in South Carolina? No clue. But he doesn't seem to be injured (yet) and he has a penchant for having solid weeks out of the blue. I'm really just betting Day at this ridiculous number and hoping for the best, to be blunt.
Alldrick, FanShare Sports: J.T. Poston (66-1) —The Wyndham Championship winner finished sixth at Harbour Town last year, and his course-suitability ranking, even in this elite field, is 15th. The 10th-place finish last week shows that his game is in a good place post-quarantine.
**BetMGM is offering a deposit match up to $500 for any new BetMGM accounts. Use the promo code: GOLFDIGEST and create an account with BetMGM to take advantage of the BetMGM offer and try your hand at betting on golf. Offer only valid in New Jersey, West Virginia, Indiana or Colorado.**
Players to Fade This Week (who will disappoint)
Caddie: Bryson DeChambeau (14-1) — I love what he's done with his game, and I've seen it up close. He's challenging all the naysayers and has made insane gains. But, this isn't a bomb-and-gauge track. You can't cut corners here like you can at Colonial. I think he'll try to push the issue too much and he'll struggle at Harbour Town, as it demands too much precision off the tee, and he's likely to get into some precarious spots with his insane ball speed.
Mayo: Hideki Matsuyama (28-1) — Yes, I know: Hideki was en fuego at the Players after one round. But let's remember: He still hasn't won since 2017. And he historically performs worse on Bermuda greens, and putting isn't his strong suit as it is. These tricky Pete Dye greens do not match his strengths.
Gdula: Jordan Spieth (35-1) — Spieth made some noise last week but did it all on the green. That's not a four-putt joke. He gained 8.6 strokes putting and just 0.1 tee to green. That's a unsustainable recipe for success. Yeah, Spieth was in contention for quite a while, but he lost approach strokes, and that's not what he was doing when he was playing at his best a few years ago. He's overinflated this week after a great putting performance. I love Spieth, but I still can't bet him.
Gehman: Jordan Spieth (35-1) — Again, I agree with Brandon! Spieth's odds have jumped from 50-1 last week to 33-1, but I'm not buying it. He gave us the full "Jordan Spieth Experience" last week, simultaneously looking like the best player on the planet and the worst player on the planet. At the end of the day, he is still gaining an exorbitant amount of strokes on the greens (8.61 last week) and his ball-striking didn't hold up in weekend pressure.
Riccio: Brooks Koepka (40-1) — He did not look very sharp last week and has absolutely no course history at Harbour Town. He needs a few more events under his belt to get back to his normal self.
Hennessey, Golf Digest: Bryson DeChambeau (14-1) — I jumped all in on the Bryson train mid-Thursday when I saw his game on display. I will absolutely be backing him at other events, just not here. I don't think he's built for gearing back off the tee with 5-irons at this point. We saw him struggle to control wedges at times when he's in between yardages. At a course like Memorial where you need the length, you can be assured my money will be with Bryson. Can I put that down now?
Powers, Golf Digest: Collin Morikawa (25-1) — If not for a balky putter, Morikawa probably would have won last week on the 72nd hole. While I do think he has the game and demeanor to quickly forget such a close call, it's just too soon to hop back on him at this number. That short miss has to sting for at least a week. After that, he'll get right back on track. He's too good.
Alldrick, FanShare Sports: Hideki Matsuyama (28-1) — Unlike most of the field this week, this will be Matsuyama's first event back after the long break. His putting on Bermuda greens will it make it very difficult for him this week he ranks all the way down at 143 for SGP on Bermuda greens.
2020 RBC Heritage Matchups
Caddie: Joel Dahmen (-110) over Jason Day (Bovada) — Dahmen is a sneaky good player when it comes to shorter tighter tracks. As we say out here, he just pokes it around and gets the job done. He's top 25 in strokes gained/off-the-tee and approach to the green, so he always has great control over his ball, which is exactly what you need out here.
Mayo: Billy Horschel (+100) over Matthew Fitzpatrick (DraftKings) — Sure, Fitz claims to love this course, and he should in theory. But he has never finished better than T-14 and missed the twice in his past four starts. Additionally, he was only carried through the cutline last week on the strength of over five strokes with the flat stick. Horschel, while off with his irons, was back to controlling it off the tee, and a quick bump with his putter, and he'll vault up the leaderboard.
Gdula: Webb Simpson (-110) over Patrick Reed (FanDuel) — Simpson missed the cut last week but has better putting splits on Bermuda than on bentgrass, and he had a poor putting performance last week. He has good form at Harbour Town. Reed was boosted by 3.1 strokes gained around the green and 7.1 strokes gained on the greens last week en route to a T7. Webb is the much better back.
Gehman: Daniel Berger (-120) over Jordan Spieth (DraftKings) — One of the closest correlated courses to Harbour Town is, in fact, Colonial. Berger's game obviously fit well enough for Colonial where he donned the plaid jacket for his first victory since 2017. His accuracy off-the-tee should translate well to Harbour Town. In matchups, I want consistent players and no one has been more consistent than Berger, who now has 28 consecutive rounds of par or better—the longest active streak on tour.
Riccio: Justin Thomas (-118) over Bryson DeChambeau (BetMGM) — I like Thomas to win. If he gets that done, we can kill two birds with one stone with this bet.
Hennessey: Patrick Reed (-125) over Jordan Spieth (Bet365) — I do really like Reed this week, and you're getting an attractive number on this lineup given the public's love of betting Spieth (he was the No. 1 bet player last week on DraftKings' outright market). Reed is an expert scrambler who should be in the mix Sunday. I'd bet on a Spieth regression.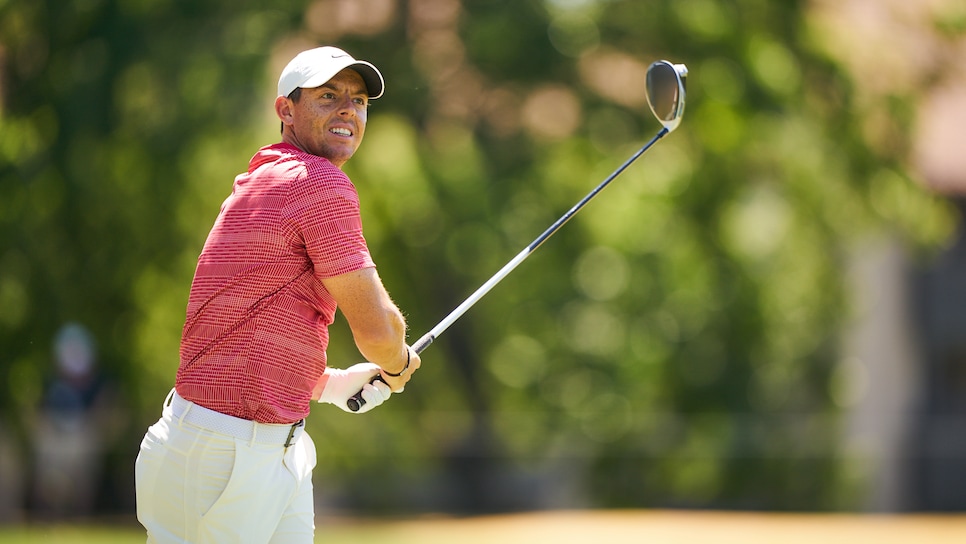 Darren Carroll for Golf Digest
Powers: Jon Rahm (+115) over Rory McIlroy (DraftKings) — Betting on a big Rahm bounce back this week. Neither he nor Rory have any history at Harbour Town, so not much handicapping going into this one. Just betting a top 3 player in the world to beat another top 3 player in the world at plus odds.
Alldrick, FanShare Sports: Adam Hadwin (-110) over Harold Varner III (Unibet) — This stems mostly from Varner's shortcomigns on Bermuda (he's 148th in this field in strokes gained/putting on those surfaces. Hadwin, however, ranks 11th in our course-suitability ranking, compared to HV3 ranking 77th. The odds are a bit inflated from HV3's success last week, but the long-term data all points to Hadwin.
Matchup results from the Charles Schwab: Powers: 1 for 1 (Bryson DeChambeau (+105) over DJ, round 1); Mayo: 1 for 1 (Matthew Fitzpatrick (-106) over Sergio Garcia; Gehman: 1 for 1 (Collin Morikawa (-106) over Gary Woodland; Tour Caddie: 1 for 1 (Justin Rose (-110) over Matthew Fitzpatrick); Alldrick: Push; Gdula: 0 for 1; Hennessey: 0 for 1.
Matchup results this season (assuming each matchup is a one-unit wager): Alldrick, FanShare Sports: 13 wins, 5 losses, two pushes (up 6.13 units); Hennessey: 7 for 10 (up 5.15 units); Tour Caddie: 9 wins, 7 losses, 1 push (up 1.83 units); Riccio: 10 wins, 8 losses, 2 pushes (up 1.58 units); Powers: 5 wins, 4 losses, 1 push (up 1.45 units); Gehman: 1 for 1 (up 0.94 units); Mayo: 10 wins, 10 losses (up 0.31 units); Gdula: 6 wins, 11 losses and two pushes (down 4 units).
Top 10 (odds from DraftKings Sportsbook)
Caddie: Patrick Rodgers (+1400) — Patrick wrapped up last week with a 65, so he's gotta be feeling it going into this week. He shapes the ball really nicely off the tee, something you have to do out here. He has a great track record out at the RSM and if there's any place that feels similar to this week it's out at Sea Island.
Mayo: Bill Haas (66-1) — We hit a deep one with J.T. Poston in this spot last week, so let's keep swinging for the fences. Haas has been terrible for sometime now, however, despite losing nine strokes putting over two rounds, the old man was lights out ball-striking, gaining more than four strokes with his irons and even a stroke in that elite field off-the-tee. The solid putting will likely never return, but we could get a bit of luck at a familiar course. If he keeps up those ball-striking numbers, there's a chance this could happen.
Gdula: Billy Horschel (+550) — Horschel finished a tepid 38th last week and actually lost strokes on approach, which is never a sign I like to see. However, his best putting surface is Bermuda, and we've seen a good sample from him long term. He has two top-10 finishes in his past five starts and outperforms his posted line in my simulations.
Gehman: Abraham Ancer (+600) — Harbour Town should be a natural fit for Ancer who gains strokes off-the-tee despite being a short hitter. He's proven he can compete in deep fields, posting top-15 finishes at WGC-Mexico and last week at Colonial.
Riccio: Jordan Spieth (+350) — Harbour Town demands creativity both around the greens when you're bound to miss them, and on them. Spieth might be one of the best in the world at both things. His ball-striking appears to be back. I like him to back up last week's top 10 with another at Harbour Town.
Hennessey, Golf Digest: Webb Simpson (+350) — Don't be scared off by the struggles last week. As Rick Gehman outlined in his pick to win, Webb is a perennial top-10 ball-striker, and this is a track that plays to his strengths. Even if there's still a little rust in his game and he's doesn't win, this will cash.
Powers, Golf Digest: Kevin Kisner (+550) — I like a few guys with much longer top 10 odds this week (Jim Furyk +1200, Christiaan Bezuidenhout +1800), but just to be safe I'll roll with Kisner at a place he loves. He finished 29th last week and lost strokes on the greens, an area he normally excels in. I don't see that happening back-to-back weeks.
Alldrick, FanShare Sports: Matt Kuchar (+400) — Kuchar is one of the kings of Harbour Town. He ranks third in our course-suitability ranking this week. And he has three top-five finishes here in his previous six visits. That suitability ranking is boosted by his record on Bermuda greens—he's the eighth-best player in the field this week.
Top 10 results from the Charles Schwab: Mayo: 1 for 1 (J.T. Poston (+1400); Tour caddie: 1 for 1 (Jordan Spieth (+450); Hennessey: 1 for 1 (Collin Morikawa (+450).
Top-10 results for the season (assuming a one-unit wager): Mayo: 4 for 19 (up 17.5 units); Alldrick/FanShare: 5 for 19 (up 7.5 units); Hennessey: 2 for 9 (up 2.5 units); Gdula 3 for 20 (down 1.8 units); Powers: 1 for 9 (down 6.35 units); Riccio: 2 for 19 (down 12.6 units); Tour Caddie: 1 for 18 (down 13.5 units); Gehman: 0 for 1.
2.36 - The gap between tournament leader Bryson DeChambeau's strokes gained/off-the-tee number and the next closest competitor (Schauffele). That's the same gap from Schauffele in second to Sungjae Im who finished 14th in the stat category. That puts Bryson's elite driving display in perspective.
4 percent - The percentage of combined cuts made for the last three champions of this event. C.T. Pan has missed six of his last seven cuts, Satoshi Kodaira has missed his last five and Wesley Bryan has missed his last nine TOUR cuts.
3.27 - The number of strokes lost by Webb Simpson on approach in round one at Colonial. That ranks as the 4th worst round in his last 389 measured rounds per RickRunGood.com.
80.4 percent - The percentage of fairways hit this season by Jim Furyk -- the highest number in this field of anyone with enough qualifying rounds.
28 - Consecutive rounds at par or better for Daniel Berger. Now more than halfway to the PGA TOUR record (52), held by Tiger Woods.
**BetMGM is offering a deposit match up to $500 for any new BetMGM accounts. Use the promo code: GOLFDIGEST and create an account with BetMGM to take advantage of the BetMGM offer and try your hand at betting on golf. Offer only valid in New Jersey, West Virginia, Indiana or Colorado.**
Pat Mayo is an award-winning video host and producer of long and short-form content, and the host of The Pat Mayo Experience daily talk show. (Subscribe for video or audio. Mayo (@ThePME) won the 2020 Fantasy Sports Writing Association Daily Fantasy Writer of the Year and Golf Writer of the Year awards, along with the Fantasy Sports Trade Association Best Sports Betting Analyst award, and was finalist for four FSWA Awards in 2020 (Best Podcast, Best Video, Daily Fantasy Writer of the Year, Golf Writer of the Year). His 21 FSWA nominations lead all writers this decade and are third-most all-time. Mayo is on the board of governors at www.fantasynational.com.
Brandon Gdula, managing editor and analyst for NumberFire, a FanDuel daily-fantasy analysis company, recently won the 2018 fantasy sports-writers association Golf Writer of the Year *(congrats, Brandon!)*. Gdula also co-hosts the DFS Heat Check podcast.
Rick Gehman is the founder of RickRunGood.com and the RickRunGood YouTube Channel, is one of the industry's leading experts on golf DFS and gambling. Gehman is co-host of the First Cut Podcast and appears regularly on the Pat Mayo Experience golf podcasts. Follow him on Twitter: @RickRunGood.
Dr. Lou Riccio, a PhD senior lecturer, teaches rational decision making at Columbia's School of International and Public Affairs and has served on the USGA's handicap research team for four decades. His predictive analysis and modeling helps him make expert picks for our column.
Lee Alldrick of FanShare Sports started out writing an article highlighting the best bargain plays for fantasy golf under his twitter handle @DKGolfBargains. His success at this prompted FanShare Sports to enlist him as a guest writer, which evolved into him writing the weekly Under The Radar article. As a U.K.-based expert, Alldrick's insight into European Tour regulars and low priced, low owned plays has provided an invaluable edge for readers when it comes to DFS GPPs.