Gambling
2020 Charles Schwab Challenge picks: Why we're staying away from Bryson DeChambeau at Colonial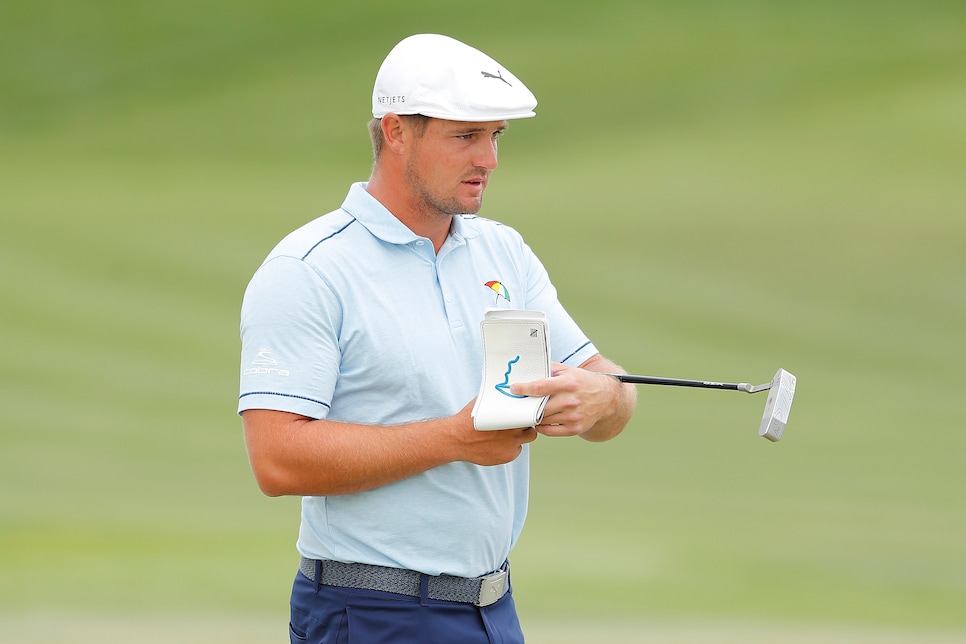 Photo By: Michael Reaves/R&A
Ninety-one days. Ninety-one freakin' days since the last round of tournament golf was played. We made it friends. The PGA Tour is BACK.
The two-month layoff has made this week's Charles Schwab Challenge feel like a major week. The way the field has come together, it might as well be. No, Tiger Woods won't be in Fort Worth, but 16 of the top 20 players in the world will be, a number we usually only see at WGCs or FedEx Cup events. This is a big one. The players are ready, the fans are ready, and, most importantly, the degenerates are ready. We've attempted to fill the void by betting on events like UFC or the NFL Draft or NASCAR or German Soccer or … you get the point. We're thrilled golf is back, to say the least. Our hearts are once again full.
Also back is our panel of experts, which includes a tour caddie, who is offering insight from the range and putting green at the 2020 Charles Schwab Challenge; picks from three of the most respected experts in the daily-fantasy community, Pat Mayo of DraftKings, Brandon Gdula of FanDuel and Rick Gehman, a leading data scientist and founder of RickRunGood.com; and Lee Alldrick of FanShare Sports, which tracks DFS ownership and sentiment.

Read on to see who we like this week at Colonial.
2020 Charles Schwab Challenge Picks To Win (Odds from BetMGM)
Anonymous Caddie Picker of the week: Jon Rahm (11-1) — Tough to pick against Rahm with a course that sets up like this. A tight setup that rewards great driving. Smaller greens require precise iron play and John has the driving and iron play down.
Pat Mayo, DraftKings/Fantasy National analyst: Webb Simpson (22-1) — The world's ninth ranked player eats up these shorter venues on the strength of his elite approach, around the green, and putting. Frankly, the only thing Webb doesn't do well is drive the ball, but that deficiency is less likely to be exposed the short Colonial track. Over his past 50 rounds, per www.fantasynational.com, Simpson not only ranks inside the Top 10 on approach and putting, but hyper-specific Colonial stats like Par 4s gained and proximity form 100-125 yards.
Brandon Gdula, FanDuel/numberFire editor: Xander Schauffele (30-1) — Schauffele was really rounding into form before the hiatus and is certainly no stranger to performing well in a tough field. He really has the all-around game that can help him contend at Colonial, despite the fact that he missed the cut here a year ago. Schauffele is still just 26 years old, and he'll have had plenty of time to iron out any issues in his game over the layoff, something that could be vital for a lot of youngsters making the leap after the break. He's the best value this week, according to my win simulations.
Rick Gehman, data scientist and DFS on Demand founder: Justin Rose (45-1) — This is a perfect storm for Rose -- switching back to his trusty TaylorMade clubs right before the shutdown, having three months to get them dialed-in and returning at a course he barnstormed two years ago. It's conceivable that this starts the march for Rose back into the top of the World Rankings.
Stephen Hennessey, Golf Digest associate editor: Brooks Koepka (28-1) — Wouldn't it be ironic if Koepka, the guy who "doesn't care about PGA Tour events," is victorious in the PGA Tour's return? I think this week will feel like a major in terms of significance once these players tee it up. Koepka is an athlete first and foremost, and I think he will grasp that this isn't like a normal tour event. Plus, these odds are so juicy. You're getting extreme value based on how he was struggling before the Players on Koepka, when he's had three months to rest up and get his game in form. He finished runner-up here two years ago, and I think we could be in store for a Koepka win.
Christopher Powers, Golf Digest assistant editor: Matt Kuchar (50-1) — You're going to see (or you've already seen) a lot of angles this week. While I commend and admire the people finding those angles, just know they're all a load of crap. We have no idea what's going to happen, not that we ever did, but that's more true than ever with players coming fresh off a pandemic. Did they stay sharp? Did they get fat like the rest of us? Did they leave the clubs to collect dust? Who knows. This is a dartboard week. Just throw a bunch at the board and see what sticks. My first dart is Matt Kuchar, who was playing quite well before COVID-19, having just finished T-2 at Riviera and collecting four other top 25s. Wily veterans tend to do well here, and Kuchar is among them, with three top 12s, including a runner-up, since 2013. I love the idea of him flying under the radar like he has pre-tourney and up until Sunday when suddenly he's two back and everyone remembers his existence. Let's just hope he slips through the backdoor and wins as opposed to finishing in the top 10 like usual.
Lee Alldrick, FanShare Sports: Rory McIlroy (+750) — Any way you look at it this week, McIlroy is a worthy favorite. He ranks out top of so many Shots Gained Stats this week it's hard to look elsewhere. His game is so natural that a 10 week layoff will not affect it. We have him ranked fourth in our Course Suitability Ranking too so things get even better for the Irishman this week.
Results from this season: We have correctly predicted nine of the first 21 winners to start the season. DraftKings expert Pat Mayo has nailed the last two tour winners, with Tyrrell Hatton (55-1) at Bay Hill and Sungjae Im's Honda win at 28-1. Along with FanDuel's Brandon Gdula four outright victories, netting +116 units this season alone on his outright bets (the equivalent of being up $1,160 on $10 bets) and FanShare Sports' Lee Alldrick, who has three winning predictions this season, Golf Digest's betting panel continues to be the hottest golf betting panel in the industry.
Sleepers/Dark Horses That Could Win the 2020 Charles Schwab Challenge (odds from BetMGM)
Caddie: Scottie Scheffler (40-1) — Schef has played some extremely impressive rounds at mini-tour events whilst a lot of the higher-profile guys have sat on their couches during the quarantine. He drives it extremely well and this event is in his backyard, it's only a matter of time until he wins.
Mayo: Shane Lowry (60-1) — The Irishman has proven he can best an elite field on multiple occasions, has performed well in the past off an extended layoff, and has experienced success at similar style classic courses. It really just comes down to value, though. Lowry is the 19th ranked player in the world yet comes in at longer odds than buzz darlings Harris English and Daniel Berger. Doesn't seem right.
Gdula: Billy Horschel (66-1) — Horschel doesn't really have many weaknesses in his game, and after a hot summer, he cooled off in November and January. But he got back on track at the Waste Management in early February, and the stats returned in his favor. He also finished 19th at Colonial last year albeit in a weaker field. He has the all-around game to contend, but a true longshot winning in a field like this is tough to call. Collin Morikawa (+4500), Justin Rose (+4500), and Gary Woodland (+5000) aren't longshots by name but do offer some strong odds, given the field.
Gehman: Ryan Palmer (80-1) — As well-noted, Palmer is a member at Colonial CC. This week will feel more like a money game with his pals than the epicenter of the golf world. He's notched two top 10 finishes in his last four starts at this event and will look to add another this week.
Hennessey, Golf Digest: Viktor Hovland (70-1) — Your off-the-tee game can be crucial to success at Colonial, and Hovland is as good as anybody in this field. The youngster is third in this elite field in strokes gained/off-the-tee in his past 50 rounds per FantasyNational.com, and ninth in strokes gained/ball-striking. He will put it close to these pins. He's also been in Dallas for a lot of quarantine, so he should be well-rested (as long as his hand blisters have recovered). I love these odds for someone who's due for a breakthrough.
Powers, Golf Digest: Jim Furyk (200-1) — I know I said everyone's angles are crap this week, but I do have one: I think this is a week an older guy can catch these young bucks sleeping. My feeling is, for the Rorys, Koepkas, DJs and Rahms and JTs of the world that this week is a rep. Just a rep to get back into tournament golf mode. If they happen to be near the lead Sunday, they'll slam their foot on the gas, but until then I think a lot of the guys will be knocking off some rust and getting their feel back. That won't be the case with Furyk, who will likely show up, hit a ton of fairways and greens and see if he can make some putts. At 50 years old, Furyk's PGA Tour time is running out. This week is a great chance to pick off a storybook win.
Alldrick, FanShare Sports: Zach Johnson (200-1) — This layoff will hopefully have done the world of good for ZJ. If it has he has the game to win here without doubt. Two of ZJ's 10 PGA Tour wins have come here and he has another third and fourth place finish to add to that. He ranks second in the field this week for Shots Gained Putting on fast, Bentgrass greens.
Players to Fade This Week (who will disappoint)
Caddie: Brooks Koepka (28-1) — He was rusty even before the season ended, so I'm not sure how he's going to look coming out the starting blocks, not good I predict.
Mayo: Rory McIlroy (+750) — Since Rory wins about one of every seven events, I'm just hoping the roulette ball doesn't fall on his name this time around. Again, it's a value proposition: I have Rahm and Thomas rated almost exactly the same Rory, and getting significantly better odds on that pair.
Gdula: Bryson DeChambeau (25-1) — DeChambeau's odds in my simulations are actually pretty strong, but they're not strong enough to justify the +2500 line on him, especially with so many other big names available at longer odds over at FanDuel Sportsbook. Give me Brooks Koepka (+2500), Webb Simpson (+2500), or Dustin Johnson (+2800) in that immediate area over DeChambeau, whose worst putting surface is bentgrass.
Gehman: Rory McIlroy (+750) — This is certainly not a knock on McIlroy's game because there is nothing to knock about that. This is my belief that the first start in 90+ days will come with a lot of rust and variance for all players. Without any course history to boast, McIlroy holds the shortest odds in an absolutely stacked field.
Hennessey, Golf Digest: Xander Schauffele (30-1) — I've heard a lot of early-week Xander chatter. But I don't see it. Xander is much better suited to courses that are more open off-the-tee. He has improved his accuracy this season, but his strength are his long irons and his distance. I'd rather many other players in this range (Rickie, Sungjae, Morikawa, Patrick Reed) than X.
Powers, Golf Digest: Jordan Spieth (40-1) — To be honest, I don't hate the "Spieth has been in the lab all quarantine" take, but even if he's fixed everything and reverted to 2015 form, showing up and winning a 72-hole tournament is a BIG ask. I'm staying away, but it'd be easily the best story of the week, and I'll be really upset if/when I'm not a part of it. But it's too early to buy on Spieth again.
Alldrick, FanShare Sports: Bryson DeChambeau (25-1) — This is an easy one. The course does not set up well for DeChambeau which can be seen in his three of four missed cuts here at Colonial. One of the key factors for this is his inability to putt well on fast, Bentgrass greens. He loses 0.2 shots to the field this week for Shots Gained Putting.
2020 Charles Schwab Challenge Matchups
Caddie: Justin Rose (+110) over Matthew Fitzpatrick (BetMGM) — Justin Rose is too good of a player to struggle the way he did earlier in the season. The break undoubtedly provided a great refresher for J-Rose, and he's at some familiar confines this week. I like him to threaten the top of the leader board, so I'll take him with plus-odds for sure.
Mayo: Matthew Fitzpatrick (-106) over Sergio Garcia (DraftKings) — Sure, Sergio has won at this track in the past. Put a hard emphasis on past however. It was in 2002. While the ball striking numbers have been better as of late, a narrow course which will force the field to rely on their accuracy and short game is Fitzpatrick's jam. Plus, he's been rather safe pre-layout. Over the past two years, the Brit has only missed two cuts in more than 30 starts. Just making the weekend could be enough to best Sergio.
Gdula: Jon Rahm (+116) over Rory McIlroy (FanDuel) — I never like going against McIlroy, but Rahm is really the only golfer in the conversation with Rory, assuming things to back to normal after the break. Rahm comes with plenty of value on his name, and he has better bentrgrass putting splits than Rory does. This one is more about the line on Rahm at +116 than anything else.
Gehman: Collin Morikawa (-106) over Gary Woodland (DraftKings) — Morikawa is quite possibly the best ball-striker on the planet and noted that he "found something" on the greens in his lone round at TPC Sawgrass before the TOUR shutdown. He gained 2.94 strokes putting in that round back in March. If he's able to hold onto that feeling, he will be taking the TOUR by storm.
Hennessey: Webb Simpson (+100) over Justin Thomas (DraftKings) — Webb at plus-odds over anybody is enticing. You could make an argument that JT, as a guy with no kids, was likely playing more golf over quarantine than Webb Simpson, the father of four children. But cmon, we're sure Webb got some time to practice. And Webb's game was as good anybody's in the world before quarantine. He's a great Bentgrass greens putter and accuracy is the name of his game. JT on a heavily tree-lined course against Webb is an easy decision for me.
Powers: Bryson DeChambeau (+105) over Dustin Johnson (Round 1 Matchup, DraftKings) — This bet is only for Thursday, and Bryson has to beat DJ. A tie is a loss. If you recall, DJ looked like he hadn't played golf all quarantine when he showed up at the Driving Relief event. I'm not saying he hasn't played since, but he's the exact type of guy I'm talking about when I mentioned "easing" into things. He might make a bunch of birdies on Thursday, but he'll make a bunch of bogeys too. There will undoubtedly be rust. As for Bryson, I think he's the opposite. He's been practicing for this day since the Players was canceled. He'll be ready, which is why I love this bet just for the first round.
Alldrick, FanShare Sports: Xander Schauffele (even) over Bryson DeChambeau (Unibet) — Schaufelle ranks sixth in the field this week for SGP on fast, Bentgrass greens. DeChambeau ranks 84th. That's a 0.8 shot per round advantage.
Matchup results from the Arnold Palmer Invitational: Alldrick: 1 for 1 (Tyrrell Hatton (-112) over Matthew Fitzpatrick); Hennessey: 1 for 1 (Rory McIlroy (-134) over Francesco Molinari and Justin Rose); Gdula: 1 for 1 (Henrik Stenson (+102) over Jason Day; Everyone else: 0 for 1.
Matchup results this season (assuming each matchup is a one-unit wager): Hennessey: 7 for 9 (up 6.15 units); Alldrick, FanShare Sports: 13 wins, 5 losses, 1 push (up 6.13 units); Riccio: 10 wins, 8 losses, 2 pushes (up 1.58 units); Tour Caddie: 8 wins, 7 losses, 1 push (up 0.92 units); Powers: 4 wins, 4 losses, 1 push (up 0.44 units); Mayo: 9 for 19 (down 0.63 units); Gdula: 6 for 16 and two pushes (down 3 units).
Top 10 (odds from DraftKings Sportsbook)
Caddie: Jordan Spieth (+450) — I think the buzz around him to win is slightly warranted. His stats around Colonial are extremely impressive and for that, I'd say he's a top 10 lock. He's playing in his backyard and I think the golfing world all wants to see him back at his best.
Mayo: J.T. Poston (+1400) — Poston's breakthrough win last season came at the corollary Wyndham Championship, and he possess a strong track record at the shorter venues on TOUR. Likely to be forgotten — or simply unheard of — by most, Poston does do one thing that can separate him from the pack in this range: Putt. As mentioned, putting isn't something rely on, however, the ability to go nuclear with the flat stick can make up for flawed tee-to-green game. When he's rolling, Poston will hit most fairways, make birdies when in wedge range, and save himself with a few timely up-and-downs. If you can get slightly better than average in all those, something he's more than capable of achieving, and catch the fire putter week, he'll be the name on the leaderboard your friends text you, "who the hell is this Poston guy?"
Gdula: Viktor Hovland (+700) — Hovland has a clear weakness in his game: the chipping and putting. He's just 22 years old, knows he sucks at chipping (his words), and has been working on it. Other than that, no golfer in the field has actually gained strokes with his ball-striking more frequently than Hovland has over the past 50 rounds (88.4 percent for Hovland with only McIlroy (86.0 percent) and Morikawa (82 percent) also above 80 percent, via FantasyNational).
Gehman: Scottie Scheffler (+400) — The Texan heads back to his home state to try and take down Hogan's tournament for his first PGA TOUR victory. He's an elite birdie maker who already has (3) Top 5 finishes this season.
Hennessey: Collin Morikawa (+400) — You likely remember the fact Morikawa hasn't missed a cut yet in his early PGA Tour career. But that's so incredible. He has been the picture of consistency, owning the active consecutive made-cut mark to date. This is a course where you need to put it in play and hit the green, which is Collin's bread and butter. Even if the putter isn't hot, 4-to-1 for a top-10 is very enticing.
Powers: Kevin Na (+500) — I know we've been away for a few months, but I'm still so over top 10 bets. They have the same chance of winning as an outright bet does with a fraction of the odds. It's so frustrating. But since we got to do it, let's go with defending champ Kevin Na at +500. Betting on the good vibes to carry over, and Na's looked real good on that simulator he shows off on Instagram. Whatever that means.
Alldrick, FanShare Sports: Jason Day (+550) — The layoff will have done wonders to allow Day to recover from all his injuries. If he has then he has the stats to warrant being one of the favourites this week. He ranks third in the field this week for Shots Gained Putting on fast, Bentgrass greens and ranks second in our Course Suitability Ranking. It was only three events ago that he finished fourth at the AT&T Pebble Beach.
Top 10 results from the Arnold Palmer Invitational: Hennessey: 1 for 1 (Tyrrell Hatton +500); Alldrick: 1 for 1 (Marc Leishman (+380); Riccio: 1 for 1 (Bryson DeChambeau (+195). Everyone else: 0 for 1.
Top-10 results for the season (assuming a one-unit wager): Alldrick/FanShare: 5 for 19 (up 8.5 units); Mayo: 3 for 18 (up 3.5 units); Gdula 3 for 19 (down 0.8 units); Hennessey: 1 for 8 (down 2 units); Powers: 1 for 8 (down 5.35 units); Riccio: 2 for 19 (down 12.6 units); Tour Caddie: 0 for 17 (down 17 units)
1,054: The number of days since Jordan Spieth's last win. Only Jim Furyk and Zach Johnson have a longer active drought of golfers who have won at least 11 times on TOUR.
1.38: The average number of strokes-gained/off-the-tee for Bryson DeChambeau since Jan. 1. If he could keep that pace, it would be the second-best off-the-tee season ever recorded.
14: The number of top-10s for Jon Rahm in his last 18 starts worldwide.
50 percent: The percentage of tournaments won, since the Sony Open, where the winner's odds were between 30-1 and 50-1.
18-1: The winning odds for Dustin Johnson this week, the longest odds he's had since the 2018 PLAYERS Championship.
Pat Mayo is an award-winning video host and producer of long and short-form content, and the host of The Pat Mayo Experience daily talk show. (Subscribe for video or audio. Mayo (@ThePME) won the 2020 Fantasy Sports Writing Association Daily Fantasy Writer of the Year and Golf Writer of the Year awards, along with the Fantasy Sports Trade Association Best Sports Betting Analyst award, and was finalist for four FSWA Awards in 2020 (Best Podcast, Best Video, Daily Fantasy Writer of the Year, Golf Writer of the Year). His 21 FSWA nominations lead all writers this decade and are third-most all-time. Mayo is on the board of governors at www.fantasynational.com.
Brandon Gdula, a senior editor and analyst for NumberFire, a FanDuel daily-fantasy analysis company, recently won the 2018 fantasy sports-writers association Golf Writer of the Year *(congrats, Brandon!)*. Gdula also co-hosts the DFS Heat Check podcast.
Rick Gehman is the founder of DFS On Demand and the RickRunGood YouTube Channel, is one of the industry's leading experts on golf DFS and gambling. Gehman is co-host of the First Cut Podcast and appears regularly on the Pat Mayo Experience golf podcasts. Follow him on Twitter: @RickRunGood.
Lee Alldrick of FanShare Sports started out writing an article highlighting the best bargain plays for fantasy golf under his twitter handle @DKGolfBargains. His success at this prompted FanShare Sports to enlist him as a guest writer, which evolved into him writing the weekly Under The Radar article. As a U.K.-based expert, Alldrick's insight into European Tour regulars and low priced, low owned plays has provided an invaluable edge for readers when it comes to DFS GPPs.