New Ranking
Washington, D.C.'s Top 100 Golfers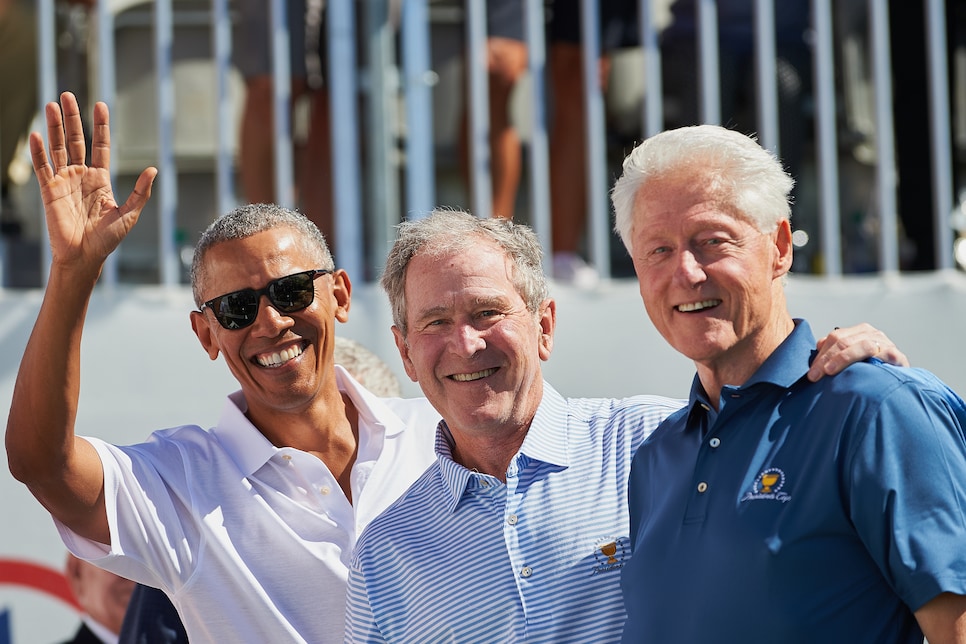 Avid golfers and former presidents Barack Obama, George W. Bush and Bill Clinton attend the 2017 Presidents Cup at Liberty National in New Jersey. (Photo by Shelley Lipton/Icon Sportswire via Getty Images)
Do you approve of the way Congress is handling its job? According to Gallup's latest polling data, just 16 percent of Americans give the folks on Capitol Hill a thumbs up. The question for golf-minded constituents is would Washington, D.C., run more effectively if our elected officials played more or less golf?
At first glance, the answer seems clear: Spend more time in the office and less on the course. However, in a time when gridlock, partisanship and culture wars are the default, perhaps our nation's leaders should get some more tee times on the books. Tossing up balls to get paired with a political rival—who then cans a 20-footer to keep your side square in a four-ball match—might help strip down the ideological barriers preventing meaningful discussion.
We think many of the individuals featured in our latest ranking of Washington's top golfers favor this position, given the quality of players in our nation's capital. In the latest edition of this ranking of presidents, senators, representatives, congressional staffers, lobbyists and other power brokers, 58 boast single-digit handicaps. To qualify for this list, a person must be an elected official in the federal government, spend considerable time in the metro-D.C. area and work within the political ecosystem or be a former politician with continued strong connections to our nation's capital.
Taking the top spot is former college golfer, T-Mobile lobbyist and plus-1.9-handicap Tony Russo, who was first on our lists in 2016, 2011 and 2008 as well. The son of former congressman Marty Russo, Tony was a college teammate of Steve Stricker at the University of Illinois and has won club championships at Congressional Country Club and Robert Trent Jones Golf Club. Fred Eames (plus-0.5), a partner at Hunton Andrews Kurth law firm, is the only other member of the list with a plus Index.
Donald Trump (2.5)—No. 11 on our list—leads the way among former presidents, though his posting of just one score during the past seven years doesn't do much to deter critics who argue Trump holds a vanity Index. Still, his lead over President Joe Biden (10) and the 44th president, Barack Obama (8), is substantial. President Biden's 10 handicap is likely a little dusty, considering his rounds in office are pacing well behind those of his two predecessors. Obama, on the other hand, has reportedly ticked some shots off his game in recent years as he makes a significant move up our ranking to No. 43.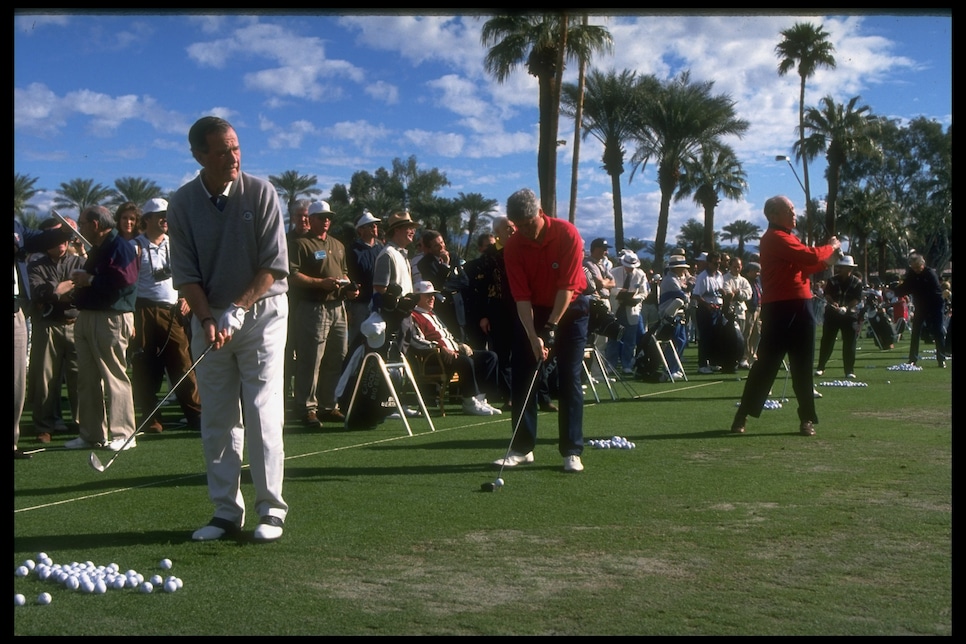 Former president Bill Clinton is flanked by predecessors George Bush (left) and Gerald Ford at the 1995 Bob Hope Chrysler Classic. (Photo by Dirck Halstead/Getty Images)
Roger Williams (5), the U.S. representative for Texas' 25th congressional district, takes the top spot among current elected officials, coming in at No. 18. Also in the top half of the ranking are Williams' colleagues in the House, U.S. Reps. Will Timmons (R-SC, 6.6) and Rick Allen (R-GA, 9.2). President Biden and U.S. Rep. Dan Kildee (D-MI, 10.1) are the top Democrats in office, a position long held by John Yarmuth, the former congressman from Kentucky.
Linda DiVall, founder and executive chair of the polling company American Viewpoint, has a 3.9 Handicap Index and at No. 15 is the top-ranked female on our list. An accomplished amateur golfer, DiVall is a three-time winner of the Virginia Senior Women's Amateur and a past champion of the Virginia Senior Women's Stroke Play.
Editor's Note: Indexes are as of April 20, 2023. Handicaps without decimal points are approximate, provided by those familiar with the golfer's game. *Indicates that the golfer has not posted a score within the past year.
(1) Tony Russo, +1.9, vice president, federal government relations, T-Mobile
(2) Fred Eames, +0.5, partner, Hunton Andrews Kurth
(3) Nat Hoopes, 0.1, head of public policy and regulatory affairs, Upstart
(4) Dan Murray, 0.8, director, government affairs, Southern Company
(5) Clark Milner, 0.9, senior advisor and chief counsel to Sen. Bill Hagerty (R-TN)
(6) Chris Lamond, 1.3, founding partner, Thorn Run Partners
(7) Baker Elmore, 2.0, managing director, federal government affairs, Duke Energy
(8) Bret Baier, 2.2, host, Fox News Channel
(9) Bob Okun, 2.3, CEO, The O Team
(10) Jared Powell, 2.4, chief of staff, U.S. Rep. Cathy McMorris Rodgers (R-WA)
(11) Donald Trump, 2.5*, former president of the United States (R)
(12) Trey Gowdy, 3.4, former U.S. representative (R-SC), current Fox News host
(13) Barry Hutchison, 3.6, assistant vice president, AT&T
(14) Robert Dibblee, 3.8, vice president, government relations, National Association of Real Estate Investment Trusts
(15) Linda DiVall, 3.9, founder, executive chair, American Viewpoint
(16) Phil Musser, 4.5, vice president, head of government affairs, Nextera
(17) Roger Williams, 5, U.S. representative (R-TX)
(18) Chris Cylke, 5.1, senior vice president, government relations, American Gaming Association
(T-19) John Connell, 5.4, chief of staff, Sen. Todd Young (R-IN)
(T-19) Brad Card, 5.4, CEO, Card & Associates
(21) Dan Conston, 5.5, president, Congressional Leadership Fund
(22) Moutray McLaren, 5.6, vice president, public policy, International Council of Shopping Centers
(T-23) Robert Fisher, 5.9, senior vice president, federal government relations, Verizon
(T-23) John Buscher, 5.9, senior consultant, Cornerstone Government Affairs
(25) Andrew King, 6.0, founder, Neale Creek
(26) Evan Tracey, 6.2, senior vice president, National Media Research Planning and Placement
(27) Geoff Gonella, 6.3, CEO, Cornerstone Government Affairs
(T-28) Ben Napier, 6.4, floor director, Majority Leader Steve Scalise (R-LA)
(T-28) Mike Collins, 6.4, vice president, government relations, Broadcast Music Inc.
(30) Chris Gorud, 6.5, legislative director, Sen. Sheldon Whitehouse (D-RI)
(T-31) William Timmons, 6.6, U.S. representative (R-SC)
(T-31) Peter Gordon, 6.6, director, government affairs, Center for American Progress
(T-31) Penny Lee, 6.6, president, CEO, Financial Technology Association
(34) Arthur Mason, 6.7, executive vice president, Cassidy & Associates
(T-35) Chris Hodgson, 6.8, principal, Cornerstone Government Affairs
(T-35) Jamie Gillespie, 6.8, executive vice president, government relations, Fox Corporation
(37) Chris Cox, 7.0, president, Capitol 6 Advisors
(T-38) Adam Grzybicki, 7.1, president, national regulatory and external affairs, AT&T
(T-38) Jesse McCollum, 7.1, senior director, government and public affairs, Nike
(40) Mick Mulvaney, 7.6, former U.S. representative (R-SC) and Office of Management and Budget director
(41) Scott LaGanga, 7.8, senior vice president of state advocacy, Pharmaceutical Research and Manufacturers of America (PhRMA)
(42) Tucker Foote, 7.9, executive vice president, public policy, Mastercard
(43) Barack Obama, 8, former president of the United States (D)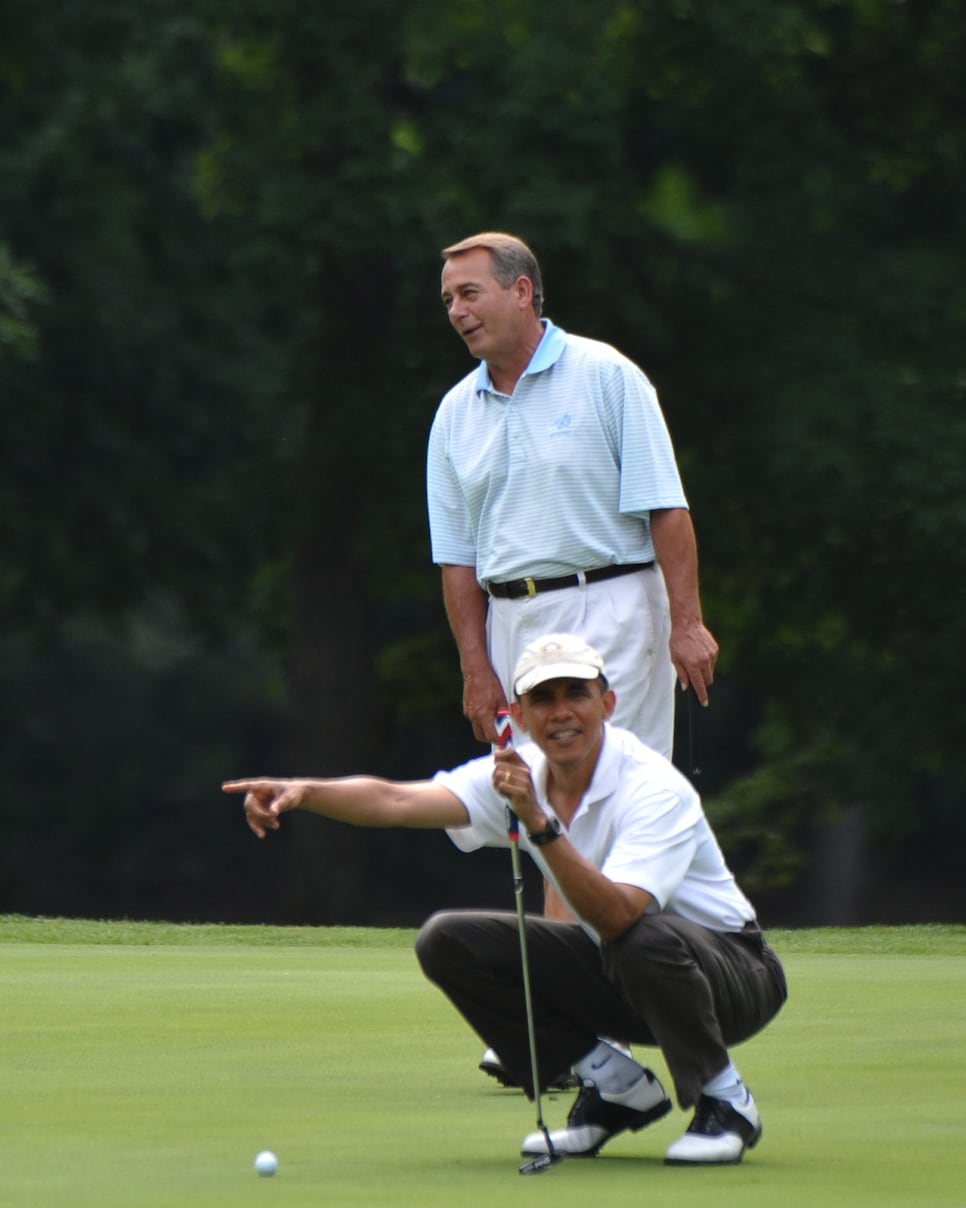 In 2011, President Barack Obama and then-Speaker of the House John Boehner took a break from tense negotiations over the debt ceiling to play in what the press dubbed "the golf summit." (Photo by Mandel Ngan)
(44) Tyler Threadgill, 8.2, vice president, head of federal government affairs, LKQ
(45) Steve Ubl, 8.3, president, CEO, PhRMA
(46) Kevin Gundersen, 8.4, director of global government affairs, Huntsman Corporation
(47) Don Nickles, 8.5, chair, CEO, The Nickles Group; former senator (R-OK)
(48) Phil Cox, 8.7, co-founder, partner, GP3 Partners
(49) Ryan Canfield, 9.1, principal, GuidePost Strategies
(50) Rick Allen, 9.2, U.S. representative (R-GA)
(51) Justin Rzepka, 9.3, principal, BGR Group
(T-52) Jim McCool, 9.4, director, federal legislative affairs, Southern Company
(T-52) John Herzog, 9.4, senior vice president, government affairs, Kimbell & Associates
(54) Roshan Patel, 9.5, executive director, Democratic Lieutenant Governors Association
(55) Chip Roy, 9.6*, U.S. representative (R-TX)
(56) Rob Ellsworth, 9.7, co-founder, partner, Majority Group
(57) David Planning, 9.8, floor director, Majority Whip Tom Emmer (R-MN)
(58) Ozzie Palomo, 9.9, founding partner, managing director, Chartwell Strategy Group
(59) Joe Biden, 10, President of the United States (D)
(60) Rand Paul, 10, senator (R-KY)
(61) Dan Kildee, 10.1, U.S. representative (D-MI)
(T-62) Kevin Hern, 10.3, U.S. representative (R-OK)
(T-62) Bryan Anderson, 10.3, executive vice president and president of external affairs, Southern Company
(64) Cedric Richmond, 10.5, former U.S. representative (D-LA)
(65) Charlie Shipp, 10.7, founding partner, SC Partners
(T-66) Tommy Tuberville, 10.9, senator (R-AL)
(T-66) Parish Braden, 10.9, staff director, House Committee on Agriculture
(T-68) Pete Aguilar, 11, U.S. representative (D-CA)
(T-68) Ben Cantrell, 11, chief of staff, Sen. Markwayne Mullin (R-OK)
(T-68) Jim Richards, 11.0, principal and director, Cornerstone Government Affairs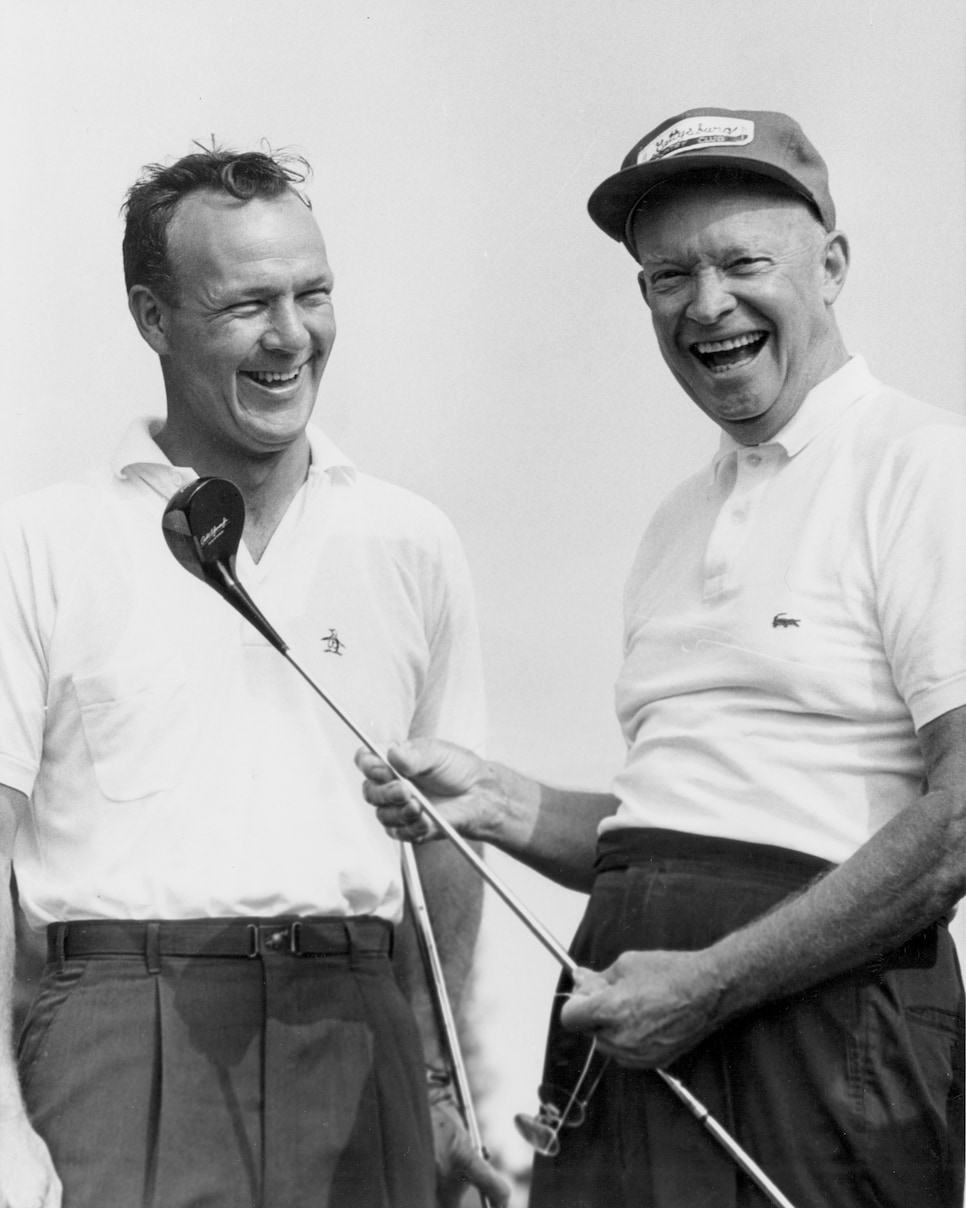 Dwight Eisenhower, 34th president of the United States, was an avid golfer and close friend of Arnold Palmer. (Photo by Augusta National/Getty Images)
(71) Joe Courtney, 11.6, U.S. representative (D-CT)
(T-72) Lindsey Graham, 12, senator (R-SC)
(T-72) John Hoeven, 12, senator (R-ND)
(T-72) Jean Statler, 12.0, CEO, Alliance for Lifetime Income
(75) Jim Carroll, 12.1, senior vice president, global government relations, Honeywell
(76) Larry Calhoun, 13, chief of staff, U.S. Rep. Kat Cammack (R-FL)
(77) Blake Moore, 13.5, U.S. representative (R-UT)
(78) Ron Johnson, 13.8*, senator (R-WI)
(T-79) Richard Burr, 14.0, former senator (R-NC); Principal policy advisor, DLA Piper
(T-79) Jordan Ebert, 14, banking and consumer finance council, Senate Banking Committee
(81) Shahira Knight, 14.2, managing principal, policy and government relations, Deloitte
(82) Marty Reiser, 14.3, principal, government relations, S-3 Group
(83) Matt Cartwright, 14.5*, U.S. representative (D-PA)
(84) Pat Raffaniello, 14.8, principal, Raffaniello & Associates
(85) Will King, 14.9, staff member, House Natural Resources Committee
(T-86) George W. Bush, 15, former president of the United States (R)
(T-86) Joe Knowles, 15, chief of staff, U.S. Rep. Brian Fitzpatrick (R-PA)
(88) John Boehner, 15.1, former Speaker of the House (R-OH)
(89) Jim Clyburn, 15.2*, U.S. representative (D-SC)
(90) Lewis Myers, 15.5, senior advisor, U.S. Rep. Tony Cardenas (D-CA)
(91) Mike Gallagher, 15.7, U.S. representative (R-WI)
(92) Ryan Kaldahl, 16, budget director, Senate Select Committee on Intelligence
(T-93) Chris Krepich, 16.7, press secretary, House Committee on Energy and Commerce
(T-93) Heather Kennedy, 16.7, vice president, government relations, Home Depot
(95) Steve Ricchetti, 18, counselor to President Joe Biden (D)
(96) Norah O'Donnell, 18.9, anchor, CBS News
(97) Larry Burton, 19.3*, chief of staff, Sen. Dan Sullivan (R-AK)
(98) Peter Davidson, 19.9, vice president, global government affairs and policy, Intelsat
(T-99) Mike Needham, 20.0, chief of staff, Sen. Marco Rubio (R-FL)
(T-99) Juliegrace Brufke, 20, congressional reporter, Axios