News
Ranking the watchability of all 96 matches from the WGC-Dell Match Play group stage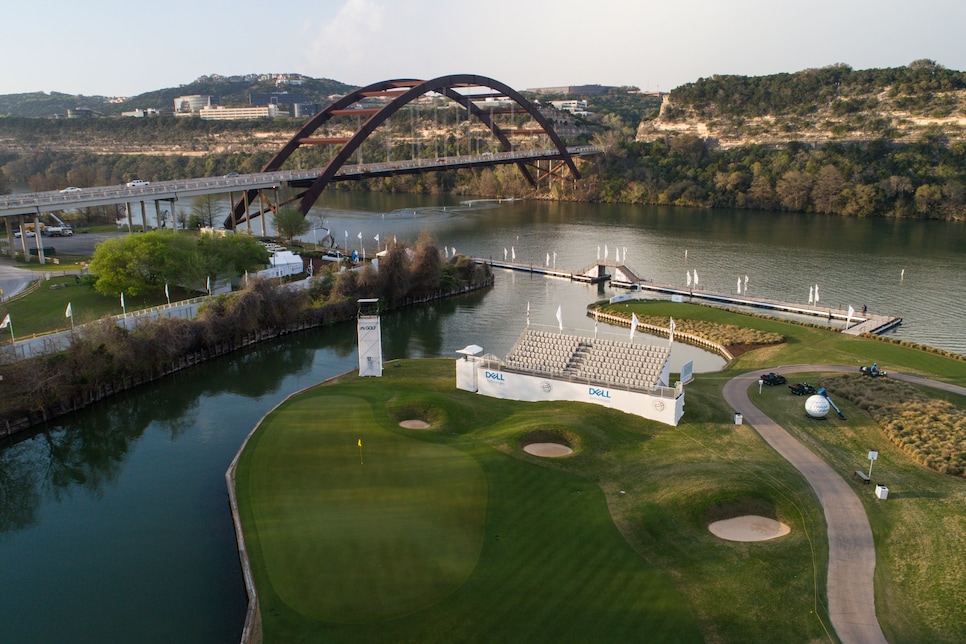 AUSTIN — There will be 96 matches played across 16 groups in the round robin portion of the WGC-Match Play this week, and though the task was hellish, I ranked them all based on pure spectator appeal. Personality mattered, skill mattered, and storylines mattered, and even obeying those criteria, I'm pretty sure I blacked out at several points. You will almost surely disagree with something, if not everything. Also, be advised that I will not be writing something pithy about each match—that's for my sanity.
Let's do this! Starting at the bottom (W=Wednesday match; Th=Thursday match; F=Friday match):
The Extreme Torture Tier: To be used only on captured enemy combatants
96.Charley Hoffmann—Brendan Steele (W) — If you happen upon this match, destroy your TV.
95. Kyle Stanley—Russell Henley (F) — Only avoided last because their names are kinda similar.
94. Kevin Kisner—Adam Hadwin (W)
93. Chez Reavie—Keegan Bradley (F)
92. Sotashi Kodaira—Charles Howell III (F)
91. Johnattan Vegas—Peter Uihlein (F)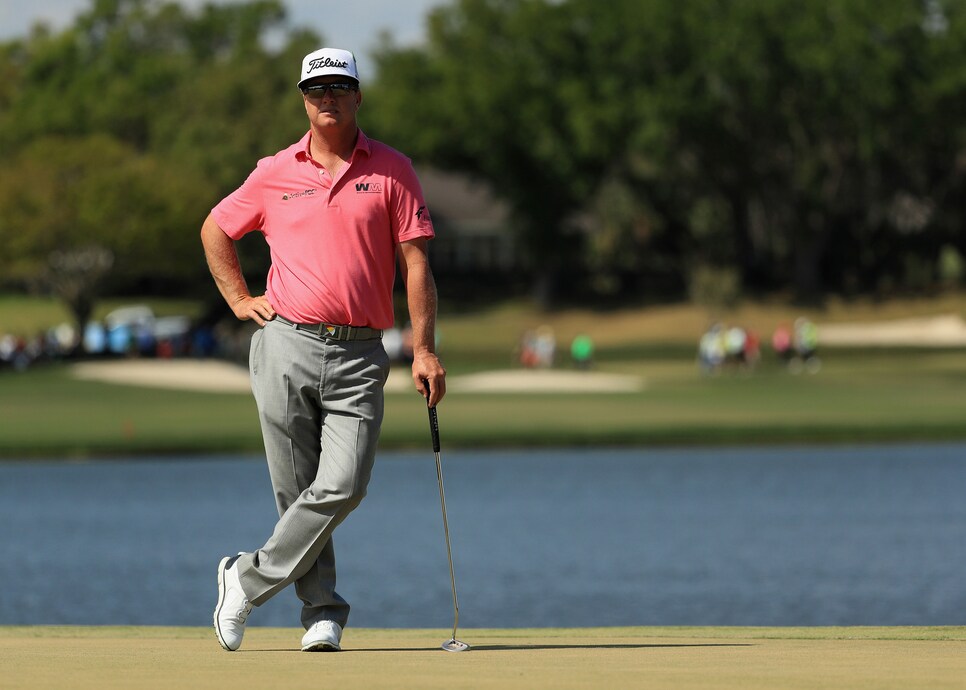 Mike Ehrmann/Getty Images
The Asbestos Tier: Seems vaguely fine at first, gets worse the longer you're exposed
90.Adam Hadwin—Bernd Wiesberger (F)
89. Patrick Cantlay—Yusaku Miyazoto (Th)
88. Webb Simpson—Si Woo Kim (F)
87. Brendan Steele—Alexander Levy (F)
86. Kevin Kisner—Bernd Wiesberger (Th) — When we are all 90, Bernd will still be ranked 56th in the world.
85. Matthew Fitzpatrick—Russell Henley (Th)
84. Yusaku Miyazoto—Cameron Smith (F)
83. Tyrrell Hatton—Brendan Steele (Th) — Have now used all three Brendan Steele match-ups.
82. Francesco Molinari—Luke List (Th)
81. Matthew Fitzpatrick—Kyle Stanley (W)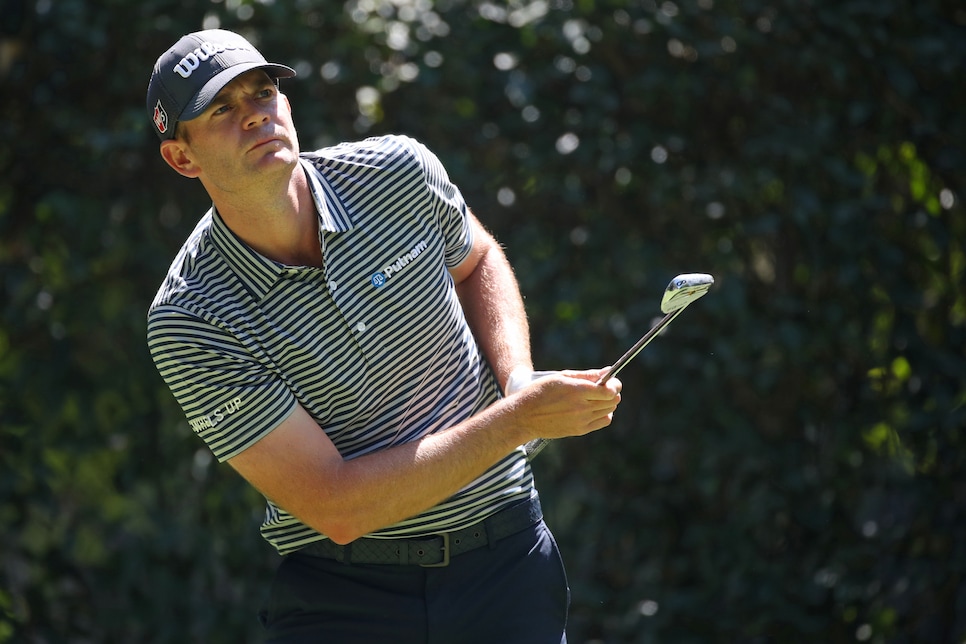 Gregory Shamus/Getty Images
The TSA Tier: You know they're necessary, but you hate them anyway
80.Brian Harman—Jhonattan Vegas (W)
79. Marc Leishman—Julian Suri (W)
78. Haotong Li—Charl Schwartzel (F)
77. Patton Kizzire—Luke List (W)
76. Brian Harman—Peter Uihlein (Th)
75. Kiradech Aphibarnrat—Chez Reavie (W) — This is not your fault, Kiradech.
74. Xander Schauffele—Dylan Frittelli (W)
73. Paul Casey—Kyle Stanley (Th)
72. Branden Grace—Julian Suri (Th)
71. Kiradech Aphibarnrat—Keegan Bradley (Th) — THIS IS NOT YOUR FAULT, KIRADECH!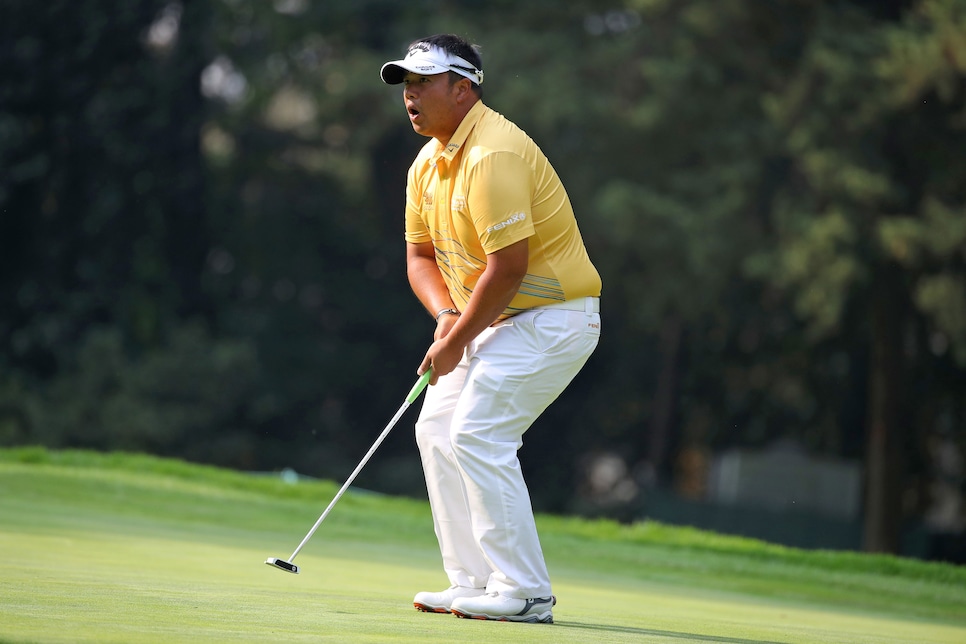 Gregory Shamus/Getty Images
The Plain Rice Cakes Tier: Sure, consume it, but you won't be satisfied
70.Paul Casey—Russell Henley (W)
69. Daniel Berger—Kevin Chappell (W)
68. Charley Hoffmann—Alexander Levy (Th)
67. Gary Woodland—Webb Simpson (W)
66. Ross Fisher—Yuta Ikeda (W)
65. Tyrrell Hatton—Charley Hoffman (F) — Only time I've seen the name Tyrrell spelled with two r's.
64. Gary Woodland—Si Woo Kim (Th)
63. Pat Perez—Webb Simpson (Th)
62. Kevin Chappell—Ian Poulter (F)
61. Rafa Cabrera-Bello—Sotashi Kodaira (W)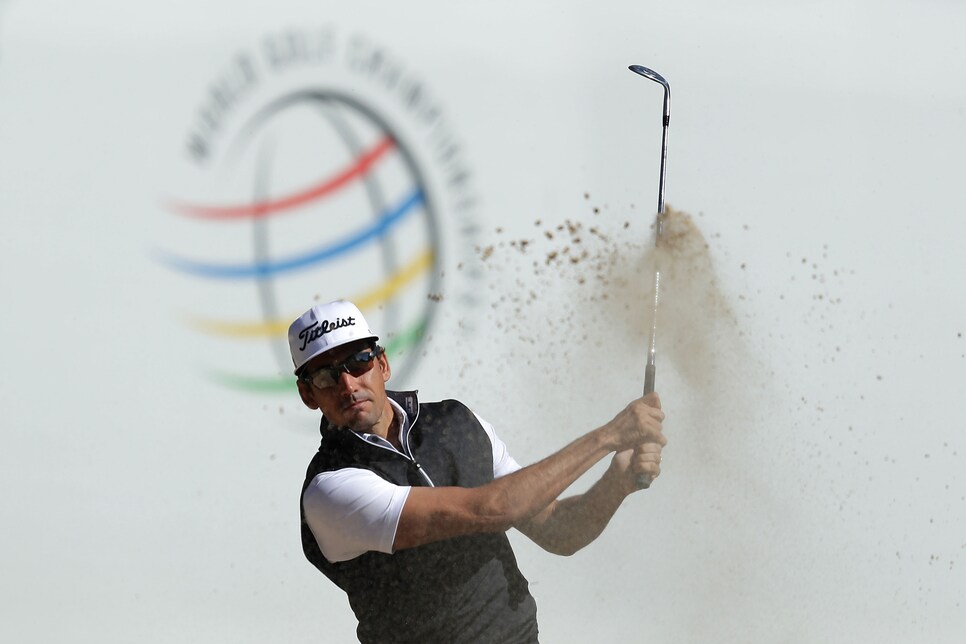 Richard Heathcote/Getty Images
The Taking a Bath Tier: Decent idea in theory, kinda filthy and cold in practice
60.Tyrrell Hatton—Alexander Levy (W)
59. Matt Kuchar—Yuta Ikeda (Th)
58. Xander Schauffele—Shubankhar Sharma (Th)
57. Justin Thomas—Luke List (W)
56. Yuta Ikeda—Zach Johnson (F)
55. Francesco Molinari—Patton Kizzire (W)
54. Jason Dufner—James Hahn (F)
53. Louis Oosthuizen—James Hahn (Th)
52. Bubba Watson—Julian Suri (F) — Suri was the last one in the field, and this is his prize.
51. Ross Fisher—Zach Johnson (Th)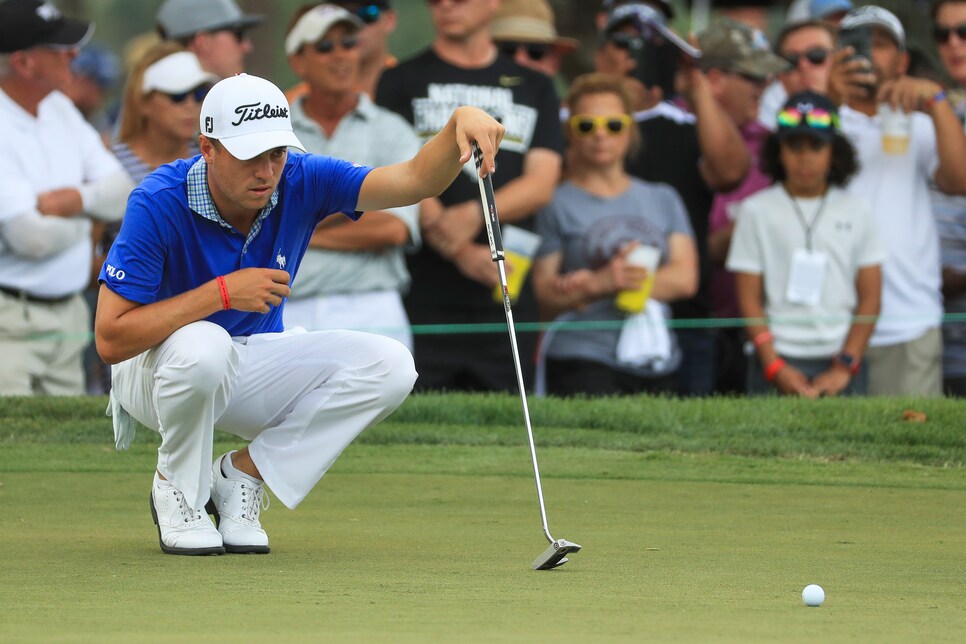 Mike Ehrmann/Getty Images
The Girl Scout Cookies Tier: Only half the flavors are any good
50.Rory McIlroy—Jhonattan Vegas (Th) — I am utterly mystified by the career of Vegas
49. Patrick Reed—Haotong Li (W)
48. Rafa Cabrera-Bello—Charles Howell III (Th)
47. Jon Rahm—Keegan Bradley (W) — Feels like a preview of a very lopsided future Ryder Cup match
46. Sergio Garcia—Dylan Frittelli (Th)
45. Tommy Fleetwood—Kevin Chappell (Th)
44. Jordan Spieth—Haotong Li (Th)
43. Dustin Johnson—Bernd Wiesberger (W)
42. Pat Perez—Si Woo Kim (W)
41. Dustin Johnson—Adam Hadwin (Th)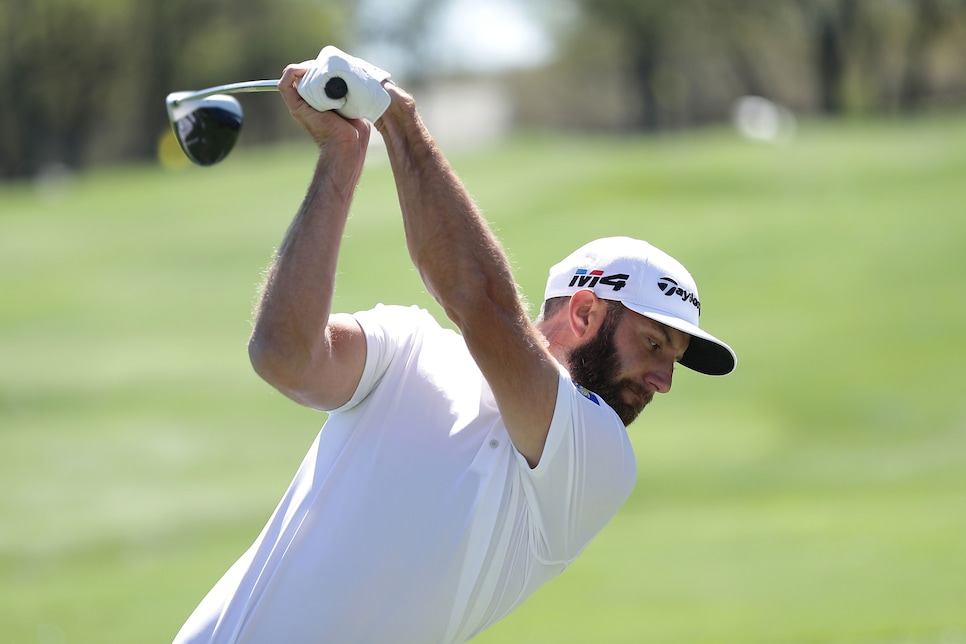 Richard Heathcote/Getty Images
The Moon-Landing Conspiracy Tier: More intriguing with each look
40.Matt Kuchar—Ross Fisher (F)
39. Rory McIlroy—Peter Uihlein (W)
38. Jason Day—James Hahn (W)
37. Thomas Pieters—Kevin Na (F)
36. Phil Mickelson—Charles Howell III (W) — Phil got a rough group, man. A rough group.
35. Marc Leishman—Branden Grace (F)
34. Patrick Cantlay—Cameron Smith (W)
33. Sergio Garcia—Shubankhar Sharma (W)
32. Phil Mickelson—Sotashi Kodaira (Th) — A rough group.
31. Hideki Matsuyama—Yusaku Miyazoto (W)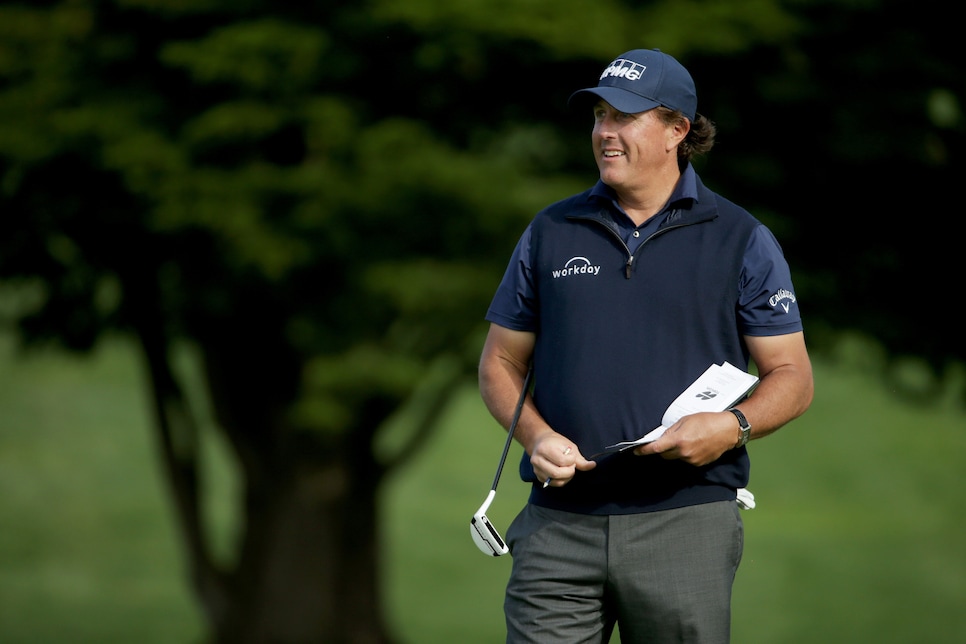 The Red Velvet Cake Tier: Hard to screw up a recipe this good
30.Tony Finau—Kevin Na (Th)
29. Branden Grace—Bubba Watson (W)
28. Daniel Berger—Ian Poulter (Th) — Underrated battle of angry-seeming people.
27. Alex Noren—Kevin Na (W)
26. Patrick Reed—Charl Schwartzel (Th)
25. Marc Leishman—Bubba Watson (Th)
24. Pat Perez—Gary Woodland (F)
23. Hideki Matsuyama—Cameron Smith (Th)
22. Paul Casey—Matthew Fitzpatrick (F)
21. Dylan Frittelli—Shubankhar Sharma (F)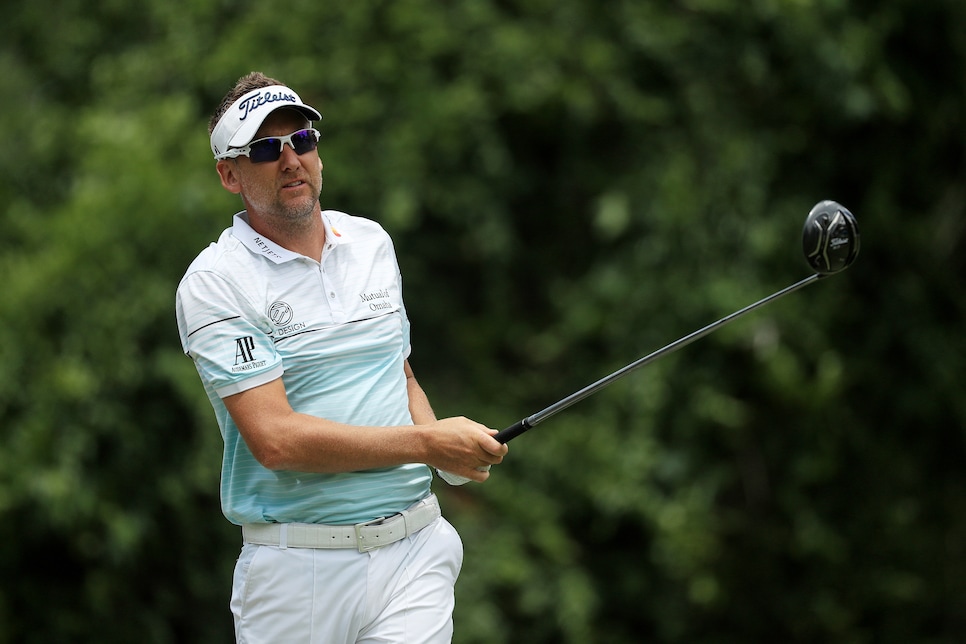 The Laser Tag Tier: Even if you're not in the mood, you're going to have fun
20.Jon Rahm—Chez Reavie (Th)
19. Jordan Spieth—Charl Schwartzel (W)
18. Alex Noren—Thomas Pieters (Th)
17. Alex Noren—Tony Finau (F)
16. Louis Oosthuizen—Jason Dufner (W) — This feels like a "Dufner does something kinda crazy" week.
15. Tommy Fleetwood—Daniel Berger (F)
14. Justin Thomas—Patton Kizzire (Th)
13. Justin Thomas—Francesco Molinari (F)
12. Dustin Johnson—Kevin Kisner (F)
11. Hideki Matsuyama—Patrick Cantlay (F)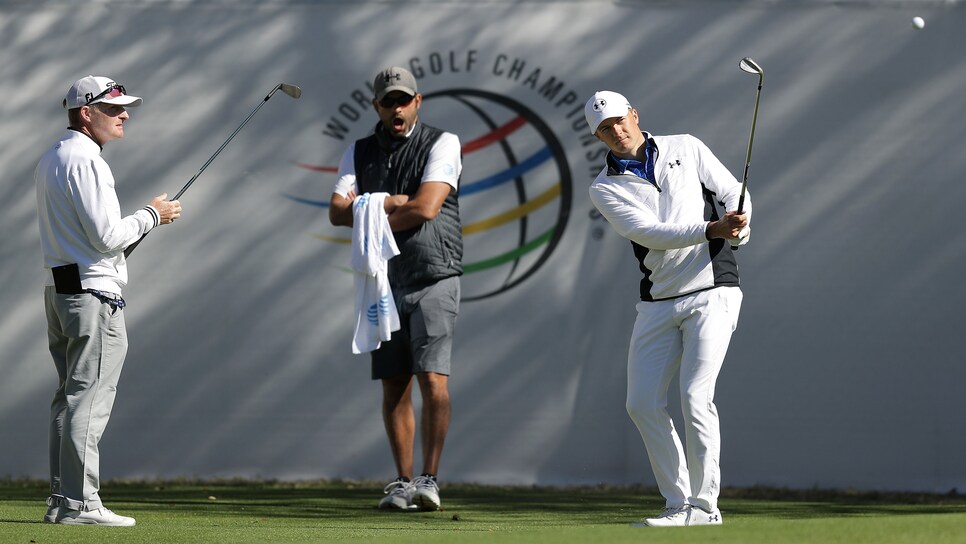 Richard Heathcote/Getty Images
The Beer After Mowing Your Lawn Tier: The most satisfying of all beers
10.Matt Kuchar—Zach Johnson (W) — This one's for you, dads.
9. Sergio Garcia—Xander Schauffele (F)
8. Jason Day—Jason Dufner (Th)
7. Rory McIlroy—Brian Harman (F)
6. Tony Finau—Thomas Pieters (W)
5. Jason Day—Louis Oosthuizen (F)
4. Jon Rahm—Kiradech Aphibarnrat (F) — Spain and Thailand: The ancient rivalry.
3. Phil Mickelson—Rafa Cabrera-Bello (F)
2. Tommy Fleetwood—Ian Poulter (W) — Winner gets a date with the queen.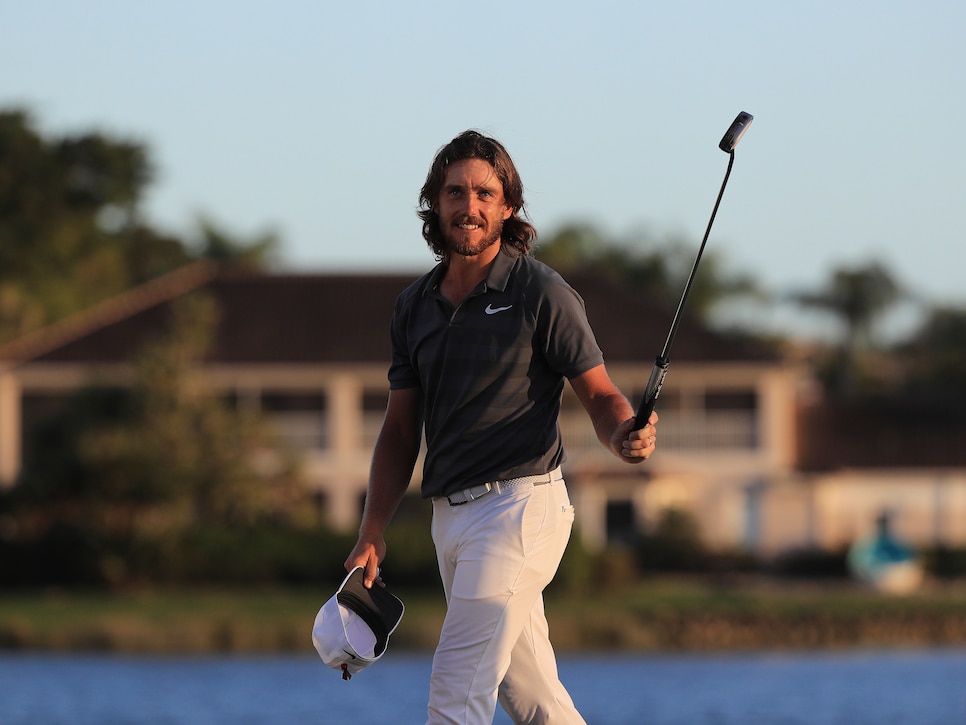 The "Stop Everything and Watch It Burn" Tier
1 Jordan Spieth—Patrick Reed (F) — Well, yeah.