News
Fear and Loathing (or something like that) at the WGC-Dell Match Play Selection Show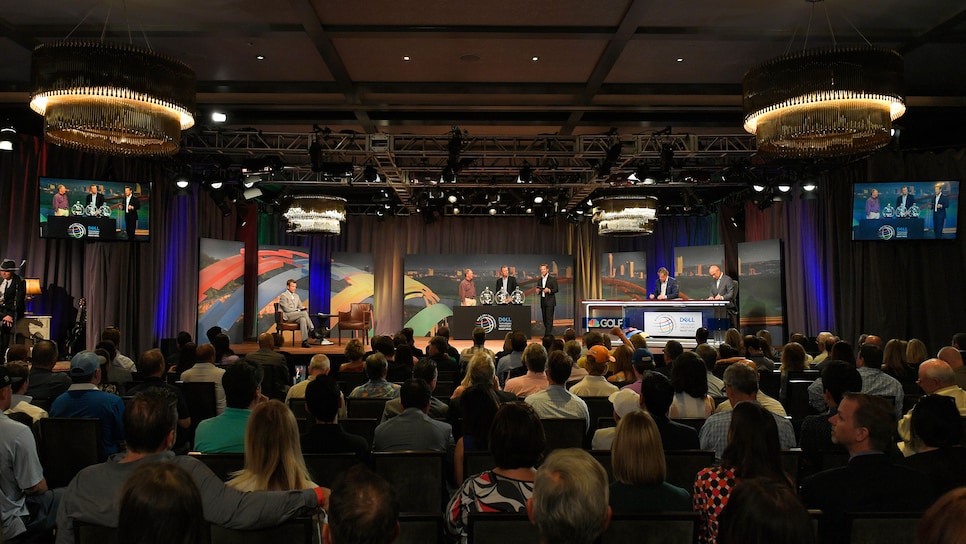 AUSTIN — I am writing in an Airbnb in Austin and sweating to the devil because of the tannins in this red wine that have fully infiltrated my system. I apologize. This was supposed to be a story about Golf Channel's WGC-Dell Match Play Selection Show, which I told a PGA Tour higher-up was a good idea to write about, and which I still believe.
A different PGA Tour higher-up is to blame for my present state because, in the moment, all I wanted was water. We were on the second floor of the Kimpton Hotel Van Zandt here in Texas' state capital—plush leather couches, a fireplace with extra logs on either side, chandeliers seemingly made from old trombones and carpet of a reddish-brown that is perhaps burnt umber or perhaps burgundy or perhaps cordovan—just outside the banquet hall that played host to the selection show. I asked the higher-up where a soul could find the most natural liquid substance on planet Earth, having seen several stations offering red wine, white wine, liquor and an assortment of cheap beer. Unlike every other golf-media environment I'd experienced, water, however, seemed to be scarce.
"There's only booze here."
One of the strengths (or weaknesses) of these sorts of men is that you can never tell if they're telling the truth or lying, so inscrutable are their expressions. So, I decided I should quench my thirst with the best possible compromise, Michelob Ultra. But that, of course, didn't quite do the job, and still lacking water, I moved on next to the red wine offering, Cabernet Sauvignon courtesy of William Hill, Central Coast rivalry. (I'm reading the label now from the bottle I made off with from the event, opener included). This may be good wine, or it may be bad. I frankly have no idea. But I can say for certain that the PGA Tour tricked me into the state of tranquility from which I now write this recap.
Because of these tannins, I'm saying, all I have for you are disjointed thoughts from the 90-minute program, which I hope are acceptable.
1. The crowd for this event, about 500 strong, standing-room only in the Van Zandt auditorium, consisted mostly of people who I'm convinced had never visited Austin before in their lives. Let me say a bit about Austin—walking through the city on Monday afternoon was like visiting a friend who had just entertained 99 straight guests and was now welcoming you as the 100th. In other words, it was worn out. The South by Southwest Festival had just ended, which is the biggest show the city puts on each year. What's more—you may have missed this—there's a terrorist at work in this city, and the chief of police just called him a "serial bomber." Things are very strange in Austin now. I spoke to a policeman at the Van Zandt who told me he's getting calls from friends in London about this, and that a big part of his day is now taken up with calls from people receiving "suspicious" packages. All very understandable. And all of it making the timing of this selection show particularly weird. Not to mention that the crowd itself, full of gingham shirts beneath jackets, looked like the full assortment of Austin citizens who wouldn't fit in at South by Southwest, and were herded for this otherness and ushered to the Van Zandt hotel for one night only.
2. Brandel Chamblee and Tim Rosaforte were in their positions behind their desk on stage at least 45 minutes before the show began, and I'm still not entirely able to figure out why. Eventually, they were joined by Todd Lewis in the interview chair (stage right), John Mutch behind the resplendent, glowing ping-pong balls (downstage center) and host Ryan Burr. I thought Burr had the best jacket of the bunch, a lovely gray number with a pattern that I'm going to cautiously call "Glen Urquhart plaid." When I quizzed the two lovely Dell employees to my left about who wore the best jacket, one of them adamantly agreed that it was Burr. (The other, clearly a philistine, chose Rosaforte's plain-blue number.)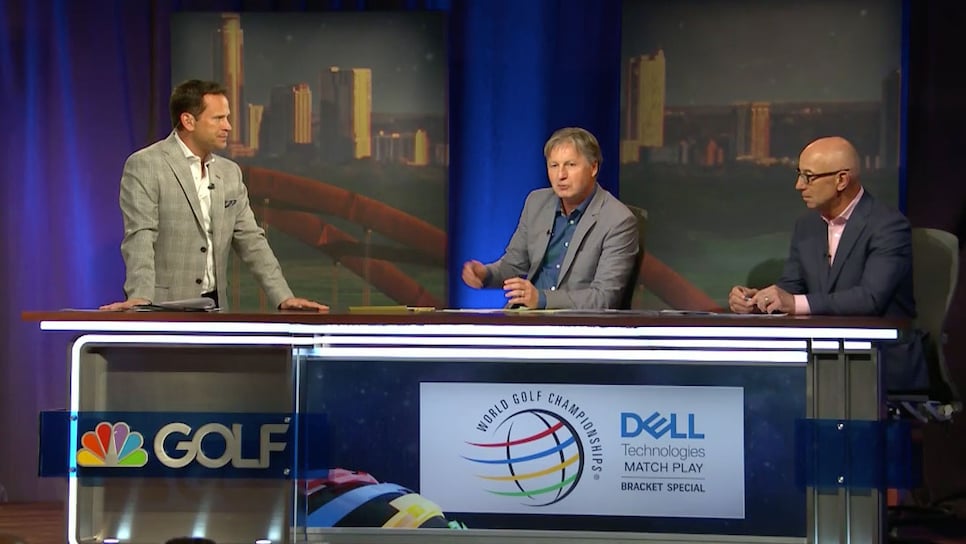 3. The most impressive moment of the night came when Burr soundlessly began the show, speaking to the crowd in unintelligible, emphatic sentences as a four-piece band totally drowned him out from his right. We had been encouraged by a producer to applaud, and so we did, but still we couldn't hear a word from Burr. What I realized, though, is that the television audience at home could pick up every word, and even if Burr couldn't hear himself think, and even if we couldn't hear a syllable, he had to continue as though he was being received loud and clear by millions. I can't imagine pulling off that performative feat with zero feedback—it's like a tightrope walk without a net, blindfolded—but Burr seemed to nail it. It was one of those small moments where a mere mortal could witness his competence and say, "Oh, yes … TV is hard, isn't it?"
4. The biggest reaction of the night? Jordan Spieth vs. Patrick Reed, baby! I'm going to write so much more about this, and I'm going to stalk them like an obsessive when they play on Friday, the duo landing together in Group 4. (The whole point of the show, by the way, is to put the 64 players in the field into 16 groups of four, with each group's participants playing in a round-robin match-play format Wednesday through Friday, the winner advancing to a bracketed match-play until the champion is crowned Sunday.) Seriously, what a draw Spieth v. Reed was! The drama of that revelation singlehandedly justified the entire show.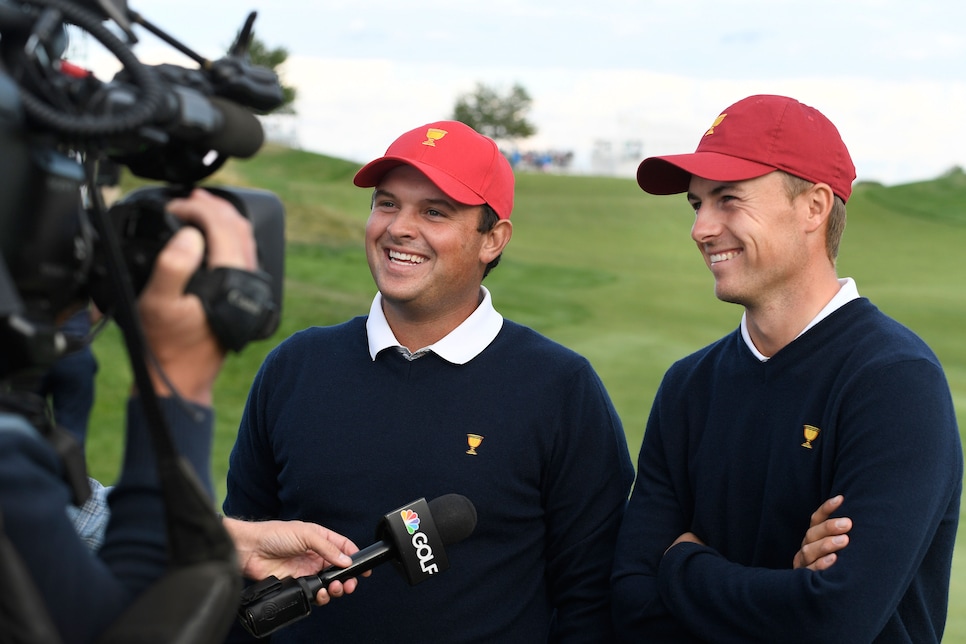 5. You want to know the main difference between someone who knows how to carry himself on TV versus a civilian? It's all in the arms. Michael Dell—CEO, and boss of nearly all 500 spectators in the room—took the stage to help announce the first two groups, and the entire time he was in front of the cameras, he held his arms at his side as though God had just bestowed the two appendages and Dell had no clue how to manage them. I saw the film crew—the brilliant techies who I barely noticed until a camera swooped over my head in the back row—shot him from about navel-upward, which was an act of generosity. Because below that, his arms hung limp and useless, while the TV pros around him seemed to know exactly how to handle their upper limbs. Arms are the great divider, my friend, between the TV haves and have-nots.
6. Pat Perez is a brilliant man to interview and should be on TV as much as possible. I managed to stagger my way into the media room after his appearance on the show was done, and in the 30 seconds of private interview I saw, he managed to explain the uselessness of "chirping" at truly great players—"they end up asking you how many majors you've won, how many Ryder Cup teams you've been on, and you realize you have nothing." He then proceeded to explain why he has so much fun chirping at Dustin Johnson (that explanation was a single gesture—a hand flying over his own head, with a verbal "whoosh").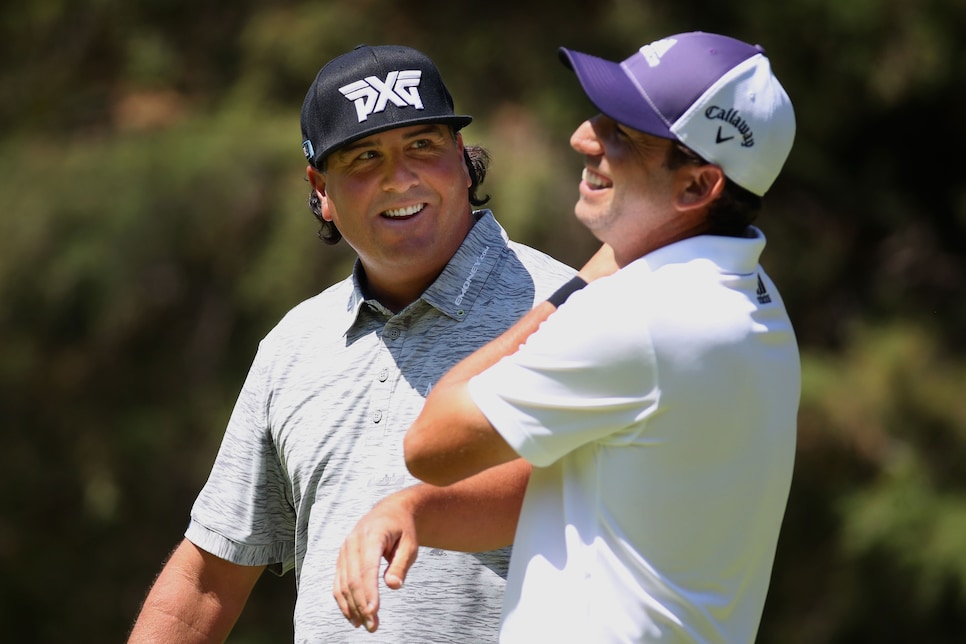 Gregory Shamus/Getty Images
7. I wrote "great big stiff" in my notebook before Roger Clemens even took the stage as one of the celebrity guests. I was right.
8. Overall, I must say, I enjoyed the show very much. Perez was funny. Tommy Fleetwood, wearing an unbuttoned black-palm-tree Hawaiian shirt over a black T-shirt, was funny. Lewis sounded a bit hoarse, but gave solid interviews. Rosaforte and Chamblee had solid analysis, aside from the inexplicable time when Chamblee said we were in the most exciting year since 1975, back when the great players "were naming every river and mountain." (One day, if he will talk to me, I would like to ask him what that meant.)
9. I had an embarrassing fan boy moment with Luke Wilson, after he had presented, when I shook his hand and told him how much I appreciated his movies with Wes Anderson, and he blew me off in the most polite way possible.
10. Burr got a huge laugh when he called Ian Poulter "the match play ninja," and so he tried it twice more, with diminishing returns. But his first attempt was so successful that I've decided to pick Poulter, against all odds, as my 2018 WGC-Match Play champ.
Now, time for some Cabarnet.