Long Live the Queen
Queen Elizabeth II died and Nick Castellanos immediately started trending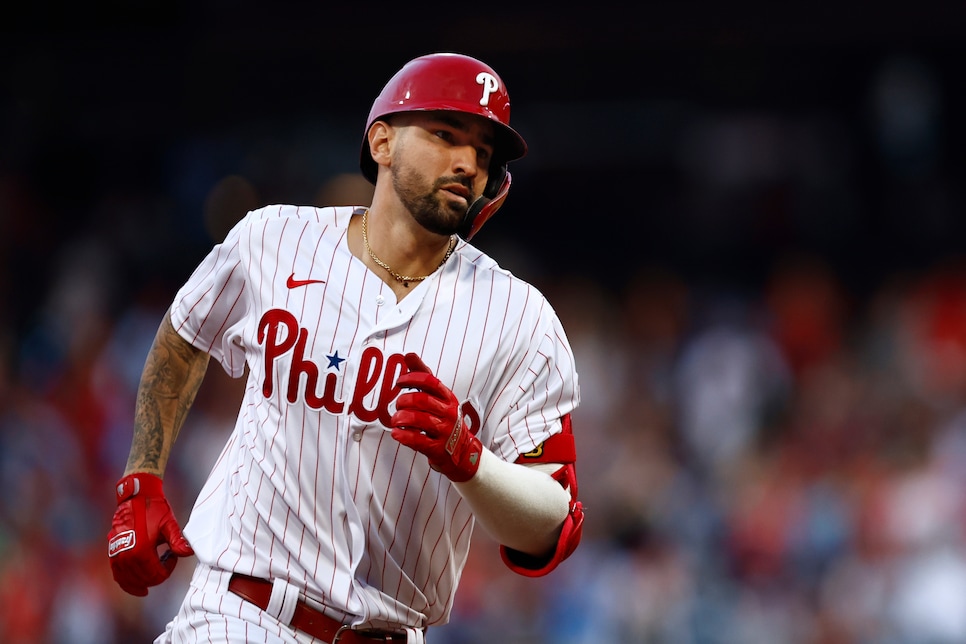 On Thursday afternoon, Queen Elizabeth II passed away at the age of 96 after seven decades serving as the matriarch of the United Kingdom and its various colonies across the globe. For many, it was a sad day. For others, not so much. For all, regardless of nation, ethnicity, race, or religion, however, it was a day of great upheaval. In a matter of seconds, the world fundamentally changed, its longest serving political figure gone, an absence felt for the first time since 1952. In that moment, as time seemed not just to stand still but turn backward, something miraculous happened:
Philadelphia Phillies outfielder Nick Castellanos started trending.
In case Queen Elizabeth II's passing triggered the failsafe on the cryofreeze tank you've been bobbing in the past 70 years, Castellanos is best known for hitting home runs in times of great emotional distress. It all began with a drive to deep left as longtime Reds commentator Thom Brennamen issued an on-air apology after a hot mic captured him saying a homophobic slur. The following season, Castellanos hit another bomb as the Kansas City Royals eulogized World War II veteran George Gorman, the father of one of their veteran equipment managers. Finally, this spring he launched a final obit into orbit in the middle of a Memorial Day military remembrance at Citizens Bank Park, cementing himself as humanity's foremost hitter of problematically timed home runs.
Castellanos remained on the IL on Thursday, rendering him unable to cap Queen Elizabeth II's reign with a dinger into the dog stand. Perhaps you think that's for the best. Perhaps you find all this a little crass. But we beg to differ. While you might see Castellanos' fateful home runs as interruptions, we see them as touching tributes. Long live the Queen.