Equipment
Q&A: Martin Slumbers discusses Phil Mickelson's rules run-in at Shinnecock, the distance debate and more at Carnoustie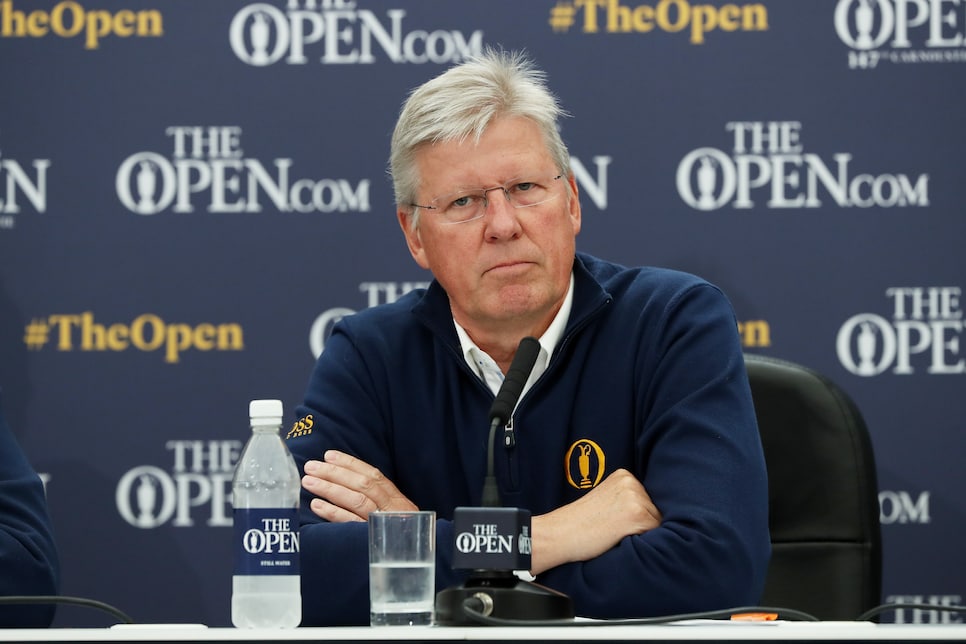 As is tradition at the Open Championship, the chief executive of the R&A and secretary of the Royal and Ancient Golf Club of St. Andrews addressed the media during Wednesday's annual R&A press conference. Martin Slumbers, preceding over the R&A for a third year, answered several questions about the state of the game, Phil Mickelson's rules situation at Shinnecock, testing drivers before the Open, and other topics at Carnoustie. Here are a few of his comments.
Question: Following the previous major championships, have you had a look at the rules following the incident with Phil Mickelson in the third round at the U.S. Open, and had he done that at The Open, would you have disqualified him?
Martin Slumbers: "I have talked to Phil since he's been here last week, and he spoke to the media at the Scottish Open last week. Not putting words in, paraphrasing his words, but essentially admits that it wasn't his finest hour, and I agree with that.
"We understand the USGA and the referees' decisions that were made at Shinnecock, and we completely respect those decisions. In the event of a similar situation this week, clearly, the first thing is you understand the facts because you never get the same situation and there will be lots of reasons. But we have looked very carefully at the rules, and I don't think it was good for the game and not the right way to have played this wonderful sport, and we would make a decision based on the facts of any incident that happened later in the week."
Q. Martin, there was a notice sent out to 2,000 or so players asking for their drivers to be tested. I'm curious what -- I don't recall that in the last couple years, so curious what prompted that. What were you hoping to find, and did you find anything?
Slumbers: "Well, we've always had an equipment test capability down on the range, certainly since I've been involved in The Open. It's been an option for players or the manufacturers to take their equipment in and have it tested.
"We take our governance role very seriously, not just on the rules of golf and amateur status, but also equipment standards, and we felt it was an appropriate next step to more actively seek to test players' drivers straight out of the bag.
"We actually did it in Japan earlier in the year at a Japanese event, and we did a random sample of the field playing, and all of those players have very kindly brought their drivers in, or their caddies brought them in straight out of their bags, and we did the testing. You know, the players were very interested in what we were testing, and it was very friendly atmosphere. And, no, we had no problems."
Q. Was the testing or any of your efforts prompted by the spike this year in driving distance? And compared to last year, your comments here, where have you moved in terms of your views on -- that's based on that spike in distance?
Slumbers: "No, it wasn't driven by the spike at all. It's driven by us just trying to keep moving the Championship forward and making it more complete and making sure that there is a service provided to ensure that the players are going out there with clubs that are conforming.
"In the second part of your question on distance, this time last year, I made a comment that we were waiting to see what the full year distance numbers look like, but I expressed in this room that we were concerned where the preliminary numbers were going, and that our concern was based upon the balance between skill and technology and whether the balance between skill and technology for the recreational game and the elite game was appropriate. And that's the concern that I outlined a year ago. We still believe that, and we still believe that what we are looking at is not just an instantaneous where we are today, but very much where are we going and where's the game going 20 years from now in terms of that balance between skill and technology?
"Golf is a game of skill, and long may it remain being a game of skill. We started the distance report three years ago, driven entirely because I believe that we needed to get transparency, and there was too much Chinese whispers around what data were we looking at, so we published it. And it was fascinating seeing the results and the comments on the published data.
"When we published [the distance report] at the beginning of this year, we were very clear saying that the concern that I had alluded to a year ago was real, and with the USGA, we said that we would now want to start an open and constructive dialogue around the hitting distance. We've started that process. We've talked to a number of people. From my perspective, I'm in listen mode. I'm listening. I'm talking to lots of constituents in the industry. I'm getting their perspective around what they think about how far the golf ball is being hit and where it is going, and I am absolutely of the view that I will continue listening and that whatever the outcome of this work over the next year or so will be done collaboratively and as an industry, and we need to work together and talk together and make sure that we do the right thing for this wonderful game that not only employs all of us, but actually that we all love."
Q. Could you please explain why Bryson DeChambeau was not allowed to use a compass? Maybe expand a little bit.
Slumbers: Well, it's been very well covered by yourselves around what the purpose was, Bryson using a compass or a protractor on his green book, and he's talked very much about checking hole locations. But if you look under the rule around artificial devices that we have, it says that the rules do not allow equipment to be used in an abnormal manner, and we decided that a protractor being used in that way is being used in an abnormal manner, and therefore, discussed it with Bryson and the PGA TOUR and came to the conclusion that was in the press release.
Q. Martin, talking about overseas visitors, there was one on the other side of Scotland last weekend. Were there any repercussions over here? Were there any calls for the R&A, could he or could some of these people come over? What would your reaction have been if he had? And where are we as far as 2022 and the possibility of an Open being staged at Trump Turnberry at that time?
Slumbers: "We had no communication from Number 10, the Foreign Office, or the White House concerning the President of the United States and his visit to the other coast last week. I think, if I had been asked, I would have been strongly not encouraging him to visit Carnoustie. We were in the middle of a building site last Friday. There were lorries everywhere. It would have been very, very challenging to do so.
"And with respect to 2022, I've already said, '21 we're going to be celebrating the 150th playing of The Open at St. Andrews, and in '22, we'll be going south of the border."