Editor's Letter
Coming together to promote diversity in golf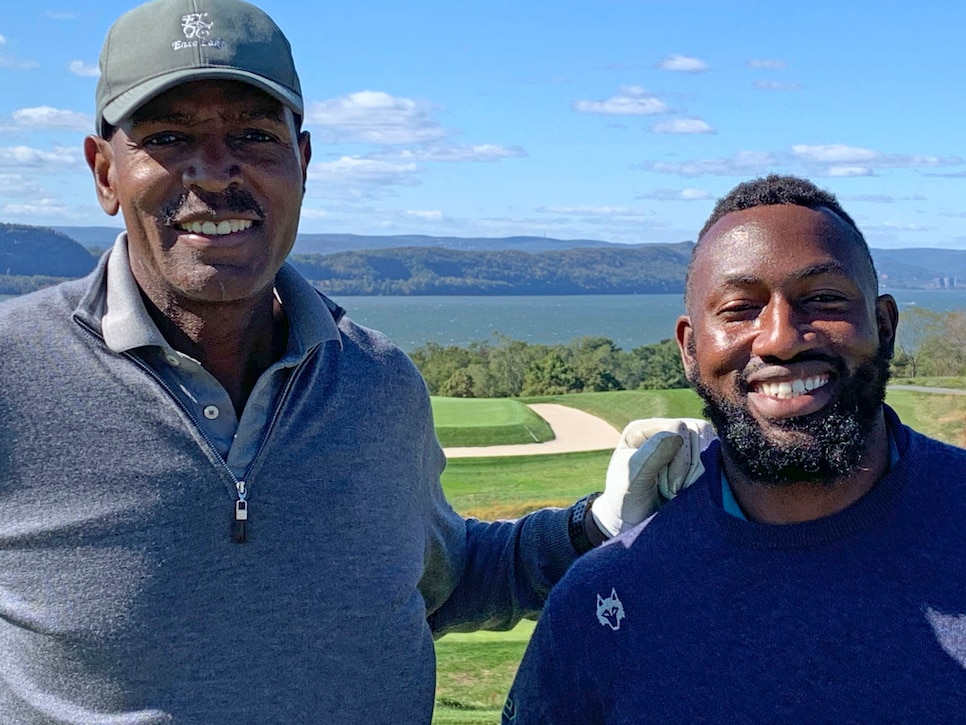 QUITE A TEAM Jimmie James and Maurice Allen together at Sleepy Hollow. Photograph by Max Adler.
Publishing a story often feels like the end of a long journey—reporting, writing, editing, fact-checking, designing—but occasionally we're pleased to find out it was only a beginning.
Though separated by 23 years and 150 yards off the tee, James and Allen became fast friends. So when the two recently came to New York on a fall golf trip, I had to join. I'd never played with either, and how much can you really know about anyone until then?
Writing about James' epic golf year, I had presented this man's ability to finagle his way onto so many exclusive private clubs in a short time as indication of our nation's social progress. Which wasn't exactly wrong, but I'd failed to deeply understand his experience. I never asked, for example, how many Black golf-club staff he'd encountered. (Two: Hubert Allen at Pebble Beach Golf Links, and Burley Stamps at Riviera Country Club.) I'd asked which courses James thought should be ranked higher, but not how he felt walking onto certain practice ranges. (Like an interloper: "It's not that anyone did anything to make me feel uncomfortable," James says. "It's just the scene and the affinity whites have with each other. The feeling was self-induced, but it was still real to me.")
As earnestly as James can talk about race, our host at Sleepy Hollow Country Club, David Granger of Esquire fame, calls James "the most hale-fellow-well-met dude in the history of the world." James has a permanent smile on the golf course, and one of his many memorable pronouncements on the day was: "Looking back on my quest to play all 100, it was a miracle. I got so lucky." A sentiment no doubt reinforced by 2020 as the year of curtailed guest policies and quarantine travel complexity.
When the protests after the death of George Floyd raged, Maurice Allen wrote "Being Black in A White Sport" for our website with Golf Digest Staff Writer Joel Beall. The piece was powerful, revealing and upsetting. But like James, Allen has a knack for focusing on the positive with a club in hand. "Tell me something good!" Allen laughs after Granger relays a tragic story about the full-swing yips. Allen is transitioning from long driver to complete golfer, and with a ball speed of 210 miles per hour, is excited for how good he might get. He uses a 5-degree Cobra driver on the course—up from 1 degree on the grid—because "they're the only heads I don't break." When he absolutely needs to find a fairway, he chokes down to the shaft of his 2-iron.
Several tour guys, including Bryson DeChambeau, have tried to pick Allen's brain on power. He has shared some old-school tricks for strength, like curling newspapers with his fingertips and hand exercises inside bowls of uncooked rice, but he's reluctant to mess with their games. "More distance is easy, but these guys got to put food on the table, and I don't want to be responsible," Allen says. Besides, most tour players have neither the time nor will to devote to the kind of brutal training he does with football and baseball players.