Features
My Shot: Long-Drive Champion Maurice Allen
Long-drive champion Maurice Allen wins with flair (as in Ric Flair) *With Guy Yocom*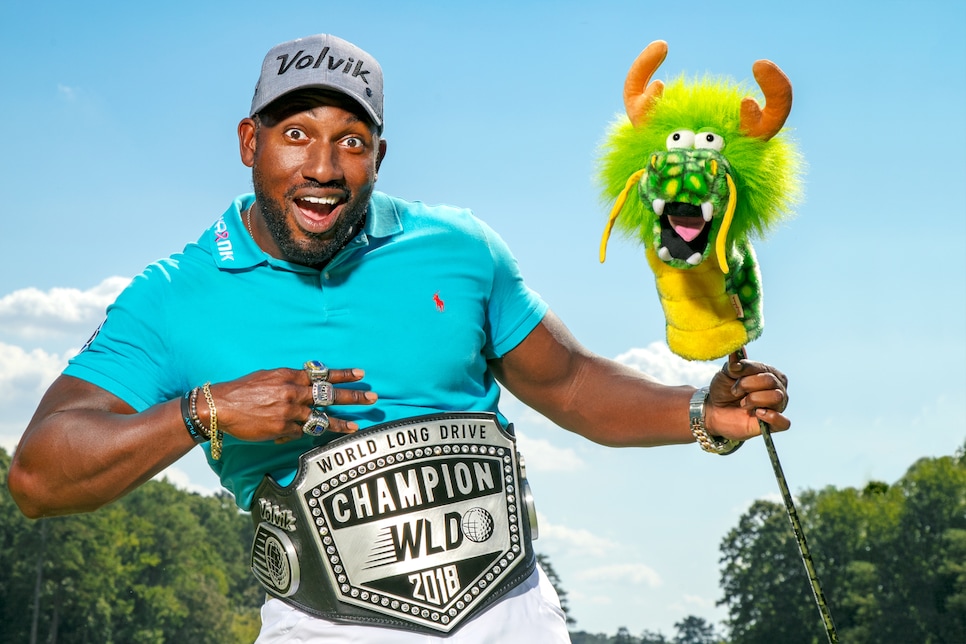 Photo By: Photos by Nathaniel Welch
"I'M THE ROLEX-WEARIN', DIAMOND-RING WEARIN', kiss-stealin', wheelin'-dealin', limousine-ridin', jet-flyin' son of a gun, and I'm havin' a hard time keepin' these gators on the ground!" I screamed that at the top of my lungs to a national TV audience when I won the Volvik World Long Drive Championship in September. The line originated with Ric Flair, the pro wrestler who, next to Muhammad Ali, was the greatest self-promoter who ever lived. Long driving is a sport. It's entertainment. The fans went crazy.
IN TRUTH, I DON'T WEAR A ROLEX. I have a couple of rings with diamonds in them from my long-drive exploits in Europe, but the stones are tiny. I've never flown privately in my life. I don't ride in limos. Heck, I drive a Nissan pickup truck.
I lead a simple life. I don't even have cable TV or Internet in my house. I don't go to parties and have never touched a drop of alcohol in my life. I don't eat candy. I go to church. I've taken Advil, but only after surgery. Athletes and celebrities sometimes are usually wilder than their public persona. I'm just the opposite.
I LOVE PERFORMING AT NIGHT. The prime-time setting for the WLD Championship was perfect for me. Back when I ran track at Florida A&M, I loved going to the stadium on weekday nights and practicing with the dance squads and cheerleaders out there, the lights flooding the field. I loved the anticipation of game time in the air. When I made my entrance at the WLD and saw the TV cameras, grandstands filled with people and floodlights illuminating the grid, it felt like all the energy in the place transferred to me. I thought, This is my house.
IT'S ABOUT THE DRIVER, BABY. It's no use fighting it. Even at Topgolf, people who have never played before get over trying to hit the short target with a sand wedge real fast. They instinctively reach for the driver and try to hit the back wall, especially after a couple of drinks. Why do golfers on every practice range mainly hit drivers? Why do we spend $500 for a driver but only $150, tops, for a sand wedge, even though we hit our sand wedges more? Everybody loves the long ball, and they always will.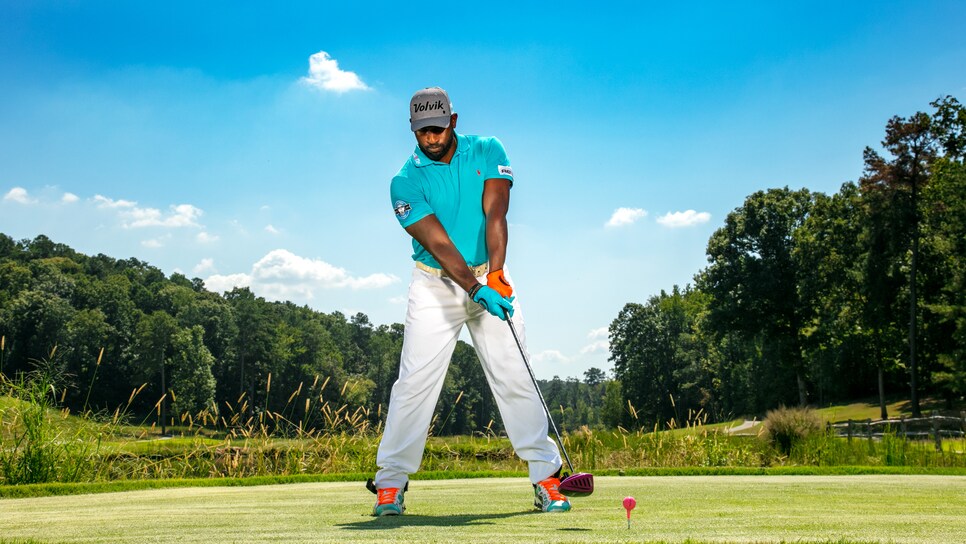 LONG DRIVING IS THE PERFECT MILLENNIAL SPORT. Golf audiences are changing, and long driving is youthful, fast and offers instant gratification. Instead of spending five hours watching PGA Tour players walk to their golf ball, you're watching guys trying to murder eight shots in a three-minute span with their survival on the line. The do-or-die in every match is a lot easier to figure out than the FedEx Cup. Whereas the PGA Tour is like watching a bunch of three-and-out plays in football. In long driving, we let it all hang out on every play. It's suspenseful, dramatic and filled with crazy characters like me. It's golf for our time.
MY FAVORITE WAY TO PLAY IS TO SHOP FOR DEALS ON GOLFNOW AND SIGN UP WITH A FOURSOME OF PEOPLE I'VE NEVER MET. I do that several times a month. I can't pass up a Hot Deal. There's no such thing as a bad course. You've heard people say how golf is like chess? Well, just because the chess board is beat up doesn't mean the challenge is any different. The rules and object of the game are still the same. In golf, the so-called goat tracks can be the most challenging and interesting. In fact, bad courses are fascinating because you wonder what was going on in the architect's mind.
IN 2010, I WAS A RAW BEGINNER AND ONLY PLAYED ONCE IN A WHILE WITH MY COUSINS UP IN TALLAHASSEE. One of my first rounds, I broke an iron from a hand-me-down set that was at least 10 years old. I took it to a local Golf Etc. store to get it fixed—I was at Florida A&M and pretty broke—and the sales guy said, "Not trying to push you, but I think you really need some new clubs." After I said OK, he put on a simulator and handed me a 7-iron. My first swing, the distance came back as 240 yards. The sales guy stared at me for a minute and said, "Do that again." The next one also went 240. His next words were, "You ever heard of long driving?" I told him I'd never heard of it. He said, "There's a contest at Wildwood later today. Do yourself a favor and go down there."
"MY FIRST SWING [WITH A 7-IRON ON A SIMULATOR AS A BEGINNER], THE DISTANCE CAME BACK AS 240 YARDS. THE SALES GUY STARED AT ME FOR A MINUTE AND SAID, "DO THAT AGAIN."
A SHORT TIME LATER, A GUY NAMED STEVE HARRISON GAVE ME $80 and a driver he'd gotten from Kenny Knox, the tour pro. He said, "You get six balls for $40. See what happens." At the contest, I hit the six balls, and nobody saw them come down. The officials were talking to each other on their walkie-talkies, and all I heard was this scratchy voice saying, "I don't see anything." I was ready to leave when a lady comes over and says, "I'll give you $40 just to watch you hit six more." She suspected the balls were going into the woods beyond the grid, which ended at 390 yards away. The officials were losing the balls in the air because the farthest drive to that point was 350 yards. When they looked for my balls, they found one at 389 yards. But it was six inches out of play. I was out of balls and out of money, and I left.
THAT EXPERIENCE SUGGESTED I MIGHT HAVE A TALENT. After I left Florida A&M, I enrolled at Life University, a chiropractic school in Marietta, Ga. They had a deal with an area range: A student could hit unlimited balls for $25 per each quarter of the school year. I wore that offer out. I hit balls all day, every day, figuring it out on my own until I got to where I could reasonably predict where the ball was going. Word got out on campus, and the school sponsored me to attend a last-chance qualifier for the 2010 World Long Drive Championship in Mesquite, Nev. I got beat there, but the guy I lost to, Joe Miller, wound up winning the whole thing. Watching the updates of it on my phone during class back in Orlando, I became pissed off and obsessed, feeling it could have been me.
I PREFER BEING BY MYSELF. I don't like having crowds around me. On the other hand, we long drivers like to show people what we can do. Starting out, when I went to practice ranges where I knew strangers would gather to watch, I'd move to the end of the range where the wind was most favorable. I got good at hitting downwind, but eventually I learned they don't hand out prizes on the practice range. Today, I always move to a spot where the wind is as much in my face as possible, because a headwind will always reveal weaknesses in your ball flight.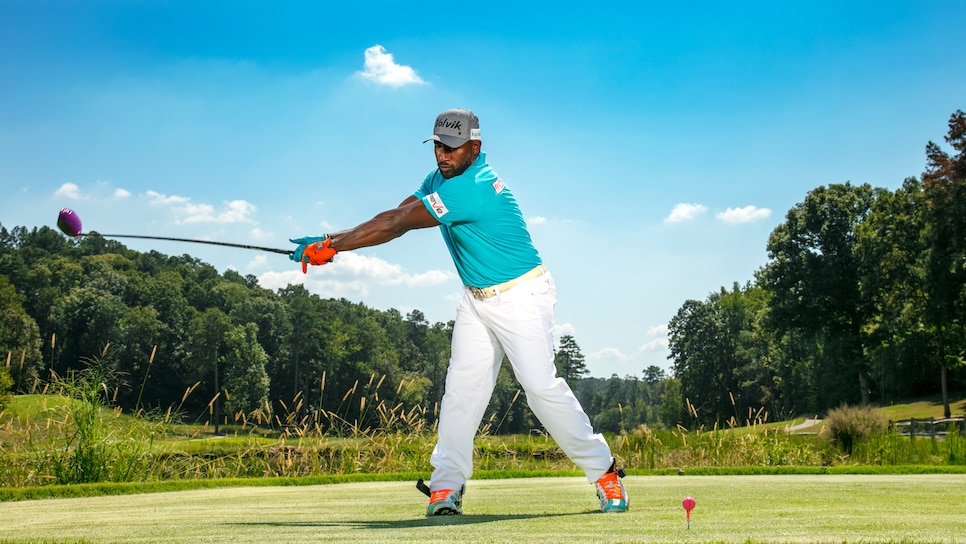 BY 2011, I'D STOPPED GOING TO CLASS. I'd hit balls for five hours straight, eat lunch, then hit balls for five hours more. All drivers, between 1,500 and 2,000 a day, and I never took a day off. I slept only four hours a night—to this day, I don't sleep more than that—and would be at the course by dawn. Sometimes, after 10 hours of hitting balls, I'd go home and collapse, then wake up and go to a PGA Superstore at night and hit more on their simulator. It probably wasn't healthy. I tore my body up. The heads of my ribs tore loose, right and left sides. My hands bled from my skin simply wearing off. I didn't know enough to wear tape. See these knots on my hands? I developed calluses, then permanent knots below the calluses. One time my right hand slipped, and I broke the little finger of my right hand. To this day, I point my left index finger out at address. It's not a quirk, it's a leftover from the days when I couldn't let that finger touch the broken little finger.
IN 2014, JULIUS ERVING, AN OLD FAMILY FRIEND WHO IS LIKE AN UNCLE TO ME, set up a game at TPC Sawgrass for him, me, George Gervin and Artis Gilmore. At the time, I was considering quitting long driving. It can be a tough way to make a living, and I wasn't having a lot of success. Uncle Julius, sensing my discouragement, did this to lift my spirits. He also mentioned there might be a fifth player joining us, though he didn't say who it was. On the par-5 second hole, I'm alone on the back tee getting set to hit when I hear a cart approaching. This deep voice booms out, "I hear you're looking for a fifth." I look up, and it's Calvin Peete. If you're African-American and a golfer, Calvin Peete was immortal, almost like Babe Ruth. What he overcame to become one of the great players of the 1980s is one of the most inspiring stories in sports history. Even Dr. J., Gervin and Gilmore treated him very deferentially, like a person who was a cut above. Mr. Peete couldn't play by then; he was very sick with lung cancer. But he rode around the whole day on the course where he won the Players Championship in 1985, praising me, telling stories and offering advice. I had a spectacular day, too, pounding the ball places even I didn't think it could go. Well into the round, Mr. Peete took me aside. "Young man, I've seen a lot in my time in golf, and I believe you have the opportunity to do something very special. I want you to promise me you'll never quit this game." I gulped and made that promise. Mr. Peete died within a year. There were a few rocky times after that, but when it got tough, I'd reflect on that gesture by Dr. J and the promise I made to Calvin Peete. There was just no way I could quit.
I DIDN'T WIN THE WLD TITLE JUST TO GO AROUND SCREAMING THE RIC FLAIR STUFF. Knowing where I came from, there's a greater purpose at work. I'm going to use my personality and skill to build this thing up. Not just for the 150 hitters, but for everyday people and kids. Long driving is an individual, selfish sport populated by unselfish people who would do more if it were bigger. I want to grow it and extend our reach. At the presentation ceremony, I promised to donate four $5,000 scholarships to kids at Maynard Evans High School in Orlando. I'm focused on finding five matching donors for each scholarship, so each kid gets $30,000 and a nice start in life. Trust me, the kids there need it.
I CAME FROM A GOOD HOME. My father, Jessie Allen, was general manager of the Orange County Convention Center. My mother was a senior project manager at NASA. My stepdad was the principal of a local middle school and worked with special-needs kids. My stepmother was a director of parks and recreation for the city of Orlando. In high school, I drove an E320 Mercedes-Benz. I was a smart kid, graduated from high school with a 3.89 GPA. I'm not sure that comes through when you hear of my self-made golf career and watch me giving two claps and a Ric Flair.
I DIDN'T WANT TO RELY ON MY PARENTS FOR FINANCIAL SUPPORT. My decision to choose long driving over a chiropractic career or one in biology was my own. There were some tough times. In 2012, I actually was homeless for a while, sleeping in my car and sometimes in friends' apartments. One time, I fell asleep on a friend's couch and woke up with my nose in a circle of dog pee. When my car broke down, I'd walk two miles to the golf course each way to practice. I showered in golf-course clubhouses, went to charity golf events and stuffed sandwiches in my pockets, you name it.
I SPENT 2015 PLAYING THE LONG DRIVERS EUROPEAN TOUR. I won events in Sweden, Belgium and Italy and got to No. 1 in the world mostly on what I accomplished outside America. Traveling around the world, what struck me was how the TV coverage of the women pros is as great as the men; the fan awareness and conversation is about equal. I'm not sure why the men's game gets so much more attention in America. Different mind-set, I guess.
MAJORING IN BIOCHEMISTRY AT FLORIDA A&M, I LEARNED HOW FRAGILE LIFE REALLY IS. The delicacy of the homeostasis in our bodies, the constant duplication and correction in all living things, is a dance that can so easily be altered or destroyed. Getting my degree in that area helped me gain a humbling perspective on life in general. On the other hand, I learned enough to truly get scared when I read articles about scary viruses and the overuse of antibiotics.
I DON'T TRAIN CONVENTIONALLY. I ran a personal-training business for six years, earned close to 15 different certifications, and along the way formulated a different approach to developing your body. Remember the "Rocky IV" movie where he traveled to Russia and was dropped in the middle of nowhere? How he trained using homemade regimens like climbing hills, hoisting rocks and lifting wagons? There's a lot to be said for these natural exercises, because you adjust your physique to do them.
I listen to my body [Allen is 5-8 and weighs 225 pounds] and come up with ways to strengthen it where it whispers it needs strengthening. To condition my hands and forearms, I plunge one hand and then the other into a bucket of rice for 15 minutes each, flexing, turning and gripping. It's built up tremendous strength and speed in my hands, wrists and forearms. I respect modern trainers, but with all the different body types and life experiences out there, I don't see the merit of giving everyone the same menu of exercises, done exactly the same way.
PHILLIS METI, WHO JUST WON THE WOMEN'S DIVISION OF THE WLD FOR THE THIRD TIME, is a good example of the type of strength I'm talking about. She's from New Zealand, of Maori descent, and grew up paddling outriggers in the waters there. She developed a natural strength in her entire body that is almost unreal. Awhile back, she came up and grabbed me by my shoulders, then firmed up her grip. She's a gentle person and was being playful, but I honestly couldn't move. I felt very inadequate. "Phillis, please get your hands off me," I said. She very kindly complied.
IN A MANO-A-MANO SHOWDOWN, I WANT TO BE FIRST TO HIT. If I put a ball inside the grid, it puts tremendous pressure on my opponent, even if it isn't very long. That's because his priority automatically shifts to being accurate rather than powerful. I know that's how it works because I've been in both spots. Now, if the one I put in play happens to be long, the other guy is really cooked. He's going to just be hitting and hoping, which isn't a good feeling, either. Obviously there's a nasty flip side to the hit-first strategy. If I hit first and get down to two balls and haven't hit one in play, the pressure on me is tremendous because now it's all about accuracy, not power.
FORMAL INSTRUCTION PUTS LIMITS ON THE IMAGINATION. Young kids especially, it puts all kinds of restrictions on them. "Your backswing is too fast." "You're not getting off your left side." "Stop lifting your heel." On and on it goes, to where the kids are so tied in to obeying those thoughts, they don't have room to think, feel and discover. The instinct and imagination is stripped out of them. I'm not saying all lesson-taking is bad. There are so many great players who clearly used outstanding instruction to their advantage. But it cuts both ways, and a lot of times it's the wrong way.
MY ONLY TEACHER IS DR. T.J. DORSEY, A DENTIST HERE IN ORLANDO. Although he's a Percy Boomer fan [a pro from the 1920s], he doesn't just stress mechanics. As the head of the Orlando Minority Youth Golf Association, Doc Dorsey is not so much an instructor as he is motivator, life teacher, benefactor and inspirational leader. Hundreds of kids—thousands, maybe—have learned the game through his program. "Guru" might be the best word to describe him. I'll hit an iron shot from 210 yards to 10 feet and look at him for approval. He'll say, "Why didn't you hit the stick?" Then he'll scold me about the importance of never being satisfied. He admonishes, encourages, advises—everything under the sun. He's been the most important influence in getting me to where I am now.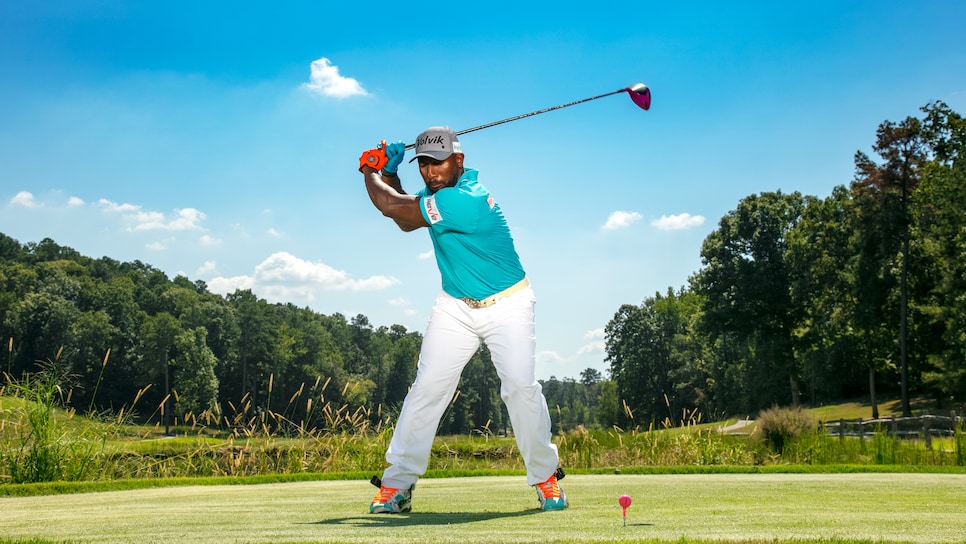 SOME PROS SECRETLY EXPERIMENT WITH EQUIPMENT OUTSIDE OF THE BRANDS THEY'RE PAID TO PLAY. I've never done that. Volvik has been my golf-ball sponsor for close to seven years now, and in that time I haven't hit a single shot with any other ball. Loyalty is an important character trait. When I won the WLD, one of the first things I did was promise Lance Reader, the owner of Krank Golf, that I would play his drivers through 2019. They've been good to me, and nothing could make me break my promise to them.
EARLY IN THE EVENING OF THE WLD CHAMPIONSHIP, I LOOKED AT PHILLIS AND WINKED. A few nights before, I had a premonition, a very vivid dream, in which I saw both of us winning. The dream was dead-on accurate and in great detail. I saw all my outfits, shoes included, and knew I'd be sitting down when I won, which was exactly how it happened. I hit first in the final match, and when Justin Moose followed and didn't outdrive me [Allen's winning drive was 393 yards], the dream was complete. Many people don't believe in premonitions and think those who claim them are letting their minds play tricks on them. But I'm telling you, it's true.
AM I THE WORLD'S GREATEST LONG DRIVER? No. I'd give that honor to Will Hogue, who won three WLD events in 2018 alone. But I was the best at the Volvik WLD Championship in September, and I could very well be the best the next time we tee it up. I believe in destiny. I won the week I was supposed to win. I did it hitting "my ball," the type of shot that is a coming together on one swing of all of my potential. Every long driver has a "my ball," a certain ball flight and speed they like to feel is unbeatable. That I hit my ball at the right time wasn't luck, but there were enough outside forces at work to make me believe it was something that was meant to be.
TEN YEARS AGO, A GUY WITH CLUBHEAD SPEED OF 140 MILES PER HOUR AND BALL SPEED OF ABOUT 210 WAS PRACTICALLY GUARANTEED A WORLD TITLE. Those numbers won't get you into the top 15 today. If you don't swing it 145 with a ball speed of 217, you're not in the conversation. There probably are 70 guys who swing it that fast and have a chance of winning.
"TO CONDITION MY HANDS AND FOREARMS, I PLUNGE ONE HAND AND THEN THE OTHER INTO A BUCKET OF RICE FOR 15 MINUTES EACH, FLEXING, TURNING AND GRIPPING."
WHAT FASCINATES ME IS WHERE THE NUMBERS AND WINNING DISTANCES MIGHT BE 10 YEARS FROM NOW. When I ran track in college—I ran the 40-yard dash in 4.1 once, hand-timed—I learned human beings, using just their arms and legs, are limited by gravity. The advent of starting blocks, responsive surfaces and lighter spikes helped, but there always was gravity and wind resistance. With golf, where you're using external instruments like a club and ball, it makes the potential almost unlimited. We've seen 500-yard drives already.
A decade from now, with people getting bigger and the equipment becoming even more refined, 600 yards might be on the table. Maybe longer. I don't believe in limits.
ACTUALLY, I HIT ONE OVER 600 YARDS YESTERDAY. We were shooting a commercial for Avis at the Atlanta Motor Speedway. It was on a paved surface along pit row, so there's that. But I did kill that drive, and pit row is only 17 yards wide. That's a narrow grid.
THE PHYSICALITY OF HITTING A GOLF BALL IS ONE THING, BUT GETTING HIT ISN'T FOR ME. Before I enrolled at Florida A&M, I was in school briefly at the University of South Florida. With my speed running track, I figured I had potential as a running back. In a practice my freshman year, I charged into a hole at the wrong time, and Kawika Mitchell and J.R. Reed—vicious hitters who both went on to careers in the NFL—were waiting for me. I broke the tibia and fibula of my right leg. Opting for hitting a golf ball 450 turned out to be the right decision.
WE WENT OVER TO ARONIMINK TO DRUM UP SOME MEDIA DURING THE BMW CHAMPIONSHIP. I'm on the range there, and Chesson Hadley came over, all geeked out about seeing my victory on Golf Channel. Then came Brooks Koepka, who teased me about my going to Florida A&M—he's a Florida State guy—and waiting until my eighth ball to really catch one flush. Gary Woodland, Tony Finau, Jason Day and even Fluff Cowan—I love Fluff—all stopped to congratulate me and chat for a few minutes. We're not in the same sport exactly, but it's the same milieu, and the fact that tour players know who I am and respect what I do gratifies me to no end.
"TEN YEARS AGO, A GUY WITH CLUBHEAD SPEED OF 140 MILES PER HOUR AND BALL SPEED OF ABOUT 210 WAS PRACTICALLY GUARANTEED A WORLD TITLE. THOSE NUMBERS WON'T GET YOU IN THE TOP 15 TODAY."
I'M A LONG DRIVER BY TRADE, BUT I'D LOVE TO BE GOOD ENOUGH TO PLAY CONVENTIONAL GOLF PROFESSIONALLY. My best score is a 67 on the Blue Monster course at Doral, but that was before the renovation where they moved a lot of the fairway bunkers out so far that even I can't carry them. Fact is, I'm not even a scratch player. I have a long way to go. But if I qualify to play on any tour—even a mini-tour—I'd consider it a huge success. Players who make it to the minis don't get enough credit. Most amateurs have no idea how good you have to be to play in even small events. Pro golf is the toughest sport in the world.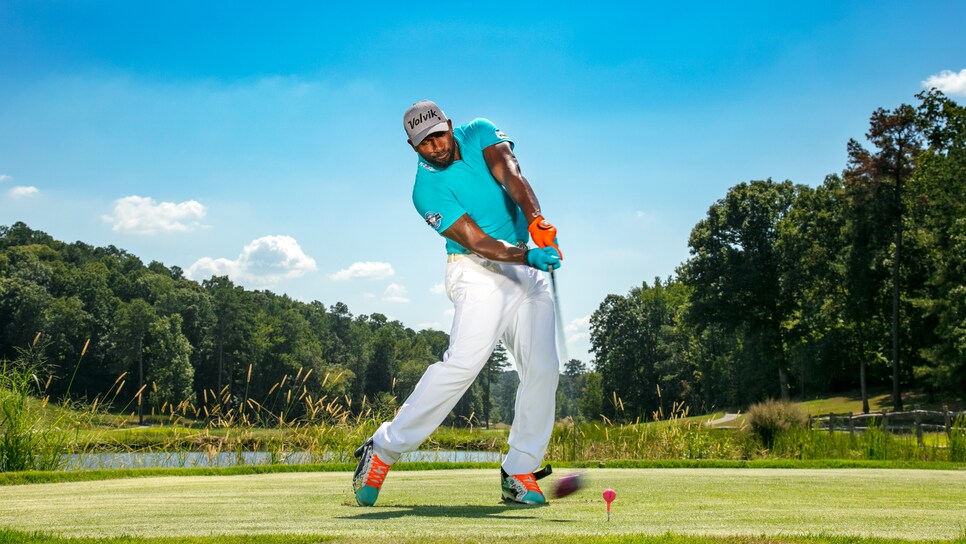 REMEMBER WHEN PHIL MICKELSON HIT THAT SHOT FROM THE FLOOR OF THE HOSPITALITY TENT ONTO THE GREEN AT THE BARCLAYS IN 2014? The fans went nuts at the creativity, but something tells me he'd played that shot before. Long driving is like that. You use earlier experiences to make adjustments in the three-minute window you have to hit. The wind might come up. You might break your gamer driver and have to go to a backup. A slight muscle pull. At age 36, I'm getting to where I've seen it all.
THERE ARE DIFFERENT WAYS TO DO IT, DISTANCE WISE. Even though my Krank driver has only 1 degree of loft—most hitters dial their drivers to 4 or 5 degrees—I'm a carry guy. The 483-yard drive that won me the 2017 Mile High Showdown flew 450 yards. I honestly believe I have the longest carry on the planet.
AT A LONG DRIVE WORLD SERIES EVENT IN LONDON IN 2017, the turf was so spongy, guys had trouble keeping the ball on the tee. Mine kept falling off at the top of my backswing, which was frustrating to no end. There was a problem with the shot clock, too. I got mad and yelled at the tournament organizer. I left the grounds, went back to my hotel room and didn't leave it for two days. I lost that mental battle. At the Mile High Showdown, where I hit that 483-yard drive, they called me to the grid a little early, which upset me. But I kept repeating to myself, Remember London. I gathered my composure and won that event. It's important to learn from all experiences, good and bad.
I GIVE MOTIVATIONAL TALKS TO MIDDLE-SCHOOL KIDS AROUND ORLANDO AND ATLANTA. One of my messages is, "It's OK to get pissed off. Just use that anger to make a change for the better." The adults hate the phrase "pissed off," but I use it anyway because it gets the kids' attention. I tell them, "Instead of going onto Twitter or Instagram and getting revenge on people, or fantasizing about blowing up a school, find out what you can do to make yourself better." I tell them how, at that Mile High Showdown, I knew there were other players who didn't like me or my act. I told them how my answer was to call some of those very players onto the stage at the end and thank them, and give them credit for helping the world of long driving. How by turning the other cheek, I turned negatives into positives, and how it actually created friendships.
"A DECADE FROM NOW, WITH PEOPLE GETTING BIGGER AND THE EQUIPMENT BECOMING EVEN MORE REFINED, 600 YARDS MIGHT BE ON THE TABLE. MAYBE LONGER. I DON'T BELIEVE IN LIMITS."
ANOTHER OF MY MESSAGES TO THE KIDS: BE IMMORTAL. In the movie, "Gladiator," one of the characters says, "We mortals are but shadows and dust." It means that unless we leave something of value behind, we didn't matter. I explain to the kids that our goal should be to leave the earth in better condition than we found it. That creates a legacy that can never be erased. It makes us immortal.
SPEAKING OF IMMORTALITY, I WAS IN A CAR WRECK A COUPLE OF YEARS AGO. Dude rear-ended me going about 35 miles per hour. My first conscious thought after coming to was, Are my clubs in the trunk? Which is insane, because my back or neck might have been injured and my career could have been done. I turned out OK, but it goes to show how serious golfers think. The first thing they think about is their clubs.