News
Bombs away: A day with the refreshingly fun, and rejuvenated, World Long Drive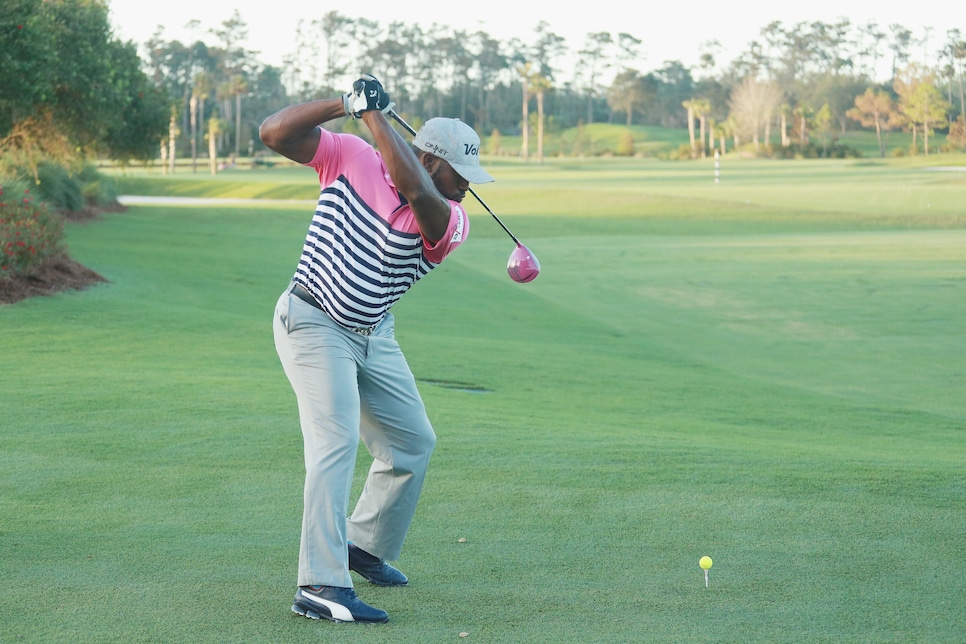 ATLANTIC CITY, N.J.— Ryan Steenberg and Mark Costello are standing below steps, ones that will lead them to a 12-foot platform where they will attempt to hit the bejeezus out of a golf ball. A feat taxing in itself, much more so in these conditions, with a 30-mph crosswind sweeping off the Atlantic Ocean. That the fairway they're trying to reach is 35 percent thinner than the football fields normally seen at these events isn't helping their cause. A set-up so vicious that, in a previous match, the combatants missed 51 consecutive drives before finding the grid.
Attached to the platform is a grandstand. Despite an hour weather delay, it remains filled, and for most of the afternoon it has been a civil crowd. But the streak of 51 foul balls extracted some heckles, and—judging by almost every method of perception—the fans have taken advantage of the nearby beverage carts during the break. They thirst for excitement, and more than a few observers are worried what will happen if they don't get their wish.
Stadium music blares from the speakers as a hype man gets the already-rabid audience into a frenzy. In front of Steenberg and Costello is a member of the Golf Channel production team, awaiting instructions from his earbud. If Steenberg and Costello are gladiators, he is the guard, ready to open the gate and release the two into the fiery unknown of the Colosseum. Both players have their heads down, mostly stoic, although Costello, right before they begin their ascent, flashes a smile. As he tells me later, "This is what it's all about."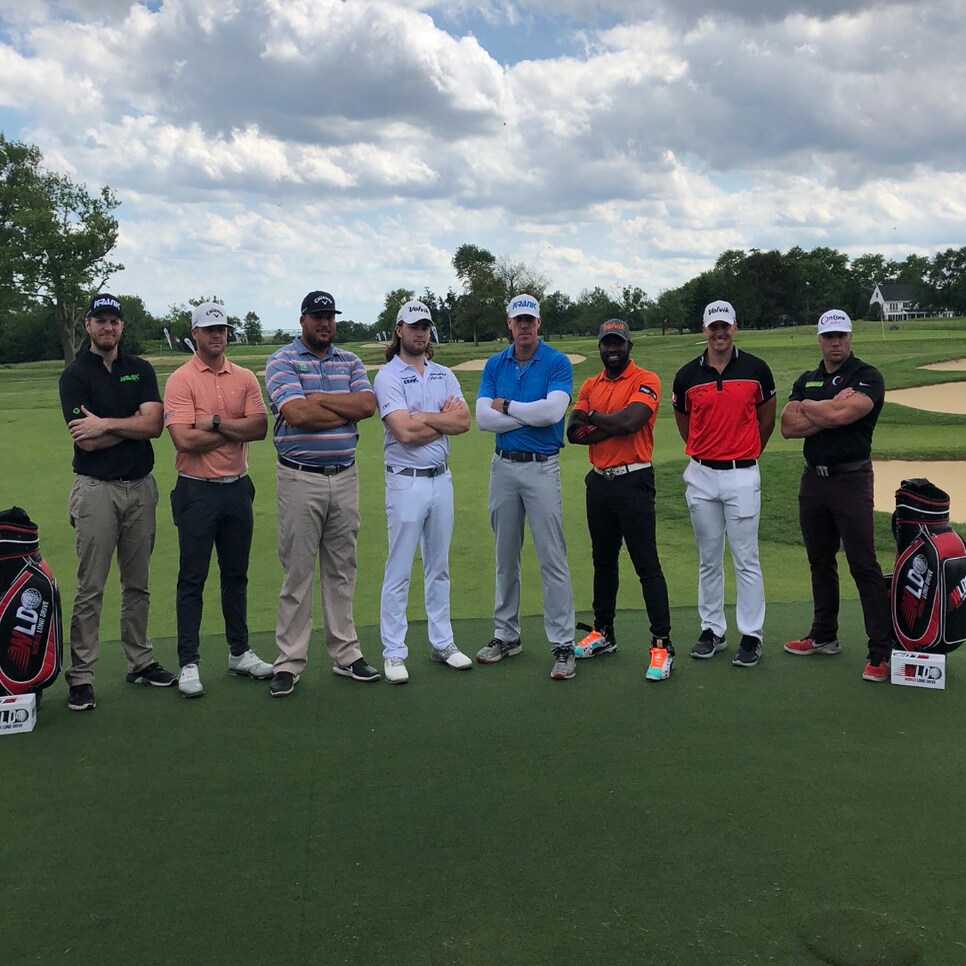 "This" being the Boardwalk Bash at Atlantic City C.C., the latest stop in the World Long Drive Association. It is golf's sport within the sport, featuring the longest hitters doing things to golf balls that make rollback proponents faint. Their swing speeds are 15 mph faster than the PGA Tour's leading marks, their drives 70-to-80 yards longer than anything Rory McIlroy can muster. The atmosphere, in presentation and demographic, makes TPC Scottsdale look like Augusta National. Long Drive is equal parts competition and spectacle, or as Justin Moose—the 14th-ranked WLD player in the world and a man whose imposing stature is fitting for someone named "Moose"—says, "It's golf mixed with NASCAR, wrestling and the Home Run Derby."
The weapons at their disposal look like normal drivers, yet are anything but. The lofts hover around 4 or 5 degrees (a standard driver is around the 9.5-10.5 range) with gobs of tape for extra weighting. The shafts are three inches longer than the longest you've seen at a store, and are so heavy that lifting Thor's hammer seems less daunting. In normal conditions for these guys, any drive shorter than 375 yards isn't worth mentioning.
Long Drive has existed in some iteration since the mid-1970s, evolving from the Golf Digest National Long Drive Championship. But, since toeing extinction in 2015—Re/Max, the longtime sponsor of the game, shockingly pulled its endorsement that sent panic throughout the sport—the Long Drive has enjoyed a rejuvenation. According to the Golf Channel, ratings for WLD events were up 295 percent in 2017, the most-watched season since Nielsen began tracking the sport.
"World Long Drive has evolved into an adrenaline-infused franchise that our viewers have gravitated to in record fashion," said Phil Piazza, senior vice president of programming at Golf Channel. "This growth is a testament to the men and women making an impact on their sport, bringing a fun and exciting attitude to hitting it extremely long."
"Growth" is a word you'll hear ad nausem when talking to anyone associated with Long Drive. In spirit and approach, it is a barnstorming act. There are meet-and-greets, autographs, photo ops, the works. At times it mirrors a political rally. And not just from those competing under the proverbial lights.
Only 16 players—eight men, eight women—reached Tuesday's television event from Monday qualifying. The two dozen or so bombers that failed to advance were still on the grounds Tuesday, giving clinics and participating in a Long Drive pro-am. In spite of their towering physiques—as one fan put it, "They all look like the guy who comes knocking when you don't pay your gambling debts"—they are energetic, approachable, friendly, conversational. PGA Tour pros are occasionally charged for being standoffish during Wednesday pro-ams; no one would dare say the same of Tuesday's Long Drive line-up.
"Everyone is just so happy to be here," says Sandra Carlborg, a five-time women's world champ. "It's easy to show [the fans] the same love."
Particularly impressive considering they didn't receive a dime for their efforts. It truly is for love of the game, and the buy-in is integral in building the sport brick-by-brick.
"We don't really have to be here," says Moose, who fell in love with the sport after hitting a ball 403 yards, on a dare, during a local qualifier...while in high school. "We do it because we enjoy it, and because it helps the sport's overall health and growth."
However, there's also a harsh economic reality to their presence. Most booked accommodations believing they were going to be in Tuesday's finals, and most can't afford the fees that come with flight changes. Only the eight that reach the television rounds are paid, and outside the winner's check ($20,000), the earnings aren't much to speak of.
Which underscores an interesting aspect of the Long Drive competitors: save for five to six individuals, this is not their only gig. Costello is a project manager; Steenberg is a strength and conditioning coach. Jeff Gavin, who reached the semifinal round as a 50-year-old, is an oil-refinery technician. They are firemen, salesmen, gym owners. A number are mini-tour players and instructors. It harkens back to the 1950s when professional athletes from MLB, NFL and NBA needed offseason jobs to supplement their more-celebrated professions.
As for the chosen few that make Long Drive their full-time focus, it's no cake walk. Having "World Long Drive champion" can bestow endorsements, but only enough to cover traveling costs. When they aren't competing in an event, they are doing corporate outings or trick-shot exhibitions.
"It's a hustle," Moose says.
But there is a fraternity amongst the players. They room and travel together, help each other out with their swings on the range. Most were cheering their fellow players on from the stands Tuesday night. The struggle makes friends of them all.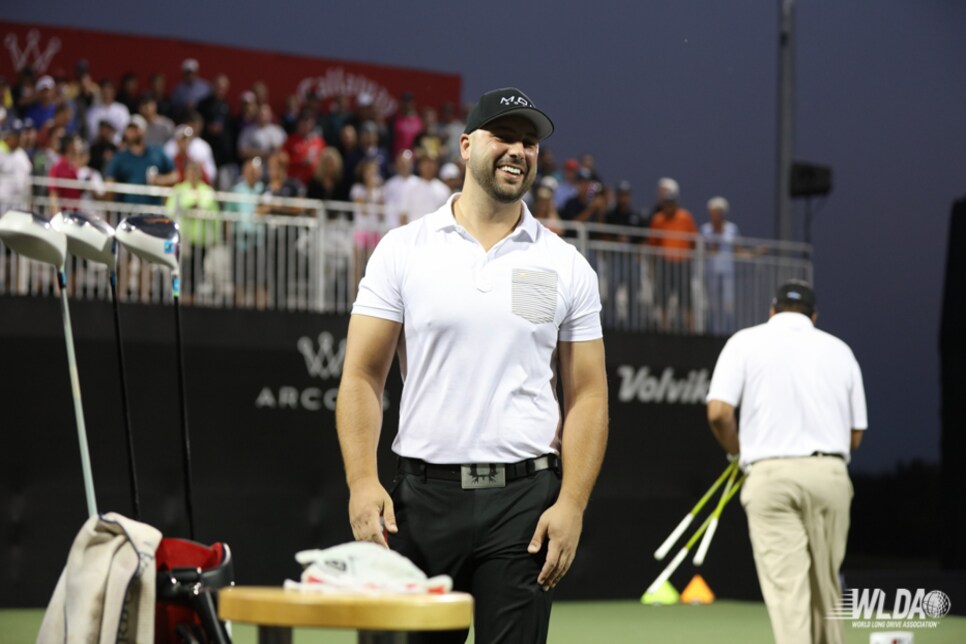 Though the grassroots mindset is important to maintaining this revival, what spurred it is Golf Channel's investment. The company purchased the Long Drive Association in 2015, and realized, while 450-yard drives are impressive, it's not enough to sustain the product. The network helped promote each player's brand and storyline through its various shows and platforms, transforming a few days of airtime into a year-round presentation. Instead of 16 generic, brawny players, there's individualism present, helping build rapport with the audience.
"I couldn't name a single guy a few years back," says 39-year-old Rob Holt, who brought his two sons down from Philadelphia. "Now I know a good chunk of them."
In a small sample of the crowd, most cited Maurice Allen, the flamboyant former No. 1 in the world, as their favorite. Allen's persona, which he says is adopted from Deion (Primetime) Sanders and wrestler Ric Flair, is a major part of it. That he's stole the show on multiple appearances on Golf Channel's "Morning Drive" haven't hurt. Two-time world champ Tim Burke is another household name, while current title holder Justin James is circled by many as the sport's next transcendent star. Their good looks and engaging personalities are a marketer's dream, particularly to the 35-and-under target market. Throw in the epinephrine-injected landscape—with the pump-up music and grunts and "Did you see THAT?" drives—it's an extremely visceral, sui generis experience. One that's resonating with the fans.
"From how it was 10 years ago, it's night and day," Carlborg says. "We've come so far in the past few years. I can't wait to see where we keep going."
"[The World Long Drive] is driven by a younger audience being drawn to the dramatic competitions and dynamic personalities—both for the men and women competitors," Piazza says. Adds fan C.J. Andriacco, who made the trip from Staten Island: "It's not for everyone, but [indicating to crowd] they are doing something right."
Andriacco makes a point: Long Drive is not palatable by all. Some purists won't sniff in its direction. Others get, even appreciate and respect, the Long Drive, but find 400-yard shot after 400-yard shot numbing. The knockout tournament formats have helped combat that notion, but it's not a perfect science.
Moreover, like other barnstorming endeavors, it's not polished. There's some dead space during TV breaks, and not every player's energy and vivaciousness plays with the crowd. There was little signage in directing fans into Atlantic City C.C., and though the club is a prestigious venue, the Long Drive's layout—a platform and grandstand on the range, dotted with spartan tables for concessions and merchandise—reminded one of a church festival rather than major-league sporting event.
And then there was the configuration. Chalk it up to the event's first go-around at the site, but tournament organizers dropped the ball in the competition's set-up, failing to account for the ocean's forceful breeze. For context, a normal match features players hitting eight balls each, with the longest of the 16 advancing. On average, about half their shots will land on the grid. Because of said breezes, a semifinal match between Gavin and Costello resulted in a painfully awkward 51 consecutive misses between the two—after the first 16, there were resulting overtimes of four balls each. The crowd grew restless, while the television crew squirmed. An hour weather delay after the 48th miss wasn't much of a Band-Aid, as only one of the next eight balls found the grid, with Costello sheepishly advancing to the finals in five overtimes.
"It's something I've never seen before, you almost don't know what to do," Costello says. "I was hitting amazing drives that kept finding their way off. You just try and fight through it."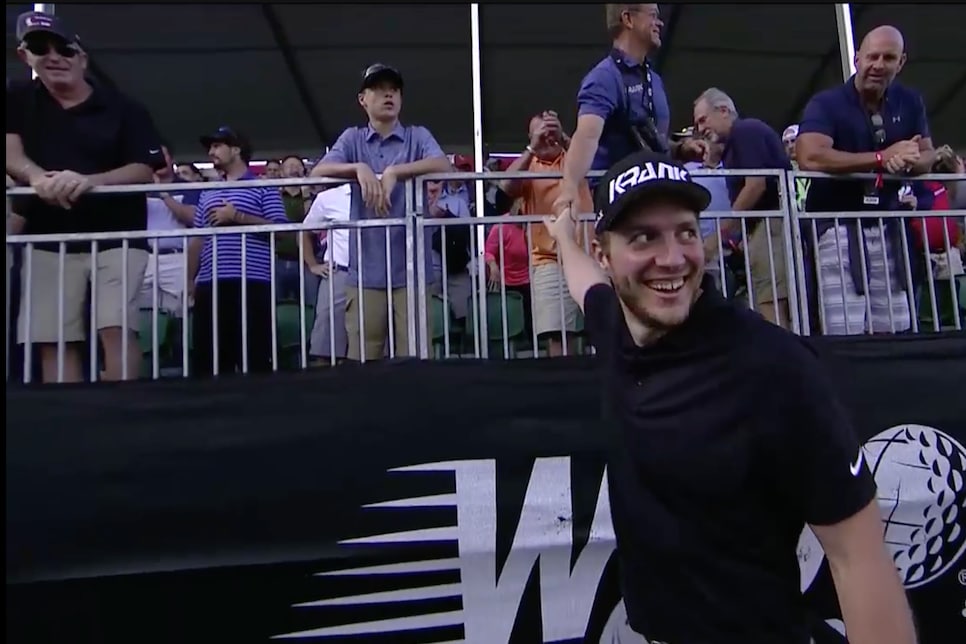 But whatever shortcomings were outweighed by the Long Drivers' overall performance, with Carlborg winning her 20th women's title and a dramatic finale in the men's division. Steenberg went first, his furthest drive still piercing 354 yards through the wind, which seemed to defy everything man knows about atmospheric physics and ostensibly giving him the victory. Except, on his final drive, Costello rocketed one towards the Atlantic City skyline that weighed in at … 354 yards, forcing a playoff. In overtime, Costello nipped Steenberg. In his first time in a televised event, and with family and friends from Pennsylvania in the stands, Costello went home a winner.
"It's just awesome," Costello says. "To do this, in front of this crowd and what we had to deal with … it was just something else."
Following the event, all the fans are invited to a party at the clubhouse bar. The Long Drivers are in there as well, with multiple libations shared between competitors and crowd alike. A locker room attendant takes in the scene, looking at the players in their sports wear, club members in button-ups and fans in cut-offs all rubbing shoulders.
"Well this is something, huh?" he says with a laugh.
And, as Carlborg lets fans take photos with her trophy while a group of men, both players and patrons, downing a round of shots, Costello's words ring true: This is what it's all about.