Learn from the pros
8 things pro golfers do every time they're on the driving range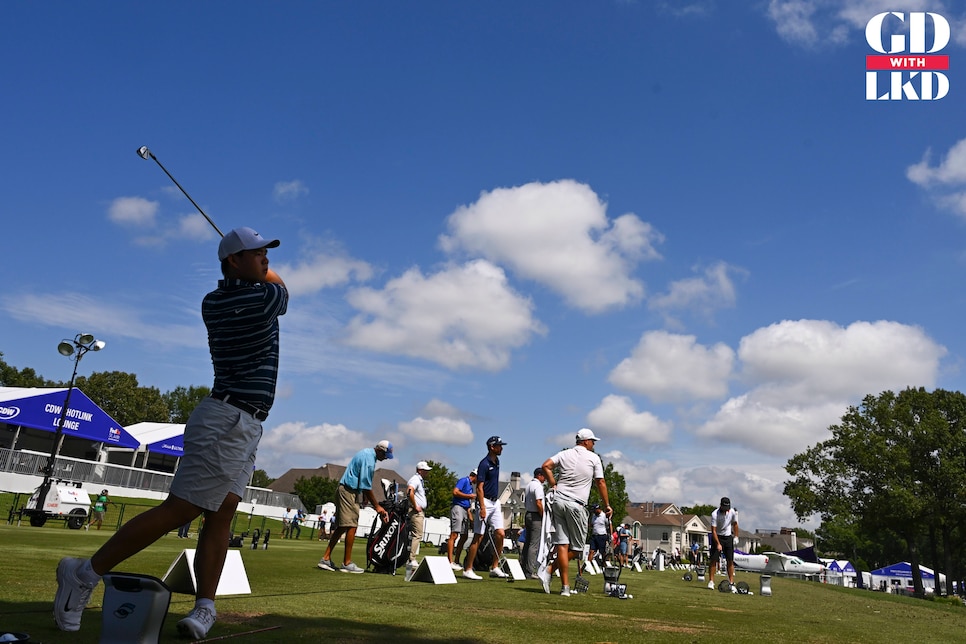 MEMPHIS — Professional golfers live and die by what happens on the golf course, but they spend most of their time on the driving range. That's where they figure things out, or groove-in the good things, or whatever exists in-between.
The range is their office. And with some potentialy lucrativive paychecks up on offer as part of the FedEx Cup playoffs, they've been busy at the FedEx St. Jude Classic this week. Here's a few things I learned observing them at work.
1. They hit tons of wedge shots
Tour players hit a lot of wedges. Lots of them. Think about a person hitting whatever you consider many wedge shots, then think about that same person hitting a few more. That's probably about how many wedge shots a tour player hits during an average range session.
"If I'm hitting balls for an hour, I probably spend about 25 minutes hitting wedge shots. About half the time," says J.T. Poston, who ranks first in proximity between 75 and 100 yards.
There are a few reasons why pros are in love with hitting lots of wedge shots. Mainly, because no one is trying to swing hard with a wedge in their hands, which helps them groove a nice, smooth tempo. Wedges are also relatively easy to hit, so players will often use wedges for golf swing drills they're working through without fear of hitting confidence-wrecking shots that feel gross. They're dialing-in nice, crispy, ball-first contact, while also implementing the feels they like. And all the rest aside, wedge shots are your scoring clubs. The ones you really need to knock close, more often then not.
All of which is to say, hit way more wedge shots than you think! That's what the pros do.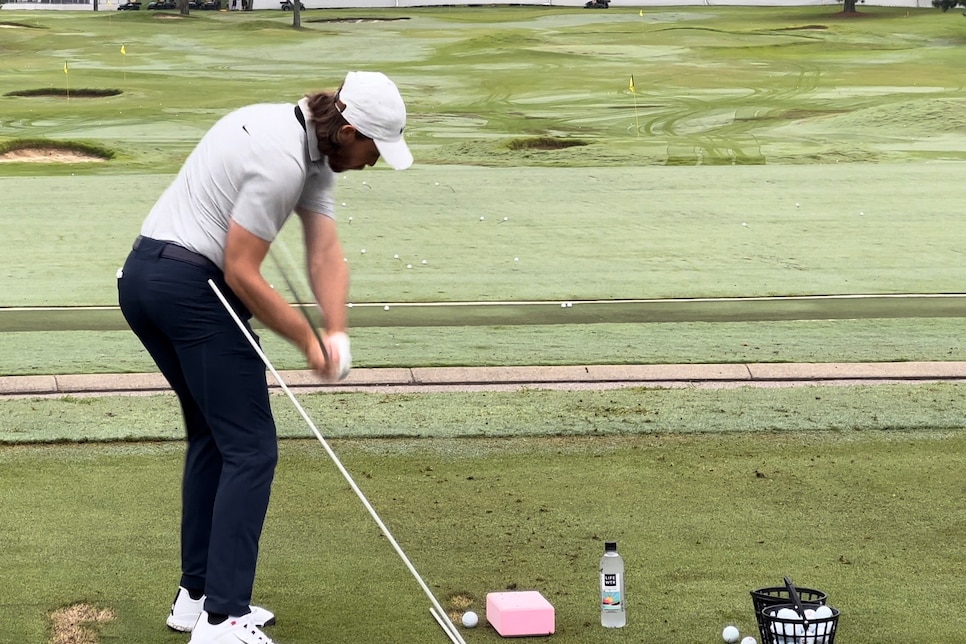 2. They move around their target
Just because pros hit lots of wedge shots, it doesn't mean they're hitting lots of the same wedge shots, though. Quite the contrary. With a wedge in their hands, players are constantly moving around their targets. Picking one on the left side of the range, then one on the right side of the range, then one shorter and another longer.
"I hit a lot of different shots when I'm practicing," he says. "It's helped me develop a good feel for it, and gives me confidence anytime I play."
"I practice hitting lots of different shots very often," Rahm says. "Right-to-left; left-to-right; high; low; I want to see various ball flights before I go play, because that's what I use to attack the pin."
It's most apparent with their wedges (probably because they hit so many of them), but players do it with irons, too. Rarely are they sending ball after ball to one target. They'll hit a handful of shots to one target, then shift to another. Rinse and repeat.
It's also worth noting that they are picking specific targets on the range. They're not just sending golf balls blindly out into the distance, as so many of the rest of us do.
3. Any drills they do, they do early in their range session
Players work on their golf swings quite a lot, and they use different drills to do it. The Most Notable Golf Swing Drill I Saw Award in Memphis goes to Sam Ryder, who clasped his right hand over his left wrist, dropped his right foot back, and hit full swing shots (It was a way of helping him turn the club more around his body on the downswing).
When players do work on their swings, it's usually at the start of their range sessions. They'll spend 15 minutes or so on a drill, or working a specific feel, then move onto hitting shots without it. The swing thought is still there, but it's not front and center. The goal is to keep the two in balance — working on the golf swing but never playing golf swing — and it doesn't just happen over the course of a singular range session. The same rhythm unfolds over the week.
"At the start of the week, lots of guys are more focused on their golf swing," says Bhrett McCabe, who works with Sam Burns, Davis Riley, and Billy Horschel, among others. "As they get closer to the tournament, they start asking more questions about strategy, routine, and mindset."
The same should hold true for the rest of us. Establish your swing feels early, then shift your priorities to playing golf.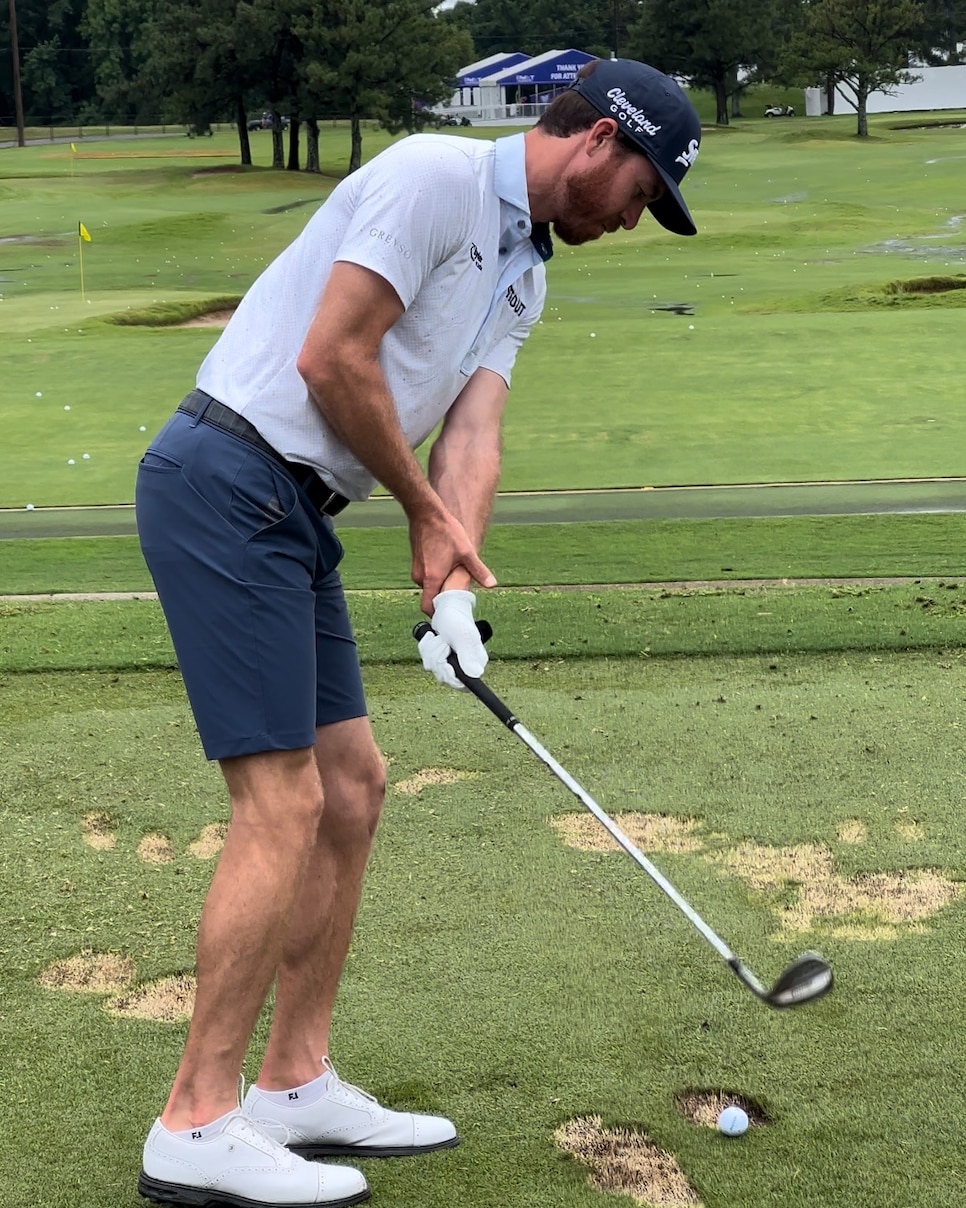 4. They slowly build speed with their driver
For most of us, when the driver gets pulled out of the bag it's because we're ready to give it a lash. That's not quite the case with pros. They build speed slowly with the big dog. Their first few swings with their driver are relatively smooth. Then, like a plane accelerating up a runway, they'll begin ramping up to full speed.
Stephan Jaeger is one player who spends the last few balls of his range sessions swinging increasingly hard. Far harder that he would ever swing on the course. He checks his ball speed on a Foresight Quad launch monitor and says that even though he won't swing this fast on the course itself, the process irons out some kinks in his golf swing technique.
"I found it helps my swing," Jaeger says, who started this speed training routine last year. "My swing is longer and I'm less laid off at the top than I used to be. My misses used to be foul balls, now they're in play."
5. They observe (but don't obsess) over their numbers
The rise of indoor simulators, smart driving ranges and at-home launch monitors means most of us have relatively easy access to some form of numbers. Almost every pro has a launch monitor on them on the range — usually a Foresight Quad — but most of them don't stress too much about them. At least, they try not to. It's good advice for the rest of us, too.
"There can be an information overload aspect," Poston says. "For me, it's nice to have them there, I keep an eye on them, but I'm not going to worry about them too much."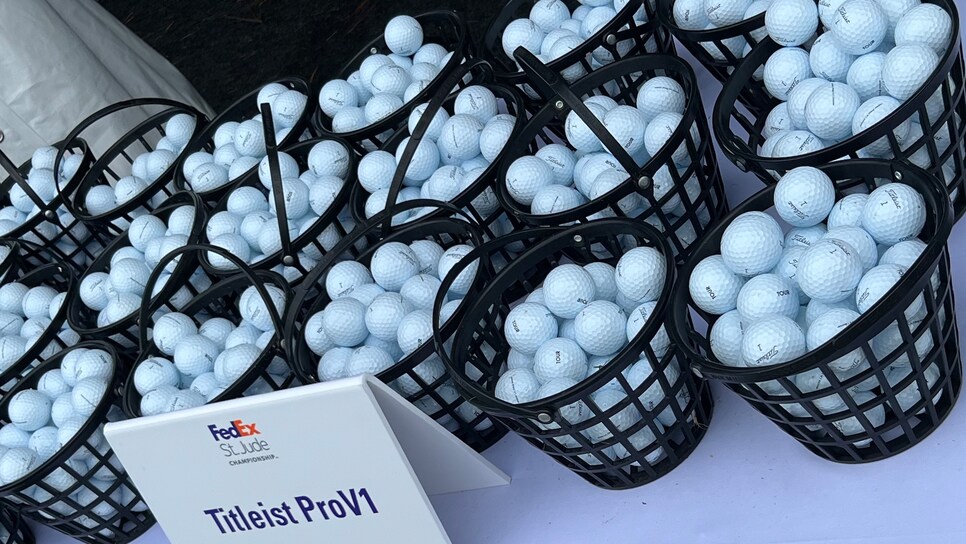 6. They practice some fairway finders
On Tuesday, moments before his practice round, Byeong Hun An was hitting some truly breathtaking stingers. Off the ground, he was rifling a driving iron down the range what couldn't have been more than 30 feet off the ground.
"It's a one iron loft," Golf Digest Top 50 Teacher Sean Foley, who coaches An, said of the club his student was hitting at the time. "We've had so much trouble dialing-in 3 woods we went to this…the driver is the only headcover we have in the bag."
While An's one iron is more unusual, that he bookmarked a little time during his range session to hit some fairway finders wasn't. Every pro has a different just-get-it-in-the-farway shot. Thomas Detry makes driver swings swinging at 75 percent speed. Others choose to tee the ball lower, or hitting a more severe version of their stock ball flight. It doesn't matter what it is, it just matters that you can depend on it.
For An, it's his stinger.
"I can't take credit for a lot of what he does, but I can take credit for that," Foley says. "We've worked a lot on learning how controlling trajectory, and knowing how to take spin off on command. This is the shot he hits anytime he needs to find a fairway."