News
Pressure builds as individual title, match-play berths up for grabs on Monday at NCAA Championship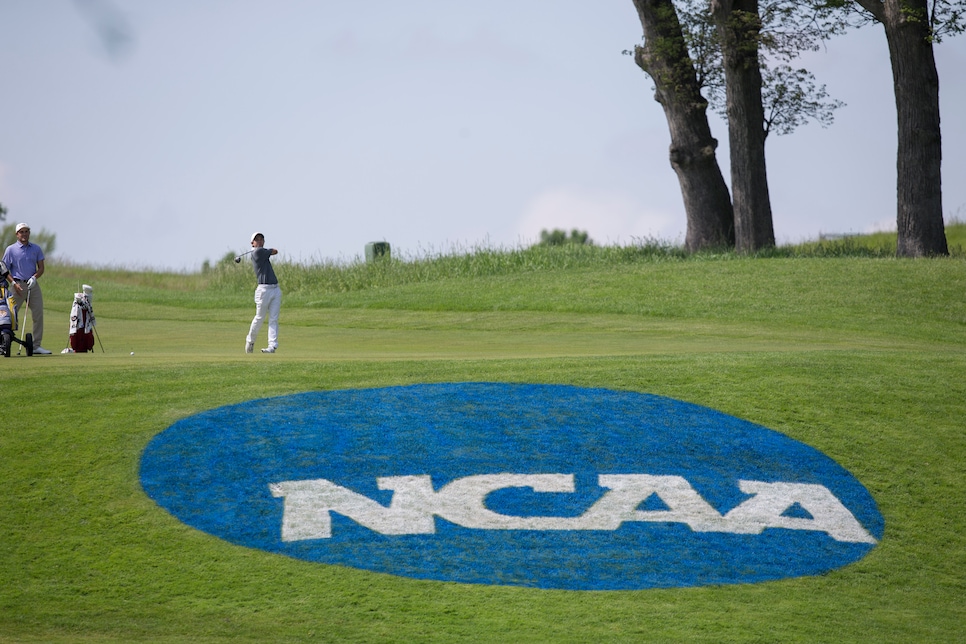 Don't let the red numbers fool you. The 2017 NCAA Men's Championship is shaping up to be just as unpredictable—and gut-wrenching—as previous editions have been since the match-play format to determine the team champion was adopted in 2009.
That's something that might seem a bit hard to believe when you look at the leader board on Sunday night. Through 54 holes of stroke play at Rich Harvest Farms outside Chicago, Vanderbilt, ranked inside the top five throughout the 2016-'17 season, has the lead at 18 under, one stroke better than top-ranked USC, Oklahoma, and UNLV. Of the schools that sit in the top eight spots with 18 holes to play, five were ranked among the top eight programs in the country entering the week, suggesting that form is holding in college golf's grand finale.
A more careful look at the scores, however, shows that just nine strokes separates the Commodores from the teams tied for the final match-play spot, Baylor and Virginia. And of the 15 programs making the 54-hole cut Sunday night, 12 are within 14 strokes of each other. LSU, the 2015 NCAA champs and a team that has reached match play the last three years, is in 10th place, three strokes out of seventh. Oregon, the reigning NCAA champs, are in 13th place, 10 shot back of seventh. And Texas, the 2016 runner-up, is in 11th place.
In other words, on a golf course still soft from several days of wet weather, there's plenty of room for fourth-round dreams—and nightmares—to play out on Monday.
"We talked about coming out early and just being excited to have the opportunity to compete together," said Vanderbilt men's coach Scott Limbaugh of his squad taking the team lead. "You really try to not take things for granted this time of year and just want the guys to embrace the moment they are in right now."
Texas junior Scottie Scheffler holds the lead in the individual race after posting a third consecutive 68, giving him a two-stroke advantage over Mississippi's Braden Thornberry and a three-stroke edge on Illinois' Dylan Meyer and Vanderbilt's Matthias Schwab.
"You need a game plan for sure," said Scheffler, a former U.S. Junior Amateur champ who qualified for last year's U.S. Open. "For the most part, the game plan changes day-by-day with the wind and the weather, and I think it'll change [Monday] with a good amount of wind [forecast]. [I'll] just figure it out in the morning when I get up and get a plan going and stick to that."
The lone program that was sent home earlier than was likely expected was Stanford. The No. 2-ranked Cardinal shot a 11-over 299 to finish in 20th place and miss the 54-hole cut. Stanford senior Maverick McNealy, winner on Monday of college golf's Ben Hogan Award, shot a two-over 74 on Sunday in the final round of his college career.