Presidents Cup
Presidents Cup 2022: Adam Scott has a heartfelt answer for why he hasn't jumped to LIV Golf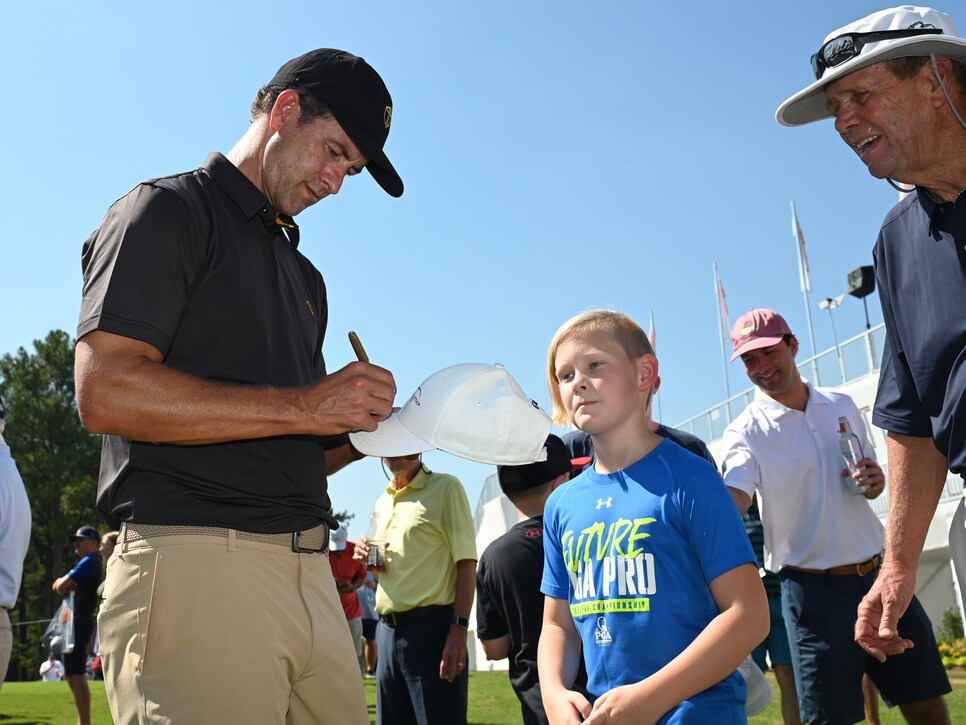 Adam Scott signs autographs during practice for the 2022 Presidents Cup.
CHARLOTTE — If the rumor mill had been accurate, Adam Scott would have joined LIV Golf months ago. On social media and in various reports, the popular Australian was mentioned alongside Lee Westwood and Ian Poulter as veteran PGA Tour players who were going across to the rival circuit. It was fueled by the fact that in February, Scott said the schedule LIV was proposing was "appealing" to most golfers.
But while Westwood and Poulter joined LIV in time for its inaugural tournament in England in June, Scott is still very much a PGA Tour player. In fact, he's at Quail Hollow this week playing in his 10th Presidents Cup, an appearance record for the International team.
Scott had a very simple answer as to why he's still on the PGA Tour. It's the major championships, of which he has won one—the 2013 Masters—and at 42 years old he wants more.
"Why am I still on the PGA Tour? Because it suits me best to be on the PGA Tour; it's as simple as that, really," Scott said Tuesday ahead of Thursday's start to the Presidents Cup. "There's one thing I think I haven't grasped is giving up my entire professional life of trying to achieve these things [major wins] here and just leaving it behind. I'm obviously not ready to do that. I may never be [ready] … to be clear. I just think that seems to be a hurdle that—well, it hasn't really presented itself to me anyway."
Scott, who finished 15th in the 2022 Open Championship at St. Andrews before a pair of top-five finishes to open the FedEx Cup Playoffs, is No. 30 in the Official World Golf Ranking. If he were to join LIV, which has applied to be able to offer World Ranking points but does not do so yet, his ranking would likely slide outside of the top 50 who reach the Open and the top 60 who qualify for the U.S. Open. The PGA Championship has its own criteria for eligibility through its organizer, the PGA of America, but it would complicate his chances of playing that, too. That would leave him with only a guarantee to play the Masters as a past champion.
It's something Scott spoke to recently at the BMW PGA Championship, the DP World Tour's flagship event at Wentworth.
"Like most players, feelings up to a certain point almost changed weekly about LIV, new information came out, 'This is happening, that is happening,'" Scott told reporters at Wentworth. "It crossed a line at some point where I felt like I'm going to waste a season playing [in 2023] and trying to work out what I should be doing and understanding it all. I had to drop it and concentrate on finishing out the season that I started in America.
"I have no major qualification guarantees for the years ahead other than the Masters. I think I'm very level-headed about the whole thing; I don't have a problem really with what LIV Golf is doing, but at this current moment it doesn't fit Adam Scott right now. I've focused on the majors really for 20 years."