FIRE PIT COLLECTIVE
Davis Love III reflects on a scintillating Presidents Cup and the essence of team competition
Editor's Note: This article first appeared in Fire Pit Collective, a Golf Digest content partner.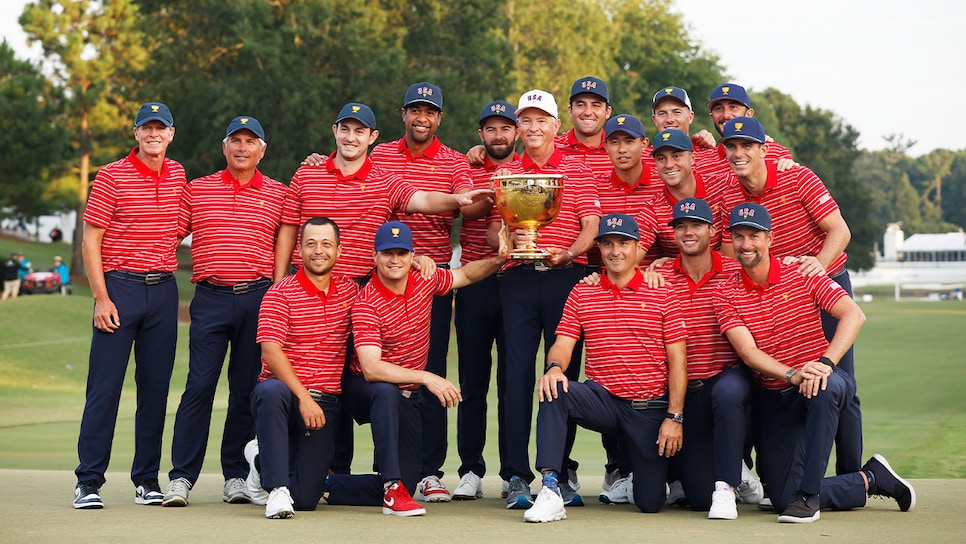 Turns out, Fred has figured out the steps and distance thing on his phone.
"I did 11 miles today!" Fred Couples told Davis Love III and others last week at the Presidents Cup. Love was the U.S. captain and Couples was one of his deputies at Quail Hollow in Charlotte. It was, as per usual, an American all-star team playing an international all-star team. The event was closer than it looked and closer than people thought it would be. Golf won. Fred's step count had a high finish too.
"Fred can barely walk 18 holes at a senior event, but there's something about a team competition," Love told me during a two-hour phone conversation on Tuesday morning. "Every time you saw Patrick Cantlay and Xander Schauffele, Fred was right there with them, walking and talking."
Love has been at this team golf thing for a long time, going back to his days as a collegian at North Carolina, right through the many Ryder Cup and President Cup rosters on which he has appeared, as player, captain and assistant captain. Couples, the same, except he played his college golf at Houston, where he made friendships that have endured to this day. The only person involved with the U.S. side this year with more team golf experience than those two was Jim "Bones" Mackay, who played college golf for Columbus College in Georgia, and who has caddied in every Ryder Cup and Presidents Cup since 1994. In a manner of speaking, they are the three old men of American team golf, as Raymond Floyd and Tom Watson and the caddie Bruce Edwards once had been.
"Bones has got this way of leaning in when he wants to tell you something," Love said. This year Mackay was on the scene as Justin Thomas's caddie. On many other occasions he worked for Phil Mickelson. "On Sunday, when it was over and I was making some notes about what to say at the closing ceremony," Love continued, "he leans and says, 'Arnold Palmer died on this day in 2016.'" That was on the Sunday before the Ryder Cup at Hazeltine, won by the U.S., with Love as captain. That's one of the great things about team golf. It gives the players, and fans and reporters, a chance to hand down the game, one generation to the next.
But team golf is, in equal measure, about the new guys—Sam Burns for the U.S. and Tom Kim for the International team, to cite two newcomers who made a mark in Charlotte. Burns's golf was good, although his scoreboard totals were not. That happens in team play. Playing Hideki Matsuyama in Sunday singles, and desperate to help his team, Burns was two down through eight holes.
Couples got on the radio. Yes, on the radio. At the 2012 Ryder Cup at Medinah, Couples didn't have a radio. That was a hundred years ago, to use a Fred phrase.
"Is Sam Burns not the best player in the world?" Couples said into his walkie-talkie. "He's 2 down here. Somebody go talk to this guy. Stand right next to him and tell him how good he is. If you leave him, I am going to find you and kill you." Burns, future Masters champion, rallied to tie Matsuyama, former Masters champion. For the week, Burns went 0-3-2. Two things about that. It's better than 0-4-1. Also, the U.S. won. That is, Burns was on the winning team. Isn't that what it's all about?
Hmmm, not necessarily. Because of the 24 competing golfers, Love would tell you that perhaps nobody had a better week than Tom Kim, a 20-year-old Korean.
"He's so new he's introducing himself to players," Love said. "He was always happy, always smiling, and his golf's incredible. He says to me, 'I won Wyndham.' I'm like, 'I know, it's one of my favorite tournaments.' Sunday night, he was the first person in our team room, wandering around with a water bottle in his hand. He's 20. He can't even drink."
Going into the week, this Presidents Cup was all about the golfers not there, because of the LIV-PGA Tour divide. The PGA Tour owns the event and sets the eligibility rules, and players who signed with LIV were deemed ineligible. That means Mickelson (even in the more likely role of assistant captain) was out. So were Dustin Johnson and Cam Smith and Joaquin Niemann and Louis Oosthuizen and Abraham Ancer.
"But you can't be together for a week and not have those names come up," Love said. "You can't talk about last year's Ryder Cup and never have Dustin's name come up. He played with Collin [Morikawa] last year [at the Ryder Cup]. They were partners. I don't like what he did [joining LIV], but that doesn't mean I don't like him as a person."
Still, it would be naïve to say that LIV wasn't part of the story in Charlotte. "It was a burr under the saddle," Love said. His daughter, Lexie, is a serious equestrian.
"At the opening ceremonies, I said something about how this Presidents Cup brought together 24 players that are committed to the PGA Tour, and I kind of hung that word," Love said. "Jay [Monahan, Tour commissioner] came up to me after it and he was emotional." And Love knew why. It was that one word: commitment.
When your days of playing the shots are over, the words and the feelings and the trajectory of your life—past, present and closing-window future—become more important. Tiger Woods will find that out. So will Mickelson. Love already has. Last week he and his family buried his mother. This week they buried his mother-in-law. One generation paves the way for the next. It's always been this way, and the younger ones move up in the batting order. Jordan Spieth and Justin Thomas almost breached dependable veteran status at Quail Hollow.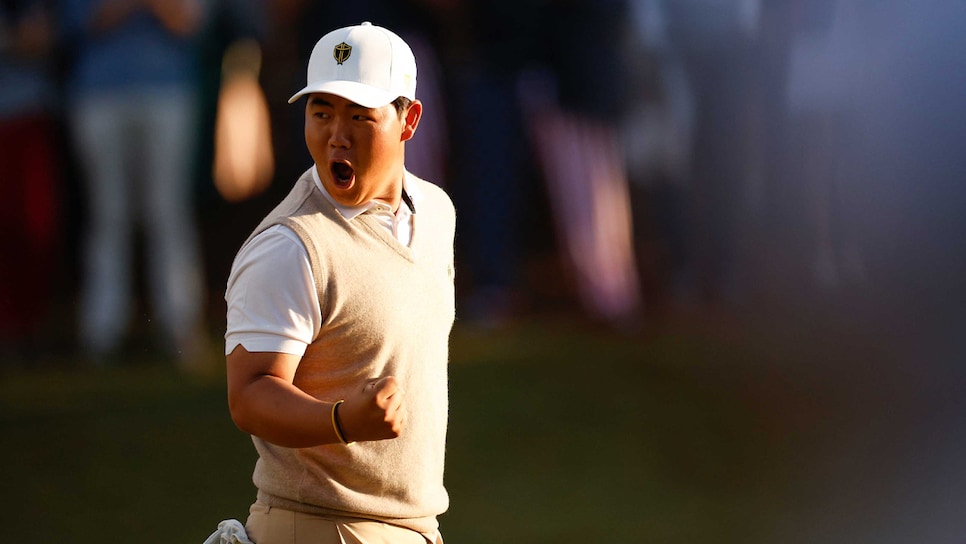 New guys moved in. Burns. Max Homa. Cameron Young. Tom Kim. Life goes on, in golf and beyond, on familiar paths, or new ones.
One of the reasons so many people are emotional about this LIV-PGA Tour contretemps is that it puts golf on a new path, and they liked the old one. They grew up on it. The old one had served them well. They liked the stories that had been handed down, one team to the next, one generation to the next.
Love believes he came up with an innovation last week: Have the captain or an assistant captain share information on every par-3 tee, to talk about club selection, hole location, green firmness and the subtle factors that make these guys plus-five handicappers. "At one point, we were 27 and 7 on the par 3s," Love said.
Still, you have to allow for personality type. "Cantlay came on to a tee, I'm standing there, ready to tell him anything he might want to know," Love said. "But he doesn't want to know anything. He won't even make eye contact. He's going to do his thing, his way. That's one of the things you learn over time. You don't change everything just because you're playing team golf for a week."
Love has known Trevor Immelman, captain of the International team, for decades, but probably learned more about him in a week than all of those previous years combined. That's the nature of a team competition. The teams were staying at the same Westin hotel. He learned that "Trevor and I are both glass-half-full kinds of people," Love said. They both felt a deep connection to all of the players, on both teams. They both felt that if you never read a paper or news on the internet and knew nothing about the LIV series and just watched the Presidents Cup, you would have seen team golf played at a high level, with a deep passion and the outcome not foretold.
He said Woods was in the loop throughout the week, in texts and FaceTime calls. "I called him when there was a gap in play on the sixth tee," Love said, "and he's saying, 'Why are you playing this guy with that guy?'" In other words, he was in the captain's face.
Next year the Ryder Cup will be played in Rome and Zach Johnson will be the captain. Love has a candidate for the U.S. captaincy of the 2024 Presidents Cup, the 2025 Ryder Cup, the 2026 Presidents Cup, the 2027 Ryder Cup, and possibly beyond: "Tiger."
As for Love, he is 58. He is a two-time Ryder Cup captain, with a win and a loss, and a one-time Presidents Cup captain. His team won in Charlotte. But so did golf. Professional golfers play for money, of course. They can play where they want, of course. For 51 weeks of the year, they are independently owned and operated. But not during a Presidents Cup week. Not during a Ryder Cup week. For a week, Davis Love was back in college again, and it was all good.