News
Presidents Cup 2019 live blog: Matt Kuchar secures clinching point for the Americans to defeat the Internationals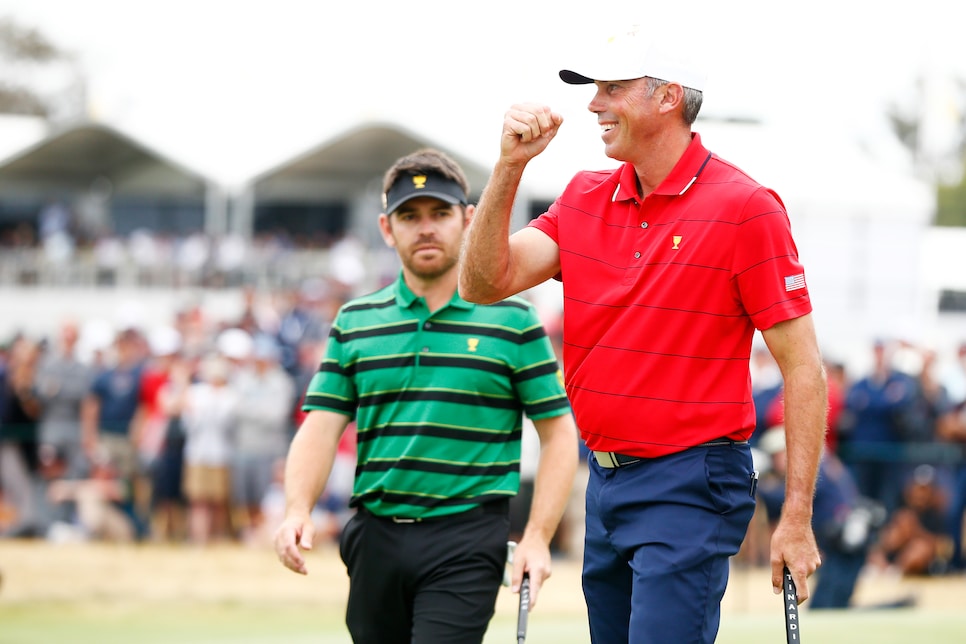 In its 26-year existence, the Presidents Cup has often been noted for what it's not. In 2019, it's been everything fans have wanted, and more.
The Internationals, who have won only once in the previous 12 battles and entered Australia as massive underdogs, smacked the Americans in the mouth on Day 1, winning four of the five matches. That performance proved not to be an aberration, as Ernie Els' upstart club split Friday's foursomes session, and appeared to be on the verge of a knockout blow when raising its advantage to four points on Saturday morning.
However, the United States answered on Saturday afternoon, winning three of the four available points to cut the deficit to two heading into Sunday singles, a charge that gives the Americans a very realistic chance at retaining the cup.
Trying to set the tone for the red, white and blue will be Tiger Woods. The 15-time major winner, who is also serving as captain for the Americans, is sending himself out first, facing dynamo Abraham Ancer, who boasts a team-best 3.5 points for the Internationals. Other interesting match-ups include Justin Thomas against Cam Smith, Sungjae Im versus Gary Woodland, and Hideki Matsuyama taking on Tony Finau. Patrick Reed, who is 0-3 this week, will be without his caddie and brother-in-law Kessler Karain, as Karain was barred from Sunday's play for an altercation with a fan.
The Golf Digest team will be with you for the entire final round at Royal Melbourne, keeping you up to date on the matches, momentum swings, and other notable happenings that have made this Presidents Cup one of the more captivating in event history.
12:03 a.m.: Some nice sportsmanship from Rickie Fowler there, giving Marc Leishman a five-foot putt for par at the last hole. Rickie then missed his par putt, so that ensures a half point and a 16-14 American victory.
What a week at Royal Melbourne. Perhaps the most memorable Presidents Cup, and what an effort for an International squad that was such an underdog coming into this. And then such a big comeback by Team USA. It will be a week we'll be talking about for months to come.
11:50 p.m.: Now with the Presidents Cup secured, Rickie Fowler rolls in a birdie putt at the 16th hole to go 1 up on Marc Leishman with two to go. Rickie shared a big hug with Tiger Woods walking up the fairway, as the playing captain let Rickie know the match was secure.
Kuchar and Oosthuizen both halve the 18th hole to tie their match, the clinching half point the Americans needed to secure the Presidents Cup.
11:37 p.m.: And Matt Kuchar rolls in the birdie at 17 with Louis Oosthuizen missing, securing at least a half point for the U.S., which means Team USA has secured the Presidents Cup. The Americans have secured a comeback against this ultra competitive International squad.
And now an emotional Tiger Woods is talking about what this Presidents Cup means and he's holding back tears with Steve Sands. And not really doing a great job of holding back those tears. Wow ... a pretty cool moment here at Royal Melbourne: "My teammates and my boys just all played well. ... All my boys, they did it."
What a tremendous Presidents Cup. Tiger Woods is a victorious playing captain, going 3-0 as a player and leading his team to another victory -- the first time a team has come from behind trailing before Sunday singles to win the Cup.
11:35 p.m.: Kuchar! What a shot at the 17th hole. He has put his approach to about 5 feet below the hole after Louis Oosthuizen hit his shot to about 15 feet. This match is AS, so if Kuchar can win this hole, he will ensure a win for the Americans.
11:26 p.m.: Remarkable turn of events at the 17th hole. Justin Thomas pushes his birdie putt from 6 feet, and Cameron Smith drains it to close out JT, 2 and 1.
What a moment for the Australian Cam Smith in his first Presidents Cup. He'll remember that win over Justin Thomas for his entire career. That keeps the Internationals' hopes alive. 15 to 13.
Just Matt Kuchar/Louis Oosthuizen and Rickie Fowler/Marc Leishman remain on the course. Each match is all square.
Kuchar missed a putt to take a lead to 17, but he misses and Oostie makes a tying putt.
11:25 p.m.: Rickie rolls in an 11-footer for birdie at the 15th hole to square his match with three holes to go.
Out of the remaining three matches, the Americans just need need one half point to secure the Cup.
11:21 p.m.: Justin Thomas, 1 down to Cameron Smith, hits a terrific approach at 17 to about 6 feet. But Smith answers -- hitting his shot directly next to JT. Wow -- it could be a hole halved with birdies coming in.
11:16 p.m.: Webb Simpson secures a victory at 17, 2 and 1, over Byeong Hun An, to get the Americans to 15 points. The worst Team USA can do is tie now.
11:10 p.m.: Rickie Fowler can't get up and down, so he drops back to 1 down through 14 in the last match.
But Matt Kuchar has just squared his match with Louis Oosthuizen -- the first time since the first green that this match has been tied. Kuch is 0-4 all-time in Presidents Cup singles, but he's fighting hard for a potential crucial point here.
Ben An is still alive, winning the 16th hole to move to the 17th hole, 2 down with 2 to play.
11:07 p.m.: Adam Scott, hoping for a miracle to get a half point after trailing Xander Schauffele by four with four to play, can't hole a long birdie bid at 17. Xander wins it, 2 and 1. The lead is now 14-12 for the Americans. 1 1/2 more points for a Team USA win, with Webb Simpson about to lock up a win.
11:03 p.m.: Rickie hits a poor tee shot at 14 to give Leishman an opening, but the Aussie bails out way right, leaving himself about 50-60 feet for a birdie try. Rickie will need an up-and-down to ensure he doesn't drop a shot, now with this final match AS. Tiger faced a very similar putt to Leishman in his match and put his to about 5 feet.
Leishman does one better, putting his lag inside 2 feet. Rickie will need to make to remain tied with Leish.
10:58 p.m.: Rickie Fowler wins the 13th hole to halve his match with Marc Leishman. And Justin Thomas just trimmed his deficit -- he's now 1-down with a win at 14.
JT and Rickie allowed Leishman and Ancer to earn a tie at the end of yesterday's foursomes session, so you know they'd like a part in making this American comeback victory become a reality.
10:56 p.m.: Oh my, Louis Oosthuizen's lead over Matt Kuchar is now just one with Kuch birdieing the par-3 14th hole. That's a match that has looked like an International victory the entire day -- that would be a crucial flip if Kuch can pull off the come from behind.
10:55 p.m.: Adam Scott isn't giving up just yet! He takes the 16th hole to go to 17, 2 down with two to go.
10:50 p.m.: Wow, Justin Thomas now falls two back of Cameron Smith with a loss on the 14th hole. That's a two-hole deficit for JT now with four holes to go.
Marc Leishman and Rickie Fowler just halved the 12th hole with bogeys -- Rickie missing a par putt that would've squared the match. It's looking like this Presidents Cup will come down to that last match.
10:46 p.m.: Adam Hadwin and Bryson DeChambeau both miss their birdie putts, Bryson to gimme range, Hadwin needing to tap in the 2 and a half footer. That's a half point in a hard-fought match. 12, 12 is the current margin.
That tie in the overall point total didn't last very long. Patrick Cantlay closes out Joaquin Niemann, 3 and 2, to secure another point for the Americans. 13 to 12, Americans now lead.
The U.S. need 2 1/2 more points out of the remaining five matches, but the Internationals currently lead in three of those. Not done yet!
10:40 p.m.: Advantage Adam Hadwin after his and Bryson's approaches have come into 18. Bryson, from inside 150 yards, hits it to about 25-30 feet, and Hadwin will have 20 feet. And the Canadian tells his caddie on the green: "Forget the book, we're gonna do this old school."
Meanwhile at 15, Adam Scott holes one with his putter from way off the green for eagle to push the margin with Xander Schauffele to 3 with three play. Wow ... a half point would be HUGE for the International side there. At least there's hope now for the Aussie.
10:36 p.m.: A pretty much hilarious moment at the 18th tee with Bryson: After Adam Hadwin, with the honor, found the fairway, the Australian crowd got pretty loud and boisterous. So Bryson took crowd control into his own hands, or lips -- whistling loudly to quiet the crowd.
Then Bryson proceeded to outdrive Hadwin by about 35 yards, finding the fairway at 18.
A victory at 18 by Hadwin could give the Internationals a needed adrenaline boost heading into the last couple matches of the day.
Most surprisingly, Justin Thomas finds himself trailing Aussie Cameron Smith after 13 holes. It's currently a one-hole deficit for JT.
10:33 p.m.: After winning the 16th hole to go 1-up, Bryson DeChambeau is in a bit of trouble at the par-4 17th hole. He found the bunker with his approach, and now chops it out past Adam Hadwin's birdie putt, so the Canadian will have a good chance to even the match heading to 18. DeChambeau does miss his par putt, so we'll head all-square to 18 in a crucial match Hadwin will need to win for the Internationals.
Byeong Hun An, currently 3 down to Webb through 13, sticks his approach to about 5 feet at the par-3 14th, in his attempt to make that match interesting. Eesh, An misses the shorty for birdie, so that match will remain a three-hole margin ... or NOT! Webb missed a four-footer for par, so that's a Ben An win after all. That deficit is cut to 2 holes.
And now Marc Leishman in the final match wins the 11th hole to square up his battle against Rickie Fowler. This isn't over yet!
10:23 p.m.: We haven't mentioned Bryson DeChambeau much, but he just made a LOUD statement at the 16th, burying a 23-footer to go 1 up on Adam Hadwin with two to play. Another match the Internationals had to have is now in danger of going the other way.
Just as we typed that, Sungjae Im gets a full point on the board for the Internationals, beating U.S. Open winner Gary Woodland 4 and 3. It's 11.5 to 11.5, but things are looking bleak for the International team. Patrick Cantlay, Xander Schauffele and Webb Simpson all hold commanding leads in their matches. All the way in the back of the pack, Cameron Smith takes a 1 up lead on Justin Thomas, and Louis Oosthuizen leads Matt Kuchar 1 up. There's still hope.
10:13 p.m.: Hideki Matsuyama missed the 18th green to the right, leading himself with a long, tricky left-to-right birdie putt that he missed. After putting a mark on it, Tony Finau two-putted with ease and forced Matsuyama to have to make a three-footer, which he did to halve the match. Not what the International team needed. It's now 11.5-10.5 U.S. What a comeback by Finau.
10:10 p.m.: Fireworks at the 11th hole, where Cameron Smith holed a 15 footer for birdie and pumped up the crowd. Then, Justin Thomas poured one in right on top and let out a nice "F--- YEAH!" They are all square.
10:05 p.m.: Hideki Matsuyama gives his lead away at the 17th, pulling a short par putt badly. He and Tony Finau are now all square with one to play. Already said it a million times, but the International team needs Hideki to win that one. Here's how the rest of the matches look at the moment:

U.S. can win it with 4.5 more points, while the Internationals need 5.5. A halve from Hideki wouldn't be good enough, and a loss would be an absolute killer.
10 p.m.: Third point on the board, and it comes from the one, the only, Patrick Reed, as he beats C.T. Pan 4 and 2. U.S. now leads the Presidents Cup 11-10, which is insane if you remember there was a chance for the Internationals to lead 9-1 after Friday.
9:53 p.m.: Second point on the board comes from Dustin Johnson, who walloped HaoTong Li, 4 and 3. We're all tied up at 10-10. It's LIT!!!
9:50 p.m.: Good LORD. C.T. Pan just hit an all-time bad snap hook at the 16th. We're talking 15 handicap bad. Looks like that match could be over. Ahead at the 16th, Hideki Matsuyama holes a birdie putt to win the hole and gives it a big-time fist pump. He's now 1 up on Tony Finau with two to play. One of the more crucial matches of the day for the International team.
9:46 p.m.: Justin Thomas, the U.S. team's best player, appeared to be running away with his match against Cameron SMith, taking a 3 up lead through five holes. Five holes late, Smith has halved the match.
9:43 p.m.: Just as C.T. Pan began to make it interesting, he bogeys the 15th, and now Patrick Reed leads 3 up with 3 to go. This thing is about to be tied, folks.
9:40 p.m.: Back at the 15th, Tony Finau and Hideki Matsuyama halve with pars. They are all square with three to go. Behind them, Patrick Reed's 6 up lead is now just 2 up, as C.T. Pan continues to make a charge. Then there's the Dustin Johnson-HaoTong Li match, which DJ leads just 3 up with four to play. Internationals showing some fight.
9:35 p.m.: We have our first point of the day, and it's from the captain. Woods drains a 20-footer for birdie that he just told Golf Channel's Steve Sands was good "from six feet out." Unbelievable. It's now 10-9, U.S. Incredible week for Abraham Ancer, but he ran into the GOAT on Sunday. Woods is now the all time leader in Presidents Cup matches won with 27, overtaking Phil Mickelson.
9:28 p.m.: Sungjae Im and Joaquin Niemann have each taken a 1 up lead in their matches. Those could be absolute must-have points for the International squad. As of right now, there's a good chance the U.S. takes the first four matches.
9:21 p.m.: Tiger just hit one of the best long-distance putts we've ever seen. Not even a slight exaggeration. From 114 feet, his eagle effort nearly went in, setting up a kick-in birdie and forcing Ancer to have to make a 15 footer for birdie. Ancer missed, putting himself in a 3 down hole with 3 to play.
9:15 p.m.: OH MY AGAIN! Tony Finau holes ANOTHER birdie at the par-3 14th and has now squared the match. Incredible turnaround, and what could be an absolute dagger for the International team.
9:07 p.m.: Massive moment at the par-3 14th, where Abraham Ancer went a little long and left himself with a treacherous putt back down the hill. Tiger played it safely to the right of the green, and was disgusted with it. Turned out, it was the right move, as he two-putted for par and Ancer three-putted for bogey. Woods is now 2 up with four to play.
9:03 p.m.: Oh my. Hideki Matsuyama was leading Tony Finau 4 up through 10 holes. Finau has now shrunk that lead to 1 up with his third straight won hole at the 13th. What looked like a sure point for Matsuyama (the Internationals need all the sure points they can get) is now not such a sure thing.
8:58 p.m.: After losing his first hole of the day at the fifth, Louis Oosthuizen takes back his 3 up lead over Matt Kucher with an eagle at No. 6. Internationals need that match and a lot more to hang on. Speaking of, Presidents Cup rookie Joaquin Niemann just squared his match with Patrick Cantlay at the ninth hole. That's one of three matches currently all square, and all three are on the back nine.
8:52 p.m.: Australia's Cameron Smith finally gets on the board at the sixth, cutting Justin Thomas' lead to 2 up. Up ahead at 12, Tony Finau wins his second straight hole against Hideki Matsuyama, and is now only 2 down. At the 13th green, Abraham Ancer buries a birdie putt to win his first hole since the seventh. He's just 1 down with five to play. All the action.
8:43 p.m.: Xander Schauffele is steamrolling Adam Scott right now. After a brilliant approach on the difficult 7th hole, he rolls in the four-foot birdie to take a 4-up lead over the Aussie. If you're an International fan, it's time to start worrying. . .
8:32 p.m.: Um, Patrick Reed only leads 3 up now. C.T. Pan rams in a 40-footer for birdie on No. 10 to cut that once seemingly insurmountable lead in half. Give the guy credit for battling. Meanwhile, Marc Leishman draws first blood in the final match against Rickie Fowler with a birdie on the par-5 2nd.
8:28 p.m.: Justin Thomas' hot play the first three days has carried over through four holes on Day 4. It's a quick 3-up lead over Cameron Smith for the man who has assumed the title as Captain America. Well, other than the actual captain, of course.
8:24 p.m.: There's no other way to say this: Tiger Woods is putting on a clinic. Unfortunately for the American captain, though, he's playing the hottest player on the International squad in Abe Ancer, who Ancers (sorry) Tiger's latest birdie on No. 11 with one of his own. Woods still leads 2 up. Also 2 up for the U.S. is Xander Schauffele over Adam Scott in a match most felt the Internationals had the edge.
8:17 p.m.: Don't look now, but C.T. Pan has won back-to-back holes in his match against Patrick Reed. He's still 4 down as he makes the turn, but crazier things have happened. As in, happened yesterday when Abraham Ancer and Marc Leishman rallied from 5 down through 10 holes to tie Justin Thomas and Rickie Fowler and scratch out a half point.
8:13 p.m.: After a crafty low shot to a back-right pin, Tiger Woods knocks in a 10-footer for birdie on No. 10. He's now 2 up in the lead match, setting a nice tone for his troops behind him. And all the way behind him, Rickie Fowler birdies the opening hole to. . . tie crowd favorite Marc Leishman. That could be a good one.
8:08 p.m.: The Reed-Pan match isn't the only route in the early going. Hideki Matsuyama is 4 up over Tony Finau thru 9 holes in Match No. 2 and Dustin Johnson has jumped out to a 4-up lead over Haotong Li in the fourth match. None of the other matches are more than 1 up at the moment.
8:05 p.m.: The 12th and final match of the day is underway as Rickie Fowler and Mark Leishman both pump drives through the fairway and into the right rough on the short opening hole.
8:02 p.m.: C.T. Pan finally slows Patrick Reed down as Reed lips out his long birdie putt to tie. Captain America—wait, are we still calling him that anymore?—still leads 5 up.
7:57 p.m.: Tiger Woods retakes the lead over Abraham Ancer with a par on the 9th hole. Woods looked to be in control after a bladed bunker shot by Abe on his third, but wound up needing to coax in a four-foot putt for the win as Match No. 1 makes the turn. The U.S. leads in seven matches right now and only trails in one. . .
7:50 p.m.: Bryson DeChambeau is finally showing signs of life. Another birdie on the par-3 5th gives him a 2-up lead over Adam Hadwin. Meanwhile, Patrick Reed continues to COOK. Reed rolls in a birdie from off the green on No. 7 to take a 6-up lead over C.T. Pan. He is 5 under on the day. Wow.
7:41 p.m.: There's some early blood in the seventh match of the day as Joaquin Niemenn converts a ticklish birdie on the par-3 third to take a 1-up lead over Patrick Cantlay. Niemann, who turned 21 last month, is the youngest player in the event.
7:35 p.m.: Patrick Reed continues to roll, this time getting up and down out of a greenside br on the short par-4 sixth. How good was his shot from the sand? NBC/Golf Channel's Jim "Bones" Mackay calls it "the best bunker shot" he's ever seen. Um, he caddied for Phil Mickelson for 25 years. High praise. Reed is 5 up thru 6.
7:28 p.m.; Ancer responds to Tiger's punch with a blow back, tying it up after a birdie at the seventh. It's a shame we're only getting 18 holes from these guys.
7:25 p.m.: Finau makes a mess of the short par-4 sixth, getting stuck in the woods off the his tee shot and failing to advance it. Down 3 early to Matsuyama.
7:22 p.m.: Sunjae Im starts with a bird-eagle start to go 1 up over Gary Woodland. At the seventh, Ancer and Woods both make solid approaches, while Bryson goes 1 up thru three over Hadwin.
7:18 p.m.: Patrick Reed moves to 4 up thru 4 over Pan. At the first, Patrick Cantlay's birdie lips out, halving the first hole with Joaquin Niemann.
7:13 p.m.: Woods drops his 20-foot birdie with authority; Ancer's slides just to the left. Tiger is back to 1 Up.
7:11 p.m.: Woods and Ancer have serviceable approaches at the short par-4 sixth, with Ancer slightly inside Tiger. At the second, Bryson DeChambeau and Adam Hadwin exchange birdies for the second straight hole to keep their match square.
7:07 p.m.: Gary Woodland and Sungjae Im trade opening birdies at the first. Half the groups are on the course.
7:04 p.m.: Woods can't get up-and-down out of the bunker, giving Ancer the hole and putting the match square.
6:58 p.m.: Reed makes his third birdie of the day, while Pan can't convert. Reed is now 3 Up.
At the par-3 fifth, Tiger's approach finds a greenside bunker. Ancer responds....by ALMOST jarring his shot, the ball finishing inches from the hole.
6:53 p.m.: Reed came to play. He stiffs his approach at the third to six feet or so, putting the screws on Pan...and Pan answers, putting his approach inside Reed. Neither will be an easy putt for birdie, though. Ahead, Ancer three-putts, giving the hole to Woods. Tiger is 1 Up.
6:51 p.m.: C.T. Pan three-putts the second to go 2 Down to Patrick Reed. At the fourth, Ancer's birdie try goes 15 feet by.
6:47 p.m.: Matsuyama converts the bird to go 2 Up thru three. At the fourth, Ancer's approach is on the green but some 50 feet away, while Tiger has 20 or so feet on his bird.
6:44 p.m.: Matsuyama puts his tee shot at the third to three feet, while Finau's goes 30 feet or so past the pin. At the first, Dustin Johnson's birdie comes up short, giving Haotong Li a chance to strike an opening blow. That too misses. Not a lot of birds at the first today.
6:42 p.m.: Tony Finau needs a hug, and quick. After missing a short one at the first, he missed another five-footer at the second, a roll that comes nowhere close. Matsuyama 1 Up in the match.
6:41 p.m.: Tiger makes Ancer putt out a three-footer. Ancer responds by making Tiger finish his bogey inside a foot. This week is officially drunk. Ancer evens things up with the par at No. 3
6:35 p.m.: Reed comes out of the gate with a birdie, winning his first hole against C.T. Pan. Ahead, Tiger's pitch comes up short, leaving a testy 12 feet or so.
6:32 p.m.: Tiger gets too cute with his tee shot at the par-3 third, his ball coming up short of the false front and rolling some 30 yards short, leaving a super hard and awkward chip. Ancer responds with a shot safely on the green, putting the pressure on Tiger.
6:28 p.m.: Woods makes a two-putt birdie at No. 2, and Ancer can't, ahem, answer. Woods 1 Up thru two.
6:23 p.m.: Matsuyama misses hard to the left, giving Finau a great opportunity...and opportunity he can't convert.
6:21 p.m.: Big Tone! Finau puts his second at the first to five feet, while Matsuyama's bunker shot, while leaving an uphill putt, is 15 feet or so away.
6:18 p.m.: Woods hits a rocket on the par-5 second, while Ancer's tee shot goes right, could be blocked out. Advantage for Tiger to get one early.
6:14 p.m.: Match 2 is on the tee: Tony Finau vs. Hideki Matsuyama. Finau hasn't played particularly great, desperately needing at least a halve in his battle. His drive at the first is strong, stopping just short of the right greenside bunker, while Matsuyama's ball finds the trap.
6:12 p.m.: Tiger's approach finds to green, but he can't convert from 20 feet out. Ancer makes a nice pitch to eight feet, but shows his nerves by leaving his putt well short.
6:04 p.m.: Balls are in the air. Tiger goes first, his drive a bit too far to the right, running through the fairway and leaving a difficult approach. Ancer responds with a perfect drive to the proper angle. This firecracker has been lit.
5:51 p.m.: One of the two greatest golfers of all-time going against a Presidents Cup rookie seems like a landslide, but Abraham Ancer has arguably been the best player on either team this week. Sound in all facets of the game, with the guts of a guy that makes Bear Grylls look like a wimp. Woods was strong in his two performances of the week, but this is going to be slugfest.
5:25 p.m.: Tiger, teeing off at 6:02 p.m. ET, is warming up on the range. He is dressed in a red sweater, which is the USA uniform for Sunday. Would have been a real boss move to wear the Sunday red while the rest of the guys wear blue or white. Alas, missed opportunity.
5:05 p.m.: Speaking to Golf Channel, Fred Couples speaks to the Australian crowds, an issue that seemed to divide captains Tiger Woods and Ernie Els yesterday. While somewhat dancing around the subject—particularly the treatment of Patrick Reed—Couples says the fans aren't yelling in the backswings or during strokes of the American players, signaling everything else is fair play. "They are rooting for their team, which is what we expect," Couples says.