News
Presidents Cup 2017: What the Americans got right on Day 1 at Liberty National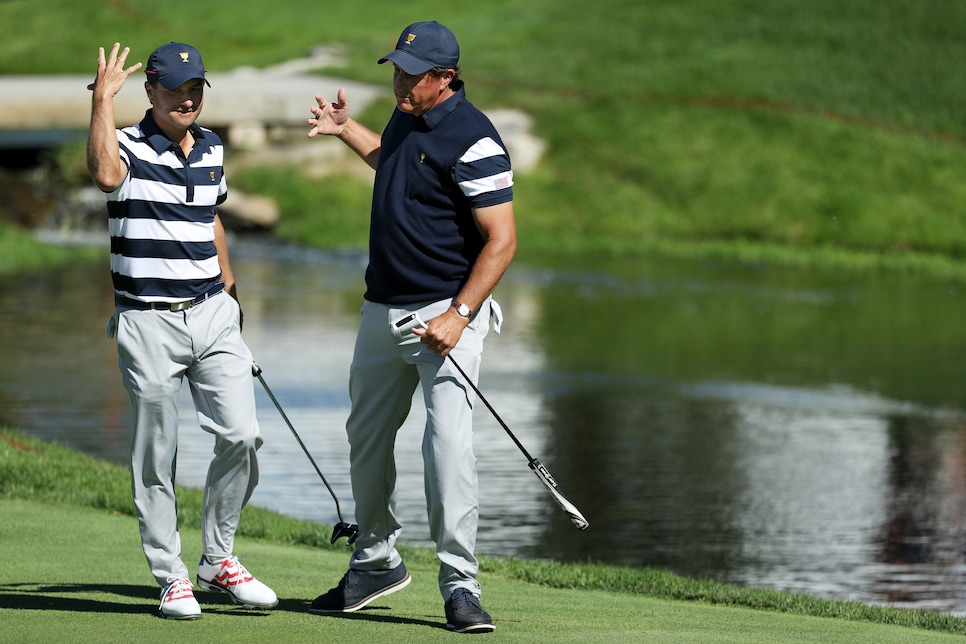 Photo By: Rob Carr/Getty Images
JERSEY CITY, N.J. — It's a stat that's hard to ignore: Nine times in the 11 prior editions of the Presidents Cup, the side that's won the opening session has gone on to win the giant golden goblet. No doubt, U.S. captain Steve Stricker and International captain Nick Price were well aware just how important getting off to a quick start would be at Liberty National.
So as Baker's Bay buddies Rickie Fowler and Justin Thomas were fist-bumping the life out of Hideki Matsuyama and Charl Schwartzel (winning 6 and 4), and Jordan Spieth and Patrick Reed continued their usual team match-play bludgeoning of Si Woo Kim and Emiliano Grillo (claiming a 5-and-4 victory), the real story from Thursday's foursomes was still to play out. Lopsided wins, no matter how fancy their pyrotechnics, are still worth only one point.
To that end, the first session of the 12th Presidents Cup will be remembered less for the blowouts and more for the knee-knockers that left the Americans in a familiar spot, out front of the International squad by a 3½-1½ margin.
Specifically, the American side can pat the backs of Dustin Johnson and Matt Kuchar who, all square through 10 holes after falling behind on the front side, patiently waited things out on the back nine against Adam Scott and Jhonattan Vegas before pouncing on the par-3 16th. A 7-iron to seven feet from DJ set up a conceded birdie that gave them their first lead of the day, one they wouldn't let slip in a 1-up victory in which the Americans never made a bogey.
Then there was Phil Mickelson and Kevin Kisner, who went from way out front to inexplicably behind to happy to grab a half-point in their topsy-turvy match with Jason Day and Marc Leishman. The Americans were 3 up through seven holes, only to see the Australians win four straight holes with a par-eagle-birdie-par stretch. But Mickelson would win the 17th with a short par putt to square the match, and had a seven-footer for par to win it outright on the 18th hole only to see it slide by right.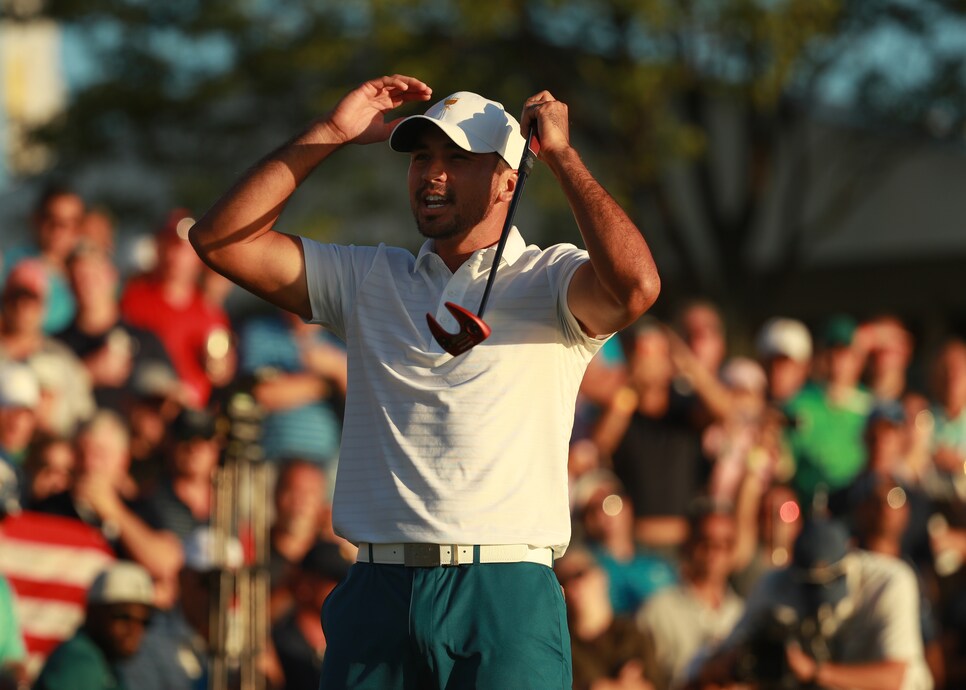 Had Mickelson's putt fallen, there would be many predicting a U.S. blowout. But what now? Is the match over? Historically, things might appear that way, although neither side was willing to concede much.
"We felt good about what happened out there as far as the points won. It was a good start for us," Stricker said at day's end. "[But] you know, there's still a long, long ways to go."
"I think we're one point better than we were two years ago," said Price, channeling his inner optimist. "Even though we're two points behind, it was one of our strongest starts in foursomes on Thursday. So the team is not discouraged at all. They are raring to go tomorrow."
Indeed, the International team trailed 4-1 after opening foursomes in 2015, then rallied to win the Day 2 four-ball session 3½-1½ to get back into the match. And traditionally the Internationals have struggled in foursomes, having been outplayed 38-15 since 2007.
If Price is to salvage a win in this third go around leading the Internationals, he's got some captaining to do. First, he'll need to get something more from his charges on Friday given the metaphysical fact that Branden Grace and Louis Oosthuizen can't play every match for the International side. The South Africans, who were 4-0 as a pairing two years ago in South Korea, were the one true bright spot for the team, beating Brooks Koepka and Daniel Berger, 3 and 1. Price will need them to come through again in four-ball, when they face the Fowler-Thomas pairing in the second match off on Friday afternoon.
Additionally, Price has got to make sure Day and Leishman bounce back when they return to the course and face off again against Mickelson and Kisner. Having nearly pulled off a heroic comeback to steal a point, the Australian duo has to have walked off the course somewhat thankful to have gotten a half-point, but frustrated they couldn't close things out.
While he's at it, Price might also want to figure out how to get more out of Matsuyama, the No. 3-ranked player in the world. The company line is that Matsuyama is still reeling from his loss at the PGA Championship in August, but looked more like his old self in the practice rounds. Somehow that Hideki needs to return to view, ASAP.
As for Stricker, the check list is pretty obvious: Ride the Spieth-Reed and Fowler-Thomas pairings as far as they'll take you. If they produce more blowout wins, gladly grab them.
More importantly, though, Stricker needs to see his crew continue to take the majority of the knee-knockers. That's where these team events are truly won and lost.