News
Presidents Cup 2017: The winners & losers from Day 2 at Liberty National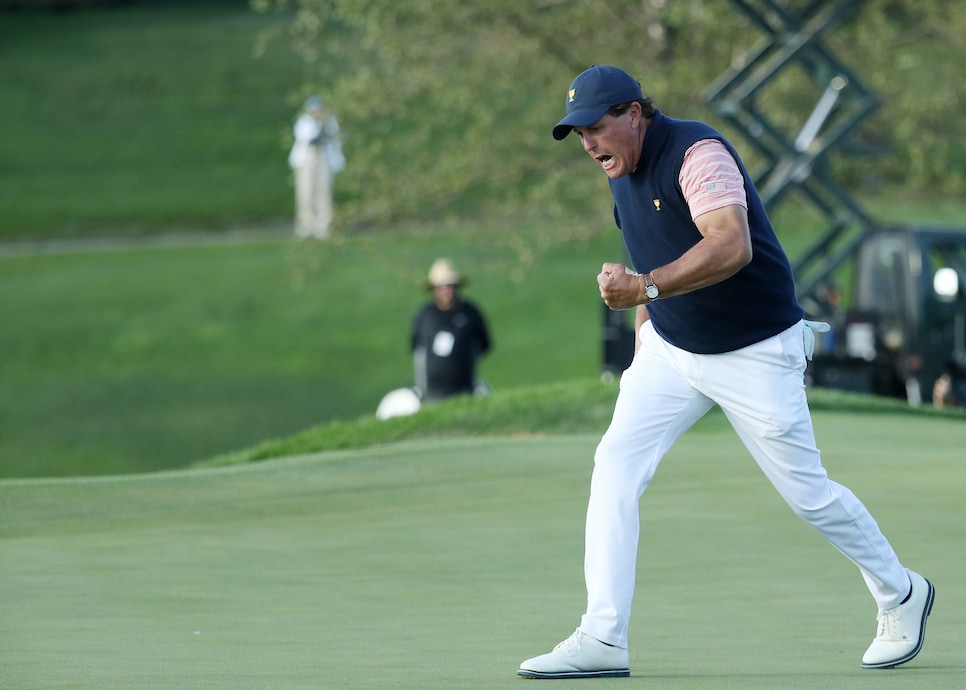 There were no actual Presidents at the Presidents Cup on Friday, but the action followed a familiar script as the U.S. took command of the biennial event entering the weekend. Here were the winners and losers who caught our eye from Liberty National.
Winner: Justin Thomas and Rickie Fowler
Cover your ears, Jordan Spieth and Patrick Reed. Are they covered? OK, good. Because we don't want you to hear us declare that the U.S. has a new super squad in Thomas and Fowler. For a second consecutive day, JT and Rickie won their match. And it wasn't even close. This time, the dynamic duo dispatched of the International team's top pairing, Branden Grace and Louis Oosthuizen, 3 and 2. Grace and Oosthuizen entered the match with a perfect 5-0 record at the Presidents Cup, but there wasn't much they could do about this:
At this point, it would be an absolute stunner if we don't see Thomas and Fowler play together twice on Saturday -- and four more times in France next year.
Loser: Presidents Cup drama
Look, we all knew Team USA was a huge favorite entering this event (Vegas had them at -450), but after a 2015 Presidents Cup that could have gone either way, fans were hopeful this would at least be a close contest. Not so much. After opening up a big lead on Thursday, the U.S. played even better on Friday to extend its lead to 8-2 entering the weekend—the largest lead after two days in Presidents Cup history. Sure, there are still 20 points up for grabs over the next two days, but it's looking more and more like Sunday afternoon is a foregone conclusion. Does NBC have the option to flex out of showing the late singles matches to show the final round of the Web.com Tour Championship instead?
After waiting their whole lives to represent the U.S. in international team competition, Charley Hoffman and Kevin Chappell had wait another day before getting their crack. And they produced a dominant 6-and-5 win over Anirban Lahiri and Charl Schwartzel. They also produced a personalized celebration that's half bro hug, half Bash Brothers. They did it throughout the round, but here it is after Hoffman's winning birdie:
Well done, guys, although that wound up being the second-most-talked-about U.S. celebration of the day …
After draining what turned out to be the winning birdie putt on 18, Mickelson dropped his putter, walked toward Kevin Kisner, and the two did the hip-thrust dance from Three Amigos. It was awkward, it was funny, and it perfectly captured what a yuck fest this has turned into for Team USA.
"I'm the worst selfie taker, I'm the worst Three Amigos dancer, but Jimmy, I can putt," Phil Mickelson told NBC/Golf Channel's Jimmy Roberts after the dramatic win. Anyone out there still think Phil doesn't deserve a spot on this team? Didn't think so.
After waiting two years to redeem himself for a missed three-footer on the final hole at the 2015 Presidents Cup, Lahiri stepped on the first tee on Friday and did this:
Yikes. Incredibly, it got worse on the next hole. After failing to hole a bunker shot for an eagle to halve the hole (that part wasn't too bad), Lahiri re-tried his shot. Turns out, that's a penalty (players are allowed to practice putts and chips in between holes, but not from a hazard) and Lahiri was DQ'd from the third hole. It didn't matter much. He and partner Charl Schwartzel, who didn't exactly light it up either, got dusted by Charley Hoffman and Kevin Chappell.
How does someone who didn't hit a single shot today rate as a "winner"? By climbing into the grandstands to cheer on his teammates:
That's great team spirit, Matt. However, your top priority now should be to go easy on the guys in team room. At this point, it seems like the only thing that can stop the Team USA train would be a couple of fluke table-tennis injuries.