News
Presidents Cup 2017: Phil Mickelson breaks Tiger Woods' all-time Presidents Cup record with another win at Liberty National
JERSEY CITY, N.J.—Phil Mickelson sat in the press room Saturday evening glowing like a proud father, talking about how this U.S. Presidents Cup team might be the most talented squad he's ever been on. Nobody can argue that, given the results (11.5 to 2.5) thus far. Still, it says a lot from Phil, considering Lefty is playing in his 23rd consecutive Team USA event this week.
Though the incredible young talent has made this a rout at Liberty National, Phil deserves a lot of the credit, too. Not only for his mentoring and role on the U.S. Task Force, but for his stellar play this week as one of Steve Stricker's captain's picks.
Mickelson continued his sterling performance with Kevin Kisner on Saturday morning, beating Jhonattan Vegas and Emiliano Grillo 2 and 1. The victory gave Mickelson the all-time wins record in U.S. Presidents Cup history (25), surpassing the record of Tiger Woods, who's on hand as an assistant.
When asked about tying Tiger's mark on Friday night, he pooh-poohed the record and instead praised the other guys on the team. A predictable move by this veteran leader.
"I mean, I just love every opportunity to be a part of these events and on these teams," Mickelson said, "and this team is a unique team from any in the past in that the talent level is high or higher than we've ever had, and the camaraderie amongst each other on and off the course is a whole different environment."
Mickelson has fit right in with these young studs, despite his age difference. He showcased his youthfulness with the hilarious celebration he and Kisner orchestrated after Phil holed a winning birdie at the 18th hole against Jason Day and Marc Leishman on Friday.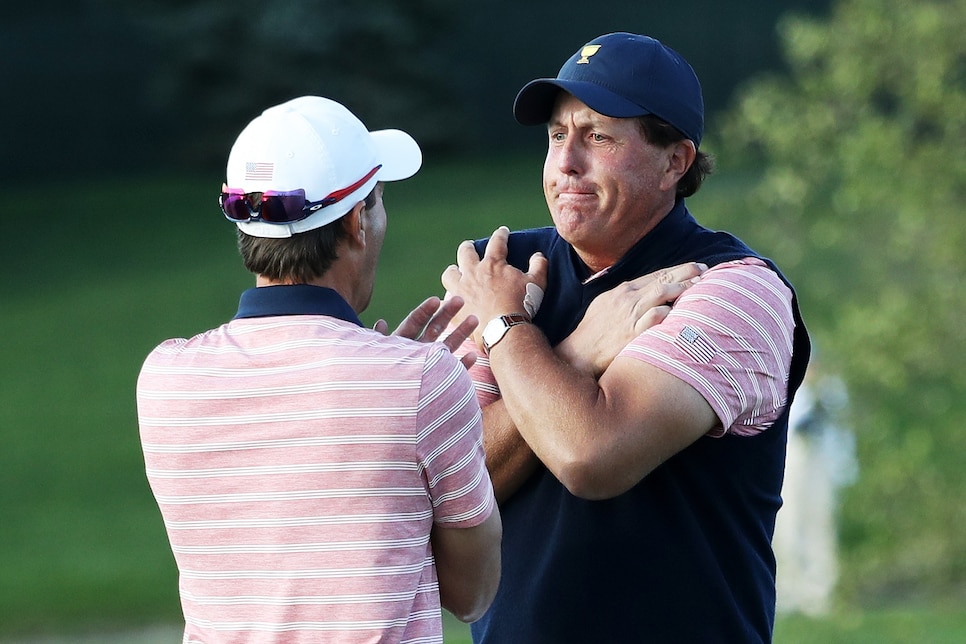 "I thought we biffed it when we were doing it," Phil explained Friday, "but when I looked back and saw the replay, I think we kind of nailed it actually."
Phil sounds like a Millennial. And he's fitting in with the rest of them. Though he nearly botched the legendary selfie he took with Barack Obama, George W. Bush and Bill Clinton on Thursday, he has fit right into this ultra-talented U.S. squad. On a weekly basis on tour, Phil is known for playing practice rounds with the young core on this team -- Rickie Fowler, Dustin Johnson and Justin Thomas. There's no assimilation needed for this team because the camaraderie is so tight on a weekly basis.
So as this U.S. team is poised for a historic, lopsided win over the International, so too is Phil making more history with his play at Liberty National.