News
Now what for Nick Price? Your guess is as good as his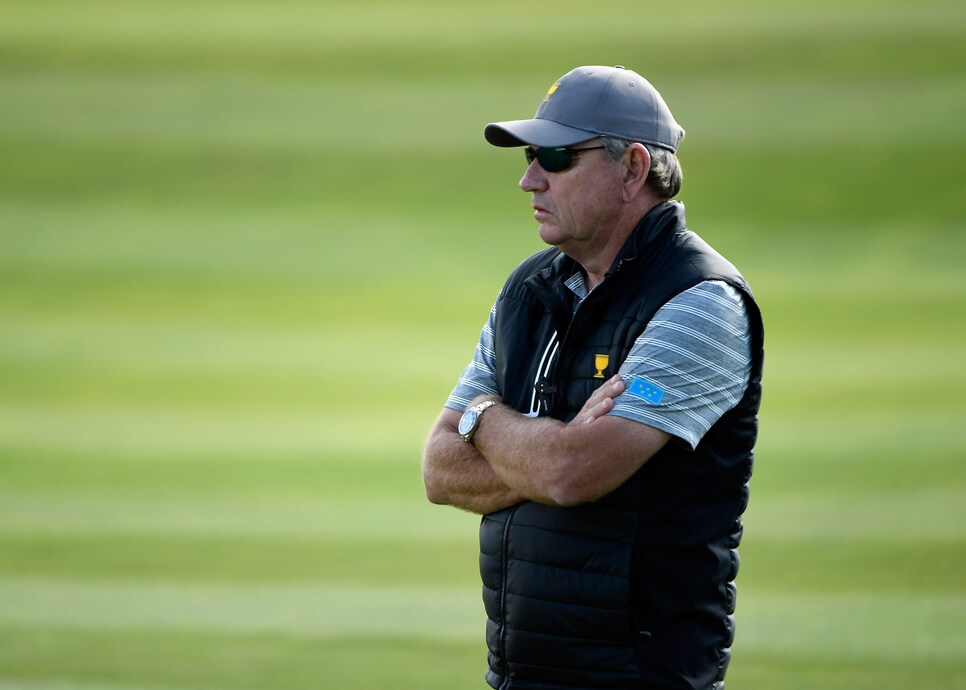 Photo By: Chris Condon/Getty Images
JERSEY CITY, N.J. — Nick Price was a mixture of hope and helplessness Friday night after the International team he captains went down 8- 2 in the Presidents Cup.
Hope because only a third of the matches have been played, with 20 points still available toward the 15½ needed to win the cup. Price, a three-time major champion who is in the World Golf Hall of Fame, isn't wired to give up.
But the helplessness is also palpable. The Internationals are down to the Americans, who hold a 9-1-1 record in the previous 11 Presidents Cups. And this particular U.S. squad—described by captain Steve Stricker young, explosive and companionable—is also one that Phil Mickelson, a veteran of 22 Ryder Cup and Presidents Cup teams, says is the most talented he's ever been on.
Price also knows the Internationals are short of players whose strength is putting, the part of the game that, even more than in medal play, is the key determiner in match play. Adam Scott, Louis Oosthuizen and Charl Schwartzel, major champions each, are all known as strong ball-strikers who are average to below average on the greens.
"They are all trying so hard. You can't tell them to try any harder." — Nick Price
Of course, it's normal to feel helpless in golf when things are going badly. The game, even at the highest level is often random and capricious. It's the sport where trying to make things happen is usually counterproductive. Price, also the captain in 2013 and 2015, knows the International team can play better, but at the moment it is lacking the confidence and momentum that becomes more elusive the more it is forced.
"I don't know what the recipe is," Price said on Friday night, after the pairings for the Saturday morning foursomes matches were made. "This is my third time doing it, and I haven't found it."
However, in discussing the difficulties of Anirban Lahiri, the 30-year-old native of India who was one of his captain's picks, Price probably hit on the concept that might go all through his team.
"Anirban's obviously trying to prove to us to all of us that his pick was worth it, and it's put a lot of pressure on him," said Price, who in part took Lahiri because he believed he would be strong from having endured the pain of missing a four-foot putt at the 2015 Presidents Cup in South Korea that cost his team a crucial half point in the 15½-14½ loss. "I think today he showed that he was very tight out there. Just trying to get him to loosen up and play golf and not be so worried about the fact that he's got to prove something to us. You know, he doesn't have to do that. He really wants to do well, and you can see it in his attitude and the strain in his face."
But, really, no one on Price's team is playing loose. Falling behind early in an event where it has historically been dominated raises a specter of embarrassment that can impede a positive attitude toward winning. When faces and body language show strain, clutch moments are met with tension rather than freedom, causing full shots to be steered and key putts to be jerked.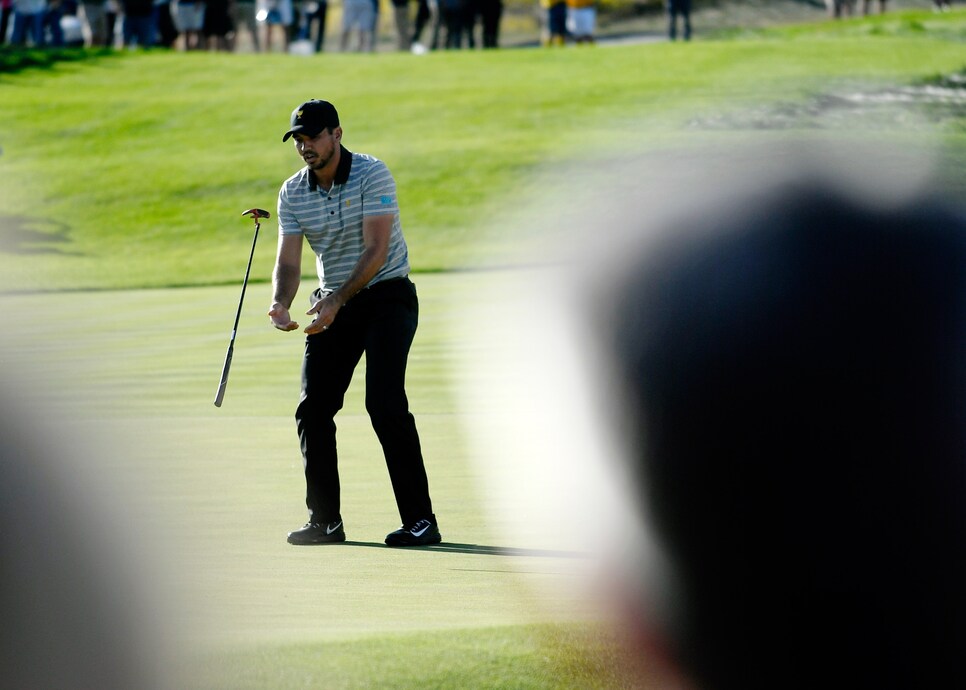 It's often been the case so far with the two highest ranked players on the International team, Hideki Matsuyama and Jason Day.
The 24-year-old Matsuyama, who reached World No. 2 this summer, rather than meeting the level of the best U.S. players, has played so poorly— regularly missing fairways off the tee and greens with his irons—that he was benched for Saturday morning's matches by Price.
Day, the former No. 1 who was winless this year, had birdie putts of inside 15 feet on the 16th and 18th holes in his and Marc Leishman's tight four-ball match against Phil Mickelson and Kevin Kisner. In both cases, Day missed badly in a 1-up victory for the U.S. in the day's final match that was undeniably dispiriting to the Internationals.
"They are all trying so hard," Price said. "You can't tell them to try any harder."
Hopefully, Price's troops will realize the enemy within and try less.  They know that there are critics who with every International loss are all the more ready to pronounce the Presidents Cup a failure. But playing with that mental burden threatens to create a vicious cycle.
Perhaps the International team can miraculously rebound to make the battle at Liberty National close or even win. But with another loss looking more likely, Price's task is to focus his leadership on avoiding, or worse, even having to break, that vicious cycle.