News
Presidents Cup 2017: How Justin Thomas and Rickie Fowler have become Team USA's best duo this week
JERSEY CITY, N.J. — In this complete Presidents Cup rout of the Internationals through two days at Liberty National, you can't say a single American tandem deserves the majority of credit. All 12 players on the talented American squad are showing they're capable of superior golf. But out of all the U.S. guys, Justin Thomas and Rickie Fowler have proven to be a lights-out pairing—taking down the previously unbeatable International duo of Louis Oosthuizen and Branden Grace, who had won five straight matches in the Presidents Cup, and making it look easy.
Rickie and JT lost only one hole Friday against the talented South African duo and went the equivalent of six under as a four-ball combo until clinching the 3-and-2 victory at the 16th hole. Through two sessions at Liberty National and 30 holes played, Rickie and JT have lost just three holes.
It was on the first tee on Friday when Thomas turned to Rickie and said, "We need to bring it today. This is going to be a tough team to beat." U.S. captain Steve Stricker picked Rickie and JT to face Oosthuizen and Grace in Day 2, figuring these young guns might be his most fearless duo. Thomas is continuing his stretch as the hottest golfer on the planet while playing in his first professional team competition. It only seemed natural to partner him with his good buddy Fowler.
"It's hard to break these guys up," Stricker said after Friday's matches. "[Justin's] probably the best player in the world right now. He continues to impress all of us."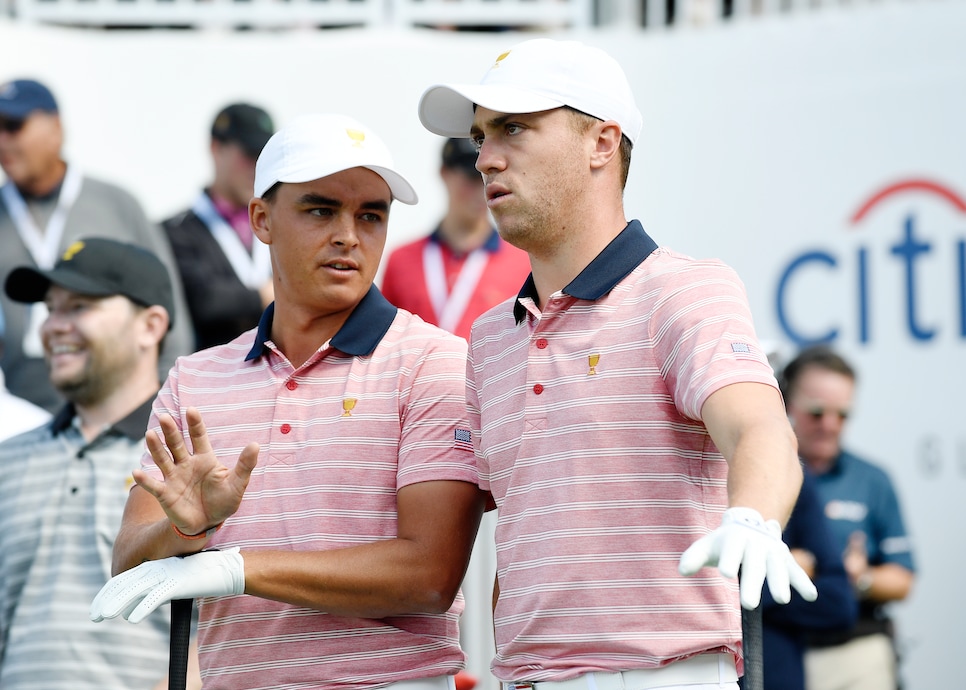 Sure, Jordan Spieth and Patrick Reed have played together since the 2014 Ryder Cup and have enormous victories to their credit. But the 2017 Presidents Cup, at least so far, is about the domination of Rickie and JT.
Interesting, Fowler hasn't had his best performances in international team play—owning a 2-4-5 record in three Ryder Cups and a 1-3-0 record previously at the Presidents Cup. But Rickie led the U.S. squad by hitting the first tee shot on Thursday, striping one down the fairway and setting the tone for Team USA. His hole-out on the third hole was a spark for the Americans early on Friday, and Thomas' holed bunker shot at the 14th hole was one of the highlights of Friday's U.S. dominant showing.
As clutch as Thomas' hole-out was, his birdie at the 12th hole was equally impressive. Faced with a seemingly impossible lie on a grassy knoll to the left of the green, Thomas had nowhere to land his shot with a green running away from him and a bunker in front. Grace had already hit his approach to seven feet, so Thomas needed to put it close to have a chance at halving the hole. The PGA champion hit a slick running chip onto the green to 14 feet.
Thomas and Fowler eyed up Thomas' 14-footer for birdie at the 12th hole for seemingly five minutes, though it was actually just a minute and a half's worth of plumb-bombing and getting every possible read.
What was most impressive was the way Fowler and Thomas read each other's body language. They moved around the green like synchronized swimmers—as if they knew just the right amount of input each of them needed. Thomas read the putt, Fowler lined up behind him, backing off at the exact moment he could tell his fellow Spring Break buddy was ready to hit the putt.
The back-and-forth deliberations paid off, with Thomas holing the putt—and letting out a huge fist-pump and a high-five with Rickie after. Just like they were back home in Jupiter, making another birdie at Medalist. Or Baker's Bay. Of course, Grace holed his birdie, halving the hole, but the point was made. Thomas and Fowler were not going to be denied as they maintained a 2-up lead.
"That was a huge, huge part in the match," Thomas admitted after. "It was kind of a weird read, but Rickie came over and helped me out."
As this team has proven over two days at Liberty National, Fowler and Thomas have each other's backs better than anybody. And they've been Team USA's best weapon.