News
Presidents Cup 2017: Could this be Phil Mickelson's swan song in team competitions? Don't bet on it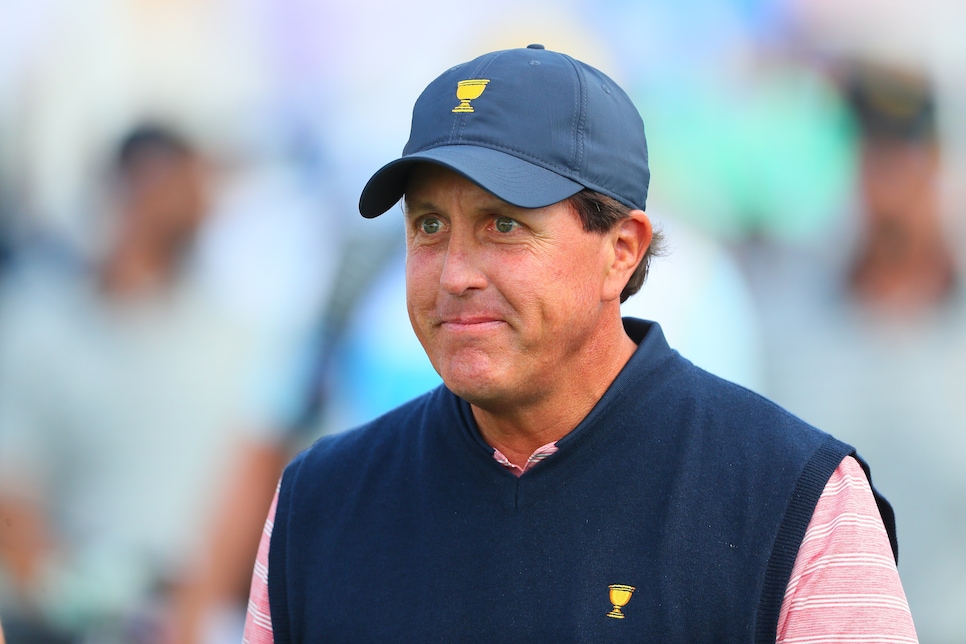 JERSEY CITY, N.J. — If this was it for Phil Mickelson, it sure was fun. Of course, a 19-11 victory by the Americans at the 2017 Presidents Cup, one that wasn't really even that close, is suppose to feel that way, isn't it?
Not surprisingly, though, as the sun faded on Sunday at Liberty National Golf Club, the 47-year-old five-time major winner wasn't ready to get sentimental. As far as he's concerned, the man who just played in his 23rd straight annual team event will be competing in No. 24 next year in France at the Ryder Cup, and then No. 25 at the 2019 Presidents Cup at Royal Melbourne. Maybe he'll call it quits when he inevitably serves as captain of one of these teams down the road. Until then, he has every intention of wearing the red, white and blue for years to come.
And what team wouldn't want Mickelson, who in his 100th match in international competition claimed a 2-and-1 victory over Adam Hadwin in singles, improving his overall record on the week to 3-0-1? At the end of four days at Liberty National, Lefty walked away as the all-time points winner in Presidents Cup history with 26, surpassing Tiger Woods, and confident that despite the nickname Grandpa, he can still rise to the occasion in these thrilling moments.
"This has been a fun, special week," said Mickelson, who had to kick his game into gear the last few weeks of the PGA Tour season just to earn U.S. captain Steve Stricker's trust to be a captain's pick. "I've never been a part of a team all these years that's this talented and gone out and lit the course up like this and had such a big lead going into Sunday singles. This is a stress-free day for us, and that's just something we've never had."
It's not so much the points that Lefty earned that came in handy for the Americans. It was his off-the-course influence that seems to be even more important, at least according to most of those associated with the U.S. team.
"Phil is an assistant captain," said Jordan Spieth on Sunday night. "You can address him as an assistant captain."
And with that elder statesmen status, Mickelson kept his young sidekicks loose and relaxed throughout their time in the New York area. On a team with six Presidents Cup rookies, and five players who had never competing in a professional team international competition, that was no small feat.
No one was more impacted by Mickelson than Kevin Kisner, a first-year Presidents Cup participant who partnered with him for three sessions, the duo going 2-0-1 and forever delivering to golf fans their own version of the "Three Amigos" dance.
"Having been able to come down the stretch with him, and to see how well he performs under the gun, is unbelievable," Kisner said. "I'll always look back and think about who I played with. Nobody can ever take that from me. I played with a Hall-of-Famer, and we did great together. No matter what happens in my future, that will always be something I look at."
Three years since Mickelson spoke up at the end of another disappointing American loss in the Ryder Cup at Gleneagles, the influence he has on the direction for how U.S. teams are selected and overseen is clear. All you need to do is look at the outcomes of the subsequent events, notably a six-point Ryder Cup win at Hazeltine National and this week's trouncing, in which the American side nearly clinched the Cup on Saturday night.
Since his statement at Gleneagles, Mickelson has backed up his opinionated rhetoric by stepping up his game. He's now 8-1-2 in team competitions since Gleneagles. Coincidence? Not likely.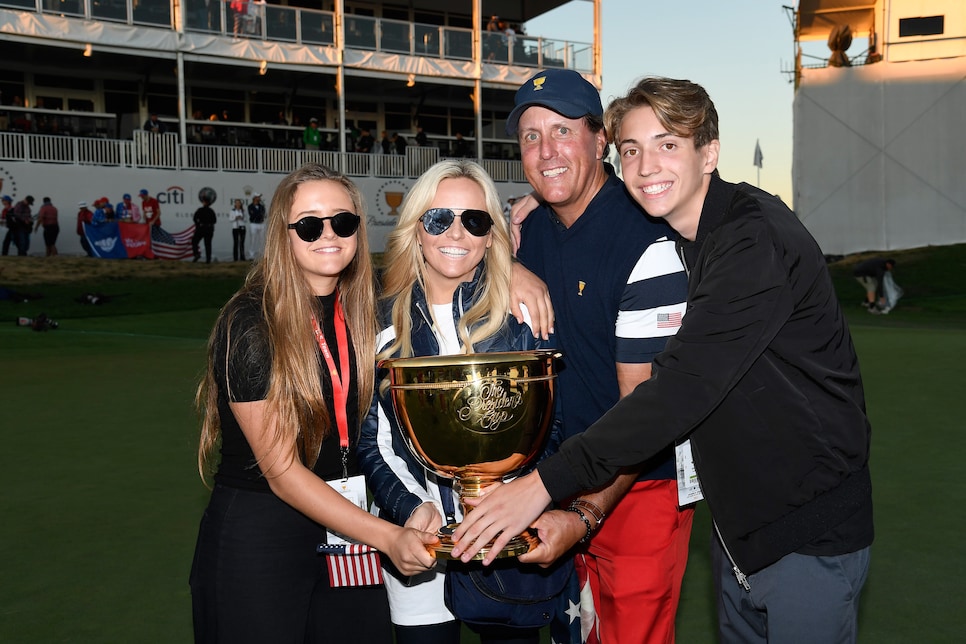 Of course, these events now serve as extra-large motivators for Mickelson, arguably as much as major championships. So it is that despite not having won an individual stroke-play event since his Open Championship victory in 2013, he has still managed to play inspiring golf in these team events.
Mickelson's focus now will be trying to qualify outright for the 2018 Ryder Cup team, rather than have to rely on being a captain's pick as he was in 2016 and this week. Being 25 years since the last time the U.S. won back-to-back Ryder Cup as well as claiming one on foreign soil, Mickelson has already identified next year's event as something he must be a part of.
"That really is a special goal for me. I've never been a part of one of those teams [to win the Ryder Cup in Europe]," Mickelson said. "It would be a special career moment for me if I were able to be a part of that team and retain the Cup."
But what if something happen, and his game just wasn't good enough for him to make the team? Again, Mickelson wasn't ready to go there just yet.
"There will be a point where I look back and I remember, cherish, talk about all the experiences and memories that have been created, but right now I'm still trying to make more," Mickelson said. "I have not been a part of a Ryder Cup victory in Europe. It's a big goal of mine. We have the players, the foundation, and the direction. I want to be part of that team next year. I've got to bring something on the golf course. I'm going to go work hard on my game this off-season. I'm going to add some tournaments to try to get up on the list and make the team on the points. That's a big goal for me, so we'll see if I can do it."
Sort of makes you feel like this isn't it just yet for Mickelson.