All over but the shouting
The Inanity Index: The PGL will be heard, wordplay on Rory's coaching stable, and the Mickelson-cast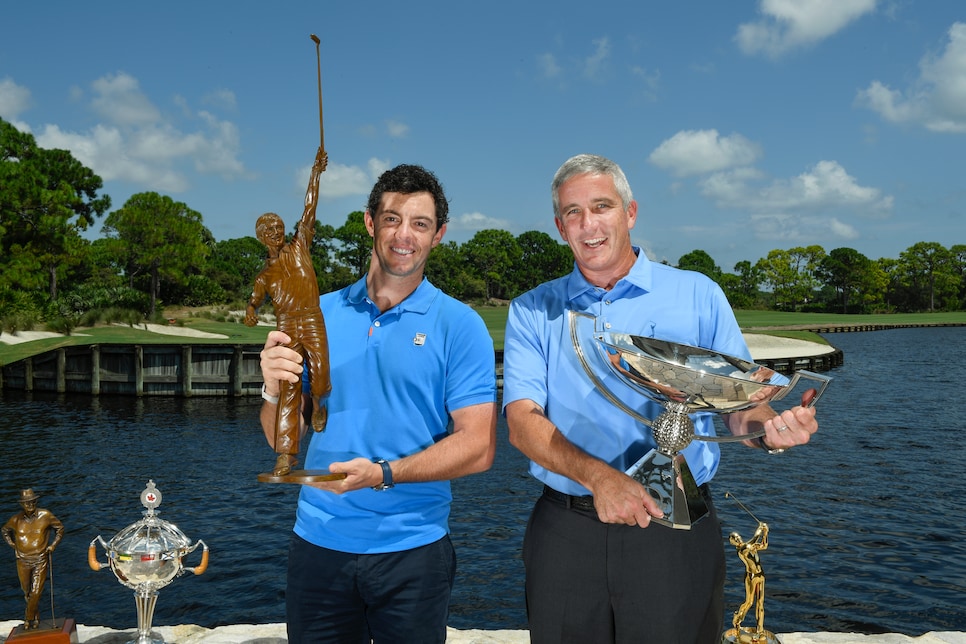 Unlike the European Tour, the Inanity Index made it through the first half of November without being rebranded. It still exists, for now, and while pro golf is absolutely not front-and-center this time of year, there is plenty happening on the periphery, and maybe even under the game's very foundations.
A reminder of how this works since it's just our second loop around here: The Inanity Index will consider stories and controversies on a 0 to 5 scale, with 5 being the most inane and well—let's face it—straight-up inconsequential if we want to be honest with ourselves about all that occupies our time shouting and laughing at each other in the golf corner of the world. As in golf, if you're a serious person here, you're aiming for the low number.
Let's look at some of the news and developments flying across our feeds in recent weeks.
Mr. Monahan, tear down this wall
There is no real off-season in professional golf, though it's indisputable that most of Q4 and November is not exactly a peak stretch. There are some season-ending titles to resolve, but the majors have long passed and the stakes range from ambiguous-to-silly. But while the actual on-course product fades to the background, the discussion on the disruption of that very product has never been louder.
Just a few weeks after the Saudi Shark swam ashore heading up Liv Golf Investments, now comes the Premier Golf League reminding folks of its existence and aims. Andy Gardiner, the public face and voice of the PGL, joined the No Laying Up podcast for a lengthy two-plus-hour interview expounding on his vision, its goals, feasibility, and current state. Gardiner is articulate throughout and the product described sounds refreshing and ambitious. But what is the PGL at this point? Is it more than an idea, even if it is a good one? Liv seems to have financial muscle, as far as that may take them relative to their other drawbacks. The Tour has financial muscle, some membership cudgels to wield (but also vulnerabilities), and the status quo advantages. What's the PGL have beyond a potentially good-to-great idea? And is that all it needs?
The current angle seems to be asking for a discussion with the PGA Tour. That sentiment is expressed repeatedly in the No Laying Up podcast.
"The original notion was always to work with the PGA Tour, believe it or not. Some might call that incredibly naïve but it remains our strong desire," Gardiner told NLU's Chris Solomon. "Our earliest documentation set out the desire to work with the PGA Tour and the view that once the format was understood, we couldn't see any reason why collaboration couldn't be achievable."
This desire for collaboration also appears on their social media channels, where they've also been busy reminding people of their existence and ideas.
On its face, this is a preposterous tweet, but then again most tweets are. There is the self-appointment into the "best minds in golf." And my door is also open to Augusta National if they want to offer me an invite to play in the Masters. So it's good to know theirs is open to the PGA Tour. The social media approach has been mostly baffling from the start and rates a 4 out of 5 on the Inanity Index.
You would not expect the Tour, as in the executives and not the golfers, to give the PGL's request to huddle up even the slightest acknowledgement. It seems that they're doing just that. But perhaps this is an attempt to get around that executive layer and appeal directly to the players with something that still feels like an idea far from being executed. "Player X, if you're listening, this is how it could be and how we could work together."
The proposed ideas sound great for a Tour that seems ripe for disruption, and perhaps too entangled to effectively achieve those adaptations internally with the half-measures of a PIP or some enhanced guaranteed purses. The PGL's ideas are fascinating and a steady 0 out of 5 on the Inanity Index. It's getting them off paper and podcast that feels more like a dream sequence ... but absolutely let them take their full cut at it.
You can't fire me, I quit.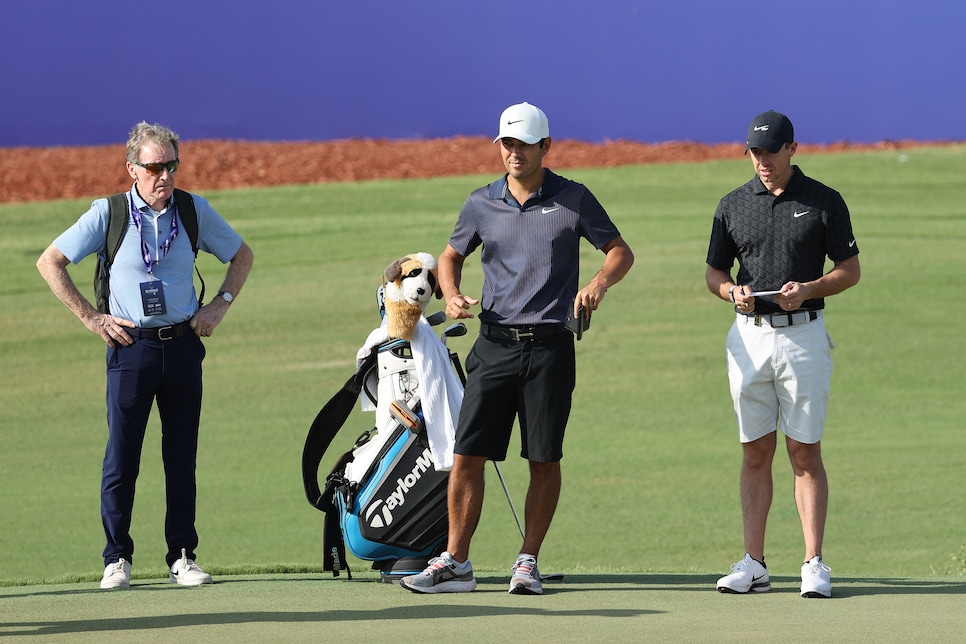 There are some people playing with words when it comes to Rory McIlroy's current relationship with famed instructor Pete Cowen, who said (suggested -- intimated -- obfuscated?) that he'd still have a role with Team Rory. Cowen has a unique arrangement with players who come to him for help, as outlined here. What's clear is that Michael Bannon, Rory's coach from childhood who had trouble getting over to see him during the pandemic, is back and on the scene this week in Dubai. Cowen has been relegated to some backbench position, if any at all. This seems clear, corroborated by Rory ("But now it's Michael and me," Rory told Eamon Lynch), and it felt like we were pretending it's more complicated than it is.
Rory also sounds like a man wanting to work things out on his own more often. "In those two weeks in between the Ryder Cup and Vegas, I feel like I figured a few things out on my own, which sometimes you need to do," he said this week in Dubai. "I'm not saying I won't need help ever again and that I've got it figured out. This is about being myself and not trying to do anything other people do or what I can't do. I went to Vegas with a little more self-belief, and I won that tournament, and that gave me even more confidence. So, if anything, Michael is more of a sounding board at this point. I say to him what I'm trying to do. And he tells me if I'm completely not right."
We can agree that Rory is exceptionally talented and should probably rely on his own intuition as much as he wants, and that Cowen is one of the most respected teachers out there now or at any time. But the wordplay that went on around this is a 3 out of 5 on the Inanity Index (this was a good joke tho).
"Well, I guess...Hello (DP) World"
I suspect the press release announcing the re-branding of the European Tour will not become some historical document like Tiger's introduction at the 1996 Greater Milwaukee Open. The change might offend some old world types waiting for the next famous five to come walking through that door. But the present-day European Tour is fortunate to still exist after the sudden shock of a pandemic on top of the less-sudden decade-long shift of the best European players primarily playing for more USD on the PGA Tour.
So they're adapting and strategic allying where they can, and now comes the full-on re-branding as the DP World Tour. The corporatizing of the name is less than ideal, but "world" is certainly a more accurate reflection of what this tour is and has been for several years now. More substantive than the new name is the increase in purse minimums, a new record purse for the season-ending event, and an expanded Rolex Series. The Tour will dot 27 countries for 47 events, which feels like wayyyy too many for any fan with a pulse to care about, but these are member-run organizations and the Toby Trees of the forest want their playing opportunities.
The name, however, is what stole all the headlines, and if we're being honest, who cares? People got their crude jokes off, and then the news mostly washed over. The re-branding rates a 4 out of 5 on the Inanity Index.
Well, will you look who's calling
This is probably the point where the Big Mike content mine should have been abandoned. The eye-rolling has little to do with "Big" Mike Visacki himself, the Monday qualifier who captured hearts and minds everywhere earlier this year with a truly genuine and emotional moment reacting to a real and laudable achievement. Seduced by the virality, the content miners and PGA Tour went to work to extract every morsel on what felt like a monthly basis this past year. And that's how you end up with a staged phone call from Justin Thomas that's the diametric opposite of why his original moment was so endearing (and viral!). It's also a full 5 out of 5 on the Inanity Index. Big ups to Big Mike for continuing to chase his dream and making progress through the recent Korn Ferry Tour Q-school, but let's give it some room.
All my FIGJAM friends are here for Monday night
You, the golf connoisseur, knows Phil Mickelson is brilliant on the microphone, whether it be at a press conference, wearing a wire during a silly season match, or dropping into the booth in the middle of a damn major championship. What was fascinating to watch this week, however, was the wider sports world's eyes opened when Mickelson joined the critically acclaimed Manningcast on ESPN2 for Monday Night Football.
The football geeks and sports generalists alike were amazed as Phil stole the show, peppering the Mannings with legit football questions and getting off the usual one-liners. It was no surprise to the golf sickos. Phil may have his shortcomings and is worthy of critique on certain matters, but he's a 10 out of 10 when it comes to entertainment on the microphone. His appearance on the Manningcast is also a 1 out of 5 on the Inanity Index, because while it was hardly golf-related and silly at times, it also provides hope that some TV exec will be provoked into spending all the money to one day spin up a golf facsimile of the Manningcast with Phil running the show.