Equipment
Power Prescription: 15 Ways To Get 15 Yards Right Now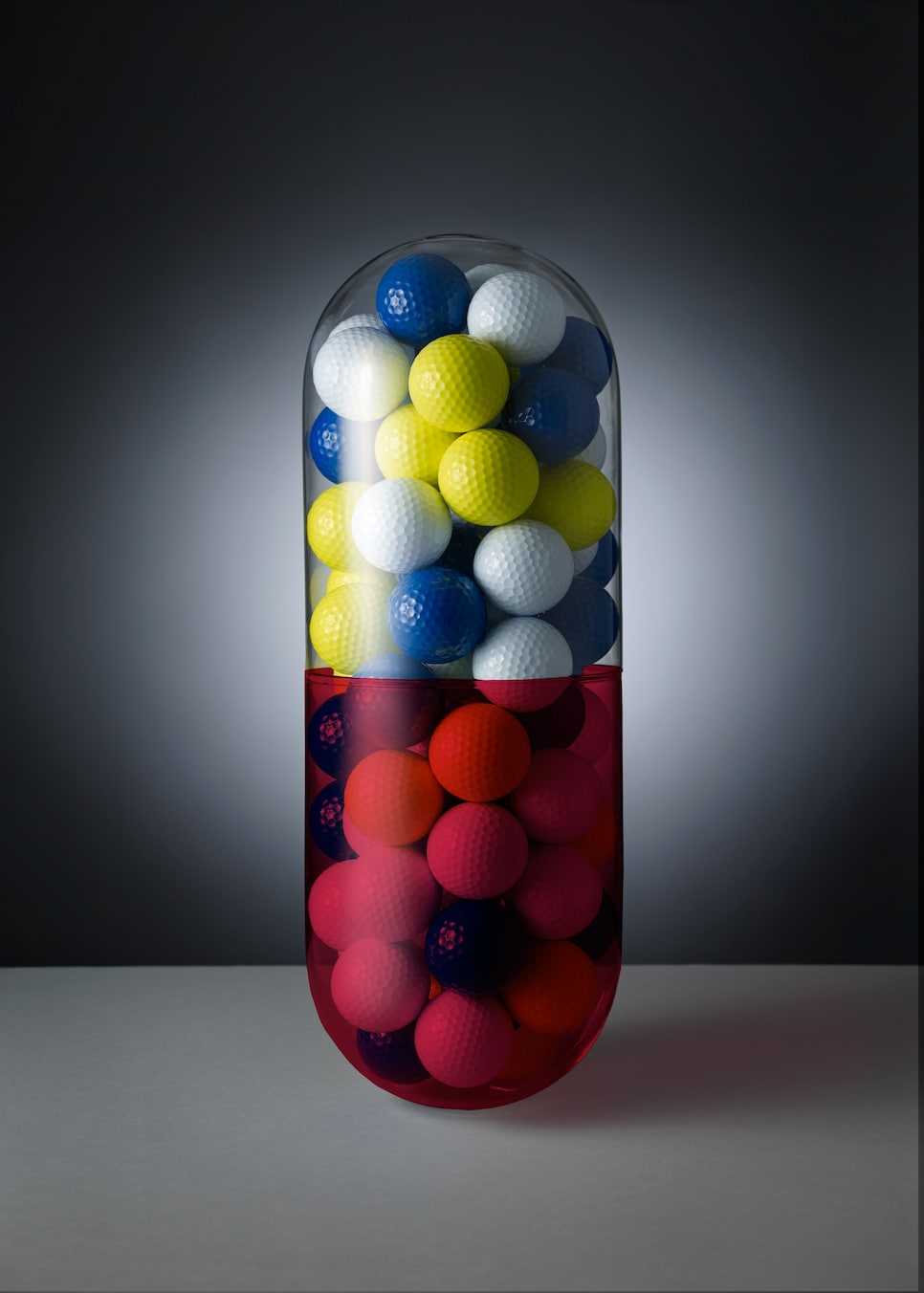 If you're like us, you've reached the point where what you really need more than anything in your life is 15 more yards. Like now. Forget about lessons, diet or exercise. Those things take time. You want something you can order online or shop for on QVC. You want a Phil Mickelson kind of insider-trading distance tip that you can cash in before Saturday morning. Pills, voodoo, an injection of any kind, whatever it takes, but you need those pop-ups to start turning into home runs, pronto.
So we surveyed equipment experts, including some of Golf Digest's 100 Best Clubfitters, to find instant cures to boost your performance. Maybe each one isn't for you, but trying out two or three or even four will likely save your season and have you walking a little taller.
1.) GET WITH A FITTER AND A LAUNCH MONITOR.
A good clubfitter and a launch monitor will identify parameters like ball speed, launch angle and spin to isolate your shortcomings. For example, TrackMan's Optimizer can show your ideal ranges for ball speed, spin and launch angle. To boost distance, many golfers need a launch angle of 12 degrees or more. That often means more loft on your driver, not less. Having a spin rate below 3,000 revolutions per minute can help, too.
2.) ELIMINATE ONE SIDE OF THE COURSE.
You can't hit it far if you're afraid of missing shots left and right. An adjustable driver can counteract an excessive slice or hook, allowing you to swing without fear of your usual miss. For most average golfers, "having more weight toward the heel of the driver will help promote better spin rate, which helps distance," says Brandon Collier of Pure Performance Golf in Naples, Fla.
3.) GET RID OF THOSE SHORT TEES.
Tee height might be the cheapest way to help you hit it farther. Tee it up so half the ball is above the driver's crown, and play the ball slightly forward of your front heel. This yields an upward angle of attack, higher launch and less spin. Our testing with Golf Laboratories Inc.'s mobile swing robot, LDRIC, showed that teeing the ball this high yielded 17 more yards than when the top of the ball was below the crown. Adding a forward ball position (just an inch forward from inside the front heel) saw a 20-yard gain. Swing tip: Don't lunge at the ball; swing through it.
4.) FIX YOUR FACE ANGLE.
You can quibble with how a closed face angle looks, but not how it works. For typical golfers, a closed face angle adds loft, and it helps shots that fade stay more on-line and roll more. For better players, a slightly open face angle instills confidence. Players naturally want to close the face coming into the ball to square it at impact. That face rotation encourages clubhead speed.
5.) GET LIGHTER SHAFTS TO INCREASE SWING SPEED.
Lighter shafts in your driver and irons can increase your swing speed. But consult a clubfitter first. Says Woody Lashen of Pete's Golf in Mineola, N.Y.: "Lowering the weight of the shaft can help older players get back some of their distance, but keeping the same flex maintains their accuracy."
6.) CHOOSE A STRAIGHTER CLUB OFF THE TEE.
Foresight Sports GC2 launch monitor's simulation program found that shots that land in the fairway roll three times as far as those that land in the rough. At average swing speeds that's an 18-yard advantage for balls that land in the short grass. What this means is, you need a driver you can hit straight consistently, not just one that goes really long once in a while. Also, if you opt for the 3-wood off the tee, it might be easier to hit straighter, and it might just roll out as far as where your wild driver shots finish in the rough.
7.) FIND A DRIVER THAT LOWERS BALL SPIN.
Launch angle is more important for golfers with slow swing speeds, but reducing spin is vital for fast-swingers. Less spin on tee shots means they'll land hotter. A Golf Digest test showed that tee shots landing at a flatter angle (less than 42 degrees), even though they carried slightly shorter, produced 17 more yards.
8.) IT'S NOT JUST THE LOFT ON YOUR DRIVER THAT NEEDS A BOOST.
Increase the loft on your lowest-lofted fairway wood for a better launch angle, says Dan Sueltz of D'Lance Golf in Englewood, Colo. Most average players, particularly women and seniors, can't get their fairway woods in the air: "A 4-wood or even a longer-shafted 5-wood is better for those golfers."
9.) STRENGTHEN YOUR IRON LOFTS.
Wait, what? Average golfers might need lower or stronger lofts throughout their irons. That's because they add loft at impact, says Collier, turning a 7-iron into an 8- or 9-iron. That's a more glancing blow. A fix is to get a clubfitter to bend your iron lofts a degree strong. "For those who swing outside to in and add loft at impact, a slightly stronger loft will help them gain distance," he says.
10.) MATCH YOUR IRON'S SOLE TO YOUR SWING.
The bottom of your irons is a key to getting more distance. For example, a steeper swing requires a wider sole and a higher bounce angle for the club to move cleanly through the ground. "Not having clean contact through the turf can decrease ball speed," says Nick Sherburne of Club Champion in Chicago. "A sole that cleans up a player's impact will lead to more speed into the ball."
11.) YOUR WEDGES ARE THE WRONG LOFT, TOO.
Many average golfers scoop the ball with their hands at impact. That added loft makes for a glancing blow that can really throw off your wedge distances.
Lower wedge lofts can help, like a 50-degree model instead of a 52-degree. Says Sueltz: "You can get some of that distance back without changing your swing."
12.) GET NEW IRONS.
You don't have to hit your tee shot longer to get a shorter club into the green. Get new irons instead. Today's irons with faces that flex like drivers are often a club longer than previous models. So even if your same tee shot still leaves you 140 yards from the green, your new irons might let you hit 9-iron instead of 8-iron. So you've effectively gotten longer with your tee shot.
13.) BUY CHEAPER BALLS.
A Bridgestone study found that switching from a multilayer, urethane-covered ball to a less-expensive multilayer, Surlyn-covered ball yields about 12 more yards with the driver and six more yards of carry with the irons. Warning: A ball with a Surlyn cover won't check up around the greens like a ball with a urethane cover.
14.) WEAR THE RIGHT SHOES.
Your shoes could be slowing down your swing. FootJoy's research and its new fitting program, which works with a foot-pressure mat, have found that matching the right kind of shoe (flexible or structured, for example) to a golfer's footwork showed gains of as much as three miles per hour in swing speed.
15.) CHANGE THOSE OLD GRIPS.
You're wasting energy and slowing your swing by squeezing those grips that haven't been changed in more than a year. Fresh grips mean less tension and more distance. A Golf Pride study found that swing speeds improved by more than two miles per hour when a player replaced an old grip with a new version of the same grip.