Viewer's Guide
How to watch Tiger and Charlie Woods (and the rest of the field) play in the 2021 PNC Championship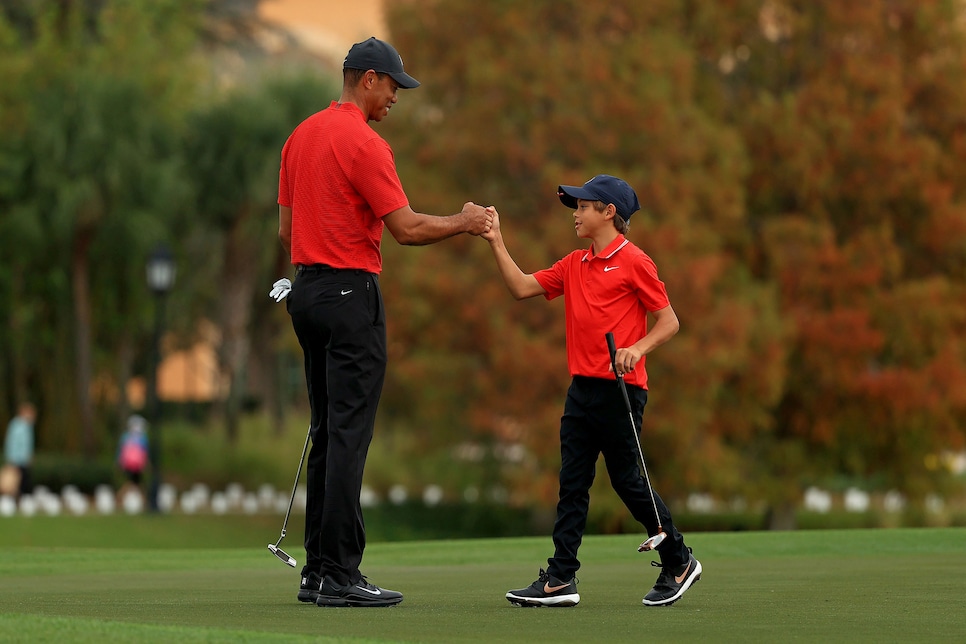 Tiger Woods and Charlie Woods, fist bumping on the 18th hole a year ago at the PNC Championship, will be back playing in the two-day team event this weekend in Orlando.
Mike Ehrmann
It's mid-December, and if you're like some people who are typing this story who we know, your holiday shopping list still has some items to cross off. You probably, then, weren't planning on spending time this coming weekend watching a golf tournament, particularly an exhibition event consisting mostly of senior tour pros and their kids. That is until Tiger Woods decided to pick the PNC Championship as his return to golf following his February car accident, and suddenly your Saturday and Sunday needed to get rearranged.
Suffice it to say, watching the 15-time major champion play with his 12-year-old son Charlie in the 36-hole team event is something most golf fans are excited about. The duo made their debut in this event a year ago, and Charlie's anxiousness to play again sounded like it caused Tiger to say yes even if his swing is still in the early stages of recovery.
"Although it's been a long and challenging year, I am very excited to close it out by competing in the PNC Championship with my son Charlie," Tiger said on his Twitter account when announcing he would tee it up. "I'm playing as a Dad and couldn't be more excited and proud."
With Team Woods in the field, NBC and Golf Channel are increasing their previously planned coverage from the Ritz-Carlton Golf Club in Orlando via their streaming service, Peacock. Additionally, Golf Channel will air live coverage of Friday's PNC Championship Pro-Am, which Woods is scheduled to play in. Golf Channel also will air Golf Central from onsite Thursday through Sunday.
Here's all the listings for television and streaming coverage from the tournament. All TV broadcasts can also be streamed on Peacock and the NBC Sports app.
12:30-2:30 p.m., Golf Channel (Pro-Am coverage)
12:30-1:30 p.m., Peacock only
1:30-2:30 p.m., Golf Channel
11 a.m.-noon, Peacock only
Noon-1 p.m., Golf Channel
Stewart Cink & Reagan Cink
John Daly & Little John Daly
David Duval & Brady Duval
Nick Faldo & Mathew Faldo
Padraig Harrington & Paddy Harrington
Matt Kuchar & Cameron Kuchar
Mark O'Meara & Shaun O'Meara
Gary Player & Jordan Player
Henrik Stenson & Karl Stenson
Justin Thomas & Mike Thomas
Lee Trevino & Daniel Trevino
Bubba Watson & Wayne Ball
Tom Watson & Michael Watson
Tiger Woods & Charlie Woods
On-course reporting: Roger Maltbie, Notah Begay III