The Loop
Plodding along while the wind blows at St. Andrews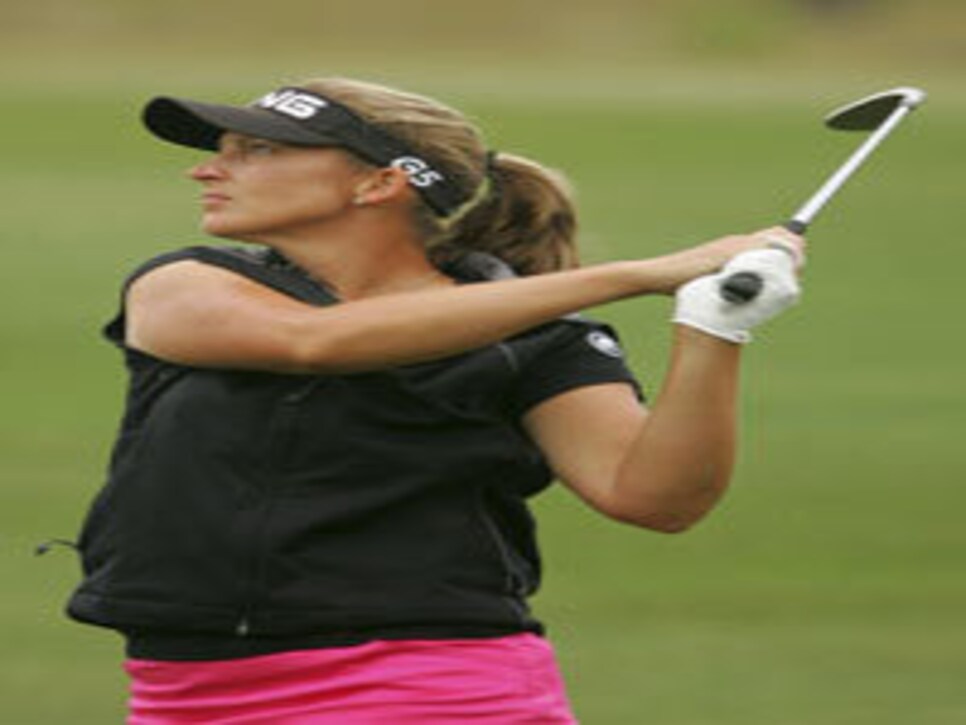 ST. ANDREWS, Scotland - Angela Stanford (right) had plenty of reason to be miffed Saturday morning. She had to return to the Old Course shortly after 5 a.m. and tee off on No. 17 at 5:55 to finish two holes and miss the cut by two strokes. What is difficult to understand is how a player with as much status on tour as Stanford managed to get the last tee time of the day on Friday. Clearly tee times were jiggered to accommodate TV, and the TV audience being catered to was not in the United States. The Stanford dawn return on Saturday also focuses attention on the pace of play here this week. The 2007 Ricoh Women's British Open will go down in history as the first women's professional tournament played on the Old Course, but it will also go down as one of the slowest. It is astounding that in Scotland in August neither the first nor the second round finished on the day it started.
On the caddie front, David Clarke made it official Friday night and quit Michelle Wie's bag. He joins a list that includes -- but is not limited to -- Greg Johnston, Jimmy Johnson, Fannie Sunesson, Tony Navarro, Bobby Verway, Fluff Cowan, Gary Gilchrist and, of course, B.J. Wie who have looped for Michelle. There were a couple of familiar faces working this week. Peter Coleman, the longtime caddie for Bernhard Langer, carried for Yuri Fudoh of Japan. And Dave Renwick, one of only two men to have won major championships with three different players, was on the bag of Mhairi McKay. Renwick won majors with Vijay Singh, Jose Maria Olazabal and Steve Elkington. The other caddie to win majors with three different players is Dave Musgrave, who caddied for Seve Ballesteros, Lee Janzen and Sandy Lyle when they won majors.
Think the wind was blowing Saturday at St. Andrews? Seven of the first nine players to finish shot 80 or higher. The wind was gusting so strongly the standard bearers â¿¿ those volunteers who walk around holding up scoreboards â¿¿ were being buffeted around like sailboats in a gale. When one standard bearer was chastised for not holding the sign higher so it could be read, she said: "It hurts too much to hold it up in this wind. I have to hold it down." That answer produced a prompt, "Sorry" from the ever polite Scottish fan.
(Photo: Scott Halleran/Getty Images)