The Loop
(Please) Return To Sender . . .
My worst day on the job might involve bad weather, a delayed or missed flight, a bad rental car or caddie, fried airport food, a chatty neighbor on a long flight or, the worst case scenario in my opinion--lost luggage.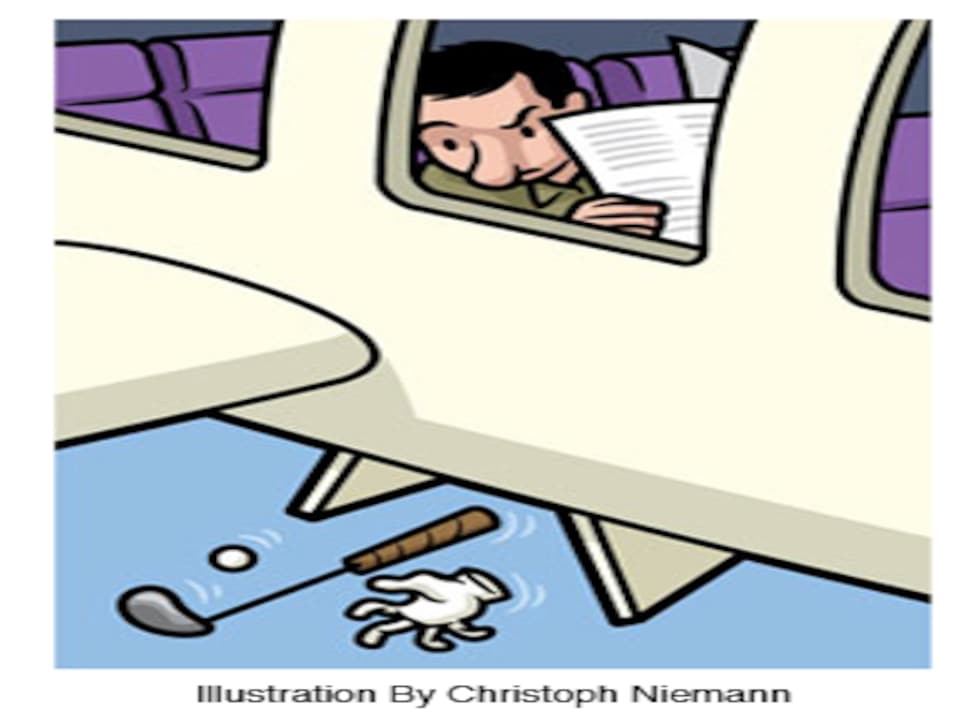 Over four weeks ago I was on my way to reporting an upcoming Away Game in Washington and my golf bag never arrived (they lost it!). My clothes arrived, which is a good thing, but the contents of my golf travel bag, in addition to what is my toolbox (my clubs), was two pairs of golf shoes, a pair of sneakers and my best rain gear (it rains a lot in Washington). I should mention the sentimental stuff like a Turnberry ball-marker, a Carnoustie head-cover for my driver and my collection of good gloves that all fit like, well, a glove.
American Airlines said the bag was in Los Angeles (they found it!), and they were handing it over to Alaska Airlines because American's DC-80s were grounded for inspection, and Alaska could get it to me in Tacoma the following day.
In the meantime, in order to play the scheduled 36 holes, I bought golf shoes that tore chunks of skin out of the back of my heels (I'm still applying Neosporin and Band-Aids), rain-gear I didn't need even though the forecast called for rain, a glove that didn't yet fit like a glove, and used a decent rental set at a future U.S. Open site. When I returned to my hotel, my clubs had not yet been delivered.  Which was a shocker. I called to get an update. Both American Airlines, and now Alaska Airlines, were not sure where the bag was. (They lost it again!).
I could go on-and-on about my frustration, the different sets of clubs I've used the last four weeks to play world class golf courses, the amount of time I've spent filling out paperwork or being on hold waiting for a human to respond to my latest, "Helloâ¿¿my name is Matt Ginella, I lost my bag ___ weeks ago and I was checking on the status of the search." But let me try to cut to the chase:  My bag is still lost.
My "case" has been turned over to American Airlines Central Baggage in Texas. They're using a "Worldwide Tracer" to scan all airline entries of lost luggage. So far they "do not have a match to my bag description."
Never mind my travel bag has my name stitched on the side in big blue letters, or my business card is in the clear plastic pouch, I'm thinking my golf bag, thanks to American and Alaska Airlines, might be somewhere in Alaska, or even worse, no longer in America. Right now the only thing between me, some sort of "compensation" and building a new set from scratch, is time and this "Worldwide Tracer."
After 10 to 12 weeks of filing the lost luggage paperwork, which they have you do after your bag is missing for five days, I'm told I will get a letter from the claims department letting me know how much THEY value MY bag of stuff. Of course I tried to make each item in that bag sound as valuable as it actually is to me, and my golf game.
After all this is THE bag.  The one I've been assembling for years. My Club Glove was personalized, my Adidas golf bag was brand new, my driver is the one that does the best job of keeping my worst shots on the map, my irons were custom fit by Taylor Made in Carlsbad, my wedges would be my money-clubs if it wasn't for my favorite putter that I've left and come back to three times in the last seven years. Full disclosure; I could use an update on the two rescue clubs, but I have a shoe-fetish, and all three pair of shoes were the Top Gun of their kind in my closet.
Pardon the rant, but this is a subject near and dear to my heart and can't be too far from the big beating muscle in the center of the chest of all golfers. According to me, I think the total value of the bag by the time I got through with the list of contents was $3,400.
Is it all worth that much? I don't know. I would argue this; the value of a golf travel bag with the things I've described above and for the reasons I've mentioned is actually: Priceless.
Will this Worldwide Tracer come back from six down with seven to play and win this match? I don't know that either. I'm guessing I get a check for three figures and some sort of formal apology the second week of July.
Oh, the travel troubles we weave when at first we try to take a golf trip.
My colleague and another angry golfer (and frustrated traveler), John Hawkins, called me the other day.  He flies Delta as often as I fly American. He told me he was divorcing Delta and wanted to know how I liked American. I offered him American and all of my miles for Delta and all of his miles.
American Airlines can trace this--I think we both might turn to Jet Blue.
PS--I wrote about lost luggage in the section of Travel Trouble in the April issue. At the point of staring longingly at an empty conveyor belt in Seattle and realizing my bag was lost, I tried to play by the rules. I'll let you know how much American Airlines compensates me for the rental sets per day and how much money I receive, assuming I'm forever stuck with lost sticks.