News
Playing with one club is the perfect answer to bad greens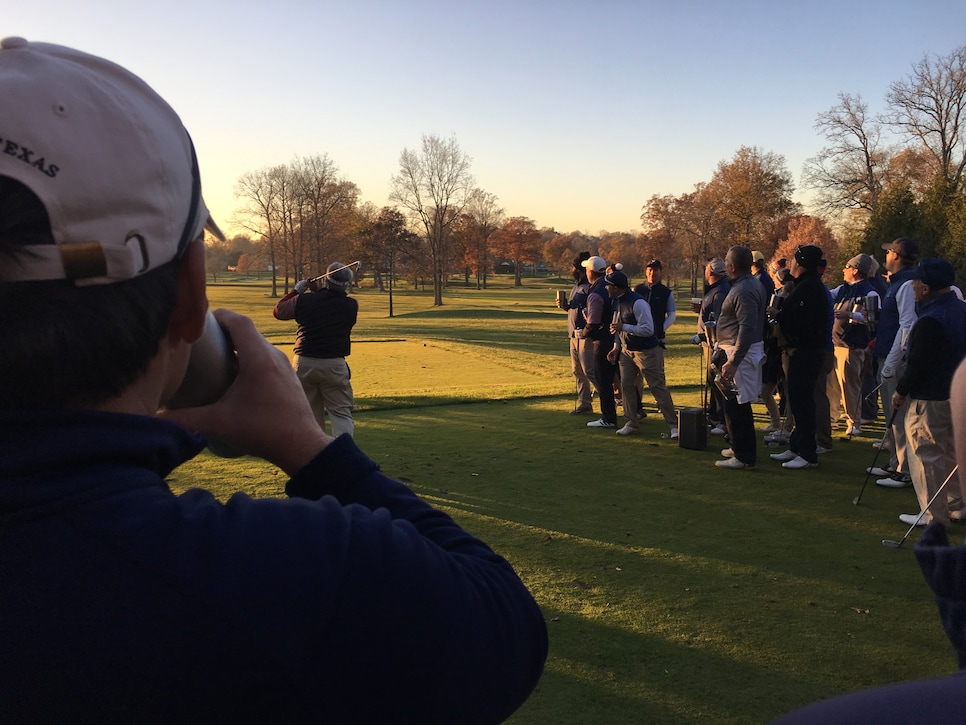 For most of the country, the holiday season means greens that suck. Drilled with holes and dressed with gravel in preparation for winter, like some manky cosmetic applied before bed, only the rabid say, "Hey, let's play anyway."
However, a solution for the sensible is to leave the putter at home. In fact, to leave every club there save one. Playing an entire golf course with just one club, say a 6-iron, is one of those things that sounds like a waste of time until you do it. Over the weekend I participated in the One-Club Championship at Country Club of Darien (Conn), where this format is treated like a big deal. The winner from the field of 84 players (that's right, the max-capacity field nearly doubled the temperature) gets his name immortalized in gold paint in the locker room, right alongside the boards for the club's other majors—the club championship, the member-guest and the member-member.
Some benefits of one-club are readily apparent. There's no need for a bag, a caddie or cart. Walking briskly is key to keeping warm in cold weather, and almost every golfer is physically capable of enjoying carrying a single club for a few miles.
Other benefits take longer to reveal themselves. Each summer, usually around the British Open, some windbag at a grill room near you begins to wax about the lost art of "the ground game." Indeed, lob wedges, four-piece urethane balls, custom-fit sets and other technological advances make the game easier for us by making it more one-dimensional. But in one-club, even the daftest strategic minds learn to see their game not as one-shot-at-a-time proposition, but as several shots linked successively. You tack left and right, mindful of green openings and setting up favorable yardages. Never have bunkers seemed so hazardous.
What's truly best about the format, however, is the near instant parity. Things like strength and talent become subservient to club-choice. If you brought your 18-degree hybrid, suddenly you're the longest guy in the group. Choose a wedge, and you'll feel like Phil Mickelson. It's almost like you get to exchange your entire golf personality. The lowest gross score (43) came from the 6th flight, though the best round (41) was from head pro Cory Muller, whose score didn't count. Muller was the only one who went with a 4-iron, which both enables and pressurizes hitting par 4's in two. His tip for a greenside bunker, which he ably backed up with a soft trickler to 20 feet: "You absolutely cannot contact the ball with the club. Just swing down as deep as you can and then stop, and you'll dislodge enough sand to make the ball pop out."
There have been several instances of golfers breaking par using one-club, including a round by Bubba Watson in his high school days. The two-time Masters champ and shotmaker savant reportedly still plays one-club golf whenever he can, sometimes even with driver, to keep sharp.
Aside from minimizing the importance of putting (incidentally, I started out bellying my 7-iron, then saw better results using the back of the blade left-handed), perhaps the best thing about one-club is the automatic ratcheting down of seriousness. Drinking is another key to maintaining cheer in adverse conditions, and one-club golf ensures a free hand to carry a beverage. And since there was no need to utilize the bag drop, everyone at CCD kept his club after regulation play ended. As a cane, a pointer, a tickler or even a toy weapon, a golf club is a nice thing to have around for cocktail hour.
I encourage any golfer looking to end their 2017 season on a memorable note to give it a try.