Editor's Note: This article first appeared in Fire Pit Collective, a Golf Digest content partner.
MACHRIHANISH, Scotland — I was playing the old and rugged course here the other day, with its sing-song name that looks harder to pronounce than it is, in this remote and windblown nook of this remote and windblown country. My playing partner was a local, a retired roofer named Tommy Blue, who has lived in these parts all his life and has played Machrihanish for most of it. The course features a thrilling opening tee shot, in which you carry as much beach and dune as you feel you can handle (above). The club's logo is an oystercatcher, a black wading bird with a white belly and a long orange beak. As it happened, Tommy's tee was bright orange and plastic and almost impossible to break or lose. So tee, not tees.
"Who's the most famous golfer you've seen here?" I asked.
Don't lose your haggis: We were in Tommy's buggy. Yes, an electric cart, here on this swath of ancient linksland, my wee and underpopulated golf bag attached to its hind quarter by the familiar strap every American golfer knows. You could smell the cow-dung fertilizer in the wind coming off nearby farm fields. There were warning signs instructing golfers and beachgoers not to touch the dead birds that had been mysteriously washing up on the shoreline. Neither condition was anything like typical, I should note. Also, we were playing links golf in a good breeze, bathed in sunshine, with the Irish Sea in plain view.
We were having a good time.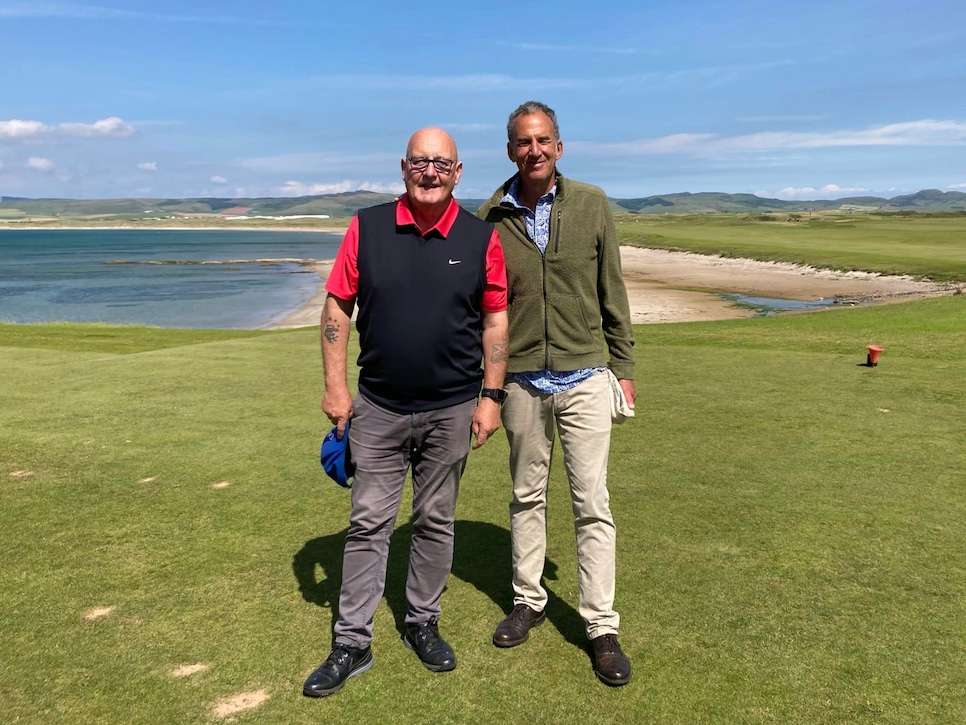 Photo credit: Jennie Dunn, Head Golf Professional at Machrihanish
Tommy couldn't think of a single famous golfer who had played the course. Paul McCartney has a farm in Machrihanish and Tommy has met him, both as a roofer and a musician. (As a teenager, Tommy played bass drum when McCartney recorded a song on his farm, backed by locals, called "Mull of Kintyre.") But McCartney has never been a golfer. Then an answer came to Tommy, a decidedly appropriate name in these times in which we live.
"Aye, Greg Norman did come here once," Tommy said. We are both 62, and his music is my music, and his golf icons are my golf icons. "He came in on a helicopter. My brother watched him play the last three holes. He came, he played, he was off."
Greg Norman, your LIV commissioner! You can't escape him, even on this remote peninsula, the Mull of Kintyre, in southwestern Scotland. At some point on the course, the conversation would turn to LIV. On the clubhouse TV here, tuned to Sky Sports, there's a passing reference to LIV. In the papers, the same. Ian Poulter this, Henrik Stenson that. Plus Norman, Norman, Norman, the Aussie who won the British Open twice, once in England, at the notorious RSG, and once on the west coast of Scotland, at the course now called Trump Turnberry. Even the people here have heard what the R&A bosses have been saying behind their heavy brick walls: As long as the Trump name is on the course, the Open is not going back there.
By the way, there's a well-regarded course in Ireland designed by Norman and now called Trump International Doonbeg. Donald Trump has a course in Aberdeen, Scotland, as well. I visited the land there years ago, when the course was under design, through towering dunes. I told a fellow that Trump had told me the dunes were called the Great Dunes of Aberdeen. The man was confused. He had never heard that. What, I asked, do you call them? "The dunes," he replied.
It's a new sport, to sing Norman's praises these days, at least in certain circles. Trump, Phil Mickelson and Charlie Howell are in that chorus, along with various members of the House of Saud. Quick question for CH3, one of the more engaging people to play the PGA Tour over the past 20 years, and I am borrowing this query from a friend: What tour does your son, the good junior player you've been speaking of, dream of playing when he grows up?
Of course, there's another chorus too, filled with detractors, some who are discreet about it (Fred Ridley, Jay Monahan), others who are not (Brandel Chamblee, Eamon Lynch).
Well, let me say this in defense of Norman: He has excellent taste in golf courses. Golf Magazine once asked him to rank his 10 favorite courses. He put Machrihanish eighth on his list.
But the point here is that, in this summer of golf's discontent, the upheaval over the "rebel golf league" (per London's Daily Telegraph) has washed up on the shores here, along with the dead birds. And influenced nothing. Because I have news for all of professional golf: You are a Weight Watchers slice of the world's golf pie. The draw of the game is the game. The game! This difficult cross-country game that has never been a mainstream sport and never will be. But the game is so great that the course here, expanded to 18 holes by the senior Tom Morris in 1879, has hung on through hard times and good ones, in sickness and in health. Machrihanish — MACH-rah-HON-ish, with a gentle guttural ch, like the proper pronunciation of J.S. Bach—is a sliver within the niche.
It would be too rugged for some visitors. It has no driving range, no cart culture—Tommy has a bad foot—no fancy hotel, no caddie program, no dramatic closing hole. But the land tumbles and heaves, the wind changes from day to day, and if you're not allowing for it on every shot, you're not really playing golf.
I've been on a wee golfing bender here, and if you'll indulge me, let me share this observation. Bobby Jones famously said, "You may take from me that there are two types of golf. There is golf — and tournament golf. And they are not at all the same thing." That's from Down the Fairway. Yes, one of the greatest golfers ever was also one of the game's best writers.
I played in a one-round, stroke-play event down the road from here the other day, at Dunaverty, a fabulous and challenging par-66 course that is three feet short of 4,800 yards. We played in a wind that was approaching stiff. I wore a ski hat for most of the day. My goal was to play the round with one ball, and by 14, still with my first ball, the pressure of it all was starting to wear on me. I kept it in play right through the bottom of the 18th hole, a 300-yarder, into the wind. Solid drive. Punch 8-iron. Made a 15-footer for my only 3 of the day.
I can't imagine doing that for three more days, in the wind, with a 36-hole cut. The mental pressure of true tournament golf, as Cam Smith and Cameron Young and Tiger Woods and Max Homa and Rory McIlroy played it at the Old Course in mid-July, is, assuming you play well enough to get to the weekend, more than we can imagine. But Jones knew all about it. A 54-hole event, with no cut and 48 players on a soft course, is just a different thing for the best players in the world. The LIV people can call it tournament golf, but it seems like something else to me. Stroke play is not the everyday game at Dunaverty or Machrihanish or anywhere real Scots play the game they invented. Golf is about earning everything you get from the game, and I'm not talking about money. The LIV thing is not the Calvinist Scottish game. It seems to me like it's money for nothing. That's OK if you're into that sort of thing. To me, it's not golf. It's a show. There's nothing wrong with that, but for me, golf is not a show.
As it happens, all my golf here has been with Scots. You almost wouldn't play here without having some sort of simple match. It's the match that makes the course come alive, along with the wind and the devil and the angel in your head, as you stand over a ball, caring about what you do.
My point to Bob Jones, honorary citizen of St. Andrews in perpetuity, is this: All golf is tournament golf when you're out there not just for the walk or the fresh air or the camaraderie, but also for the game. The game! Not the riches golf can bring its most elite players, but the deep, deep pleasures it brings the rest of us. Your game, your match, your plan to hit a punch-hook 4-iron off a wee hanging lie into a slice wind and to a back-left pin. And now that ball is off the face, and what will happen next no commentator could possibly say. Golf is the unknown and the unknowable. And still we soldier on.