Judgment Calls
A heated debate about breaking 80 is really about more than that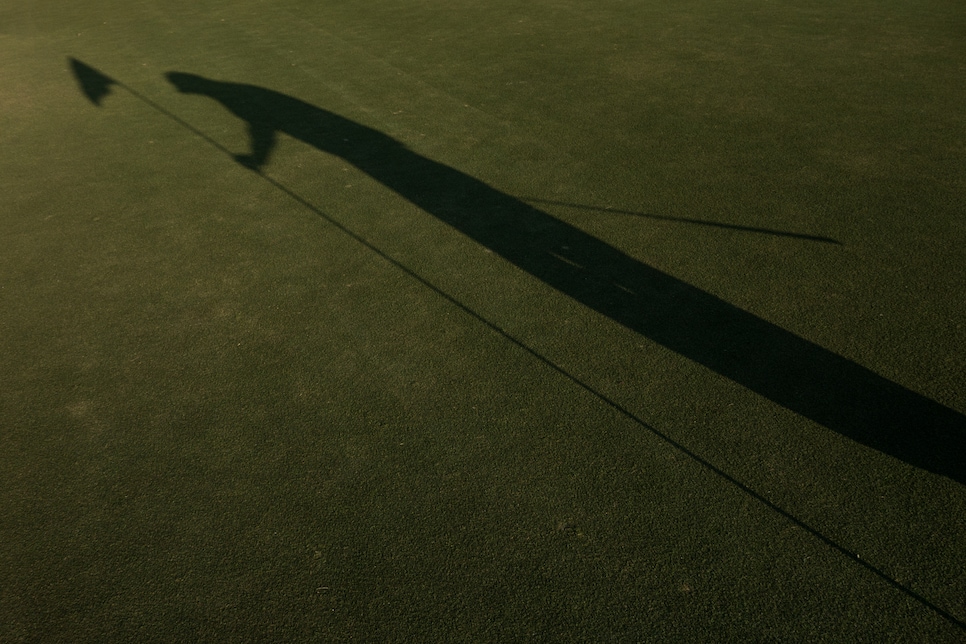 A heated philosophical debate began with an evening nine. This was at my home course, where breaking 80 for me has always been a big deal, especially since it starts with a front nine that is two or three strokes tougher than the back. I've posted a bunch of back-nine scores in the 30s, but they've always come after a lackluster start. By my English major calculus, a solid chance at 79 depends on me being no more than five over at the turn.
Fast forward to the other night. My teenage son and I teed off just before 6 p.m., and since I knew I needed to be back for a meeting at 8, we were only counting on playing nine holes. Complicating matters further, I had tweaked my back earlier in the day, so I was probably swinging at around 75 percent (let's pause at this point in the story to acknowledge how incredibly lame I sound).
Still, for whatever reason, I had found a groove, and when I stood on the ninth tee, I boldly told my playing partners that I was going for 39. With a solid drive, a crisp wedge and a steely putt, the closing birdie put me at three over.
To summon three consecutive clutch shots on command might have been the most impressive 10 minutes of my golf life. Less impressive: I had to go, and I knew what I was leaving behind. It was getting dark, and I had agreed to a conference call that I couldn't skip. Only as we headed to the car did the thought strike me: Wait, can I just come back and finish tomorrow?
Now, at this point, we should acknowledge the official stance on this: For handicapping purposes, the USGA indeed allows you to combine nine-hole scores to arrive at a full 18. So If I returned the next day, or even a week later, and shot 40, I could post 79 to GHIN. Furthermore, we know tournament golf rounds are interrupted by darkness or weather and carried into the next day all the time, and those 18-hole scores count the same as any others.
So in that sense, there was no technical debate that I could come back the next day, tee off on 10 and continue my "round." But that isn't really what we're talking about. We're talking about whether something "counts" in the nebulous way you talk about it with your friends, no different than when someone asks if you've had a hole-in-one, or the last time you were in a fistfight. And when I put the question on whether the round should count on Twitter, the answer was a definitive yes.
In other words, it was complicated.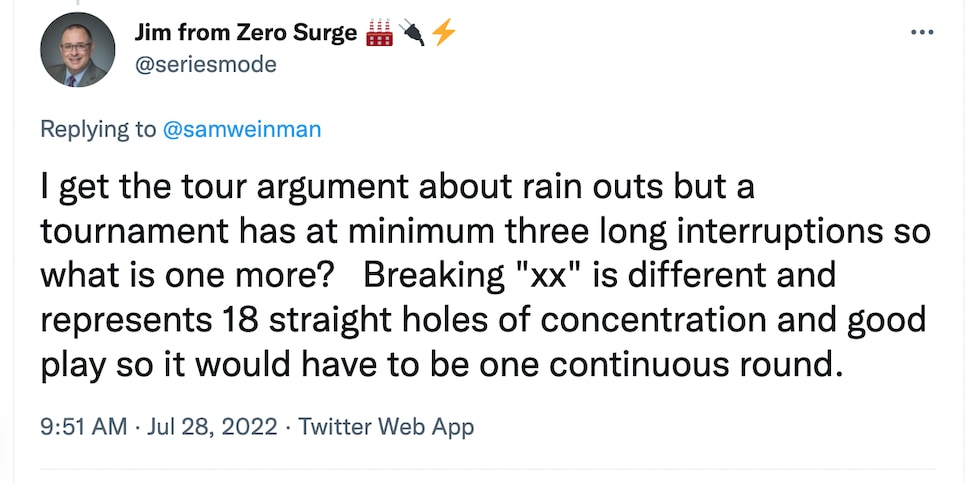 I even got grief from work colleagues.

The original tweet, and an ensuing poll, elicited a broad and passionate range of responses. While a sizable faction cited the GHIN rules as well as tournament precedents, more than half of the respondents said a true first time breaking 80 needed to be over 18 contiguous holes—same day, same clothes, the looming prospect of a career breakthrough growing larger over every shot.
Spoiler alert: I agree! While friends and social followers thought I was looking for permission to take my 79 any way I could get it, I actually wouldn't "count" it either. Over the past 24 hours I've given this topic the depth of thought I should be devoting to more serious issues— LIV vs. the PGA Tour, inflation, arm-lock putting—and I've determined the debate taps into all the ways golf challenges us, and where it personally tests me the most.
In my case, I wouldn't be concerned about fatigue, and if anything, a night's sleep knowing precisely what was at stake over the final nine would only magnify my nerves. Plus, for a player of my ability, so much of the game is about an undefinable rhythm that arrives unannounced and disappears just as abruptly. Given that, you could say 79 strokes over two days could be considered more impressive than if done in one.
Except it wouldn't be, because to me, golf's biggest challenge is tied to our expectations, and the impediments they create. While my game has turned an encouraging corner recently, at least a small reason I played so well the other night was the context. It was late. My back was sore. Much as these sound like ingredients for mediocre golf, they were actually the elements that lowered the stakes and freed me up to just play. In an alternate scenario where I know my round continues, I could expect my grip to tighten as I silently added up my score.
Taking the discussion a step further, you might say your perspective on the question is dictated by what a golf score means to you in the first place. Save for low-stakes money games and B-flight club championships, none of my golf "counts" in any meaningful way. And it's less about what I tell my friends at the bar and more what I want to tell myself.
Breaking 80 is a barrier that has towered over every round, and there's a reason I haven't cleared it before. When it does happen, I don't want any doubt that it was earned.