Takeaways
Players 2021: Justin Thomas wins like Hogan, Lee Westwood's close miss and Bryson's topped shot for the ages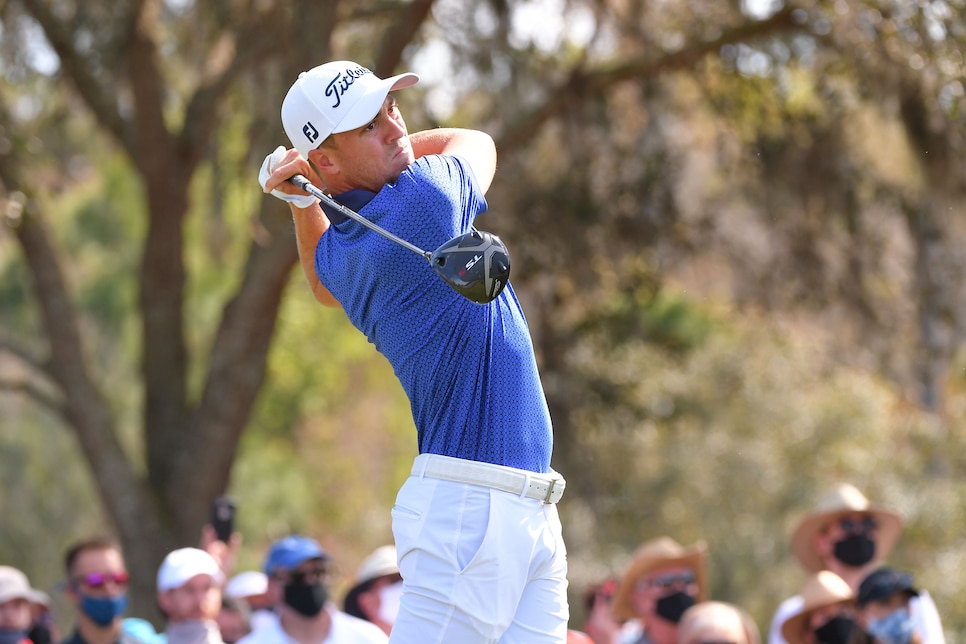 Justin Thomas plays his shot from the ninth tee during the final round of the Players Championship.
Ben Jared
It's been a year these last couple of months for Justin Thomas, who in short order found himself dealing with the fallout over his muttering of a homophobic slur during the Sentry Tournament of Champions, to the near-fatal crash of his good friend Tiger Woods, to the loss of his grandfather Paul, who passed away ahead of the final round of the Waste Management Phoenix Open.
"It just was a lot, and it took a lot on me mentally," Thomas said Sunday night. "At the same time, that's just the way that it was. I had to figure it out and had to get over it, and if I wanted to come to these tournaments and have a chance to win, then I needed to suck it up and get over it."
He certainly did that at TPC Sawgrass, where a sensational final-round 68 catapulted him to a one-stroke victory and his first Players Championship.
Even in victory, there was adversity to overcome, though. After a three-putt bogey on the par-3 eighth, Thomas found himself three strokes back. Then he hit the gas in what will go down as one of the tournament's most epic performances.
Here are our observations from Sunday's final round.
JT's Hogan-esque performance
Only six times in the Players history has a golfer hit all 18 greens in regulation at TPC Sawgrass. Thomas was on pace to do that Sunday before his final approach came up a couple of inches short.
Thomas is a maestro with an iron in his hand, and he was all week, but especially so on Sunday. To lose more than two strokes putting on the field in the final round and still shoot a 68 speaks volumes about how good his ball-striking was.
While Thomas made nothing with the putter early, the good iron work finally paid off with the birdie-birdie-eagle-birdie run in the middle of his round. The only one of those red numbers that came from outside of seven feet was on the par-5 11th, where Thomas reached the green in two then sank a 19-footer.
"I really felt like as soon as I started on 1 tee, I just was in a zone and in a focus that I felt like I could make the ball do what I wanted with it, and it felt like I could hit the putts exactly how I wanted," said Thomas, who hit 27 straight greens before coming up short on 18 on Sunday. "Yeah, it was nice to get in that little head space."
Still, there were nervy moments coming down the stretch—a two-putt from 48 feet for birdie on 16, an anxious five-footer to save par on 17 after blasting his first putt from across the green by the hole, and a hooked 5-wood off the tee on 18 that somehow bounced straight up the fairway rather than into the water.
"I thought it was very 50/50 on if it was going to be dry or in the water," Thomas said of his tee shot on 18. "The only thing I knew is that I just absolutely smoked it. Obviously the farther up you get the better chance you have, and I knew that if you're able to kind of get that little like downslope that I did or that I kind of hit on, it can kind of get rolling. But I mean, that's the kind of stuff that happens when you win tournaments."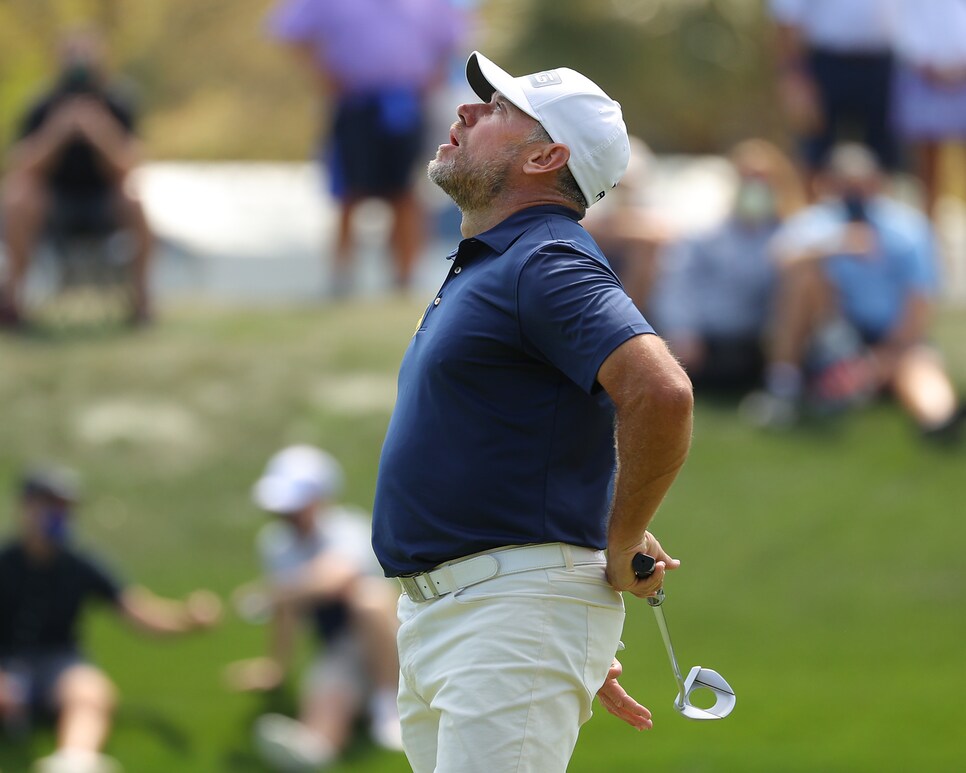 Lee Westwood reacts to a missed putt on the third green during the final round of the Players Championship.
Kevin C. Cox
It took 17 holes, but Lee Westwood finally cracked.
First, knowing that he needed a birdie, he hit an average-at-best wedge to the middle of 17 green, 48 feet left of the flag. Then, he ran his first putt seven feet past. Finally, he missed the one coming back, too.
After making every putt inside 10 feet all day—many of which were to save par or to avoid turning bogey into double—to keep his chances afloat, the player with a sometimes unfair rep of choking came up empty again when the pressure was at its zenith.
The truth is, though, Sunday was less about that moment on 17 as it was the holes before it when Westwood had continuously put himself in one bad spot after another, particularly on the par-5 second, where he inexplicably clipped a tree and found the water up the right side after trying to squeeze an iron off the pine straw. Then there was the one he fanned into a hazard on No. 4, where his driver face was wide open at impact.
Westwood will turn 48 next month, but he aged a little quicker on Sunday after being in contention in the final round for a second straight week.
"[Saturday] I felt like my legs were just starting to get a bit tired and weak, and today I just didn't feel like I had my legs under me," Westwood said. "I was hitting shots I don't normally hit. The ones right off 2, 4, and 11 were poor shots. Couldn't quite find the strike."
He didn't sound too down about it, though: There's always next week, which includes a trip up to Augusta National with his son Sam.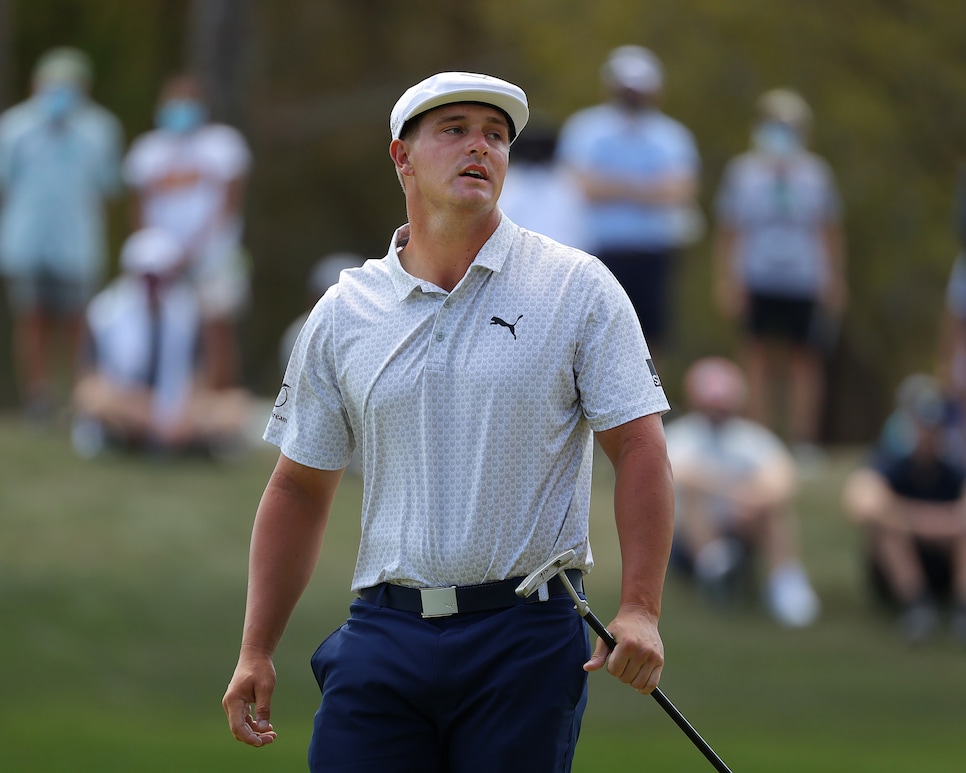 Bryson DeChambeau reacts to a missed putt on the third green during the final round of the Players Championship.
Kevin C. Cox
Bryson makes history (sort of)
Bryson DeChambeau did something on Sunday that he'd never done before: top one off the tee.
"It was a hybrid," he said of his shot on the fourth hole. "Just one of those things I tried to squeeze and hit it too hard, got on top of it and hit it thin. Caught the grass below it and just never got any height."
His second one didn't fare much better, sailing probably 50 yards right of the green.
That one? "My 4-iron cracked," DeChambeau said. "I looked at the bottom of the thing. I couldn't use it all day."
Still, he hung around. Until he didn't. Bogeys on 8 and 14 gave DeChambeau, who was coming off a win at Bay Hill a week ago, too much ground to try to make up, especially as Thomas hit the accelerator. A cold putter only hurt more.
DeChambeau didn't win but he proved again that he's not just a bomb-and-gouger.
"I can play on golf courses that don't really suit me," he said. "That's a big lesson."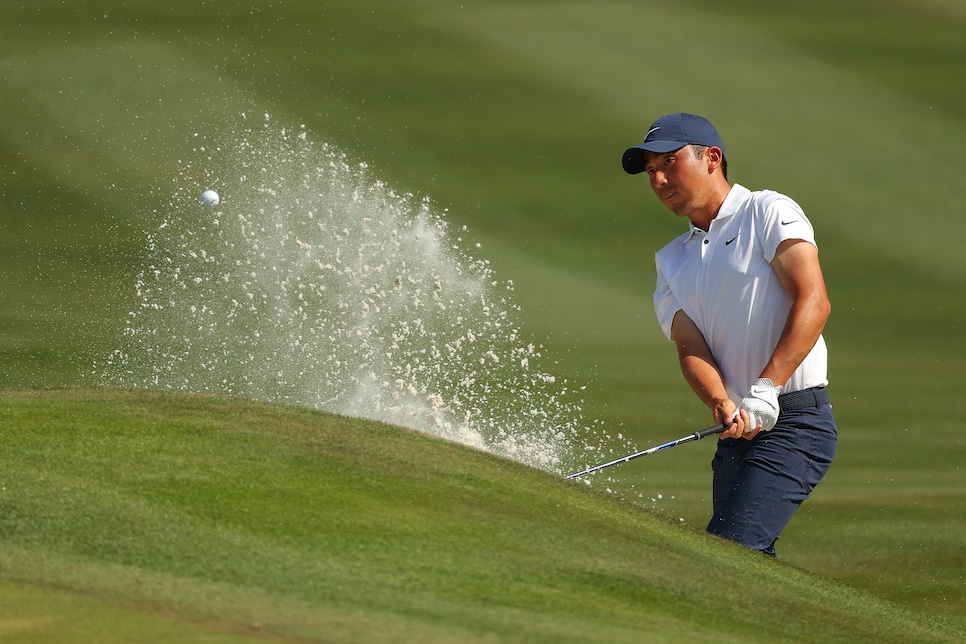 Doug Ghim plays a shot from a bunker on the ninth hole during the final round of the Players Championship.
Kevin C. Cox
It was predictable. Even Doug Ghim knew he was out of place among the star-laden leader board heading into the final round at TPC Sawgrass.
"Yeah, I don't know if you noticed, I'm like 257th in the world," he said on Saturday night when asked about trying to play David against the Goliaths surrounding him.
Then the 24-year-old went out and played like it. At least his demise took place quickly if not painlessly.
It began with a pull hook into the wood chips on the first hole and continued with the same result on the second, where Ghim's ball actually ended up against a volunteer's chair. Still, he got through both holes with par.
Then came a lip-out three-putt from 30 feet on the sixth.
Then not one ball in the water off the tee on seven, but two. Snowmen don't survive 75-degree days in Ponte Vedra Beach, or the final round of the Players Championship.
Ghim never got close again, with more salt in the wound coming on 17, where he rinsed another one. A final-round 78 and T-29 finish.
He is, after all, the 257th-ranked player in the world. Brighter days will come. Sunday wasn't one of them.