Players Championship
Players 2021: In the future, Bryson DeChambeau might choose to zip his lips about plan of attack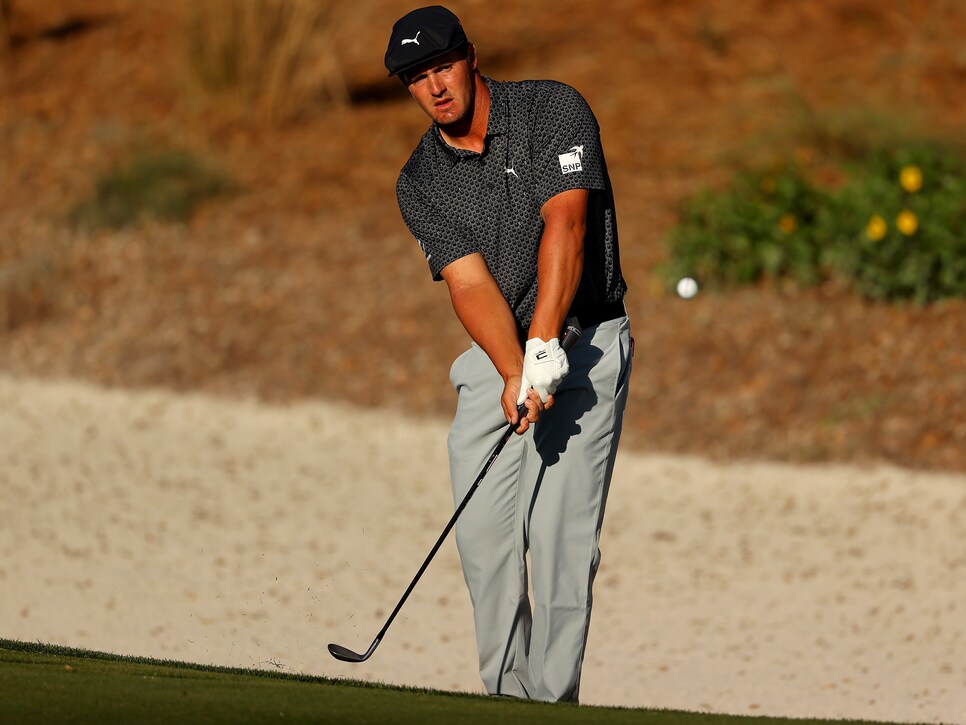 Bryson DeChambeau plays a shot on the 14th hole during the first round of the Players Championship.
Kevin C. Cox
PONTE VEDRA BEACH — Lesson learned. Next time Bryson DeChambeau wants to play a hole outside the parameters of, well, the hole—he'll keep his mouth shut.
"I probably shouldn't have said anything," DeChambeau noted of his idea to play the 18th hole this week at the Players Championship by hitting it left of the lake towards the ninth hole—something the PGA Tour put a stop to by making that area an internal out of bounds. "Knowing that now, I won't ever say any lines that I'm taking anymore, but that's OK. I understand it."
He likely wouldn't have done it anyway. It was a half-baked idea, born in the afterglow of his macho efforts on No. 6 at Bay Hill last week, when he took a hyper-aggressive line and launched two 370-plus-yard bombs over water on the weekend. Those shots made sense, and he won the tournament. This shot wouldn't, given how narrow the target patch of grass actually is.
But when the tour made its ruling Tuesday, the decision was made for him—so DeChambeau hit a 258-yard 4-iron off the tee on Thursday, an 8-iron in from 217 to the right side of the green, and two-putted for par and a three-under 69 to open the Players Championship.
"If you pull it, you're re-teeing," DeChambeau said. "That's one of those things where I could hit 4-iron out there all day long and hit 8-iron in and be OK, to that back flag even. So it's a great strategy.
"I saw Tiger hit iron off the tee a couple years ago and he's done pretty well here. I would follow what he's doing."
It was the first time DeChambeau hit the 18th green in regulation in his nine official rounds at the Players Championship.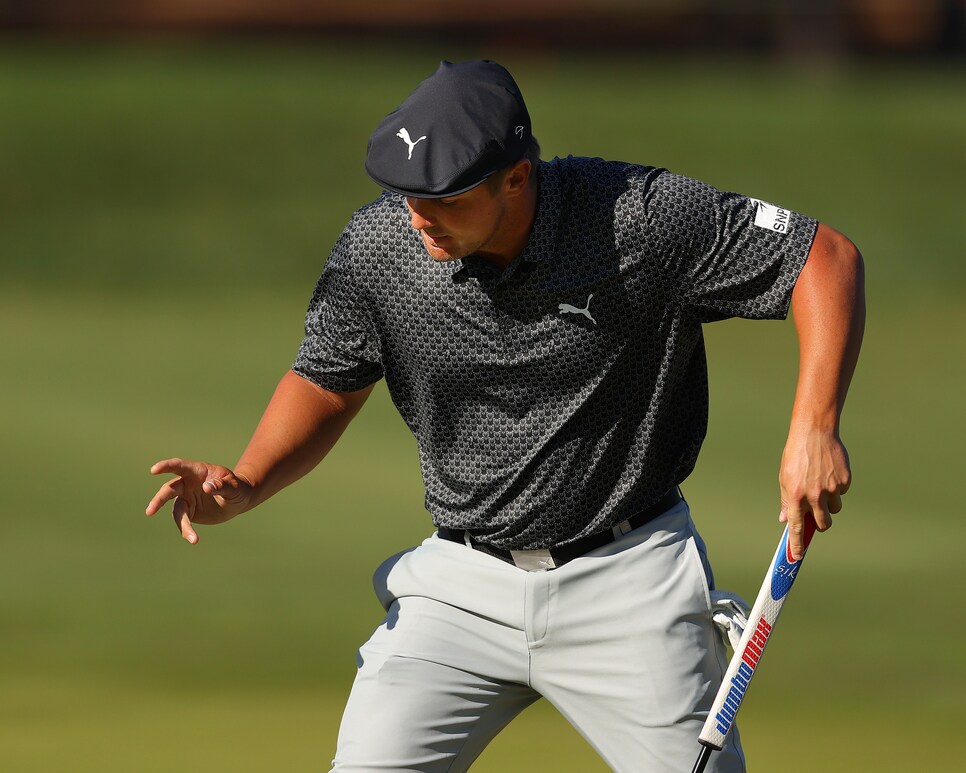 Bryson DeChambeau reacts on the 11th green during the first round of the Players Championship.
Kevin C. Cox
He wasn't so conservative on the other 13 non-par 3s. DeChambeau hit just six of 14 fairways and ranked 64th in strokes gained/off-the-tee, a statistic he leads for the season. He pumped driver way right into the drink on 9 (bogey), missed badly left on 11 (par), then way right again on 14 (par).
Somewhere up there, Pete Dye must have been smiling. He designed this course to torment bombers. It's why the list of winners here is so eclectic. Anyone can win at TPC Sawgrass. If you could design a course to throttle this version of Bryson—who, it should be noted, does look significantly trimmer than he did during his romp at Winged Foot and says he's lost 12 pounds—it'd look something like TPC Sawgrass. Angled, uncomfortable, play-to-spots.
"Cramped is not the right word. I think 'dialed back' is the right word for me," DeChambeau said. "I have to be, in certain areas. Sixteen is one of the examples that's not where I have to dial back, I can go at it pretty hard and was lucky enough to have 9-iron in there today." No. 16 is a par 5, mind you. He two-putted for birdie, then added his sixth and final birdie at the island-green 17th, which tormented his peers all day.
"But for the most part [Sawgrass is] position golf," he said. "And a year and a half, two years ago, I loved position golf. That was one of my favorite things, favorite golf courses. Pete Dye was my favorite architect, from that sense where he just made it where you got to be in position A and hit it on the green, hit it close. It wasn't a bomber's paradise. But now, I kind of like a bomber's paradise a little bit more."
He's absolutely right; no one has ever called this a bomber's paradise. And yet there he is, in a tie for sixth, in perfect position to chase a second consecutive victory. Because, whether you like it or not, Bryson DeChambeau is not just a bomber.