News
Players Championship live blog: Rory McIlroy tops Jim Furyk at TPC Sawgrass to win his first Players title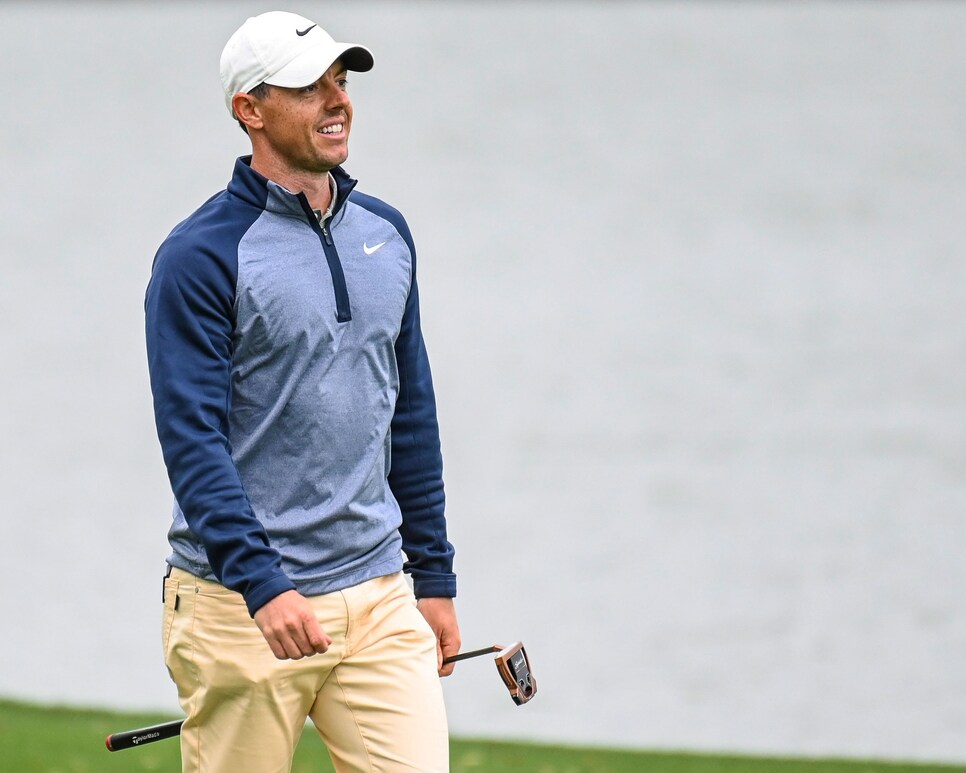 The real show on St. Patrick's Day will begin in the early afternoon, as Jason Day and Rory McIlroy tee off at 1:25 p.m., followed by the final pairing of Tommy Fleetwood and Jon Rahm, who is the solo leader at 15 under. Will the winner come from that quartet, or will someone like Abraham Ancer (11 under), Ollie Schniederjans (10 under) or Dustin Johnson (10 under) come from behind and still that brand-new trophy? We'll keep you updated on all the final-round action right here in our live blog.
5:45 p.m.-- McIlroy wins for just the second time since the 2016 Tour Championship and he talked about the many close calls he's had since with NBC's Steve Sands after his round. "I think it's a culmination of getting those experiences and I felt more comfortable each time." That's not good news for everyone else. As we've seen before, especially in 2014, when Rory gets going, he's almost impossible to stop. And how about this stat?
He'll also take home that new trophy and a record $2.25 million check. Not too shabby.
5:38 p.m.-- And it's official. Rory McIlroy is your 2019 Players champion. McIlroy two-putted on 18 for par to finish at 16 under, just one shot ahead of 48-year-old Jim Furyk. It's McIlroy's first Players title and 15th PGA Tour title.
5:33 p.m.-- That should do it, folks! Rory McIlroy hits his approach right over the flagstick to about 15 feet a la Tiger during his win here in 2013. He'll have two putts for the win.
5:28 p.m.-- Rory opts for driver on No. 18 and. . . PIPES it down the middle. Good lord, you have to have some serious stones to do this:
McIlroy looks like he's a good approach shot away from winning his first Players, because behind him on 17, both Fleetwood AND Rahm dump it in the water. Wow. And just like that, it's down to Rory and Furyk.
5:25 p.m.-- The action is still fast and furious. Rory hits a great lag on 17 and makes par. Meanwhile, Tommy Fleetwood finishes off that eagle on 16 to get within two and Rahm makes a disappointing par to stay three back.
5:20 p.m.-- Brandt Snedeker is officially eliminated after his flop shot on 18 fails to go down. But Tommy Fleetwood has LIFE! It's been a disappointing day for the Brit, but he stuffed his second shot to within four feet on No. 16 and will have a great chance to get back to 14 under, or where he began the round.
5:18 p.m.-- Rory finds dry land on No. 17, but he'll be faced with a lengthy birdie putt. Considering what we've already seen from Eddie Pepperell and Jhonny Vegas, though, maybe that's exactly what you want. . .
5:16 p.m.-- Jason Day is officially eliminated after three-putting for par on 16. In other news, shout-out to Justin Rose. The World No. 2 shot an opening 74 and after a pair of 68s over the weekend, looks like he'll pick up another top 10.
5:14 p.m.-- Rory McIlroy misses his eagle attempt on No. 16, but the tap-in birdie has him in the lead by himself at 16 under. That's good news, obviously, but it won't make him feel any less pressure on his upcoming tee shot. . .
5:12 pm.-- Dustin Johnson will not win his first Players Championship, but he will pick up his first top 10 in the event. The World No. 1 cards a third 69 to go with a second-round 68 to finish at 13 under. He's currently in a tie for sixth.
5:10 p.m.-- Turns out, the right rough wasn't a big deal for Rory. Then again, when you hit 9-iron into a par 5, golf is a lot easier. McIlroy skies a beauty that catches the funnel and finishes about 20 feet from the hole. He'll have a great look at eagle and at the very least, should have the solo lead heading to the final two holes.
5:04 p.m.-- Brandt Snedeker misses a glorious birdie chance on No. 17 to remain at 14 under. He'll need a closing birdie to tie Furyk. Meanwhile, McIlroy's drive on No. 16 just creeps into the rough. It will be interesting to see what he does from there.
4:58 p.m.-- I hope Furyk enjoyed his lead for all of two minutes. Rory McIlroy hist a great approach from a fairway bunker on 15 and drains the 12-footer for birdie to tie for the lead at 15 under.
He's got the par-5 16th—TPC Sawgrass' easiest hole—next.
4:55 p.m. Furyk converts! Wow, what a finish. The closing birdie gives him a 67 and puts him in the lead by himself at 15 under. He will have to dodge some bullets over the next hour, though. There are five players at 14 under, three of whom are still on the course. Plus, a couple guys, including Dustin Johnson, lurking at 13 under.
4:50 p.m.-- After a great tee shot on No. 18 (in which he avoided the bulkheads today), Furyk hits a near-perfect approach from 170 yards on 18 to within a few feet of the hole. It looks like he's going to post 15 under and knock out Pepperell and Vegas. Great call by Azinger setting up the shot as well, "I don't think there's anyone you'd rather hit this shot right now than Jim Furyk." Perhaps, Paul. But I can think of a few people I'd rather stroke this upcoming putt. . .
4:46 p.m.-- Oh, Rory. After a perfect tee shot on No. 14, McIlroy misses the green in a tough spot going for a back-left pin. He hits a decent bunker shot, but bricks the par putt drawing a "Pathetic effort" from NBC's Paul Azinger. We now have a five-way(!) lead at the top.
4:42 p.m.-- Jim Furyk juuuuust misses his birdie on No. 17. "That will be the best putt he ever hit that didn't go in," NBC's Paul Azinger said after Furyk's ball curled around the entire cup. Furyk remains at 14 under.
4:39 p.m.-- Jon Rahm isn't out of this thing, either! After a curious bogey on 11 and a disappointing par on 12, the Spaniard rolls in a 10-footer on 13 to move back to 14 under. Meanwhile, Jim Furyk hit an aggressive shot to about 10 feet on 17.
4:36 p.m.-- Vegas misses his birdie attempt on 18 and the door remains open for a bunch of players. I just assumed he'd made it since he made one from more than 10 times as far on the previous hole, but that's golf. Seriously, this is tough to keep up with. Oh yeah, almost forgot about Jim Furyk. He made birdie on No. 16 to get back to 14 under. Onto 17. . .
4:33 p.m.-- Pepperell's clubhouse lead might be short-lived after Jhonny Vegas sticks his approach to about six feet on No. 18. He'll have that putt to get to 15 under and tie for the lead. And the action doesn't stop there. Jason Day just made a second consecutive birdie and Dustin Johnson chipped in. Both are now at 12 under.
4:31 p.m.-- Fantastic par for Eddie Pepperell at the last after a wayward tee shot to the right. The Englishman got his second shot up around the green then got up and down to cap a 66. Now he is the leader in the clubhouse at 14 under.
4:23 p.m.-- OMG WHAT IS HAPPENING ON 17?! Taking Eddie Pepperell's putt and raising him, Jhonny Vegas makes one from 70 feet for birdie to get to 14 under! He and Pepperell trail McIlroy by one shot.
The longest putt on 17 ever and it probably will stay that way forever. You basically can't have a longer putt. Amazing.
4:20 p.m.-- Don't forget about Rory! It looked like McIlroy might squander a birdie chance on the drivable par-4 12th after a poor chip ran up against the fringe, but he drains the comebacker.
He's got the lead by himself.
4:17 p.m.-- The Jim Furyk turn-back-the-clock machine just hit a speed bump on No. 15 with a missed three-footer for par that didn't even hit the hole. Meanwhile, on 11, as expected after their watery approaches, both Fleetwood and Rahm make bogeys as well. Furyk and Rahm are now one back, while Fleetwood falls two shots behind.
4:13 p.m.-- Eddie Pepperell is officially IN THE MIX!!! After a poor tee shot on 17, the Englishman drains a snaking 50-foot putt for birdie that winds around the fringe. Incredible putt.
He's now tied for the lead with Jim Furyk, Rory McIlroy and Jon Rahm at 14 under. A par on 18 to post 66 could go a looooong way.
4:08 p.m.-- Probably needing a closing birdie to have any chance, Hideki Matsuyama settles for par after nearly chipping in. After shooting 67, he's the leader in the clubhouse at 12 under. It won't be enough. Or. . . will it. . .? After that deep dive exchibition by Fleetwood and Rahm on No. 11, who knows anymore.
4:05 p.m. -- That might do it for Tommy Fleetwood. His second shot at the par-5 11th splashes into the water. No birdies on the day and looks out of sorts. Still a chance to save par, but he's running out of opportunities.
And in a bizarre move, Rahm shakes off his caddie and attempts to go for the green out of the bunker...and comes nowhere close. A watery grave, the product of a mental lapse. Extremely odd sequence from the Spaniard.
4:00 p.m. -- Eddie Pepperell makes a birdie at the 16th to join the 13-under contingent. Meanwhile Furyk saves par at the treacherous 14th to stay in a share of the lead.
3:55 p.m. -- Rory finds the green in two at the par-5 11th. Long eagle putt awaits, but should walk off the green in a tie for the lead.
The putt slides by to the left, but tap in what's left to get to 14 under.
3:51 p.m. -- Matsuyama has a long birdie putt at the 17th, leaves it three feet or so short. Likely will need a birdie at the last to send some shakes through the course.
3:42 p.m. -- Matsuyama converts the eagle, moves to 12 under and definitely in the mix. The Japanese star hasn't been up to form the past year or so. Safe to say, Matsuyama's got his mojo back.
3:41 p.m. -- Ollie makes a brutal double at the 10th. Now three back, and with more than a dozen players ahead, that likely sinks his chances.
3:37 p.m. -- The field dodges a bullet as Furyk pars the very gettable par-4 12th. Still in the lead, but could be one that will matter going forward.
3:35 p.m. -- Hideki Matsuyama, a name that hasn't been mentioned all afternoon, puts his second shot within six feet at the par-5 16th. At 10 under, Matsuyama is certainly in this ballgame.
3:26 p.m. -- Rory birdies the ninth to get to 13 under, a one-over 37 on the front. Furyk birdies the 11th to move into a tie with Rahm at 14. Going out on a limb and saying we'll see some movement over the next few hours.
3:20 p.m. -- But DJ misses the short putt, his 13th miss inside 10 feet. That won't get it done.
3:14 p.m. -- Dustin Johnson sticks his approach at the 10th, a chance to get to 12 under. Not a name others want to see so high as the tournament nears its closing holes.
3:06 p.m. -- And out of nowhere, Brandt Snedeker is now at 12 under, a shot back of the crowd at 13. Quite the eclectic board at the moment.
3:03 p.m. -- Jim Furyk—Jim Furyk!—just walked in a birdie putt to move to 13 under. Going to be a hell of a final three hours.
3:01 p.m. -- Dustin misses a two-footer for bird. A shot that sums up the front nine from the leaders this afternoon. Meanwhile Ancer and Ollie—which sounds like a two-man 1920s carnival act—both make bogey at the eight. The course is angry today, my friends.
3:00 p.m. -- Despite a nice chip from an inbetween lie, McIlroy can't convert the remaining five feet. Drops back to two over on his day, 12 under for the tournament.
2:56 p.m. -- Schniederjans and Ancer come nowhere near the green at the par-3 eighth, while Rahm finds the fairway at the seventh and Fleetwood hits a spectator in the right rough.
2:54 p.m. -- McIlroy goes WAY right with his approach at the seventh, in a precarious spot to get up and down. Rahm cleans up his birdie, with five players now tied for the lead.
2:50 p.m. -- Add Abraham Ancer to the 13 under crowd, while Rahm puts an approach from a fairway bunker at the sixth to just outside gimme range. Currently 13 players within two shots of the leaders.
2:42 p.m. -- Rahm stops the bleeding with a par at the fifth. Only a shot back, but needs to start making some moves. McIlroy converts the birdie to move to 13 under and tied for the lead.
2:39 p.m. -- Finally, some life from Rory at the sixth, dropping a wedge to three feet of the cup. Despite his stumble out of the gate, making that puts him into a share of the lead as well.
2:35 p.m. -- Schniederjans sticks his approach at the six, sinking the seven-footer for his third birdie in six holes to grab a share of the lead. Schniederjans had a rough sophomore campaign last season, but has been trending in the right direction. Still, no one saw a performance like this coming from the former All-American from Georgia Tech.
2:30 p.m. -- DJ birdies the sixth, but quickly erased by putting his drive into the drink at the seventh. A double might take him out of the tournament.
But save bogey he does, only dropping to 11 under. The way this rodeo's going, that might win it.
2:25 p.m. -- Rahm makes his third bogey in four holes to drop to the crowd at 12 under. Fleetwood makes a nifty up-and-down, now alone at 13 under, with seven players behind at 12.
2:22 p.m. -- Strap it, folks. Gonna be a bumpy ride. Fleetwood's approach from the fairway goes long at the fourth, while Rahm, in the rough, completely airmails the green, and saved from further trouble as his ball takes out a spectator. Those at 11, even 10 under have to like their chances at the moment.
While that's going on, Jim Furyk makes a kneeknocker save for par, while Ollie makes a birdie at the fifth to get to 12 under.
2:16 p.m. -- Rory's fourth attempt finds the back of the green, 30 feet or so from the pin. The bogey scoots on by, and it will be at least a double for McIlroy at the short fourth. Rahm and Fleetwood now in the lead at 13 under, with McIlroy joining a crowd at 12.
2:10 p.m. -- In the rough at the short par-4 fourth, McIlroy's approach goes up well short and into the drink. Will need to scramble to save bogey from here. Also, Rahm fails to covert his sand save, making his second bogey in three holes.
2:05 p.m. -- Both Rahm and Fleetwood fail to birdie the par-5 second. Ahead, Dustin Johnson bogeys the fifth, now three shots out of the lead.
1:54 p.m.-- With a sigh, Tiger makes a par putt on the 18th hole, finishing off a final-round 69, his best round of the week at Sawgrass. It leaves him currently in a tied for 31st, which would be, amazingly, his worst finish in a PGA Tour event since last August.
1:52 p.m.--__ An opportunity lost for Rory on the par-5 second hole as he has a look at a birdie from eight feet that would have given him the outright lead … and misses it left. Brian Wacker explained in his story from last night about how much he's struggled on par 5s this week. More of the same today will make winning a much taller task.
1:50 p.m.-- Who would be the most unlikely winner today at Sawgrass? Jim Furyk would have to be high on the list. He wasn't even in the field just a few weeks ago, but the 2018 U.S. Ryder Cup captain has taken advantage of his late entry. A Friday 64 got him in position and today he's had an eagle on the par-5 second and a birdie on the fifth hole to get to within two strokes of the lead.
1:48 p.m.-- Let the games begin. Jon Rahm pipes a nice drive on the first hole, hits his approach to 45 feet but three putts for bogey. Is this a good time to mention only four of the last 12 54-hole leaders have one on to win the Players?
1:38 p.m.-- McIlroy two-putts for par on the first. Important for his psyche.
1:35 p.m.-- It will said that Tiger made a par on the 17th hole on his scorecard, but it was anything but routine. A poor tee shot just barely cleared the water but left Woods with 57 feet from the fringe. He pulled out a wedge and then chipped his second off the green to five feet before making the putt.
1:32 p.m.-- Rory McIlroy's Sunday struggles have been well documented. There's nothing he would love more than to get off to a solid start as he tee off in the second to last group. After hitting the fairway, McIlroy's second shot on the first hole hits the false front and rolls 40 feet away.
1:29 p.m.-- The splash at 16 doesn't fluster Tiger too much. After his drop, he hits his fourth to 14 feet and then rolled in the par putt.
__1:25 p.m.--__The top five players on the leader board to start the round are all international players, and golfers from 11 countries have previously won the Players. Interestingly, though, no play from England (Tommy Fleetwood/T-2), Northern Ireland (Rory McIlroy/T-2) or Mexico (Abraham Ancer/fifth).
__1:20 p.m.--__The good news? Tiger just hit his 11th fairway of the day (he hadn't hit more than nine in any previous round this week) on the par-5 16th, setting up the chance to go for the green in two. The bad news? Tiger's approach game nips him again as he flares out his second shot into the water.
1:11 p.m.-- OK, so maybe the Players isn't an official major. It does certainly come with a major reward for all those competing this week at TPC Sawgrass. With the event returning to March for the first time since 2006, the purse being offered by the PGA Tour for this year's event is a record $12.5 million. And the champion? Well, he will earn $2.25 million, the largest winner's check in PGA Tour history. Click here to see how the money payout breaks down.
1:02 p.m.-- The leaders are finally getting close to teeing off, and Dustin Johnson might have just sent a signal. With his approach on the first hole, he cozies his ball to eight inches. The tap-in birdie gets him toe 11 under and just four off the lead. The largest final-round comeback in Players Championship history at TPC Sawgrass is five strokes from Justin Leonard (1998) and Henrik Stenson (2009).
12:56 p.m.-- A nifty bunker shot still leaves Woods a 13-footer to save par. But the putt burns the right edge of the cup and he settles for bogey, the first of his round on Sunday.
12:45 p.m.-- Like many players, Tiger has found the par-4 14th at TPC Sawgrass to be a brute. His career scoring mark entering today was 18-over on the hole. Even with a perfect tee shot, he can't necessarily set up an easy birdie. After ripping a drive 337 yards, Woods pulled his approach into the left green-side bunker.
12:40 p.m.-- Fitzpatrick has struggled since making the turn with Tiger, but he shows a sign of life when he hits his tee shot on the par-3 13th to eight feet. Impressively he holes the putt, just the second birdie on the hole so far on Sunday, to get back to two under on the day. Tiger's tee shot left him a 40-footer for birdie. He happily takes a two-putt for par to keep a clean scorecard.
12:33 p.m.-- It would seem the field has caught a break as the early morning rains at Sawgrass haven't turned into any steady downpours. But it's been enough moisture to soften up the course and make it scoreable. Just two players of the 13 who have completed their rounds today have shot over par.
12:29 p.m.-- Like at the ninth hole, Woods can't quite pull off the wedge approach at No. 12. His ball rolls some 26 feet away, giving him a slow uphill birdie try. He leaves it short, and has to settle for a par.
12:22 p.m.-- The left hole location with room to miss on the right on the now drivable par-4 12th isn't enticing enough for Woods given the breeze, raw weather conditions out there. Tiger instead pulls an iron and finds yet another fairway.
12:16 p.m.-- Tiger frustratingly bogeyed the par-5 11th in the first round, but he's gotten a little revenge in the last few days with a birdie on Friday and then, just now, rolling in a 4-footer for another birdie after just missed the green with his second shot. Woods is now four under on this round and looks plenty relaxed. With each successive birdie on the day, fans have to be asking themselves what might have been if not for the disaster at the 17th on Friday.
12:09 p.m. -- Emiliano Grillo wraps up the low round of the day thus far, posting a six-under 66 after making a par on the 18th hole. It could have been even lower had the Argentine not knocked his tee shot in the water on the par-3 17th. Still the 66 is four strokes better than any previous score he shot this week and has missed him 26 places up the leader board.
12:03 p.m.-- A 308-yard 3-wood off the 10th tee puts Woods in a sweet position in the fairway, but the drive goes for naught. His approach can't clear a false front on the green, and he has to settle for a two-putt par from 27 feet.
11:58 a.m.-- It's not just Tiger who's having a nice start to his Sunday. Sergio Garcia, playing a few groups ahead, just rolled in a birdie on the par-5 11th. It's his fifth birdie of the day, bringing him to eight under for the tournament, moving him up 25-plus spots into the top 20 as of now. Interestingly, according to PGA Tour Live, Garcia switched this morning to a conventional putter grip. Looks like it's paying so here so far.
11:44 a.m. -- Woods holes his five-footer for a bogey-free 33 on the front nine. He's currently in a tie for 30th, but a few more birdies could move him way up the board quickly.
11:42 a.m. -- A poor wedge shot from Tiger at the ninth ended up short of the green, and he just chipped his fourth a few feet past the hole. Work to do for par.
11:37 a.m. -- Woods lays up with an iron, leaving himself a wedge in. Looks like he's going to try and go the surgical route for his birdie.
11:34 a.m. -- Tiger just hit what might have been the straightest drive in the history of golf at the par-5 ninth. OK, slight exaggeration, but seriously. What a stripe show (that only went 272 yards). He'll have 291 left into the green.
11:28 a.m. -- Tiger had 52 feet left for birdie and his putt was tracking, but it just misses on the low side. He cleans up the par and remains bogey-free through eight.
11:21 a.m. -- BANG! Woods rolls in a 30-foot birdie putt at No. 7 to get to three under on his round and six under for the tournament.
At the par-3 eighth, he finds the green with his tee shot but will have another long putt coming up.
11:15 a.m. -- Woods found the fairway with a picture-perfect high fade with a 3-wood at the par-4 seventh, then played it to the fat part of the green and will have 30 feet left for his birdie.
He's not the only one off to a fast start. Matt Kuchar opened with a birdie at the first and an eagle at the second, putting him at eight under, which makes him the closest player to the lead. One behind him is Emiliano Grillo, who is six under through 14 holes. The softer conditions thanks to the rain are yielding some low scores. Twenty four players, including a few already in the clubhouse, are living under par.