My course model at RickRunGood.com shows that strokes gained/off the tee is most important here—in fact, there are only 10 other courses on tour where SG/off the tee is more vital. That's not the type of universal truth that you can fully rely on this week. But it's how I'll lean in terms of building my lineups, in addition to looking at the best birdie makers, and like every week, identifying those with good SG/approach numbers.
The stats back up the eye test, in thinking about the diverse skill-sets of golfers who have done well at TPC Sawgrass. Read on as I break down each price range for DFS contests and identify my favorite picks (and fades) this week.
Watch the below video, which highlights our favorite prop bets of the week:
Price range: $9,000 and above
High Upside: Collin Morikawa ($9,400 DraftKings | $11,300 FanDuel)
Morikawa is fresh off his latest victory, the WGC-Workday, his fourth victory on tour. He's proven that few golfers can compete with his ceiling. He was diabolic with his irons at The Concession, gaining 9.55 strokes on approach, but the real magic was the 3.96 strokes he gained on the putting surfaces. If he can do anything close to that on a weekly basis, he is going to continue winning a lot of tournaments. Morikawa was awesome in the one round he played last year before the event was cancelled. He was in seventh place thanks to the nearly three strokes he gained putting in Round 1.
Safest Option: Rory McIlroy ($10,600 DraftKings | $11,800 FanDuel)
The discussion revolving around McIlroy in the past year has been the lack of winning upside. Everyone knows he hasn't earned a win anywhere in the world since November 2019. Those conversations rarely dive into how high his floor has been in that stretch. In the 24 events since his last victory, he's missed just one cut and finished inside the top 20 on 16 occasions. It's been clear that McIlroy has not had his best stuff for the past nine months, and he has still posted results that many golfers on tour would dream about.
Most Likely To Disappoint: Tony Finau ($9,100 DraftKings | $10,800 FanDuel)
With an absolutely stacked field, it's difficult to designate one of the "studs" as "most likely to disappoint." Finau's recent play has proven that he can compete in any field and on any course. He rolls in with five consecutive top-15 finishes that include three runners-up. To continue that form, Finau would have to overcome his history at TPC Sawgrass. In four career trips, he's missed the cut twice and failed to crack the top 20 in any season.
Pick To Win: Justin Thomas ($9,900 DraftKings | $11,500 FanDuel)
Thomas is lurking and appears primed for another victory in the near future. Since the U.S. Open, 10 starts ago, Thomas has finished inside the top 15 eight times. He's routinely put himself in contention and has had plenty of close calls along the way. His last start resulted in a T-15 at the WGC Workday, which gives me the optimism that I'm looking for. Thomas gained 9.50 strokes on approach, second to only the eventual champion Collin Morikawa. Per the RickRunGood.com golf database, that's his second-best approach week in the past six years. If he can strike it anywhere close to that at TPC Sawgrass, it's tough to imagine him leaving the first page of the leader board.
High Upside: Jason Day ($8,000 DraftKings | $10,000 FanDuel)
Day struggled in the final round of the Arnold Palmer Invitational, but that was not unique to him as the entire field paid the price at Bay Hill. He enters The Players looking to rekindle some great vibes at TPC Sawgrass. He won this event in 2016 and has back-to-back top-10s in his past two trips.
Safest Option: Matthew Fitzpatrick ($8,200 DraftKings | $9,900 FanDuel)
Fitzpatrick might be one of the most disrespected players on the PGA Tour. He's a top-20 player in the world who has been on an absolute tear worldwide. He won in Dubai at the end of 2020, finished T-5 at Riviera and earned a T11 at the latest WGC event. He's been dubbed a "short-game specialist" at times in his career, but he's currently gaining in all strokes-gained categories. This is the best season of his career, and he will look to continue that great play at TPC Sawgrass.
Most Likely To Disappoint: Paul Casey ($8,400 DraftKings |$9,900 FanDuel)
As much as I love Paul Casey and his ball-striking prowess, there's an increased importance to course history this week. With that being said, Casey has failed to crack the code at Sawgrass in his career. In 12 previous trips, he's failed to make the cut six times and has withdrawn another two times. Even more concerning, his best finish (T-10) came in his very first trip, back in 2004. With the stacked field this week and plenty of other options in this range, I don't feel the need to jam Casey into lineups.
Pick To Win: Jordan Spieth ($8,600 DraftKings | $10,700 FanDuel)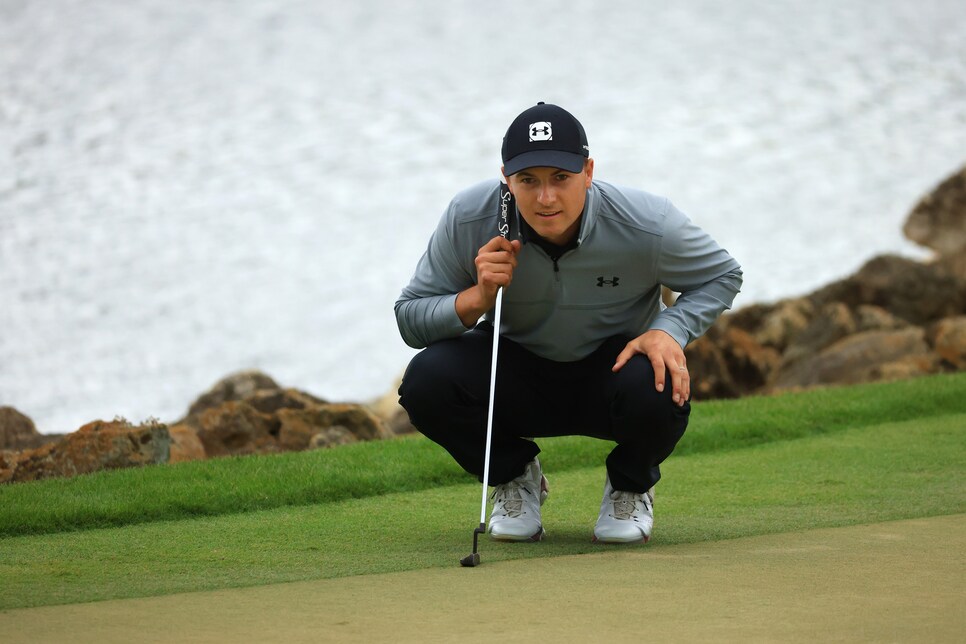 Jordan Spieth is back, and don't let anyone tell you differently. Not only has he piled up four consecutive top-15 finishes, but the way he's doing it is incredibly encouraging. Since the Farmers Insurance Open, he has gained strokes on approach in 14 of his last 16 rounds. Add his propensity for some short-game magic, and that's a recipe for success for Spieth getting back into the winner's circle. He will need to break a stretch of poor play at TPC Sawgrass—only making the cut one in his past five starts. But let's be real, anything is possible with Spieth right now.
High Upside: Christiaan Bezuidenhout ($7,100 DraftKings | $9,500 FanDuel)
Bezuidenhout popped up on the first page of the leader board last week en route to his seventh-place finish. It shouldn't be all that surprising for those who follow worldwide golf—Bezuidenhout won back-to-back starts on the European Tour at the end of 2020. He also earned top-25 finishes at both the Abu Dhabi HSBC Championship (won by Tyrrell Hatton) and the Omega Dubai Desert Classic (won by Paul Casey) in 2021. He will look to keep this positive momentum as he heads back to The Players, where he shot an opening-round 65 last year before it was wiped out.
Safest Option: Will Zalatoris ($7,600 DraftKings | $9,600 FanDuel)
Zalatoris will be making his debut at the Players Championship which would normally be a concern, but he's debuted at every event this year and has been piling up excellent results in the process. He earned another top-20 finish at Bay Hill last week, which marks his eighth such finish in his past 12 starts. He gained over eight strokes from tee to green last week, which is becoming routine at this point.
Most Likely To Disappoint: Russell Henley ($7,400 DraftKings |$9,000 FanDuel)
I'm a big fan of Henley, who has been a fantasy darling since the tour's restart. During that time frame, he's been the best approach player on tour, which is an incredible feat. The problem for Henley is that TPC Sawgrass has been his kryptonite. In seven career starts, he's missed the cut in four, including each of his past two events. His best finish, T-17, came in 2014. The consistency of TPC Sawgrass year in and year out really encourages me to lean on course history stats this week.
Pick To Win: Louis Oosthuizen ($7,800 DraftKings | $9,600 FanDuel)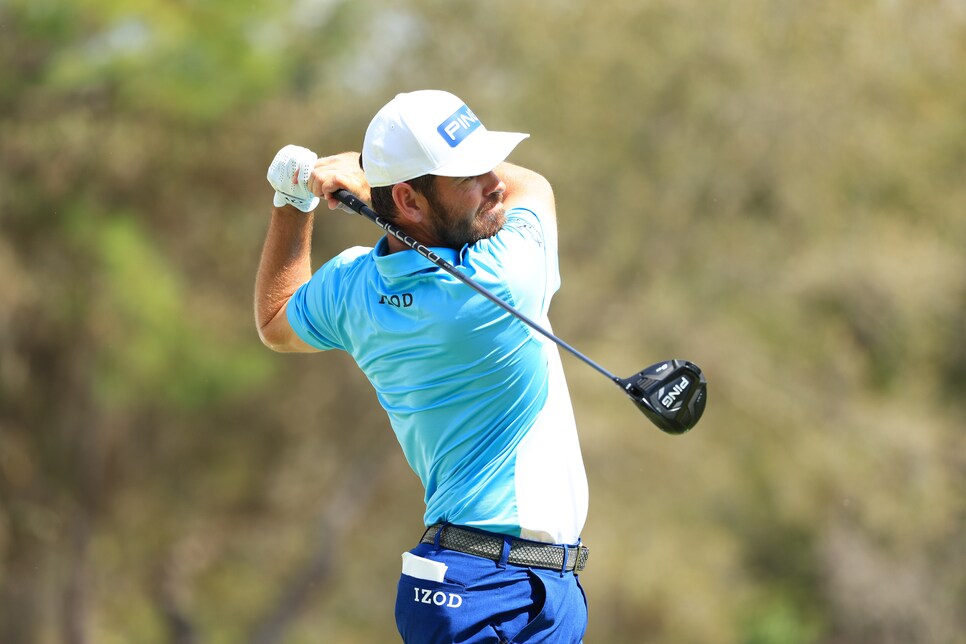 Can you stomach rostering Oosthuizen? He burned his backers last week by withdrawing after the event had started but before teeing off. When Oosthuizen plays, he plays great! He will enter the Players with a T-11 at the Phoenix Open and a T-6 at the WGC-Workday. He's flashed brilliance at TPC Sawgrass during his career with his best finish coming in 2017, a T-2.
High Upside: Matthew NeSmith ($6,700 DraftKings | $7,800 FanDuel)
NeSmith narrowly missed the cut at Bay Hill last week, but all the metrics are still in his favor. Despite failing to make the weekend, NeSmith gained 2.50 strokes on approach, which was 15th in the field over the first two rounds. He lost a staggering 3.90 strokes putting at Bay Hill, which is one of the worst two-round totals of his career. It's completely reasonable to think that he steadies the putter at TPC Sawgrass and continues to hit the ball well.
Safest Option: Emiliano Grillo ($6,700 DraftKings | $8,500 FanDuel)
Grillo has historically been one of the most volatile golfers on tour, but he has steadied that ship in the past 12 months. He finished T-11 at the Puerto Rico Open and then earned a top-25 last week at Bay Hill. He has made the cut in 16 of his past 19 starts dating back to last summer, and he has made three consecutive weekends at TPC Sawgrass.
Most Likely To Disappoint: Zach Johnson ($6,800 DraftKings | $8,000 FanDuel)
The savvy veteran enters with a streak of 12 consecutive cuts made, but the way he played at Bay Hill has me terrified. He lost more than 6.5 strokes on approach, his worst approach week since the start of 2015. He was required to lean on a scorching hot putter to make the cut, which is usually a recipe for disaster. If he cannot flip the switch with his irons at TPC Sawgrass, his cut streak will be in serious jeopardy.
Pick To Win: Keegan Bradley ($6,900 DraftKings | $8,600 FanDuel)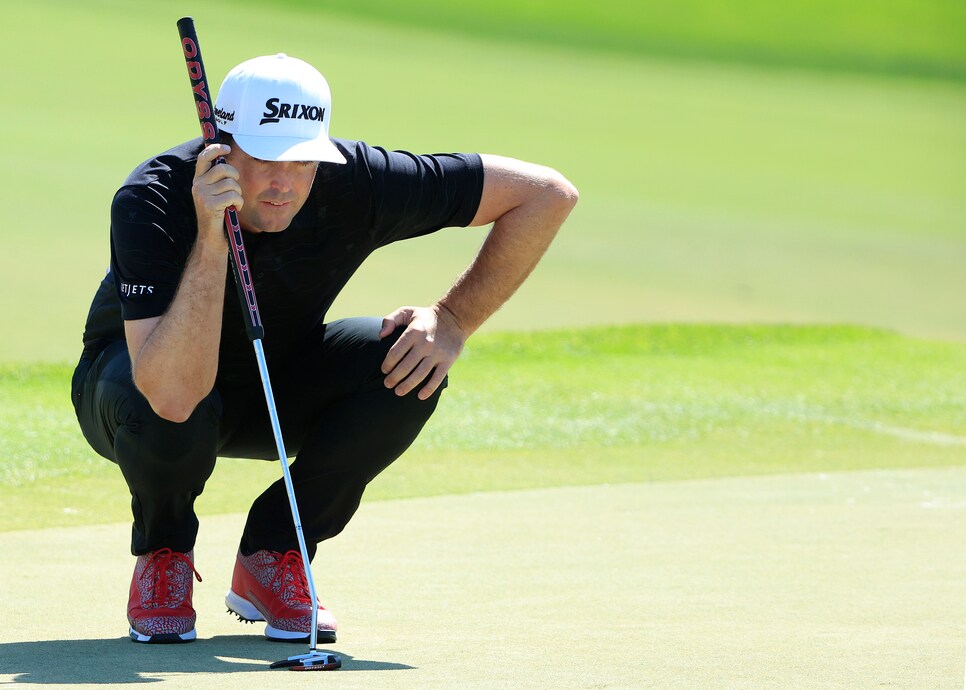 Bradley melted down on Sunday last week, shooting a 78 and falling to T-10. His first three rounds were the blueprint for Bradley—gaining strokes in all categories (including putting!). This will be his 10th trip to the Players Championship, with his two best finishes coming in the past two years—T-7 and T-16.