News
Players Championship 2018: Steve Stricker, 51, defying trend toward youth, is in contention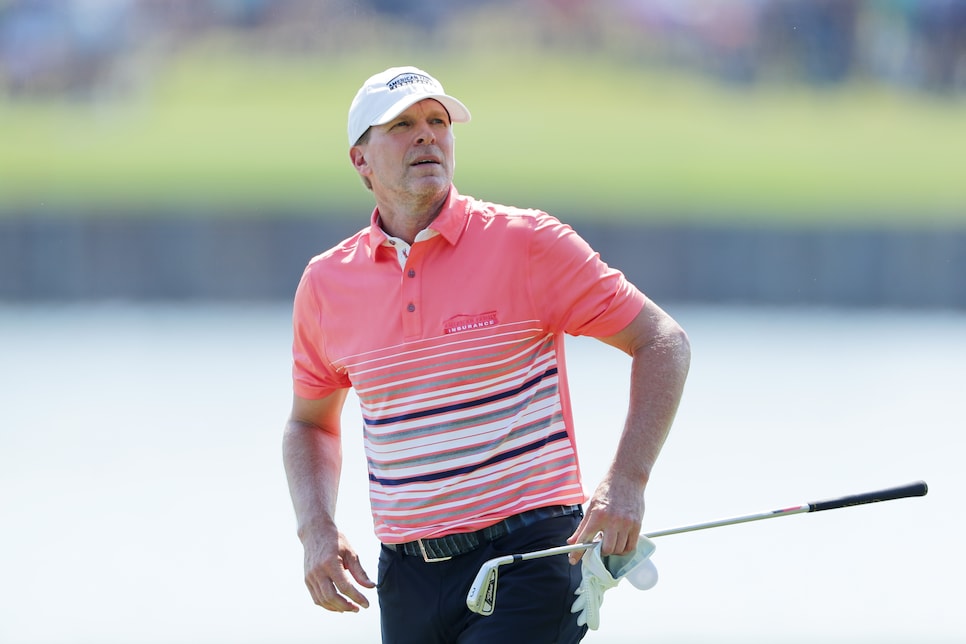 PONTE VEDRA BEACH, Fla. -- It used to be that golfers hit their prime on the PGA Tour once they hit 30. No more. Golf is a young man's game. Eight of the top 10 players in the world are 20-something. So is the average age of winners on the PGA Tour this season. Even at this week's "democratic" Players Championship, sub-30-year-old Patrick Cantlay, Jason Day and Xander Schauffele are all in contention.
Then there's Steve Stricker. He turned 51 in February. He also shot 69 Friday to sit at eight under and near the top of the leaderboard going into the weekend at TPC Sawgrass.
"Overall I'm doing some good things and managing my game well and doing what I'm supposed to be doing," he said after five birdies and just two bogeys in the second round.
Few might have expected Stricker to be in contention halfway through the PGA Tour's flagship event, but in four starts on the over-50 circuit he has won twice, tied for second and tied for fifth. On the PGA Tour, he has three finishes in the top 35 in five starts.
So much for the reduced schedule he once talked about. Playing that well, who can blame him?
"A lot, I think," Stricker said when asked how much the PGA Tour Champions has helped him when it comes to the younger tour. "I think both tours have helped me at each spot. When I played the PGA Tour Champions and have some success out there it gives me confidence out here. I test my game under the gun out there when I've gotten into contention and then I played fairly well out here."
Phil Mickelson, Rickie Fowler and Hideki Matsuyama all missed the cut. Stricker? He ranks near the top in strokes gained tee-to-green and in greens hit with 16 of 18 hit each of the first two rounds. Yowza.
It's not like he has good history in the event, either. In 20 previous starts, he has just one top-10 finish, a tie for sixth, all the way back in 1999 when the tournament was played in March.
"So many tournaments over the course of the year we're so aggressive and you go for all the par-5s in two," he said. "Sometimes going for a par-5 here in two isn't the best thing. Laying back and trying to wedge it in there, you just got to know what the course can give you and what you're capable of doing around here and that's the tough balance you try to find."
There's a long way to go of course. And history isn't on Stricker's side. The oldest winner of the Players is Fred Funk, who was 48 years old when he won it in 2005.
Still, it will be fun to watch him try to buck the trend. Said Stricker: "Hopefully this weekend can I kind of put all four [round] together and see what happens."