News
Steve Stricker wins senior event, will play Houston Open in attempt to garner a Masters invitation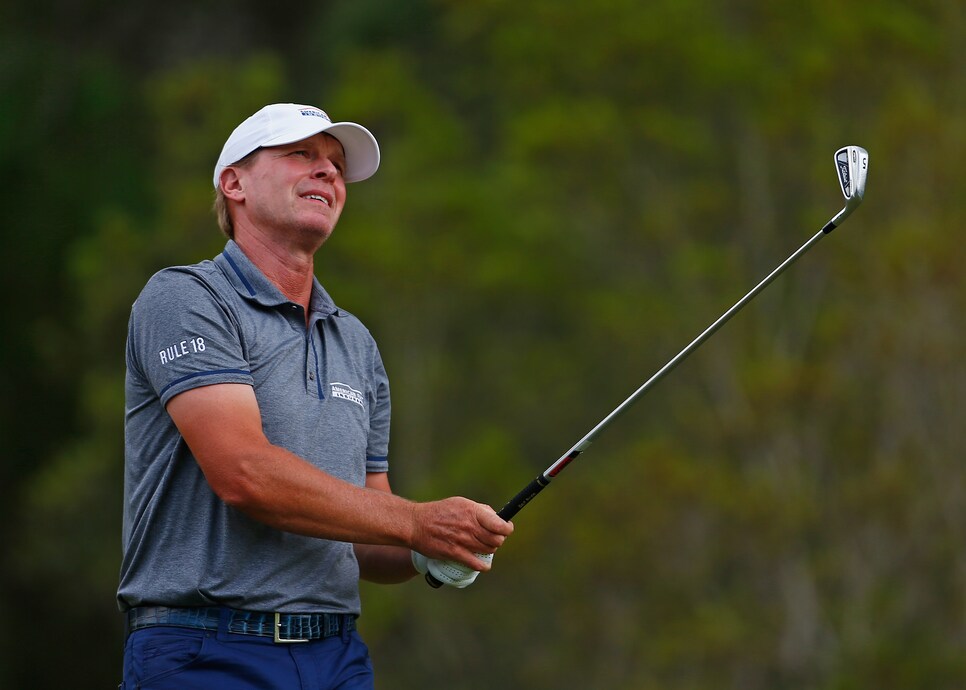 It is too early to know whether one dominant era is ending and another is beginning on the PGA Tour Champions, but Steve Stricker is strongly hinting at this scenario.
Stricker, 51, won his second straight start on the PGA Tour Champions on Sunday, the Rapiscan Systems Classic at Fallen Oak in Biloxi, Miss.
He shot a four-under par 68 to complete 54 holes in 11-under par 205, three shots ahead of Billy Andrade.
In his previous start three weeks ago, Stricker won the Cologuard Classic, while tying for second in his only other start on the senior tour this year. Since turning 50 13 months ago, he has played eight senior events and finished third or better in six of them.
The only apparent obstacle to supplanting Bernhard Langer as the dominant player is that Stricker still intends to play tournaments on the PGA Tour, where he remains competitive.
Stricker, in fact, is playing in the PGA Tour's Houston Open next week, with an ambitious goal. "Trying to get into Augusta," he said, "so that means I have to win Houston to get in, but that's why I'm going there."
Consecutive victories puts him in a right frame of mind.
"It means a lot," he said. "I'm excited to go play. It's always fun to go play Houston. It's always in great shape. I'm not in Augusta, so it's my last chance. It's a tall order out there. Guys are playing so well and the young kids are bombing it, but I'm playing well, too. So hopefully I can keep this going."
It is admirable, of course, that he retains a desire to compete at the highest level in lieu of taking the easier money available to him on the senior tour. But should he decide to play what would be tantamount to a full schedule on the PGA Tour Champions, well, Langer has had a nice, long run.
Not that Langer is finished. He tied for ninth on Sunday. But it seems likely that at 61 his days of dominance are over. Last year, he won seven times. This year, he's 0 for 6, though he did finish second in the Boca Raton Championship earlier this year.
Younger blood tends to rule on the senior tour and when it belongs to a consistent ball-striker and a deft putter, it portends dominance.
Stricker has played 12 rounds in three PGA Tour starts and posted under-par scores in 10 of them, while finishing 12th in the Genesis Open. He has played 25 consecutive rounds of par or better on the PGA Tour Champions.
"Where I'm going to play is still a mystery to me," he said on Saturday. "I feel like I need to play both places and I feel like each tour helps the other tour. I learn a lot out on the big tour still that I can come here and apply it here, and vice versa."
His fellow senior competitors no doubt are encouraging him to play more on the PGA Tour, selfishly, of course. When he is in a senior field, he's the new man to beat.