News
Players Championship 2018: Simpson cruises at Sawgrass, Tiger's charge runs out of gas, and Thomas de-thrones Johnson for No. 1 ranking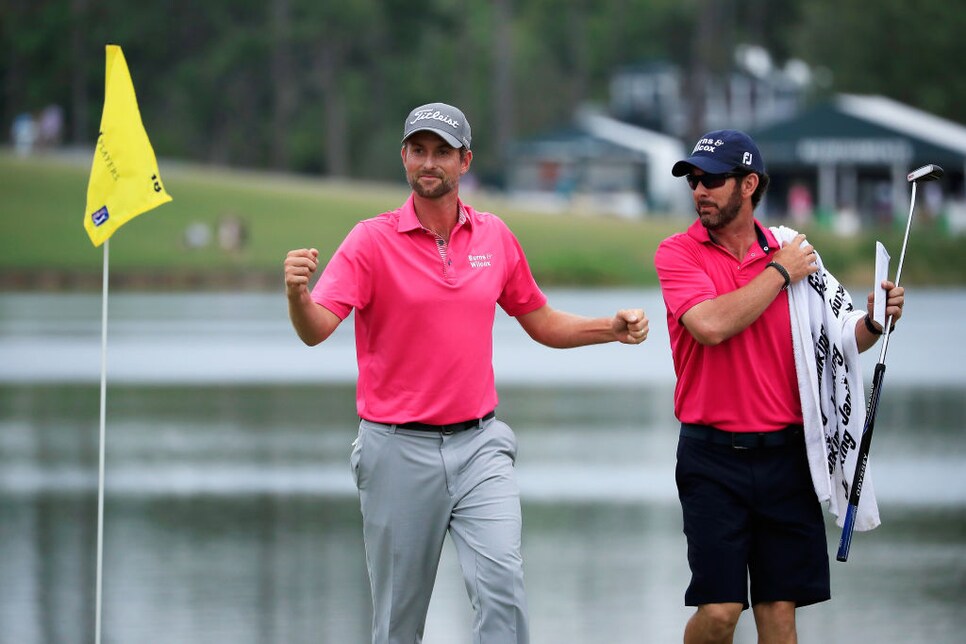 Players Championship 2018: Welcome to the Dew Sweeper, your one-stop shop to catch up on the weekend action from the golf world. From the professional tours, trending news, social media headlines and upcoming events, here's every golf-related thing you need to know for the morning of May 14.
Webb cruises to Players victory
He made Sunday boring. That may seem like a slight, but it's one of the highest compliments you can pay Webb Simpson.
In a season that's featured a playoff seemingly every other week, the 32-year-old entered the final round with a seven-shot lead, tying the tournament's 54-hole scoring mark at 19 under. On Mother's Day, Simpson never put the issue in doubt, his final-round one-over 73 good enough for a four-shot win at the Players Championship.
"It was tough," Simpson said. "Being in that position's a lot harder than I thought. You always want to be leading going into the final round and you would think leading by seven's great. But it's hard to stay motivated to continue doing what you're doing. But I had a good morning this morning and was able to get it done."
Simpson rode a lights-out short game to the top of the Sawgrass leaderboard, finishing an absurd 9.368 strokes better than the field in putting. An astonishing turnaround, given Simpson finished 177th in the category just two seasons ago.
The 2012 U.S. Open champ has been enjoying a mid-career revival the past year, yet his triumph in Pontre Vedra Beach is his first tour victory since 2013. It also vaults Simpson into the running for an automatic Ryder Cup bid. Though he once made four consecutive U.S. squads, Simpson has not been a part of an American team event since 2014.
Jimmy Walker, Xander Schauffele and Charl Schwartzel tied for second at 14 under, but the real "B" storyline belonged to...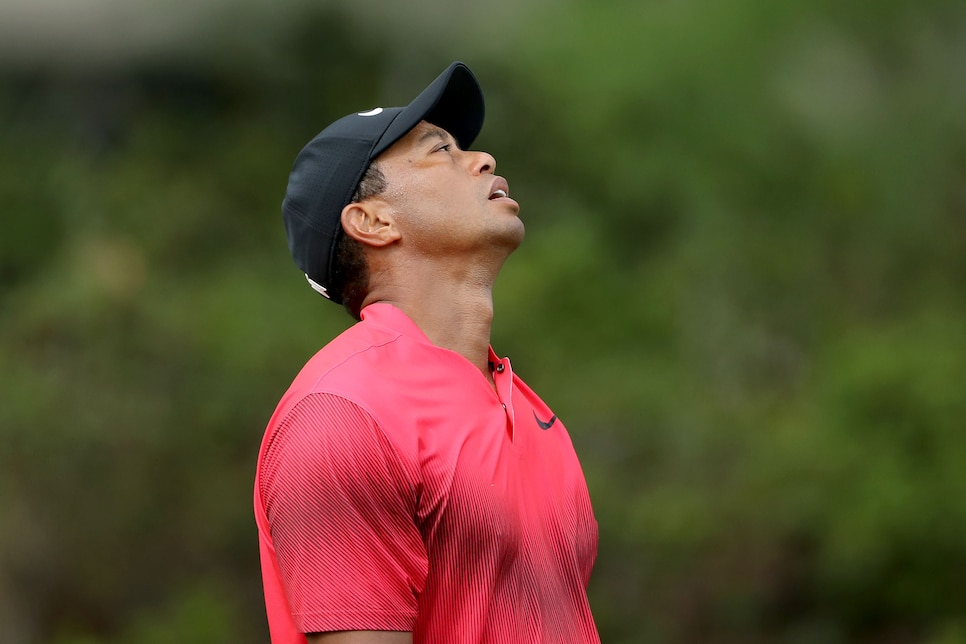 Tiger makes run, then runs out of gas
Tiger Woods made the cut on the number, and started Saturday two touchdowns back of Simpson. In that light, finishing T-11 is a success.
But that fails to encapsulate the charge Tiger mounted over the weekend. He posted a seven-under 65 on Saturday, which tied for best score of the day, and carried that momentum into the final round with six birdies through 12 holes to jump into a tie for second. No, he never seriously scared Simpson, but a runner-up finish would have moved him inside the world top 50, getting him closer to a Firestone invite, and would have added validity to his Ryder Cup candidacy.
However, those hopes were (temporarily) dashed, as Woods bogeyed the 14th from 90 yards out, made 5 at the 16th (the second-easiest hole on the week) and dumped his tee shot at 17 into the pond, leading to double. The 14-time major winner still turned in a three-under 69, but it was a round marked with what might have been.
Despite the stumble, Woods left pleased with the effort.
"There's no way I would have predicted I would be at this point the beginning of the year, the way I was just coming back and just trying to get a feel for it and then hopefully have a schedule. Didn't know," Woods said. "But now I feel like I've got my playing feels and I'm playing tournament golf and I've got it—I'm not that far off from winning golf tournaments."
Woods' next confirmed appearance is the U.S. Open at Shinnecock Hills, although he is expected to play at the Memorial at Muirfield Village, which he's won five times.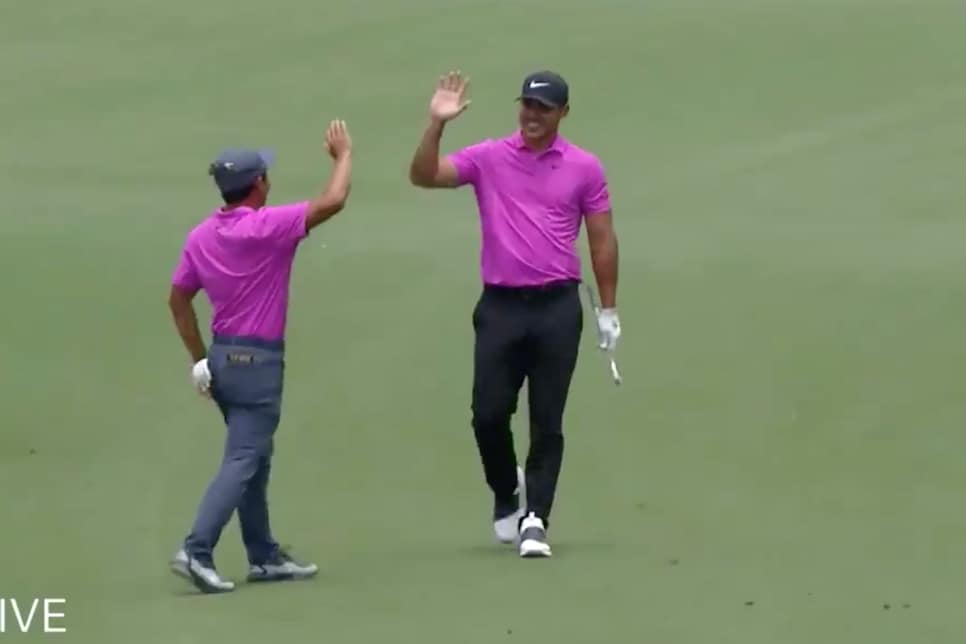 Koepka makes albatross, ties course record
Making his third start in return from injury, Brooks Koepka was a non-factor through three days at TPC Sawgrass, entering the final 18 a whopping 17 strokes back of Simpson. Though his final round was off center stage, his finish stole the Sunday spotlight.
Koepka had cobbled together a solid round when reaching the par-5 16th, five under on his day. That standing drastically improved following his second shot from 208 yards, which took one hop before taking a glorious plunge in the cup:
For those scoring at home, that is the all-too-rare albatross (although not too rare, as it's the second straight year a two has been recorded at the 16th). The reigning U.S. Open champion wasn't done painting his scorecard red, making bird at the imposing par-3 17th. The late-round charge equated to a nine-under 63, a number that moved Koepka from 63rd to T-11.
Koepka became the eighth player to tie the Stadium Course record, although the sixth person to do it since 2013 and second on the week.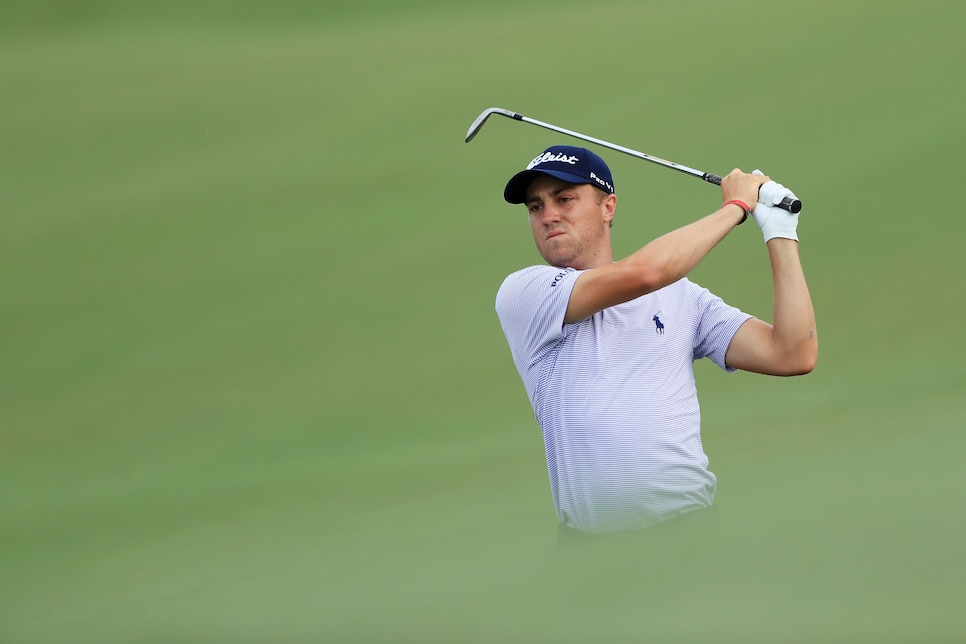 Over the last 17 months, no one in golf has been better than Justin Thomas, with the 24-year-old racking up seven wins, a major, FedEx Cup and 17 top 10s over this span. Now Thomas finally has the ranking to go along with the rep.
Thomas, who ranks first on tour in fourth-round scoring, went low at Sawgrass on Sunday, racking up six birdies and an eagle to fire a six-under 66. It was good enough for a T-11 finish, which—coupled with Dustin Johnson's uneven 72, translating to a T-17—led to Thomas de-throning DJ to become the new No. 1 ranked player in the world.
"It means a lot, but it's something I want to have for a long time, it's not something I just want to have once," Thomas said on Sunday. "To have it for a week and then be done with...like D.J. has and like Tiger did and other guys who have had it for a long time, that's more of a goal of mine as opposed to just having it."
Thomas is just the 21st player to sit atop the standings, which began in 1986. Johnson's reign lasted a total of 64 weeks, fifth-longest tenure on top behind two Woods' dynasties (281 weeks from 2005 to 2010; 264 weeks from 1999 to 2004), Greg Norman and Nick Faldo.