News
Players Championship 2018: Tiger Woods shows he's closer to winning with wild weekend performance at TPC Sawgrass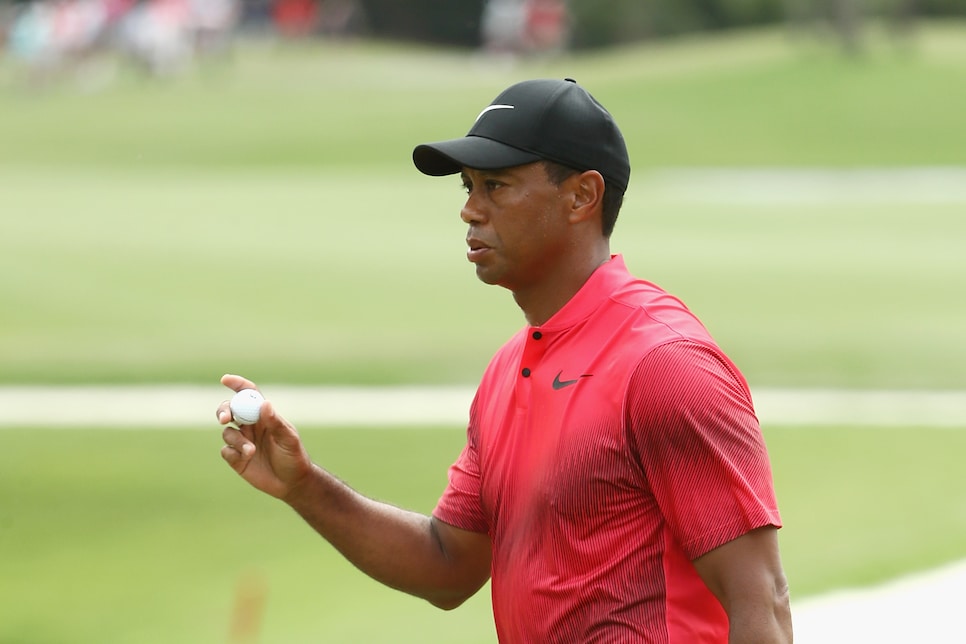 Photo By: Jamie Squire/Getty Images
PONTE VEDRA BEACH, Fla. — They likely weren't even aware of it, but Justin Thomas and Jordan Spieth helped provide the Players Championship some extra excitement over the weekend.
No, neither of them won or even finished in the top 10, but with Tiger Woods hovering on the cut line at one under on Friday, Thomas and Spieth went to the 18th hole at TPC Sawgrass each at two under—and with Woods' weekend fate in their hands. They both bogeyed the tricky par 4, moving the cut line back to one under.
That made way for arguably the most-entertaining final 36 holes from a player who finished T-11 in a PGA Tour event. That player, of course, was Woods, who provided a worthy encore to his third-round 65 with a final-round three-under 69, once again sending a jolt of energy through the Stadium Course that even Webb Simpson's dominating performance struggled to provide.
Simpson, who now has two marquee wins on his resume when counting the 2012 U.S. Open with this week's Players title, was unbelievable throughout the week, matching the course record on Friday and backing it up with a door-slamming four-under 68 on Saturday. His good-enough one-over 73 closed out the win, made memorable thanks to a remarkable putting performance.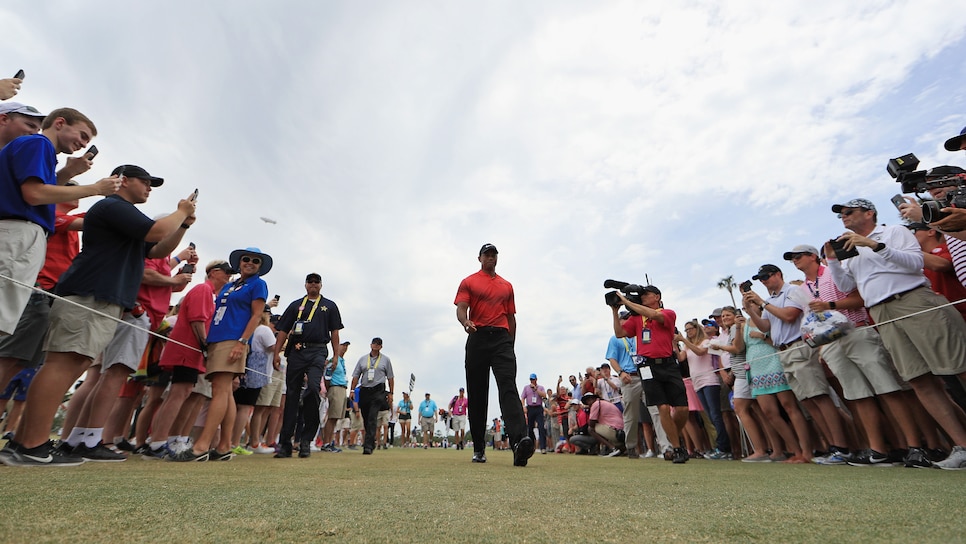 Mike Ehrmann/Getty Images
But the weekend, at least a part of it, belonged to Woods, who did nothing in his lifeless first two rounds to suggest such an explosion was coming. A balky putter seemed to bog him down, but that ended on Saturday and Sunday, when he made 14 total birdies, each producing a bigger roar than the last.
The noise echoed around the course when Woods made his sixth birdie of the day at the par-4 12th, which got him to within four of the lead after a Simpson bogey at the par-4 10th. Not bad for a player who started the day 11 strokes off the lead.
A four-shot deficit with six holes to play is not impossible to overcome, just highly unlikely. Yet after Woods hit a mammoth, 353-yard power fade that split the fairway at the 14th—a hole that's given him fits in the past and throughout the week—the tournament felt within reach.
"But I figured I needed to shoot probably 10 for the day to have a chance, and I needed to get four more coming in," Woods said.
As his 110-yard approach tracked directly over the flag, a seventh birdie was in his sights. Until, that is, his ball spun off the green, leading to a bogey and adding to his 14th-hole woes. Even when he seemingly did everything right at the pesky par 4, it still found a way to kill his momentum.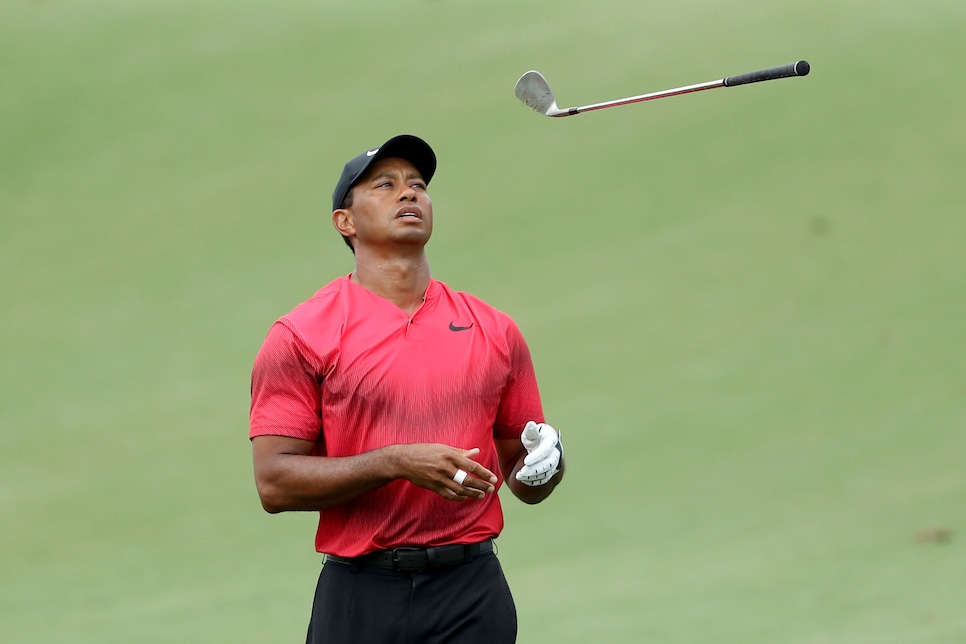 David Cannon/Getty Images
"No. 14 is blowing downwind, and it's off the left and it's on top of that crown, and I thought it was going to skip," Woods said. "I thought I was going to have a hard time keeping it up top, and I spun it off the ridge. Left it short and hit a good putt. Just didn't go in."
Woods failed to make another birdie the rest of the way, and a double-bogey 5 after hitting his tee shot in the water at the par-3 17th marred an otherwise impressive comeback bid. On the weekend, Woods played holes 1 through 12 in 14 under, and the final six holes in four over.
The inability to close has been noticeable on a few occasions this year as Woods' has made his comeback to the PGA Tour. Still, arguably the greatest closer of all time doesn't find it to be a troubling trend.
"I didn't really miss a shot today, and so I'm not that disappointed with it," he said. "It's not like what I did at Bay Hill on 16; I hit a terrible tee shot there. I hit it good all day long, and it's just the way it goes."
To be in the position Woods was in at all come Sunday was an admirable accomplishment. No, the 14-time major winner isn't near where he was when his game was at its height. But his play continues to encourage, and there's no doubt in his mind he's going to seal the deal in a PGA Tour event some time in the future.
Maybe even the very near future.
"After what I did at the changes I made after L.A., and how I played at Honda and how I played at Valspar and Bay Hill, I knew I was close to winning golf tournaments. Hell, I was one shot out of Valspar."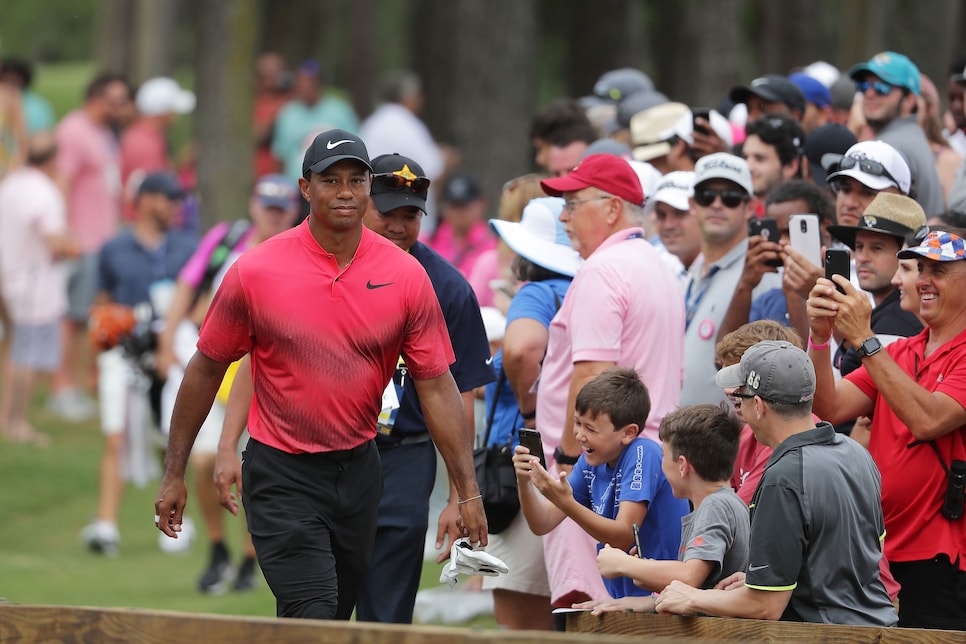 Richard Heathcote/Getty Images
It appears Woods will play just once more between now and the U.S. Open at Shinnecock Hills in June—in three weeks at the Memorial. Woods sounded like he was ruling out adding another tournament start at either the AT&T Byron Nelson next week, or the Fort Worth Invitational at Colonial. In part, it's because Woods says he feels good about the state of his game and how many tournaments he's got now under his belt.
"There's no way I would have predicted I would be at this point the beginning of the year, the way I was just coming back and just trying to get a feel for it and then hopefully have a schedule. Didn't know. But now I feel like I've got my playing feels and I'm playing tournament golf and I've got it—I'm not that far off from winning golf tournaments."
Even if it doesn't happen, this weekend was further proof that there is no better theater than when Woods is in the mix. On an already star-studded PGA Tour, that's all anyone can really ask for.