The Players
Players 2022: Paul Casey has an interesting theory as to why he's missing a so-called 'signature' win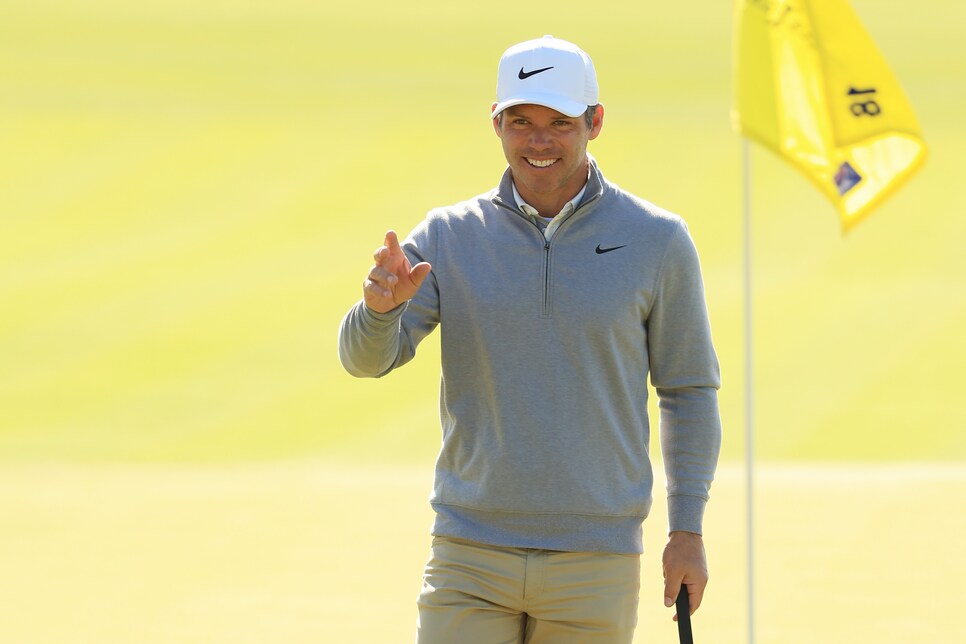 PONTE VEDRA BEACH — If you've not been watching Golf Channel's "Live From" this week, you've seriously missed out. Brandel Chamblee is doing Brandel Chamblee stuff, as always, but it's the addition of 2014 European Ryder Cup captain Paul McGinley to the desk that's tied the whole show together. Chamblee hasn't had someone go tit-for-tat with him in quite some time. McGinley has filled the role of adversary admirably.
On Saturday night, the debate revolved around the 17th hole, one Chamblee argued was simply unfair given the windy conditions that day. McGinley was having none of it (if you can find the video of the full debate, it is well worth your time).
Sunday's show was decidedly more civil, the 17th-hole topic having died down (some) and a wild-looking leader board dominating the headlines. This time, McGinley and Chamblee agreed on one thing—Paul Casey, now entering his third decade as a tour professional, is missing a signature victory. One to "hang his hat on" as McGinley put it.
The take is not without merit. Yes, Casey has 15 European Tour (now DP World Tour) titles to his name (one in a playoff over McGinley back in 2005), plus three PGA Tour wins, including back-to-back at the Valspar in 2018 and 2019. He's also compiled a remarkable Ryder Cup record, having been a part of three winning European squads. Top-10s in majors? Casey's got 12 of 'em. For two decades now, he's been an elite player across the world. It's a career he should be plenty proud of, and one that's far from finished.
That said, as McGinley put it, there's no question there's a big one missing from his CV (résumé for Americans). Casey, informed of McGinley's comments, didn't entirely disagree. Sort of.
"Is Paul [McGinley] right? Probably," Casey said on Monday at the Players. "I don't spend too much time thinking about it. It's his job to talk about it."
Casey, now 44, can rectify that with a win at TPC Sawgrass, where he enters Monday's final round one shot off the lead of Anirban Lahiri. Other names around the lead include Doug Ghim and Sebastian Munoz, who, no offense to them, are not exactly Tiger Woods and Phil Mickelson, who Casey had to go up against in the prime of his career. As the Englishman theorized, that could be a large part of the reason he's missing this so-called signature win.
"I don't disagree with [Paul McGinely], though," Casey said. "Guys have been talking about Tiger a lot this week, obviously, and I reminded … I think Viktor Hovland sat there, and he goes, 'what was it like?' I said, you've got to remember, Viktor, I was playing 15 events over here and it was four majors, four WGCs, the Players, Bay Hill, Memorial. There wasn't a lot of opportunity to win much. And if [Tiger] didn't win, it was Vijay [Singh] or Ernie [Els] or somebody else. That's the way it was.
"I'm very proud my career has been as long as it has and I've still got opportunities to win against the youngsters. This is my 22nd year as a professional, so maybe I can tick that box today and get over the line and then Paul McGinley can talk about me next week."
Surely, if Casey does win, the next take, not from McGinley but from social-media critics, will be that he did it against a weak leader board, as the Brookses and the Spieths and the Cantlays of the world weren't even here for the "weekend." Casey doesn't see it that way.
"I know you guys would say it's not a star-studded leader board, it's not the usual suspects, but every single PGA Tour event is like … the level of golf is unbelievable. I love the fact I've got an opportunity."
With a win comes $3.6 million, 80 World Ranking points (second only to the majors), a three-year invitation into the Masters, three-year exemptions into the U.S. Open, Open Championship and PGA Championship, and a place in golfing history. Star-studded leader board or not, it doesn't get much more signature than that.